Trump vs. DeSantis on health care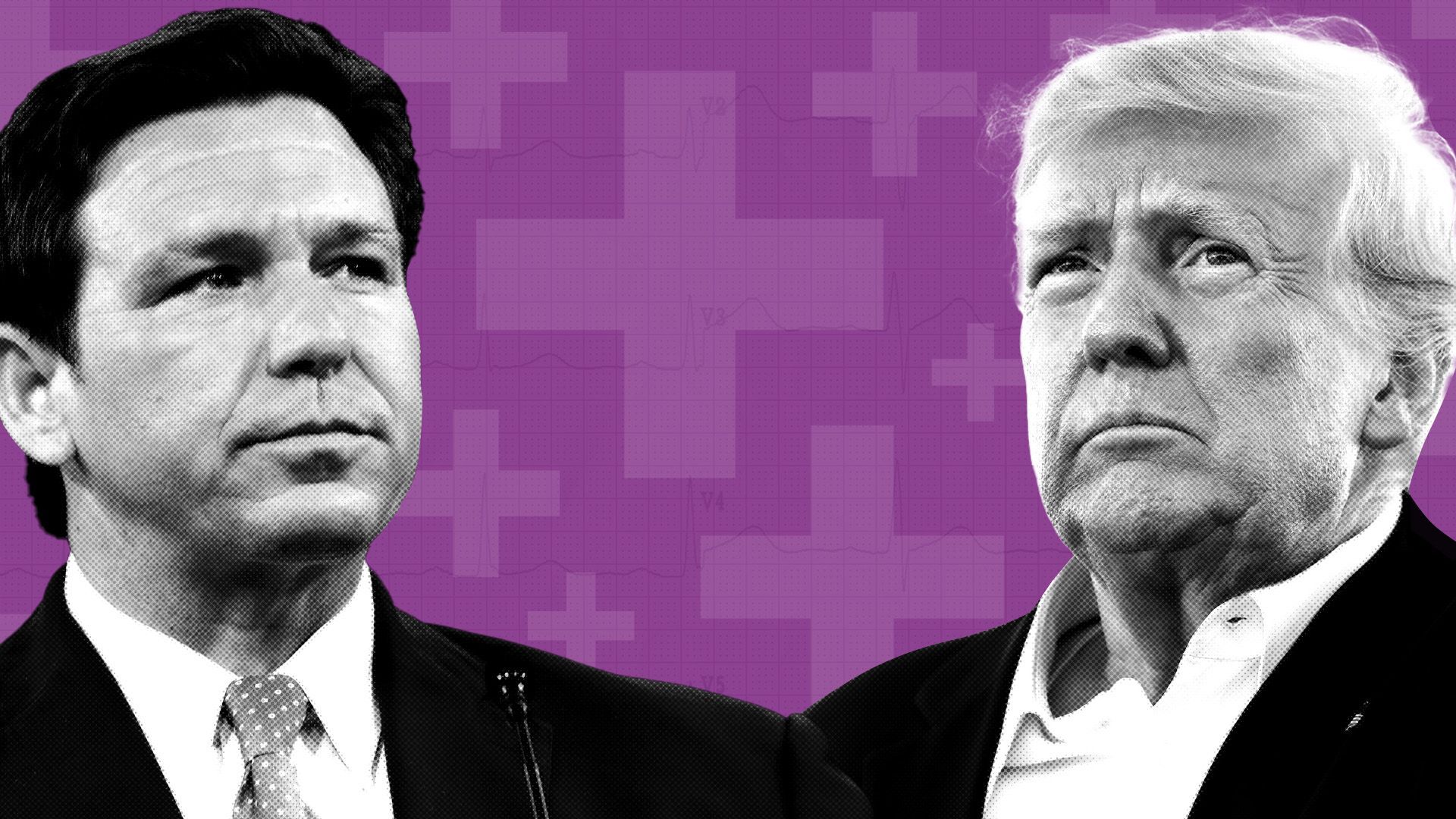 Health care is certainly not the top-tier Republican presidential issue that it was when candidates were tripping over themselves to call for repealing Obamacare.
But we scoured some of the top-tier candidates' (and potential candidates') records for what they are saying so far, from Medicare cuts to vaccines — starting with the two front runners in the early polls.
Donald Trump
You know Trump's record from his first term, and it's not as if he's suddenly diving into the details of site-neutral payments this time. But he is hammering the point over and over that he is not going to cut Medicare and Social Security.
"Under no circumstances should Republicans vote to cut a single penny from Medicare or Social Security," Trump said in a video in January. He has also attacked Florida Gov. Ron DeSantis over past votes to reduce Medicare spending.
Yes, but: Trump is not mentioning Medicaid in this refrain, which would have seen cuts in the ACA repeal bill he supported as president.
COVID-19: The handling of the pandemic is an area where DeSantis could seek to get to Trump's right by investigating COVID vaccines.
Trump spokesman Steven Cheung defended the Trump administration's Operation Warp Speed, while noting that it helped develop therapeutics too, not just vaccines.
"Operation Warp Speed was a once-in-a-lifetime initiative that gave people the option of utilizing therapeutics if they wished to do so," he told NBC in December.
Trump told CPAC in March that if elected, he would again withdraw from the World Health Organization.
Abortion: Trump of course appointed three of the justices who voted to overturn Roe v. Wade last year. But he has not been trumpeting the abortion issue since then.
Ron DeSantis
DeSantis has tackled quite a bit of high-profile health topics already in the few short months comprising his second term as governor.
Medicare: Trump has already hit DeSantis on Medicare, claiming in a recent ad that the Florida governor supports cuts to the program.
COVID and "medical freedom": DeSantis has leaned hard into how Florida reopened quickly after a temporary shutdown during the early part of the COVID pandemic, highlighting how his response differed from Trump's.
He even recently held an event in March where he highlighted how it had been three years since the two-week "Stop the Spread" campaign and emphasized that the U.S. should "never let it happen again."
Drug pricing: He released a drug pricing proposal in January that focuses primarily on cracking down on PBMs by prohibiting spread pricing and clawbacks, as well as requiring more transparency measures.
This comes after the governor already signed an executive order targeting the middlemen last year.
"We must bring transparency to the system so that Floridians can save money on their drugs. We need reform of the PBMs," DeSantis said in a press conference earlier this year.
Abortion: DeSantis quietly signed a six-week abortion ban into law two weeks ago. The law won't go into effect until the Florida Supreme Court rules. But if it stands, Florida, previously an abortion haven, will join other southern states in severely restricting access.
Transgender medical care: DeSantis has used the power of state agencies and medical boards to restrict access to gender affirming medical care for both adults and children.
Go deeper