The Biden administration's tough sell for free adult vaccines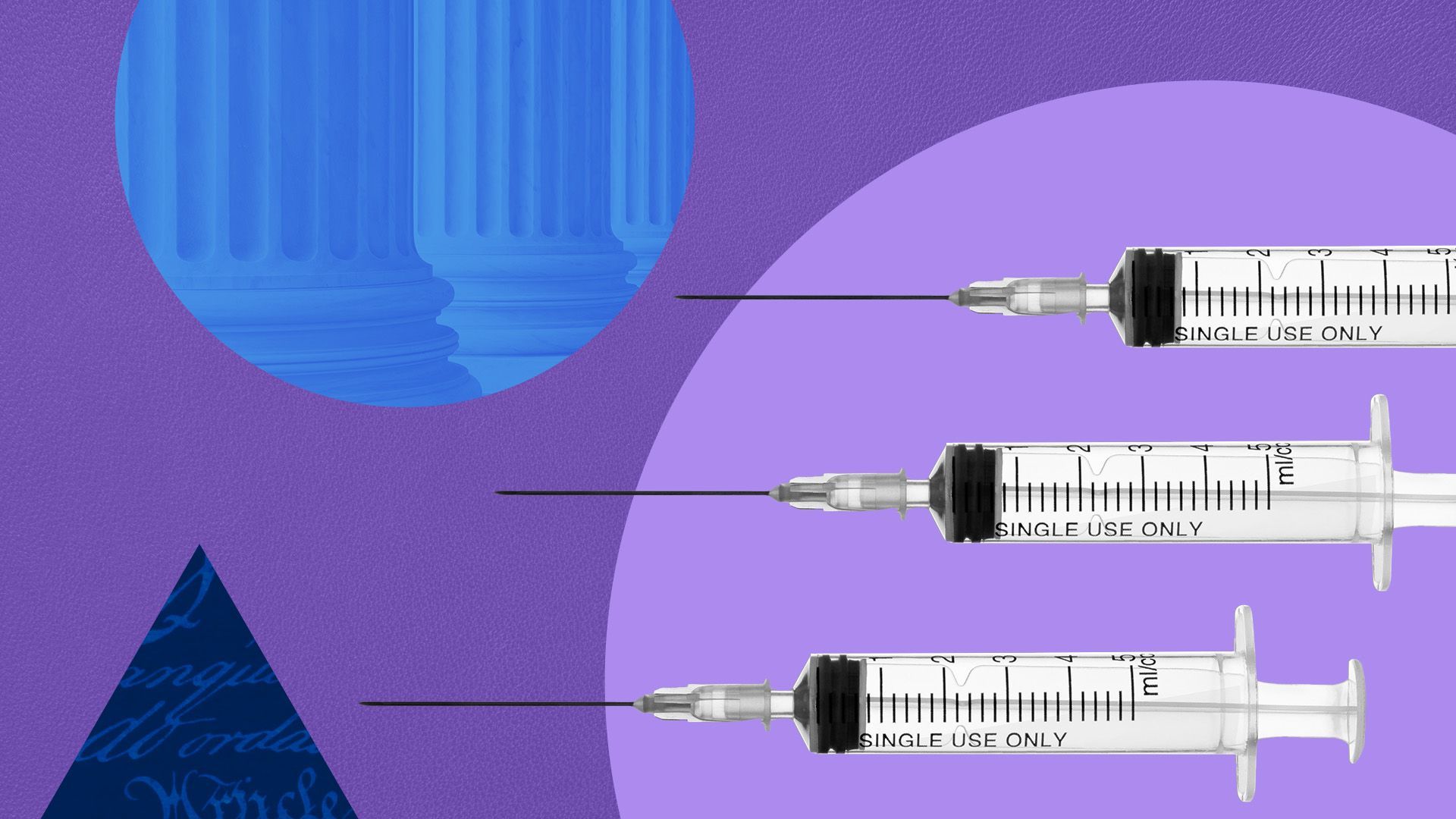 The Biden administration's proposal to create a new federal program to provide vaccines to uninsured adults faces an uphill battle in Congress — even among Democrats.
Why it matters: Experts in favor of the program say now is the time to capitalize on lessons learned about vaccine distribution during COVID-19. They say providing free vaccines to uninsured adults could save tens of billions of dollars over time.
But the push is happening alongside a Republican charge to lower federal spending, and while politicization of vaccines lingers.
Driving the news: For the second year in a row, President Biden's annual budget includes funding for a federal Vaccines for Adults program. The new entitlement program would provide free ACIP-recommended vaccines to uninsured adults.
The program would be capped at $12 billion over 10 years, pared down from last year's request of $25 billion over 10 years.
Senate HELP Committee chair Bernie Sanders told Axios he's interested in the idea and that the topic could come up in the committee this year.
HHS also announced last week a public-private partnership to keep COVID-19 vaccines free for uninsured adults after they're transitioned to the commercial market.
The backstory: The highly successful Vaccines for Children program has provided free vaccines to kids since 1994. The CDC purchases vaccines at a discount and distributes them to state health departments and other grantees, which then provide free shots to providers and health clinics.
Public health experts have talked about doing this for adults for decades, but COVID-19 brought the idea into the spotlight, said Julie Morita, executive vice president of the Robert Wood Johnson Foundation.
Where it stands: Despite enthusiasm from the Biden administration and advocates, Democrats have not introduced legislation to create a Vaccines for Adults-type program.
One policy expert who's had conversations about Vaccines for Adults on the Hill said many Democrats support the idea, but she hasn't yet identified anyone who wants to spearhead the legislative effort.
"It would take a lot of political capital to push this on the Hill and really make this happen," said Jennifer Kates, senior vice president and director of global health & HIV policy at the Kaiser Family Foundation. "Even if there are supporters, I'm not sure there's a champion who's willing to do that."
During a recent House hearing on the fiscal 2024 CDC budget request, no lawmakers asked CDC director Rochelle Walensky about the Vaccines for Adults proposal. (She did mention the idea in her opening statement.)
Yes, but: Sanders said lawmakers haven't given the policy "as much thought as we should. But it is an issue that I'm interested in."
Energy and Commerce member Rep. Kim Schrier said she's beginning conversations in her office about the policy.
"I love the idea," Schrier, a Democrat, told Maya in a hallway interview. "Having a Vaccines for Adults program to make it affordable no matter what your insurance situation is really important."
Some advocates even think the program could get bipartisan backing. "Prior to the pandemic, immunization policy has always been bipartisan," said Brent Ewig, the Association of Immunization Managers' chief policy and government relations officer.
"I think people will come back to that idea, once we get out of the pandemic, that routine vaccines for decades have saved millions of lives, billions of dollars."
What's next: Some experts think the policy could be a natural fit for the Pandemic and All-Hazards Preparedness Act reauthorization set to move through Congress later this year.
"A VFA program would actually be a very critical component of a strong preparedness program," said Morita of the Robert Wood Johnson Foundation.
But two vaccine access lobbyists told Axios they're more focused on just educating members this year.
"I think we're trying to be realistic around the prospects of actually passing something and/or getting something appropriated this year," one lobbyist told Axios.
"But we still want to leverage the opportunity to discuss these issues and help build that awareness so that when there is a time, we'll be able to hopefully see some actual legislation," the lobbyist added.
Go deeper