First COVID select subcommittee hearing kicks off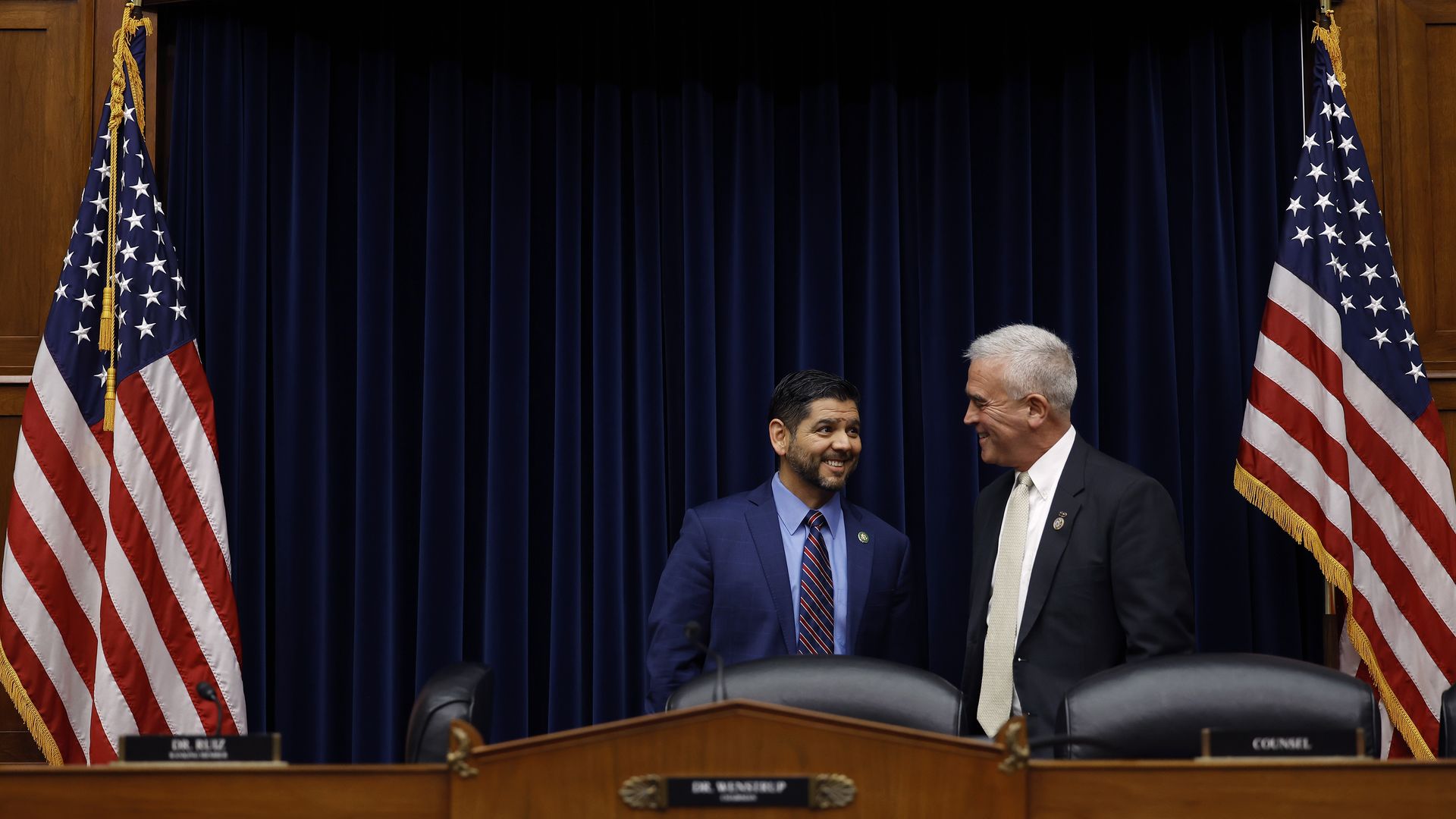 The first COVID select subcommittee hearing showcased two major areas of bipartisan collaboration in the pandemic origins investigation: reforming gain-of-function research and pushing to declassify information from the intelligence community.
Why it matters: Republicans and Democrats on the committee have vowed they want the origins investigation to be non-political and focus on the science and facts, but several political divides in the first hearing did start to show through. This could fracture the narrow lanes of bipartisanship on the subcommittee's policy agenda.
Witnesses included Robert Redfield, former CDC director under President Trump, Jamie Metzl, a senior fellow at the Atlantic Council, Nicholas Wade, a former science editor at the New York Times and Nature, and Paul Auwaerter, a Johns Hopkins University professor and former president of the Infectious Diseases Society of America.
"This is serious business. Extremely serious business, apolitical serious business," said Chairman Brad Wenstrup in his closing remarks at the hearing. "There's a difference between saying I disagree with you and labeling something a conspiracy theory. That's the politics that comes in. We need to get it out."
Here's the three most important things you should know from today's hearing:
1) The hearing experts, including the minority witness, Auwaerter, all agreed that knowing the origins of COVID does matter to respond to future pandemics. They also agreed the lab leak theory wasn't just a conspiracy theory. (We interviewed several experts recently who said knowing COVID origins isn't necessary to start preparing for future pandemics now).
2) Throughout the hearing, Wenstrup and other Republicans alleged that Dr. Anthony Fauci knew the coronavirus was lab-engineered, but decided to push a narrative that it was an animal spillover event because of the federal government having financial ties to funding gain-of-function research.
Redfield said he was left out of key conversations with Fauci and other scientists on COVID origins because "I had a different view," and believed the virus leaked from a laboratory.
Rep. Jim Jordan asked heated questions on why Fauci would have left Redfield out of discussions, clearly setting the groundwork for requiring Fauci and other NIH scientists to testify before Congress.
Meanwhile, Democrats and Metzl, one of the witnesses, said the focus of the investigation should not be on Fauci. They urged lawmakers not to villainize public health officials, stating it doesn't help prepare for future pandemics.
3) Two potential bipartisan areas: Reforming gain-of-function research and declassifying information from intelligence agencies.
Ranking member Raul Ruiz mentioned that he would be open to "constructed policy solutions like raising the international standards or patents in research," and told the committee in his closing remarks, "let's debate gain-of-function research."
Rep. Ami Bera said he thought there would be a strong bipartisan vote on Friday in the House for the bill — which has already passed the Senate — that would require the Director of National Intelligence to declassify information relating to the origin of COVID. The bill would allow the DNI to redact anything "necessary to protect sources and methods."
Of note: DNI Avril Haines, who testified before Congress today in a Senate Intelligence hearing, said it's been "extremely challenging" to investigate COVID origins.
The IC's 2023 threat assessment states "all agencies assess that two hypotheses are plausible explanations for the origin of COVID-19: natural exposure to an infected animal and a laboratory-associated incident" and that China is hindering the global investigation.
Spotted: Jordan, Oversight Chairman James Comer and Oversight ranking member Jamie Raskin aren't on the select subcommittee. But they all attended the hearing and spoke — perhaps a signal of their own involvement and oversight of the overlapping COVID investigations between the various House committees.
Go deeper