E&C takes first swing at pandemic response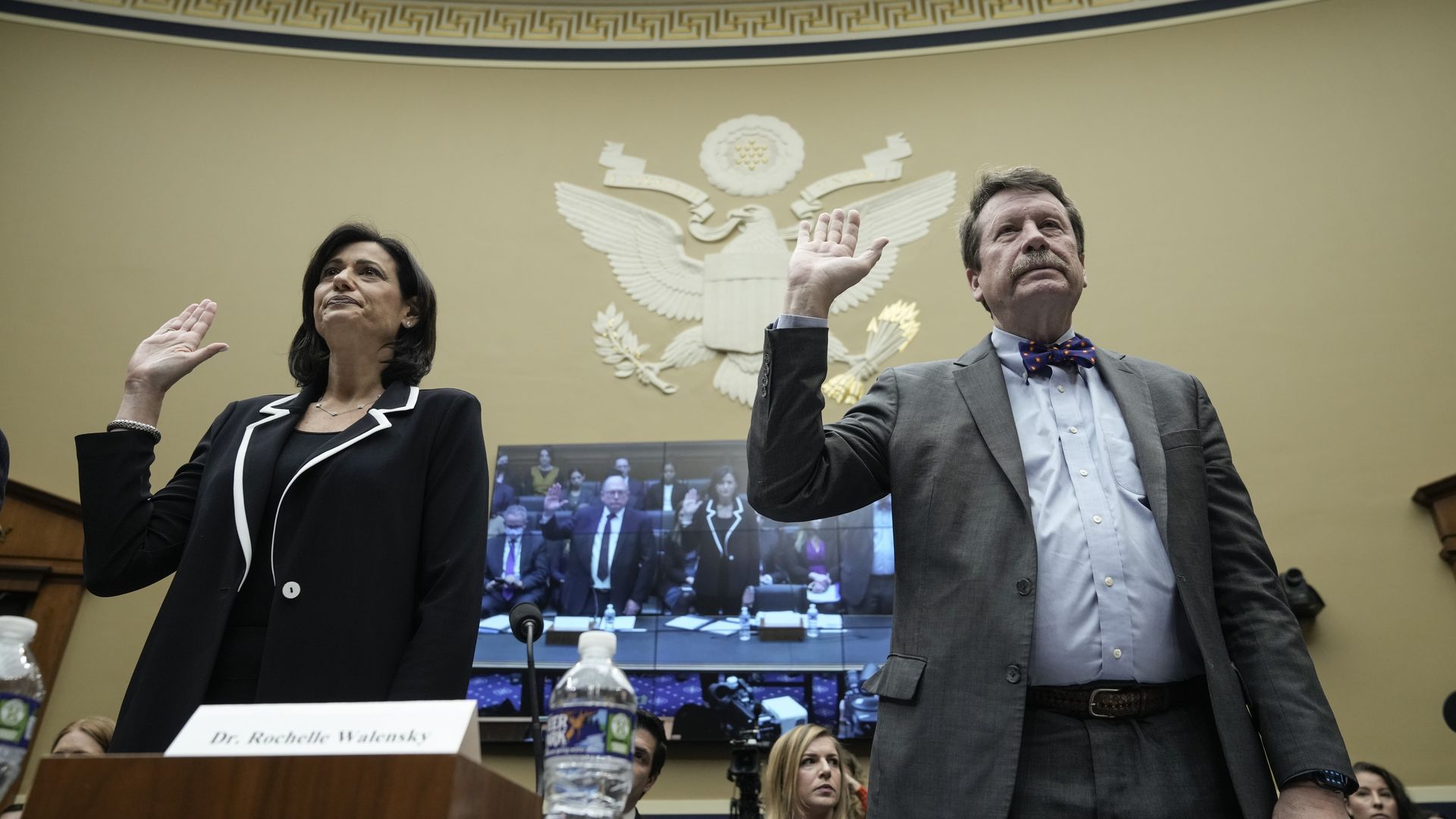 Three top federal health officials testified on Wednesday in front of the House Energy and Commerce oversight and health subcommittees for the first time this Congress, fielding questions on the COVID response and planning for future pandemics.
Why it matters: Republicans offered a preview of the main topics they'll be exploring over the next two years on the pandemic response front, including gain-of-function research, the CDC's guidance for schools, and the lack of trust in public health agencies.
Acting NIH director Lawrence Tabak, CDC director Rochelle Walensky and FDA commissioner Robert Califf testified.
Democratic members kept their questions mostly focused on data modernization, health equity and preparations for future pandemics.
Here are the other highlights you need to know from the hearing:
1) Oversight subcommittee chair Morgan Griffith asked Tabak whether NIH should add financial penalties to their grants if the grantees don't share data when asked.
Tabak acknowledged that NIH does have the authority to add such a provision into their grants. Griffith also asked whether Congress should impose financial penalties on NIH for failing to provide records.
After the hearing, Griffith told reporters he wants the scientific agencies to know "there will be consequences" if they aren't in compliance with obtaining records.
2) Walensky emphasized it would be helpful in future pandemics for Congress to allow CDC to offer danger or overtime pay to its workforce so it can respond to crises more easily.
Once the public health emergency ends, the CDC will also lose data-sharing capabilities to track positive test results and vaccinations, Walensky said. She added they're trying to set up data use agreements to address this issue now.
3) Califf called again for the FDA to be given enforcement discretion to regulate laboratory diagnostic tests. That would have been allowed through the VALID Act, if it hadn't been dropped out of the omnibus last year after opposition from academic medical centers.
Rep. Debbie Dingell also pressed for the FDA to be given the authority to recall drugs, which is not a power the agency currently has.
4) Several members said they hope to work in a bipartisan fashion on the Pandemic and All-Hazards Preparedness Act when it's up for reauthorization later this year.
One more memorable moment: Rep. Anna Eshoo asked why it had taken several years for the NIH to release any information on long COVID treatments.
Tabak said the agency was starting interventional trials in the next few months, but it had taken a long time to build a large cohort of long COVID patients for studies.
Go deeper