Behind the GOP's pivot to the practical on health care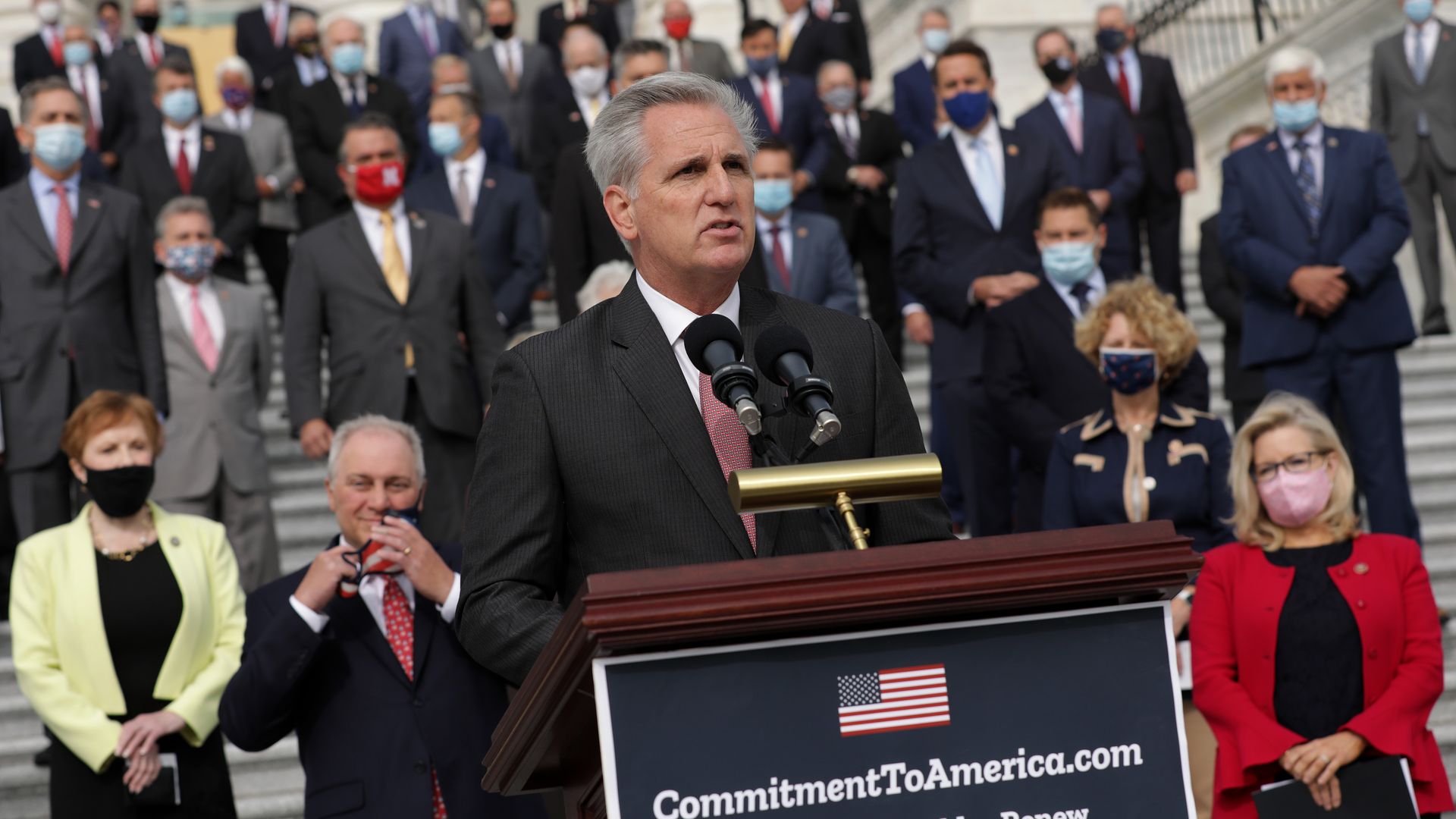 The Republican health care agenda has shifted vastly over the last decade, moving away from program-wide overhauls to a focus on targeted changes.
Between the lines: That shift was the intentional result of a lot of behind-the-scenes work after the last ambitious GOP effort — the effort to repeal and replace the ACA — fell apart.
I interviewed Will Dunham, Kevin McCarthy's deputy chief of staff for policy until last fall, about the thinking behind that shift. Here are the main takeaways and some of his most illuminating quotes:
1) The repeal and replace disaster was the catalyst for a caucus reset on health care.
"After the failure to pass repeal and replace — which got out of the House, failed in the Senate — I think House Republicans started to rethink how they were talking about health care."
"It takes a lot of conversations and a lot of time for members to change the way they think and talk about a subject as broad as health. But it's something Republicans, I think, understand is important to the American people."
"It's a kitchen table issue, and it's an issue I think Republicans are unwilling to cede to Democrats."
2) Republicans intentionally shifted away from a sweeping agenda and focused on finding discrete policy goals.
"They're not proposing ... swinging for the fences, home run, grand slam, 3,000-page legislation that overhauls the health care system in the United States."
"Republicans for a long time had talked that way, and I think what Republicans realized is they were playing on the Democrats' turf."
"That's a playing field that Republicans are moving away from, and they're looking for singles and they're looking for doubles."
3) The targeted changes eventually adopted by the Healthy Future Task Force — a branch of the GOP's Commitment to America agenda — are designed to be meaningful to voters.
"They're looking for friction points, and they're offering solutions to alleviate friction points that Americans experience as they interact with the health care system."
4) There's no one catchphrase that can be used to sell the agenda, and that's OK with Republicans.
"Frankly, targeted reforms will not be as splashy or high profile as the kind of catchphrase health care overhauls will be — Medicare for All, et cetera. But what [they] will do is arm Republicans with discrete examples of ways they have made Americans' lives better."
"It's much more about communicating to constituents that we understand your problems in the health care space and we're working on fixing them in a targeted way."
5) Medicare's looming insolvency will prevent changes to the program from disappearing from the political conversation, but any changes will need to be a bipartisan effort.
"That line, 'Save Social Security and Medicare,' was in the commitment as well. That's something that Republicans want to do, but I think the only way you can make Medicare solvent in a durable, sustainable way is on a bipartisan basis."
"We've seen over the last decade that a partisan approach to reforming Medicare isn't going to yield legislative results. And even if you could make law, either party, the other party would try to undo it."
Go deeper