Brian Armstrong on Coinbase's new role in D.C.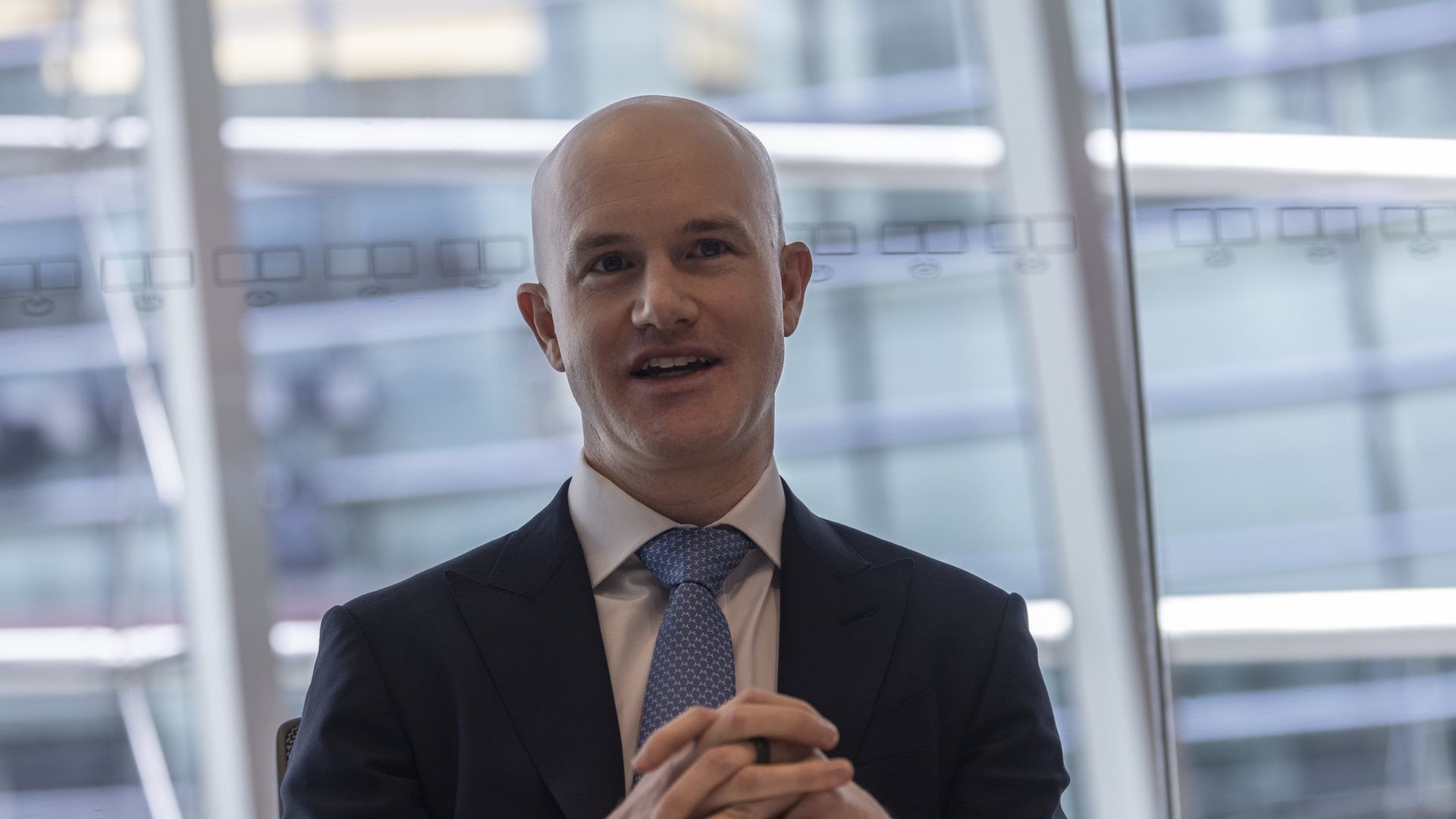 Even facing a Securities and Exchange Commission lawsuit, U.S. crypto exchange Coinbase is now the industry's regulatory frontman. CEO Brian Armstrong spoke to Axios on the company's new role from the nation's capital Thursday.
Why it matters: It is taking over a role that once belonged to FTX, whose collapse contributed to a crackdown that is threatening to push much of the industry abroad.
What's happening: "We're at a really important moment in the U.S. right now where there's been some bad actors in crypto. We now have a moment to finally get some regular rules on the book," Armstrong says on the timing of his visit.
On Wednesday, Armstrong met with the New Democrat Coalition in D.C., and on Thursday, Coinbase bought a full-page ad in the Washington Post calling for greater regulatory clarity.
"I think the shifting dynamics and the regulatory crackdown... it does position us really well to be the global leader in it," he adds.
Be smart: Coinbase is arguing that it didn't break SEC rules. Its current fight with the commission also has the potential to upend the crypto industry.
The commission's suit alleges that several cryptocurrencies trading on its platform are securities, which would put each of the organizations behind them under more onerous reporting standards and result in higher costs.
Flashback: FTX turned itself into a political machine by spending aggressively on lobbying and campaign contributions — with then CEO Sam Bankman-Fried asserting that he might spend as much as $1 billion in the 2024 election cycle (he later walked that back).
Now, with the collapse of FTX and the sidelining of Binance stateside, the U.S. crypto community is once again condensing around Coinbase.
"Last summer, Sam Bankman-Fried was knocking down the doors of House and the Senate," says Blockchain Association CEO Kristin Smith. "There was a void when he got arrested that needed to be filled, and I think Brian being here is really important."
Coinbase had been putting the groundwork in before the FTX collapse. In 2021, it hired Kara Calvert as head of U.S. policy and Faryar Shirzad as chief policy officer.
What's next: The company has plans to increase spending on pro-crypto lobbying and political contributions in the next few political cycles, a spokesperson told Axios.
Coinbase was the most active crypto player in terms of lobbying contributions last year, donating $3.4 million.
Between the lines: Coinbase is in many ways, the natural new, old face. The publicly traded company is the country's largest crypto exchange.
One fun thing: While most of his time is still spent on product, Armstrong acknowledges more of his attention is now on D.C. But visiting the city every eight weeks or so has not given him a taste for the public life.
"I don't think so," says Armstrong when asked if he'd consider becoming a politician. "I like delegating things to different leaders in the organization. But ultimately, if some tie needs to get broken or if I need to make a call, I can just make it. Whereas in their world, they may just debate it for two years."
Editor's note: This story has been corrected to reflect that, although Armstrong spoke to Axios, the introductory statement that Coinbase is now the industry's regulatory frontman is Lucinda's, not his.
Go deeper