The coming solar tariff fights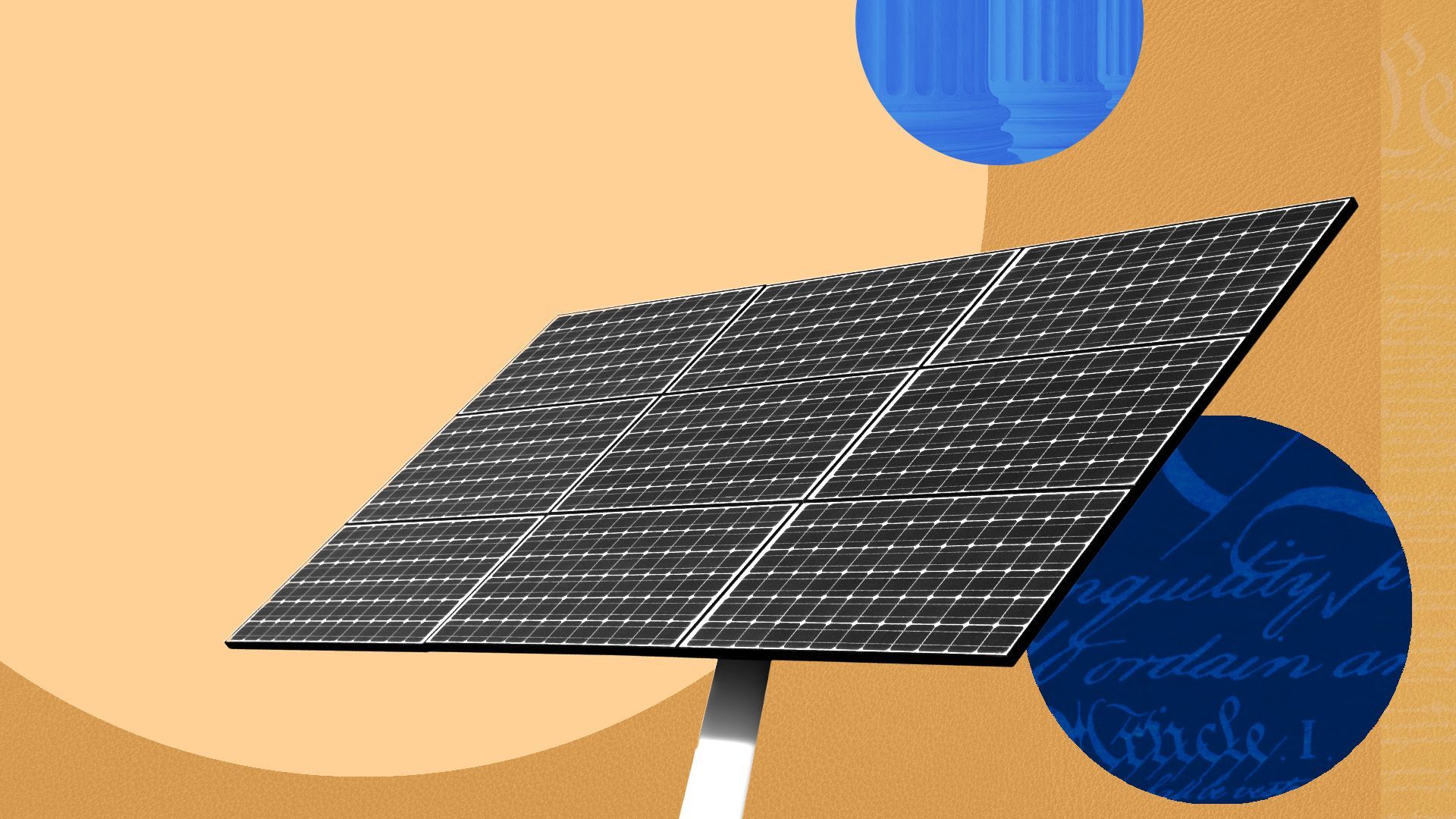 The Commerce Department has ended its investigation into Chinese solar panels — but the issue will continue to bubble up on Capitol Hill.
Why it matters: Concerns about Chinese-made panels are reverberating through IRA implementation and trade legislation.
What they're saying: "It's not going away," said Rep. Dan Kildee, who has led the pro-tariff charge.
"It really comes down to us playing the long game and not believing that we have to sacrifice a really important principle in the name of another."
Renewables trade groups are warning that the investigation — and tariffs, generally — could have disastrous implications for solar deployment.
"The renewables sector, like the rest of the global economy, has long developed a reliance on the global supply chain in response to the trade policies of both parties," ACORE CEO Greg Wetstone told Axios.
"And now we're caught in this policy whiplash where there's suddenly an expectation that we're going to be able to have a fully domestic supply chain."
Flashback: Commerce began the investigation last year, when U.S. company Auxin Solar alleged that Chinese companies were using four Southeast Asian countries to skirt U.S. tariffs.
The Biden administration issued a two-year waiver, essentially preempting the probe until June 2024. Both chambers took bipartisan votes to overturn the waiver, albeit without enough votes to overcome Biden's veto.
In a final report last month, Commerce found that five companies had indeed sent products through Cambodia, Malaysia, Thailand or Vietnam to evade tariffs. They'll face tariffs once the waiver expires.
What we're watching: Sherrod Brown and Todd Young have a bill — the Leveling the Playing Field 2.0 Act — that would strengthen Commerce's authority to conduct investigations and make them move more quickly.
It's got a House companion and a big group of bipartisan cosponsors, reflecting broader concerns about China's labor practices and its subsidies for the renewables sector.
"The question is finding a vehicle," Brown told Axios.
Business trade groups, including the U.S. Chamber and American Clean Power, signed onto a letter in July opposing it. They said the changes "would hit consumer goods, retail, auto and renewable energy sectors especially hard."
Zoom in: Kildee said he wants to see more aggressive tariff enforcement across the board.
Plus, manufacturers and their Hill backers are still grappling with how Treasury should implement the IRA's domestic content bonus, which offers an additional incentive for projects that use panels sourced in part from the U.S.
Tariff supporters, including Finance Chair Ron Wyden, want to see more stringent requirements for that bonus that reach deeper down the supply chain.
Our thought bubble: Because things are moving quickly, predictions about how tariffs will impact renewables deployment should be taken with a grain of salt.
The U.S. doesn't have much of a supply chain for the raw materials and base components of solar panels, but new manufacturing spurred by the IRA is coming online.
"The faster we can shift to domestic manufacturing, the less these issues are sort of life and death," Sen. Martin Heinrich told Axios.
Go deeper