Senate passes resolution overturning Biden solar tariff pause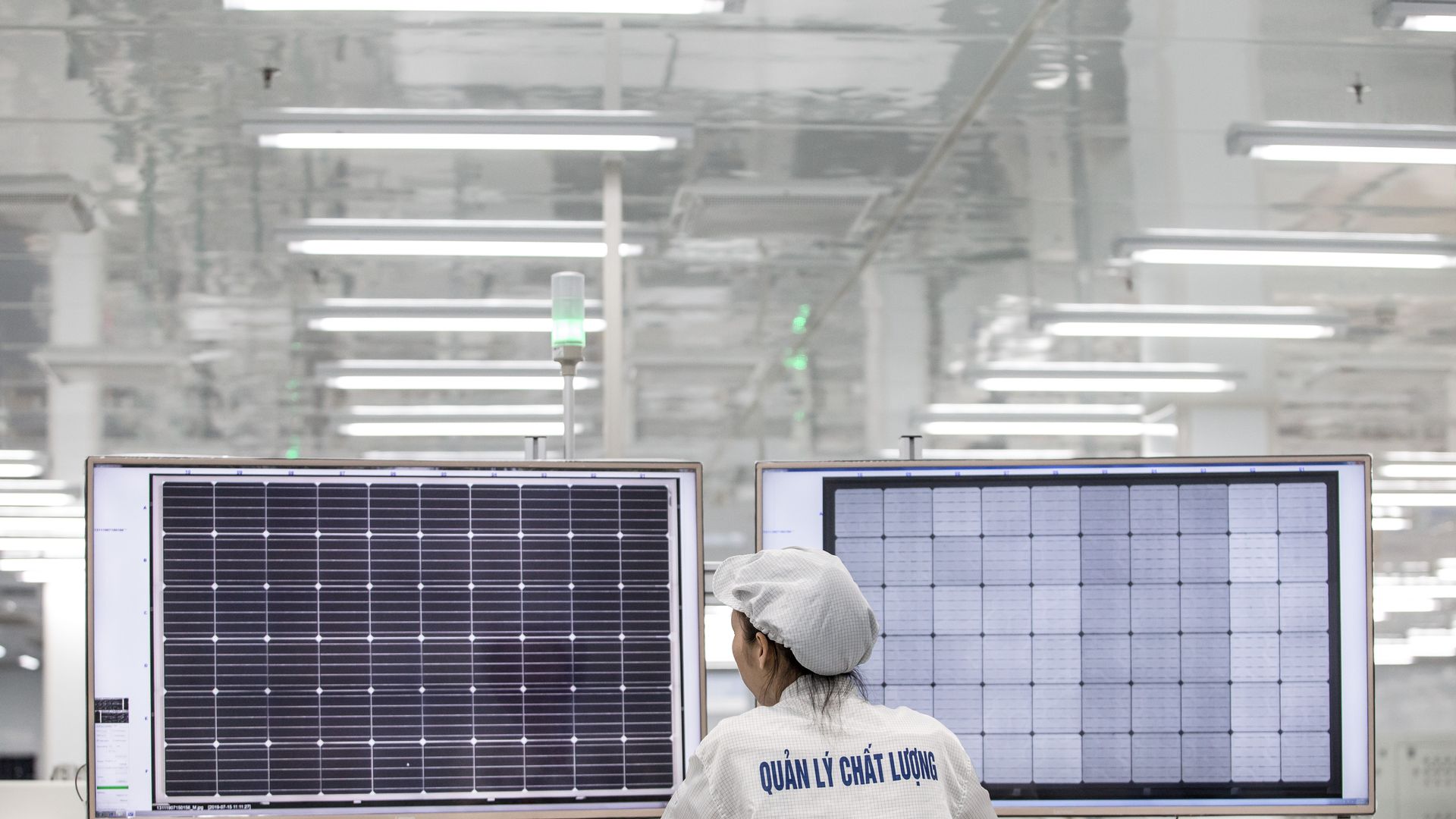 Nine Senate Democrats joined Republicans this evening to pass a measure overturning President Biden's solar tariff pause, sending it to the White House for a likely veto.
Why it matters: The 56-41 vote highlighted unusual political faults over China's role in the global energy transition that could bubble up on the 2024 campaign trail.
The House passed the measure late last week, but neither chamber secured the supermajority needed to override a veto.
Driving the news: The Congressional Review Act resolution would toss out a tariff waiver for solar panels imported from four Southeast Asian countries.
Democratic "yes" votes: Sherrod Brown, Bob Casey, Joe Manchin, Jon Tester, Debbie Stabenow, Gary Peters, Tammy Baldwin, John Fetterman and Finance Chair Ron Wyden.
GOP Sen. Rand Paul joined most other Democrats in voting "no."
The vote caps a weeks-long saga that sent anxiety through the major renewable energy trade organizations.
If the resolution were enacted, solar companies would face retroactive fees.
Flashback: Biden issued the waiver in 2022, pausing tariffs on solar panels from Cambodia, Vietnam, Malaysia and Thailand for two years.
The move preempted a pending Commerce Department investigation into whether solar manufacturers were circumventing tariffs on Chinese panels.
In a preliminary finding in December, the agency said some companies had been skirting U.S. levies by sending panels through those countries for processing.
A final determination from Commerce is expected as soon as this month.
Of note: Swing-state Democrats up in 2024 split different ways.
Jacky Rosen has for weeks led opposition to the resolution among Senate Democrats, lobbying colleagues in caucus meetings and circulating materials urging a "no" vote.
"I see it as a vote that will either keep American jobs or kill American jobs," Rosen told Axios, arguing that rescinding the waiver would cripple solar installers.
Meanwhile, Brown, Casey and Manchin — who could face competitive races — were prominent waiver opponents.
The intrigue: China controls the vast majority of the solar supply chain, and waiver proponents argue the pause gives the industry a grace period to onshore panel manufacturing, as the IRA tax credits come into the fold.
Rick Scott, the resolution's GOP lead sponsor, framed it as a referendum on China.
The Democrats who voted for it said they want to enforce trade law aimed at countering unfair trade practices by China — and shield U.S. manufacturers from the cheap imports that currently dominate the market.
Wyden, for instance, said it was a vote "to protect the American manufacturers," pointing back to the large suite of incentives he authored in the climate law.
Go deeper