What we're watching after the storm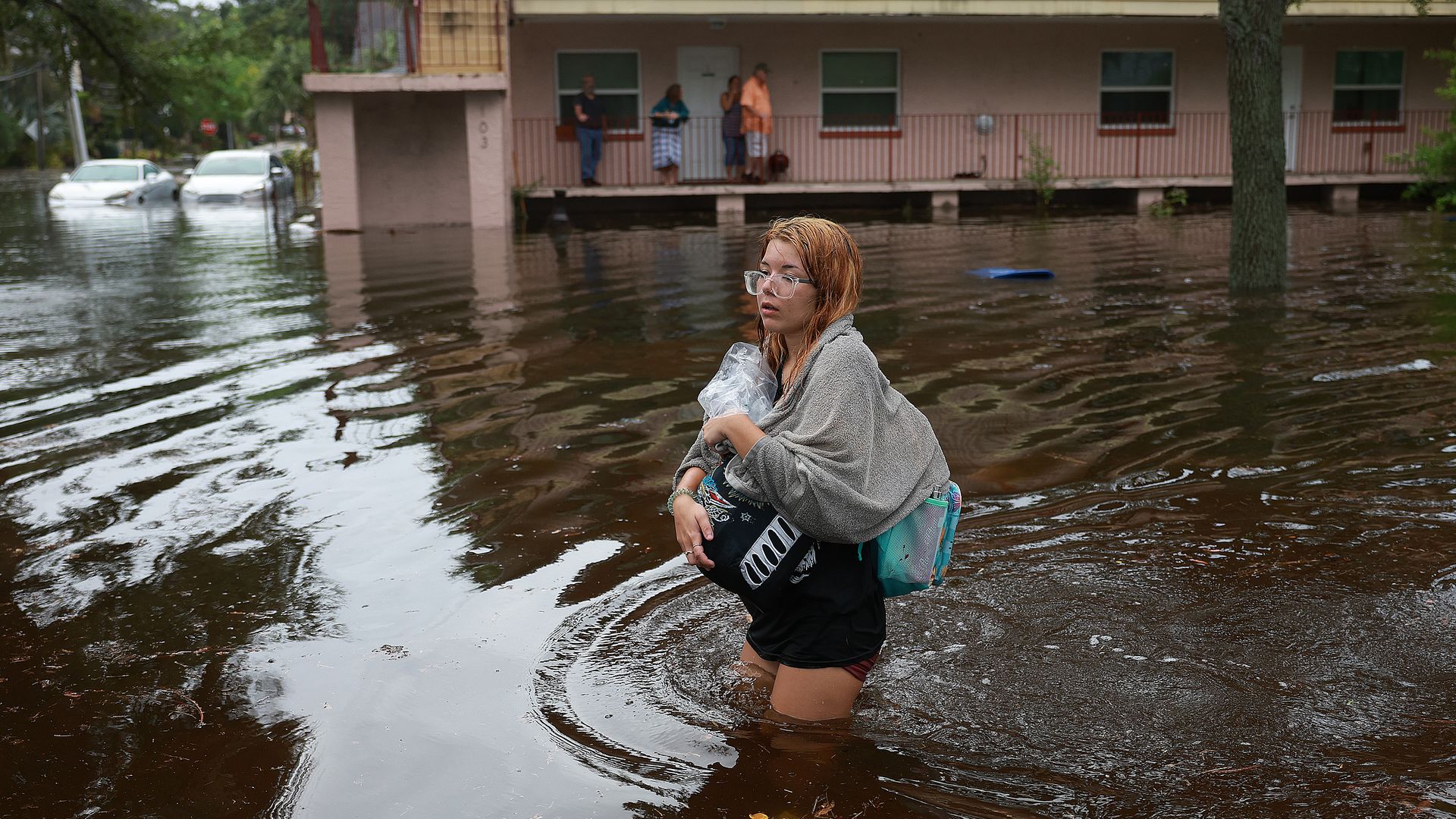 Lawmakers will soon debate the response to the extreme weather that has cost lives and shocked the power grid — but Congress is still struggling to prepare for climate impacts ahead of time.
Why it matters: A warmer world means more extreme natural disasters with massive destructive potential. But the U.S., unlike many other developed countries, lacks a cohesive national strategy to adapt.
Driving the news: The Federal Emergency Management Agency's disaster relief fund, which is currently running out of money, will be a top focus on the Hill in September.
The agency recently said it will have enough to pay for recovery from the Maui wildfires, and the Biden administration has requested a $12 billion refill from Congress.
Sen. Brian Schatz told local media yesterday that he's "starting to focus on the supplemental appropriations" to help the island rebuild.
Hurricane Idalia, which made landfall in Florida on Wednesday, is also bearing down on a region that's extremely vulnerable to storm surge floods.
Between the lines: Over the long term, the federal government can't force local authorities to stop developing valuable land in flood or wildfire-prone areas.
But it can offer better incentives to adapt and use climate-resilient building codes, said Alice Hill, a former Obama administration official who's now at the Council on Foreign Relations.
"As this summer has revealed, we have infrastructure that is built for the climate of the past, not the climate that we are currently experiencing," Hill told Axios. "The first order of business for the United States is to create a national adaptation strategy."
Sen. Chris Coons introduced a bipartisan bill last year — the National Climate Adaptation and Resilience Strategy Act — to do exactly that.
A Coons spokesperson told Nick that he plans to reintroduce a "revised version based on stakeholder feedback" this year.
The Biden administration is also planning to unveil a "National Climate Resilience Framework" in the coming months.
Yes, but: Any effort at climate resilience policy, or even to dole out short-term disaster aid, could get tied up in partisan politics.
During a hearing this year, House Republicans accused FEMA of "advancing a woke agenda" in its latest strategic plan.
Biden's funding request for FEMA came alongside a $24 billion ask for Ukraine aid, which is sure to be controversial among conservatives.
It does help that Rep. Garret Graves, a top leadership ally, is a longtime advocate for overhauling the disaster response bureaucracy. Lawmakers and outside experts say it's much too complicated for victims to navigate.
What we're watching: some extreme weather bills that could sneak into an omnibus or a late-night Senate UC request.
Our thought bubble: For an acute example of how lawmakers have withered in the face of climate preparation, look no further than the National Flood Insurance Program.
The NFIP is hugely indebted to the U.S. Treasury and has long struggled to accurately measure flood risk.
FEMA's efforts to overhaul the program's rating system to more accurately reflect increasing flood risk of individual homes have faced pushback from lawmakers concerned about policy price increases.
The NFIP has been living on short-term reauthorizations since 2017, and despite a few hearings this year, that's likely to continue.
Go deeper