The other IRA funding fight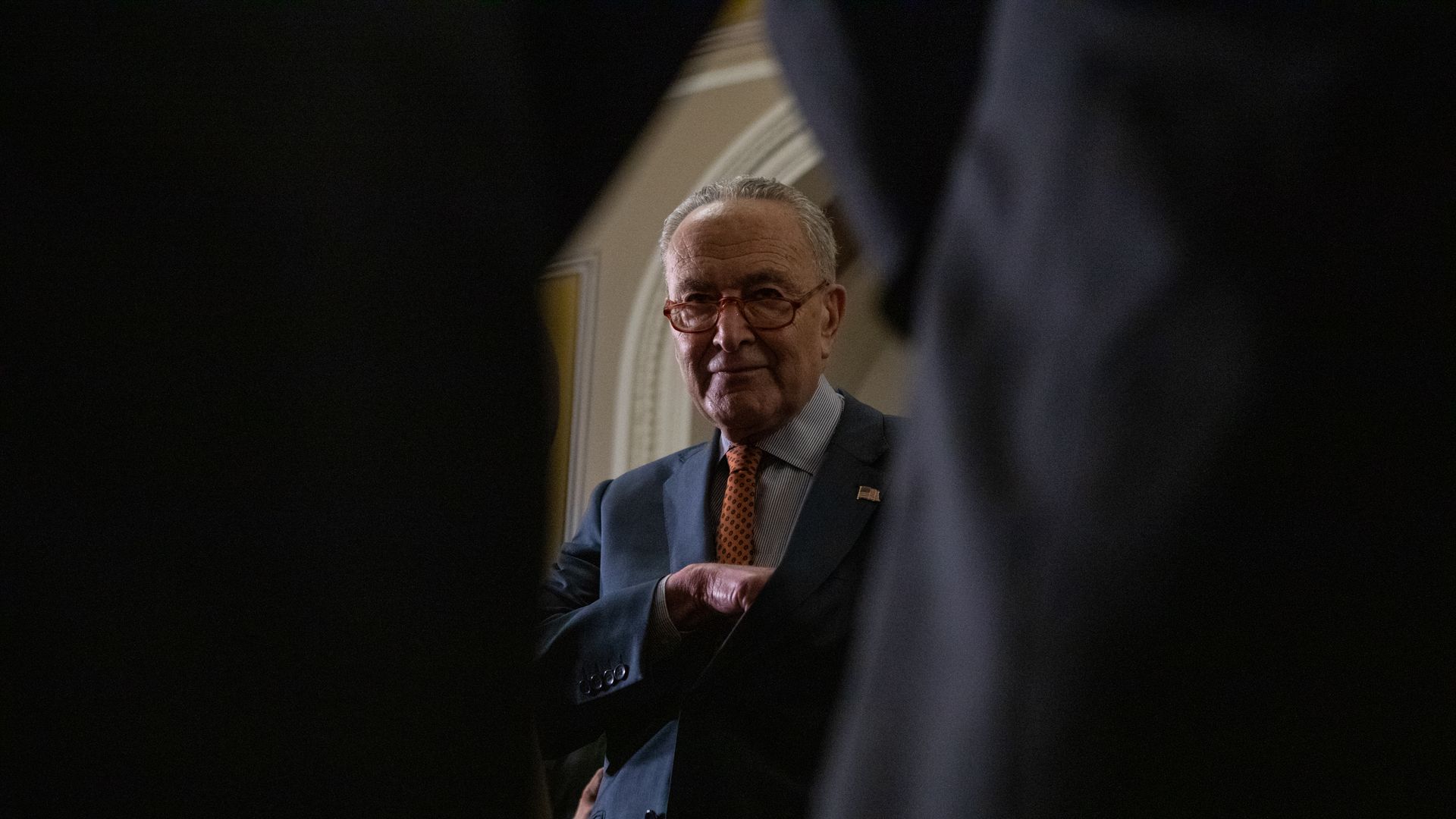 Senate Democrats say they won't play ball with the GOP on defunding the ag-related provisions of the Inflation Reduction Act in this year's farm bill.
Why it matters: Forget about the debt ceiling fight for now. A hot IRA conflict has broken out over keeping the law's infusion of billions of dollars for climate and conservation in the farm bill.
Driving the news: Majority Leader Chuck Schumer told Axios on Wednesday evening that Democrats won't support repurposing the money.
"Not gonna happen on our side, no," Schumer said.
Flashback: House Republicans want to repurpose some of the $19.5 billion that the IRA sent to the Department of Agriculture, as we wrote in March.
The funds are for farms with climate-sensitive endeavors (an example: cover cropping) and conservation efforts such as wetlands restoration.
Ag groups want Congress to preserve as much of the new funding as possible. But they're also calling for a bigger overall farm bill to keep pace with inflation.
It's a dynamic rife with contradictions, as lawmakers haggle over growing the farm bill during a standoff over the budget and debt ceiling.
What they're saying: On the sidelines of Senate Agriculture Committee hearings on the farm bill's safety net programs this week, panel Democrats made clear they're not entertaining an IRA reshuffle.
"The provisions that we did in the IRA on conservation and climate are strongly supported by all the agricultural groups in that room," Ag Committee Chair Debbie Stabenow told Axios. "That is not something that we would change."
And Cory Booker said as he left Mike Crapo's office with snacks: "It's unfortunate that here you have things [being targeted] that are demanded by farmers, that make a difference on our climate crisis."
The intrigue: Stabenow is clear-eyed that the topline budget fight will be difficult.
"If we do not have additional funding in the baseline, we're going to need to focus on our top priorities," she said during the Tuesday hearing.
The other side: Senate Republicans are aligned with their House counterparts on moving the IRA money around to fund other things.
Ag Ranking Member John Boozman said he supports the farm bill's conservation programs but wants to be sure "there are not strings attached" on using the money.
John Newton, chief economist for Senate Ag Republicans, recently said the GOP is looking at keeping the money for conservation work but excluding projects to combat greenhouse gas emissions (Roll Call).
Chuck Grassley wouldn't weigh in on the conservation programs specifically, but he told Axios that reshuffling money is an inevitability.
"There's no doubt there's got to be some money, generally, recaptured," Grassley said.
And Deb Fischer was keen on IRA reprogramming: "There's a lot that we can do with [the IRA money]."
Go deeper