Pushback on NOAA independence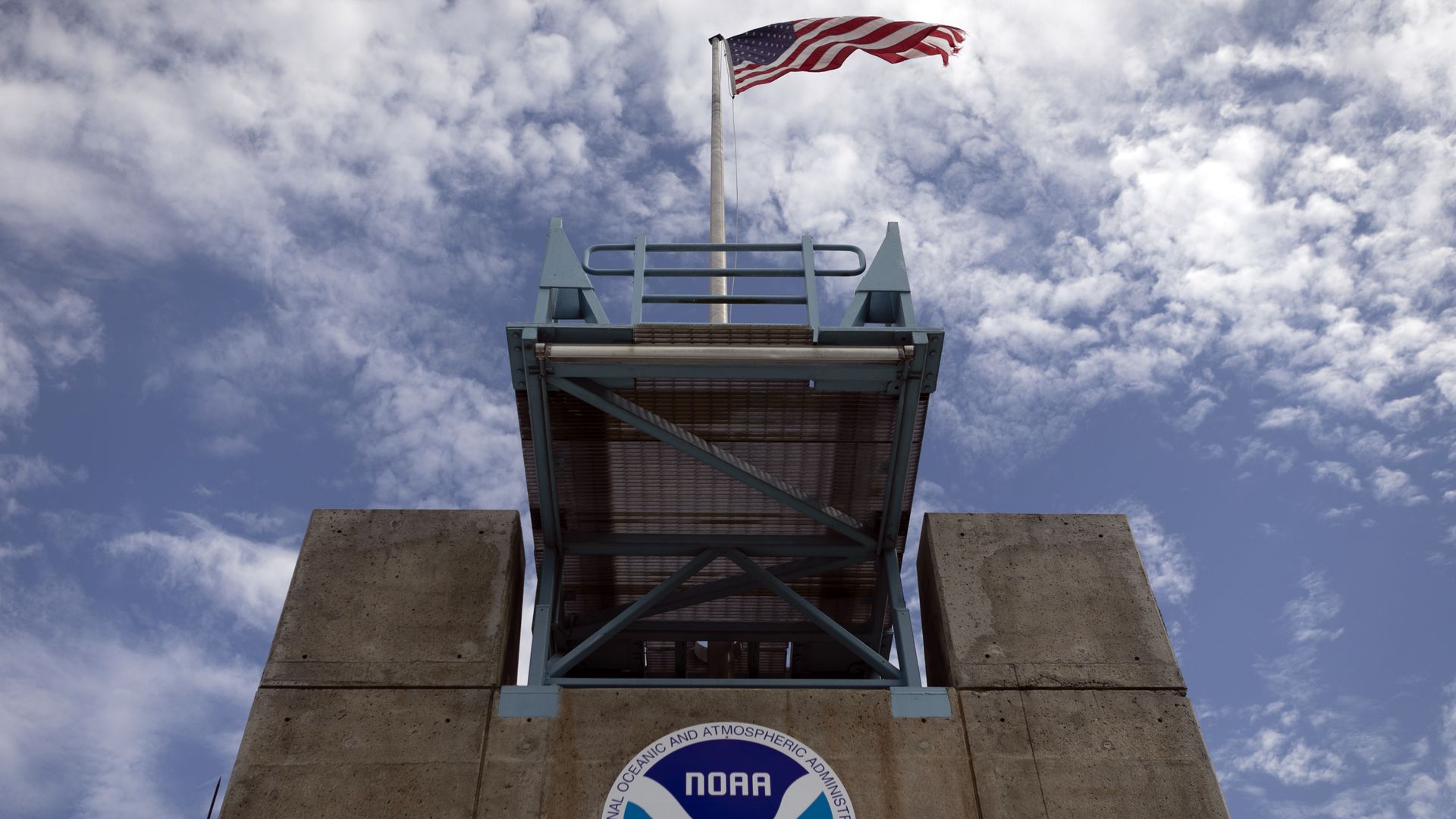 A GOP-led push to make the National Oceanic and Atmospheric Administration an independent agency is hitting major turbulence.
Why it matters: The bill's odds rely in part on whether Democrats believe they can trust Republicans with NOAA after "Sharpiegate."
That incident saw the Trump White House and Commerce Department forcing senior leaders at NOAA to back President Trump's erroneous 2019 assertion that Hurricane Dorian was likely to severely impact Alabama.
Driving the news: Draft legislation authored by House Science, Space and Technology Chairman Frank Lucas would separate NOAA from the Commerce Department, where it's been authorized under executive order since 1970.
"From weather prediction to environmental observations to managing our fisheries, NOAA's work supports more than one-third of our economy," Lucas said last year in explaining the need for the move.
At the draft's first hearing last week, Democrats questioned whether the bill would impact NOAA's clout within the federal government, as well as slow offshore wind permits and boost the likelihood of political interference in agency science.
After the hearing, committee Ranking Member Zoe Lofgren told Axios that "there's a lot more work" to be done on the legislation.
And committee member Suzanne Bonamici told Axios, "We have to make sure we get it right so that all of the line offices at NOAA have the ability to do the work they need to do."
Zoom in: NOAA makes up more than half of the Commerce Department's budget. But if it was made its own agency, its spending would be far smaller than better-known independent agencies like NASA.
One former NOAA official told Axios that taking the agency indie could cause it to be overlooked, especially in the president's budget. The official requested anonymity because they still interact with the agency.
Another flash point, the official said, is likely to be the Lucas draft's provision of a study looking into moving NOAA's marine protection roles to the Interior Department, which manages offshore energy development.
Key labor and conservation groups told Axios they want more done to ensure the agency's mission and staff are protected from future political disruptions.
The American Federation of Government Employees said it has told the committee it wants made explicit that NOAA employees will receive civil-service protections.
Marine protection group Oceana said the bill fails to adequately address conservation and that it would "provide the NOAA Administrator with vast authority to reorganize the agency with virtually no guidance on what changes are needed, and a meager 60-day public comment period."
Between the lines: Senate Commerce, Science and Transportation Chair Maria Cantwell plans to pursue her own bill codifying NOAA that has major differences with Lucas' vision, Axios has learned.
The legislation, which hasn't been introduced yet, would keep NOAA within the Department of Commerce and seek ways to strengthen the agency's authority, which may enjoy more bipartisan support in the upper chamber.
What they're saying: GOP committee spokeswoman Heather Vaughan told Jael that Lucas' staff is working with Lofgren to "get a bipartisan bill" introduced that'll be "open to amendments," and that they're open to satisfying AFGE's request.
"This has been an open process from the start, with years of soliciting feedback from stakeholders, and we've told our minority that we're open to holding a roundtable with other stakeholders."
Vaughan noted former acting NOAA administrator Neil Jacobs testified at the hearing last week that NOAA would have more protections as an independent agency.
"Neil Jacobs' perspective is especially relevant here, since he was the one in charge during Sharpiegate," she stated.
Of note: Lawmakers have tried for decades to pass a law codifying NOAA, and they've failed every time. Given the gulf between the parties, this new effort may be no different.
Go deeper