Haaland's new Hill fights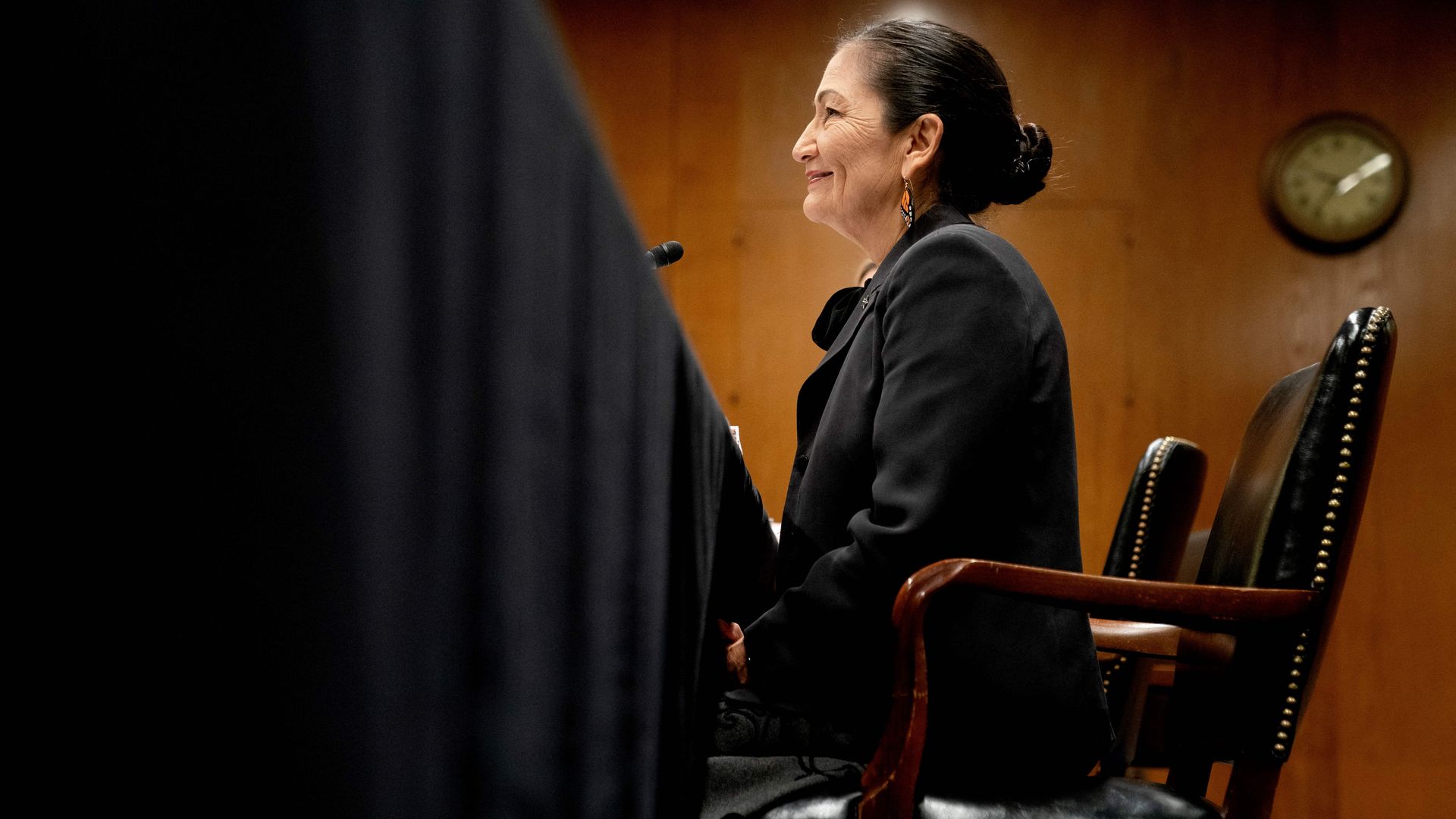 Interior Secretary Deb Haaland is facing a new set of challenges on the Hill after her agency approved the controversial Willow oil project in Alaska.
Why it matters: Haaland's committee appearances this week previewed the next several months of Interior policy — and the fights that will play out during appropriations season.
Here are three things you need to know:
🚦Alaska's next frontier: Republicans grilled Haaland on a longstanding debate about building a road through the Izembek National Wildlife Refuge— sure to be one of the Alaska delegation's next big fights with the Biden administration.
Context: Shortly after Interior signed off on Willow, Haaland announced the agency would withdraw from a land exchange approved during the Trump administration.
It would have allowed a road through the refuge to connect the community of King Cove to an airport.
The action helped appease green groups concerned about the region's delicate ecology — but it has further inflamed the agency's relationship with Republicans and Alaskans.
What they're saying: Native Alaskan residents of King Cove experiencing medical emergencies have to be medevacked, a point Sen. Lisa Murkowski raised repeatedly Wednesday morning at the Senate Appropriations Committee.
Haaland wouldn't guarantee a new land exchange to build a road, but said Interior is "committed to ensuring that the people of King Cove can once and for all find a solution."
"We don't have the luxury of time," Murkowski replied. "So the promise to just keep us informed, in my view, is not satisfactory."
🛢️ Leasing futures: Haaland offered an abbreviated preview of the administration's delayed five-year leasing plan for offshore oil and gas in the Gulf of Mexico and on Alaska's coast.
"We expect the final plan out in September, and after the required review period, it will be effective in December," Haaland told House Appropriations lawmakers Tuesday.
What we're watching: Haaland wouldn't say how many lease sales the agency might hold, but that will be a point of contention for Republicans — and Joe Manchin — moving forward.
Interior last year issued a draft strategy that considered options ranging from no new lease sales to as many as 11.
"I can't essentially pre-decide what the five-year plan will say," Haaland told House lawmakers.
Of note: Haaland's messaging emphasized Interior's role in the energy transition, particularly its efforts to hold lease sales to meet President Biden's goal of developing 30 gigawatts of offshore wind capacity by 2030.
💰 Workforce, money: Interior, like EPA, is asking Congress for more money and people to administer IRA programs and move environmental permits more quickly.
They won't get it from the GOP House, but it's an issue that's going to keep surfacing as lawmakers discuss a potential permitting bill, as we told you last week.
Sen. Deb Fischer singled out Interior's budget request for $171 million — a $50 million boost — for the U.S. Fish and Wildlife Service to work on environmental permits and the Endangered Species Act.
Specifically, Fischer said she opposes the agency's proposal to transfer money doled out in the IIJA to work on permits.
"I voted for the bipartisan infrastructure bill, and I voted for it to build infrastructure, not to fund federal government permitting," Fischer said.
Our thought bubble: The exchange was indicative of fights to come. Progressives argue that agencies need more funding to move energy project permits more efficiently.
Go deeper