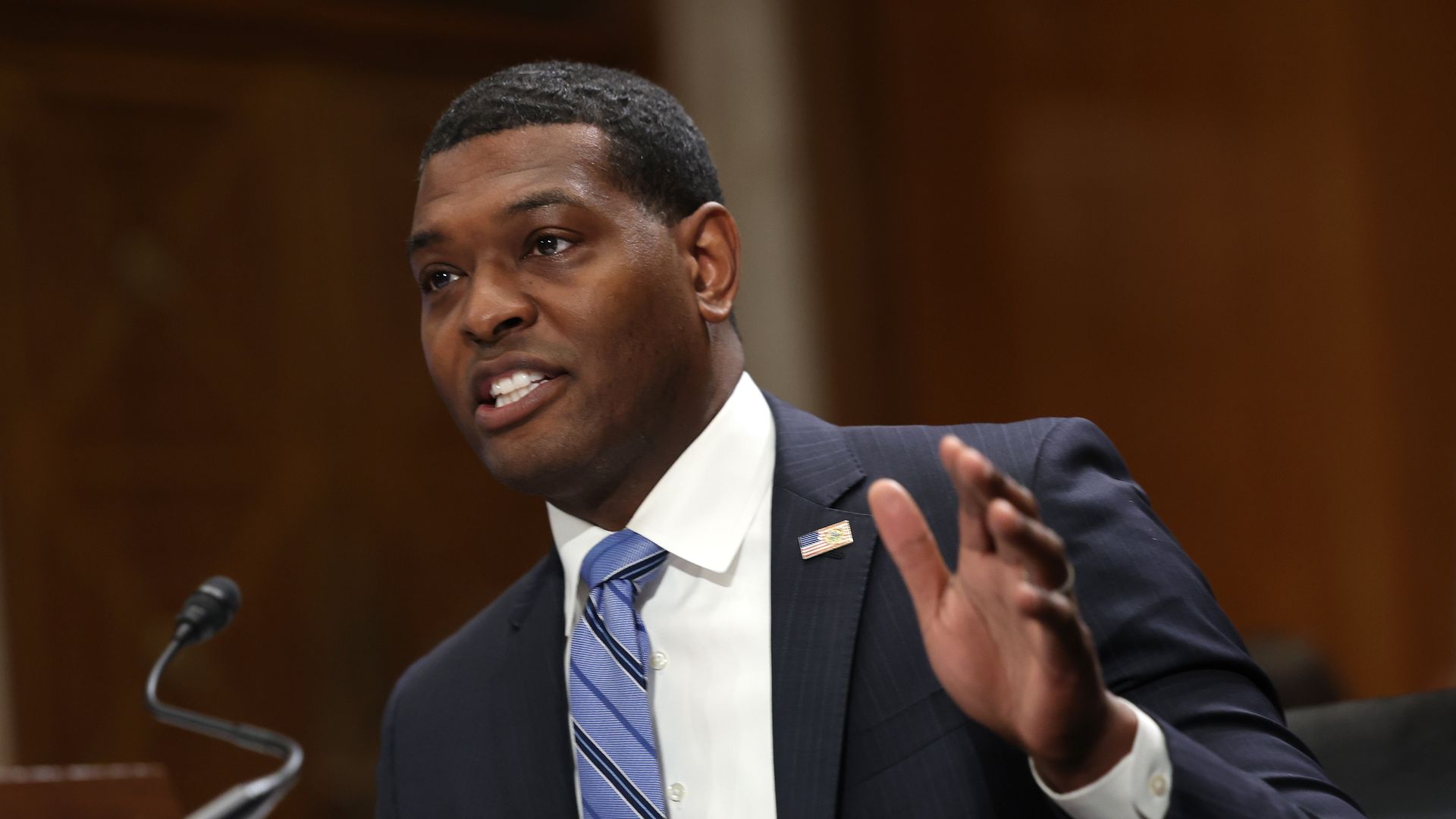 EPA Administrator Michael Regan's first appearance before Senate EPW this year showed President Biden's regulatory agenda at a critical juncture.
Why it matters: EPA has become the focal point of the administration's post-IRA climate and environmental agenda.
It's set for additional scrutiny as it leads cleanup efforts in East Palestine, Ohio and finalizes a slate of politically contentious regulatory items.
Here's what you need to know from the hearing:
🏭 GHG rules: Regan confirmed that EPA is planning to unveil a power plant greenhouse gas regulation by the end of April.
Our thought bubble: It's going to set off a political firestorm, and Regan will have to thread the regulatory needle after last year's ruling in West Virginia v. EPA.
The case preemptively limited EPA's authority to reduce emissions by requiring shifts to different types of power generation (from fossil fuels to renewables, for example).
But the agency is still obligated to regulate GHGs, and some Democrats have criticized it for not moving fast enough to do so.
What they're saying: Regan said the agency would stay "well within the guardrails" set by the West Virginia case.
"Our rule will set the structure for the opportunities in this country, especially those that have come about because of the Inflation Reduction Act," Regan told the panel.
As he walked out of the hearing, Sheldon Whitehouse said: "As long as they stick within traditional means of regulation and don't inadvertently say something dumb about market changing, then I think they're on very strong footing."
💵 Money and workforce: Biden's budget requested a $​​1.9 billEPA in the hot seation boost for EPA for fiscal 2024, in part to hire roughly 2,000 more people.
Quick take: Republicans on EPW made clear that's not going to happen in a divided Congress, but the agency workforce conversation isn't going away.
Democrats gave the agency $41 billion in the IRA — roughly quadruple its typical annual spending.
It's on the hook for implementing a slew of new programs, including the recently announced $27 billion Greenhouse Gas Reduction Fund and a new federal fee on methane emissions.
Democrats said the agency could move faster on the IRA and regulatory laws like the 2016 overhaul of the Toxic Substances Control Act if it had more resources.
By the numbers: EPA generally employed between 16,000 and 18,000 people from the 1990s until 2012.
A period of cuts and flat funding has brought that number to between 14,000 and 15,000 in recent years.
What they're saying: "I am not convinced that EPA is using the resources it already has effectively," said ranking member Shelley Moore Capito.
What we're watching: This dispute over money could also play into the ongoing debate on the Hill about cutting down environmental permit requirements for energy projects.
💧WOTUS woes: Republicans also zeroed in on EPA's new Waters of the United States rule, as they prepare an attempt to repeal it via the Congressional Review Act.
The rule is significant — and controversial — because it determines which kinds of waterways are eligible for federal protection.
One point that came up repeatedly: The Supreme Court will issue a ruling this summer in Sackett v. EPA that threatens to toss out parts of the regulation.
Why, Republicans wondered, would EPA spend two years writing a rule that might be irrelevant in a few months?
"It concerns me that the EPA water office could have been prioritizing PFAS instead of writing the WOTUS rule, which is going to have to be changed, in all likelihood, after the Supreme Court makes its decision this summer," Capito said.
What we're watching: The Senate is expected to vote soon on the CRA rollback of WOTUS — a political exercise that could get support from moderate Democrats up for reelection in 2024.
Go deeper