The Senate's transmission king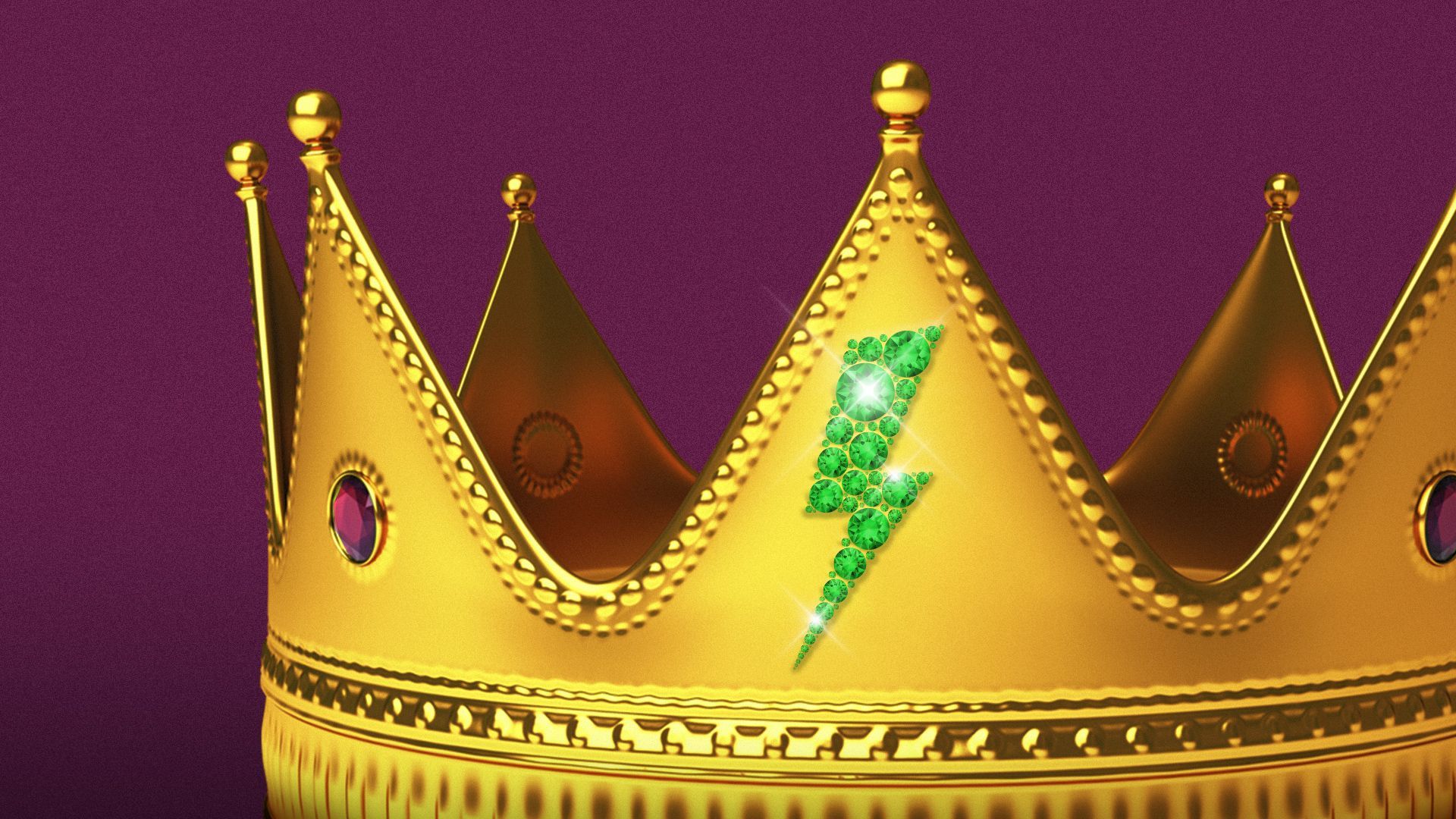 ⚡️Martin Heinrich spends a lot of time figuring out how to get more renewable power onto the grid.
Why it matters: The U.S. needs to build interstate power lines at lightning speed to meet President Biden's climate goals. Heinrich is at the center of that push on the Hill — and he might be the next top Democrat on Energy and Natural Resources.
Details: Ask Heinrich what's on his legislative agenda, and transmission is the first thing he'll bring up. He even posted an explainer a couple years back.
It's an area where lawmakers could find "bipartisan runway" because of the ongoing discussion about environmental permits in a politically challenging Congress, he said.
He plans to reintroduce his legislation to create an investment tax credit for regional transmission projects, as well as a separate bill to overhaul the Federal Energy Regulatory Commission's regional transmission planning process.
Heinrich's also planning legislation that would give FERC more power to permit and site those power lines, as we wrote this month.
The bills seek to address two issues — cost allocation and siting — that experts say are the biggest barriers in the messy bureaucratic world of power transmission.
Zoom in: Heinrich has a personal stake in this issue, having spent essentially his entire congressional career trying to get the SunZia Southwest Transmission Project through the permitting process.
The 550-mile line would send renewable power from New Mexico to bigger markets in Arizona and California. The project is nearing final approval.
"I really enjoy the challenge of it, but it shouldn't take 14 years to get a power line permitted. You should be able to get to yes, or, if it's poorly constructed, no, in five or six years," he said.
☕️What he's saying: Heinrich spelled out his views over coffee in his Hart office.
On permits, he said Congress could make the National Environmental Policy Act "work better" by setting time limits and improving agency coordination.
"What typically hangs up these projects is one person or agency that is out of step with the consensus that has been created among the others," Heinrich said, pointing back to SunZia. "And we just can't have a situation where anyone gets a complete veto."
Between the lines: Joe Manchin maintains a firm grasp on the the ENR chair, but both he and Heinrich are up for re-election in 2024.
Those ahead of Heinrich in seniority — Ron Wyden, Maria Cantwell and Bernie Sanders — currently hold other chairs.
Go deeper: Heinrich doesn't like to talk about Manchin, but their relationship has been the subject of palace intrigue.
Heinrich went public with his displeasure when Manchin pulled support for Build Back Better (before coming back to pass the IRA): "Senator Manchin's refusal to act is infuriating. It makes me question why he's Chair of ENR," he tweeted at the time.
Heinrich also has become a target of Dan Sullivan, who routinely castigates him for opposing drilling in Alaska while New Mexico rakes in cash from the Permian Basin (E&E News).
Zoom out: That oil tension is fundamental to Heinrich's view of the energy transition.
"What we have to be prepared for as a state — because we're so over-dependent on severance taxes for oil and gas — is not so much for the day when we're producing zero, but when the whole system tips over and you have a declining market share," Heinrich said.
1 fun thing: Heinrich is in the process of electrifying his family home and getting rid of all gas appliances.
For the record, he loves his induction stove: "For making something like carne adovada, which is a tough kind of meat that you're going to cook in red chile sauce until it just falls apart, it works really well. It boils water so fast, it's outrageous."
Go deeper