The right's China funding fight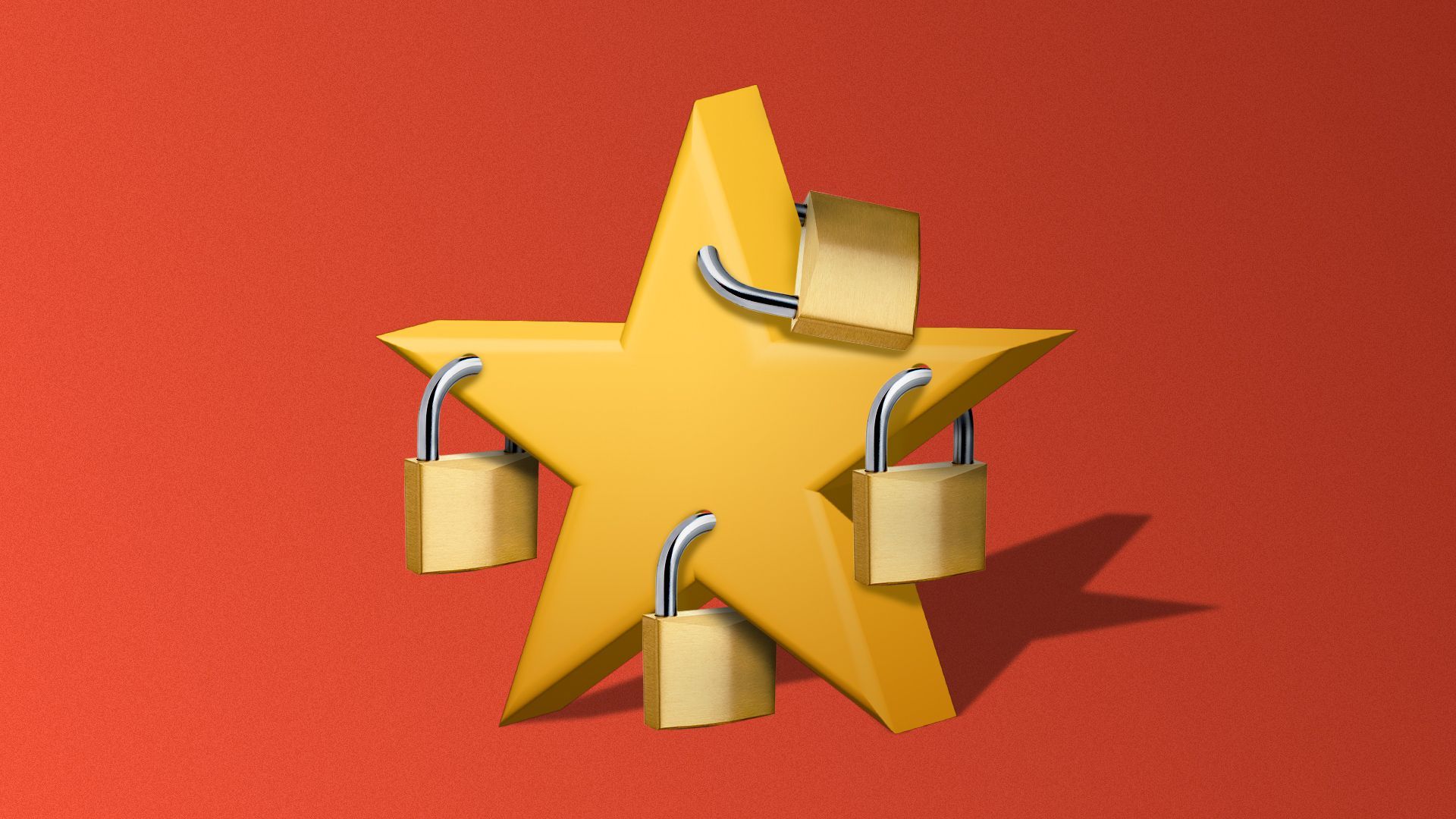 Conservative advocates are pushing House Republicans to draw a fresh red line: no federal funding for companies with close Chinese relationships.
Why it matters: If the advocates get traction, House Republicans could take up proposals to short-circuit government subsidies for U.S. companies based on China business ties.
Such a proposal, if enacted, could be enormously disruptive to the U.S. and China alike.
It would have a pronounced impact on U.S. firms currently pivoting to using more fossil-free products (some of which are primarily made in China).
This pattern coincides with state action: Virginia Gov. Glenn Youngkin last month vetoed a large Ford battery plant over its Chinese project partner.
Driving the news: The Heritage Foundation published a commentary calling on Congress to require companies seeking federal contracts and subsidies to "divest Chinese entanglements" and require agencies to "certify that no recipients of grants or subsidies have any ties" to the People's Republic of China.
Heritage's commentary focused on Microvast, a Texas-based battery tech firm with some operations in China and revenues from business done in the country.
Microvast received Energy Department funding only to be turned into an anti-China bogeyman by conservative Republicans — and Senate Energy and Natural Resources Chairman Joe Manchin.
Victoria Coates, a senior Energy Department official under Trump who authored the commentary, told Jael her writing was "designed to kind of socialize the concept" before Heritage and its allies start meeting with key Hill staff.
Her view is the GOP should block funding for "any company that does a majority of business in Mainland China, any company that has subsidiaries formally incorporated in Mainland China, and any company that has demonstrable ties to the Chinese government."
Coates said advocates are looking at different potential vehicles and floated working with the new House select committee on China.
Between the lines: Coates' stance fits with where the GOP is moving.
Take freshman Anna Paulina Luna, a right-wing media darling, who told Jael last week "if she had the influence" she would ask American companies to "completely remove" their entanglements with Chinese businesses.
Veteran GOP members are also open to some restrictions. Bill Johnson, chair of the Energy and Commerce subcommittee on Environment, Manufacturing, & Critical Materials, said he'll "take it on a case-by-case basis."
"You have to look at [the] national security and the economic implications, but I think everything regarding China is suspect right now," Johnson said.
Flashback: The Republican Study Committee in 2021 released the "Countering Communist China Act" — an energy security messaging bill that proposed making firms prove they aren't expanding operations in China to win federal subsidies.
Speaker Kevin McCarthy has also said the select China panel will develop policies to ban state and local pension funds "from investing in China."
The other side: One Republican less eager to draw conclusions is House Science, Space and Technology Chairman Frank Lucas, whose committee is investigating whether the Microvast grant posed a security risk.
Lucas declined to say whether this work was about finding a red line on funding and Chinese ties. "I am an old-school legislator. Lots of my friends will make pronouncements," Lucas told Jael.
The bottom line: Chinese businesses dominate manufacturing for the global energy transition. By virtue of that truth, deepening U.S.-China tensions could make American climate goals more difficult to reach.
"For us, it's more important to confront China than [to] quickly decarbonize. Period," said Bob McNally, an energy policy analyst who was an adviser to former President George W. Bush.
Go deeper