Big Oil, JetBlue-backed startup opens plant that captures CO2 and water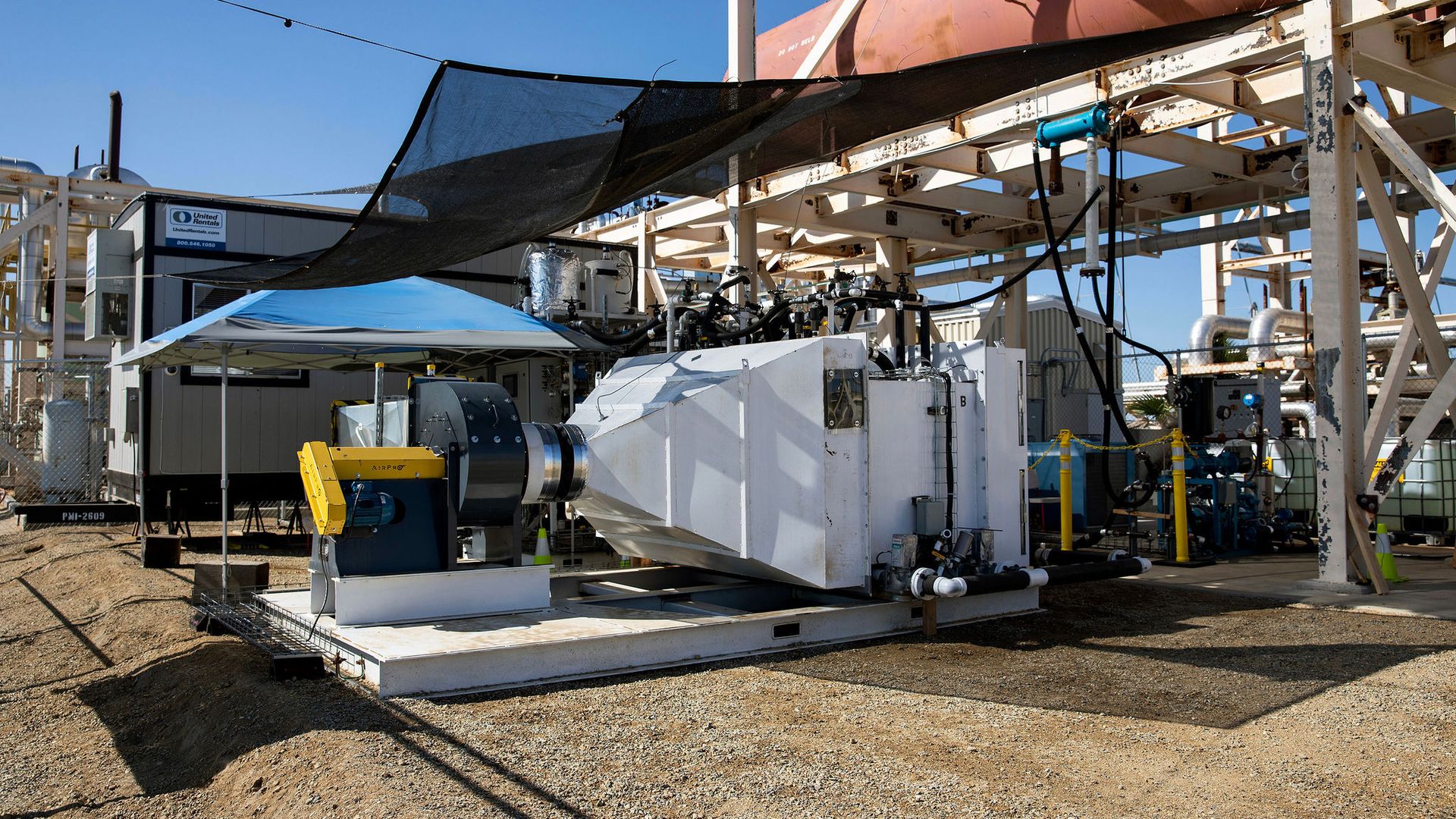 Avnos, a carbon removal startup, has begun operating what it says is the world's first facility that can capture both water and CO2 from the atmosphere in a single system in Bakersfield, California.
Why it matters: Direct air capture technology has started to receive increased investment and attention in the U.S., but some of the DAC technologies can be water-intensive.
Details: Avnos' pilot-scale plant, which cost $3.2 million to build, will be able to capture 30 tons of CO2, and produce 150 tons of water, per year. The facility was partly funded by the Department of Energy and SoCalGas.
Avnos CEO Will Kain called operation of the plant "a significant move forward for the DAC industry," because of the "water-positive" nature of the tech.
The plant's operation follows Avnos' $80 million round from investors including ConocoPhillips, JetBlue Ventures and Shell Ventures. Seed investors in the company include the Grantham Foundation and Thistledown Foundation.
Avnos, based in Los Angeles, was founded in 2020 and uses tech born out of Pacific Northwest National Laboratory.
Big picture: Direct air capture technologies need to vastly grow in production and greatly reduce in cost.
The industry saw two major inflection points this summer. First, the Department of Energy said it would spend $1.2 billion funding consortiums to build commercial-scale DAC "hubs" in the U.S.
The second was that oil company Occidental said it planned to buy DAC company Carbon Engineering for $1.1 billion.
Avnos' pilot plant, at just 30 tons of carbon removal per year, is small and relatively costly on a per-ton basis.
Of note: Oil companies are partly interested in DAC because CO2 can be used to enhance oil production.
Carbon dioxide can also be used as a feedstock to produce sustainable aviation fuel, which is one reason airlines are interested in DAC.
What's next: Avnos is planning to build a larger 300-ton-per-year facility working with the Department of Defense that is supposed to start operating fall of next year.
Another plant in the works is supposed to remove several thousand tons of CO2 per year by 2025.
Go deeper