Uber may tune into Spotify IPO
Source: Giphy
Fortune scribe Adam Lashinsky has a new book out out on Uber, and toward the end includes this anecdote from a private plane trip in China last summer:
"Kalanick loves nothing more than to bat around ideas, the zanier the better. He wonders aloud to Emil Michael, his top deal-maker and fund-raiser, if Uber could go public without investment bankers. Michael, a lawyer by training, suggests instead a reverse merger... Kalanick suggests using no bankers but giving 3% of the capital raised ― the fee bankers would have received ― to charity. When I suggest giving that money instead to drivers, Kalanick lights up. He says he wants to give equity to drivers... but Uber has found the securities-law implications to be complicated."
That part about "using no bankers" might have sounded zany in mid-2016, but that was before Spotify decided to prep a direct listing that is expected for later this year. Moreover, the WSJ today reports that the New York Stock Exchange is asking the SEC to approve a change to its listing standards so as to permit direct listings on the Big Board (thus letting it better complete with Nasdaq, which already takes direct listings).
If Kalanick still likes this idea, then a blueprint may be waiting by the time Uber is ready to take its public plunge.
As for the driver equity angle, it's worth noting that Reddit has regularly talked about something similar for its top users ― preferably via a cryptocurrency scheme ― but has run into its own regulatory challenges.
Some additional Uber notes:
Timeline: Eric Holder is expected to present his report on Uber's workplace issues ― including allegations of sexual harassment and discrimination ― to the company's board of directors tomorrow, Axios has learned from multiple sources. An all-hands meeting is then scheduled for June 6 to discuss the findings with employees, although the full report is unlikely to be disseminated either internally or externally (in large part to protect the confidentiality of those who spoke with Holder and his fellow investigators). It is unclear if this schedule will change due to the tragic death of Bonnie Kalanick, mother of Uber CEO Travis Kalanick, in a weekend boating accident that also injured Travis' father Donald.
Moving on: Josh Mohrer this morning announced that he is stepping down as general manager of Uber's New York City business, in order to become a managing director with Tusk Ventures (led by political strategist Bradley Tusk, who has worked with Uber on various regulatory issues). No word yet on who will take over for Uber in NYC.
It's complicated: There is a very complex web of ride-hail relationships ― in terms of investments, personnel, lawsuits and strategic partnerships ― where rivalries and alliances are often one in the same. We've put together a cool interactive graphic to help you keep track of it all.
The BFD
First Data (NYSE: FDC) has agreed to acquire CardConnect (Nasdaq: CCN), a King of Prussia, Penn.-based provider of payment processing solutions to SMEs, for around $750 million in cash, or $15 per share (9.98% premium over Friday's closing price). KKR holds a 58.3% stake in First Data's outstanding stock, while FTV Capital holds a 34% stake in CardConnect.
Why it's the BFD: Payment processing is all about volume, and this deal is expected to give First Data an extra $26 billion in annual payments from 67,000 small and mid-sized merchants. This also is First Data's largest acquisition since its 2015 IPO.
Venture Capital Deals
• Tuandaiwang, a Chinese peer-to-peer lender, has raised around $262 million in new VC funding at a $1.46 billion valuation. China Minsheng Investment Group led the round, and was joined by Beijing Yisheng Innovation Technology and Beihai Hongtai Investment. http://bit.ly/2seFqys
• Swiggy, an online ordering and food delivery business in India, has raised $80 million in new funding led by Naspers. http://tcrn.ch/2qvjxPa
• Demandbase, a San Francisco-based provider of B2B marketing solutions, has raised $65 million in private equity and debt funding. Sageview Capital and Silver Lake Waterman co-led the round, and were joined by Adobe Systems, Altos Ventures, Greenspring Associates, Scale Venture Partners, Sigma Partners and Split Rock Partners. http://bit.ly/2qjJIUv

🚑 Saluda Medical, an Australian developer of a platform of closed-loop neuromodulation technologies based on neural response to stimulation, has raised A$53 million in new venture funding. Action Potential Venture Capital (backed by GSK) led the round, and was joined by return backer Medtronic. www.saludamedical.com
• Change.org, a San Francisco-based online petition platform, has raised more than $30 million in VC funding from backers like Reid Hoffman (taking a board seat), Sam Altman and Bill Gates. http://bit.ly/2qzy6w7
• Philo, a San Francisco-based developer of an IP-based television service for university campuses, has raised $22 million of a $27 million funding round, per an SEC filing. www.philo.com
• CounterTack, a Waltham, Mass.-based, has raised $20 million in Series D funding. Singtel Innov8 led the round, and was joined by SAP National Security Services and unidentified return backers. www.countertack.com
• AB Tasty, a French provider of user testing and experience solutions, has raised $17 million in Series B funding. Korelya Capital and Partech Ventures were joined by return backers Xange Private Equity and Omnes Capital. www.abtasty.com

• Kaishuo Jianggushi, a China-based online provider of children's stories, has raised $13 million in new VC funding. New Oriental Education & Technology Group led the round, and was joined by Trustbridge Partners, Zhejiang Daily Digital Culture Group and iResearch Capital. http://bit.ly/2rgjXbh

• Readly, a Stockholm-based digital magazine newsstand, has raised €13 million in Series B funding from Zouk Capital, Hermes GPE, Channel 4's Commercial Growth Fund and Aggregate Media Fund. http://bit.ly/2sesfh3
• People.ai, a provider of AI-enabled solutions for sales managers, has raised $7 million in Series A funding. Lightspeed Venture Partners led the round, and was joined by Index Ventures, Shasta Ventures, Y Combinator and SV Angel. http://tcrn.ch/2rjatf5
• UltraSoC, a UK-based developer of semiconductor IP, has raised £5 million in new VC funding. Atlante Tech led the round, and was joined by Enso Ventures, Oxford Capital, Guillaume d'Eyssautier and return backers Octopus Ventures and FSE Group. www.ultrasoc.com
🚑 Asimov, a stealthy Boston-based biotech startup, has raised $4.7 million in first-round funding led by Andreessen Horowitz, per an SEC filing.
• Riley, a San Francisco-based provider of lead generation solutions for real estate agents, has raised $3.1 million in seed funding from Y Combinator, FundersClub, Social Capital, Fuel Capital, Kleiner Perkins Caufield & Byers, Liquid 2 Ventures and Rough Draft Ventures. http://tcrn.ch/2r3fJmM
• CrowdJustice, a London-based crowdfunding platform focused on public interest litigation, has raised $2 million in seed funding from First Round Capital, Venrock, Bessemer Venture Partners and Kindred Capital. http://tcrn.ch/2rQYxC1
🚑 Sana Health, a UK-based maker of smart goggles for those who have trouble sleeping, has raised $1.3 million in seed funding from Founders Fund, Maveron and SOSV. http://tcrn.ch/2qjJRf1
Private Equity Deals
• Aquis, a Novato, Calif.-based maker of hair-drying towels, has raised an undisclosed amount of private equity funding from Madison Parker Capital. www.aquis.com
• Bain Capital has agreed to acquire a $200 million portfolio of Chinese non-performing loans from China Huarong Asset Management. No pricing terms were disclosed. http://reut.rs/2s7FWzc
⛽ First Reserve is in talks to acquire the wind farms of Brazilian energy company Queiroz Galvao Energia, according to Bloomberg. https://bloom.bg/2rdp5ux
• Portobello Capital has acquired Spain's Centauro, a low-cost provider of car rental services in the Iberian Peninsula. www.centauro.net
• PSP Investments and Grupo Aeroportuario del Sureste (NYSE: ASR) have completed their purchase of a 50% stake in Aerostar Airport Holdings, operator of the Luis Muñoz Marín International Airport in San Juan, Puerto Rico, from Oaktree Capital Management for $430 million. http://nyp.st/2muHGTG
Public Offerings
• Alfa, a British provider of financial software for the auto finance and equipment leasing markets, raised £254 million in an IPO at an initial market cap of £975 million (which climbed to £1.25 billion on its first day of trading). It trades on the LSE under ticker symbol ALFA. http://on.ft.com/2s7sQBR
Liquidity Events
🚑 ABRY Partners has sold International Medical Group, an Indianapolis-based provider of medical insurance products and assistance services, to Sirius International Insurance Group for an undisclosed amount. www.imglobal.com
• Norvestor has hired Mooreland Partners to find a buyer for Abax, a UK-based provider of vehicle monitoring software, according to Dow Jones. Investcorp is among interested suitors. Abax generated around £43 million in 2016 revenue. http://bit.ly/2s7Akoo
More M&A
• 3i Group, a UK-listed private equity firm, has agreed to a £200 million transfer of some of its pension obligations to Pension Insurance Corp. via a so-called "buy in." http://bit.ly/2rdpSvw
• Alawwal Bank, a Saudi lender that is 40% owned by Royal Bank of Scotland (LSE: RBS), has hired J.P. Morgan to advise it on a merger with Saudi British Bank, according to Reuters. http://reut.rs/2s7nW7O
⛽ Ensco (NYSE: ESV) has agreed to acquire Houston-based offshore driller Atwood Oceanics (NYSE: ATW) for $839 million in stock. http://reut.rs/2rj5pYg
• Frontier Services Group (HK: 500) has agreed to acquire an undisclosed stake in International Security and Defense College, a China-based private security training school. FSG was co-founded by former Blackwater CEO Erik Prince, who also is the brother of current U.S. Education Sec. Betsy DeVos. http://reut.rs/2rQgSiG
• General Reinsurance, a unit of Warren Buffett's Berkshire Hathaway, has acquired a 3% stake (valued at around $220m) in German chemicals maker Lanxess (DE: LXSG). http://reut.rs/2rdn8OQ
• The London Stock Exchange (LSE: LSE) has agreed to acquire The Yield Book, a provider of fixed-income analytics services, from Citigroup (NYSE: C) for $685 million in cash. The deal also includes Citi's related indexing business. http://reut.rs/2r6RbcC
Fundraising
• Google has launched a new investment program focused on AI startups, as Axios first reported on Friday.
• Riordan, Lewis & Haden, a Los Angeles-based private equity firm, is raising up to $500 million for its fourth fund, per an SEC filing. www.rlhequity.com
• Yao Capital, a Chinese private equity firm co-funded by David Han (ex-Wanda Group) and Yao Ming (ex-NBA player), is targeting $250 million for its first dollar-denominated fund. The vehicle will focus on "overseas sports assets with relevance to the Chinese market, according to Reuters. http://reut.rs/2rgv0Bk
It's Personnel
⛽ John Cavalier is retiring as chairman and co-managing partner of Hudson Clean Energy Partners, which he joined nine years ago from Credit Suisse. www.hudsoncep.com
• Steven Peikin is expected to leave law firm Sullivan & Cromwell to join the U.S. Securities & Exchange Commission as co-director of enforcement, where his former S&C partner Jay Clayton is now chair, according to the NY Times. http://nyti.ms/2qvjMK0
🚑 Chris Peetz has joined Frazier Healthcare Partners as an entrepreneur-in-residence. He previously was CFO and head of corp dev at Tobira Therapeutics (acquired by Allergan). www.frazierhealthcare.com
Final Numbers: VC investment in U.S. cleantech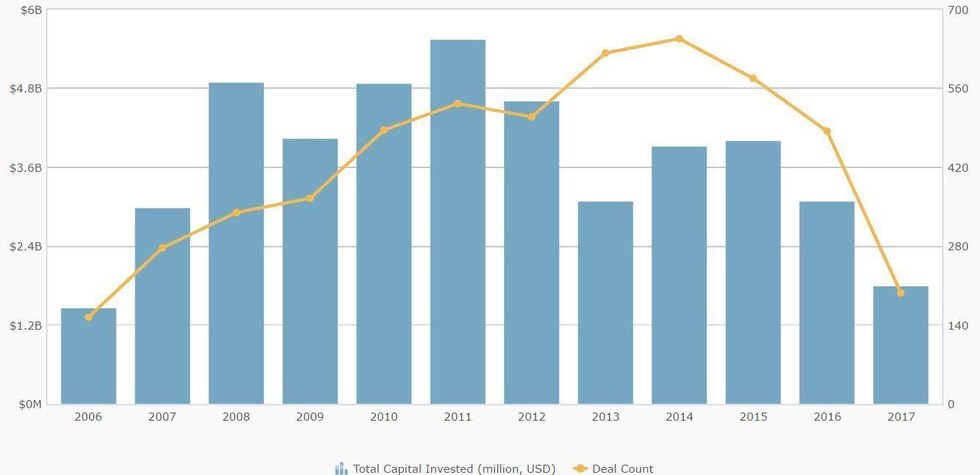 Source: PitchBook
Related links: