Welcome to Axios World, where two evenings a week we break down what you need to know about the big stories from around the world.
Thanks for joining me! Tell your friends and colleagues to sign up here, and send tips and feedback to lawler@axios.com.
1 big thing: Closing arguments on the Iran deal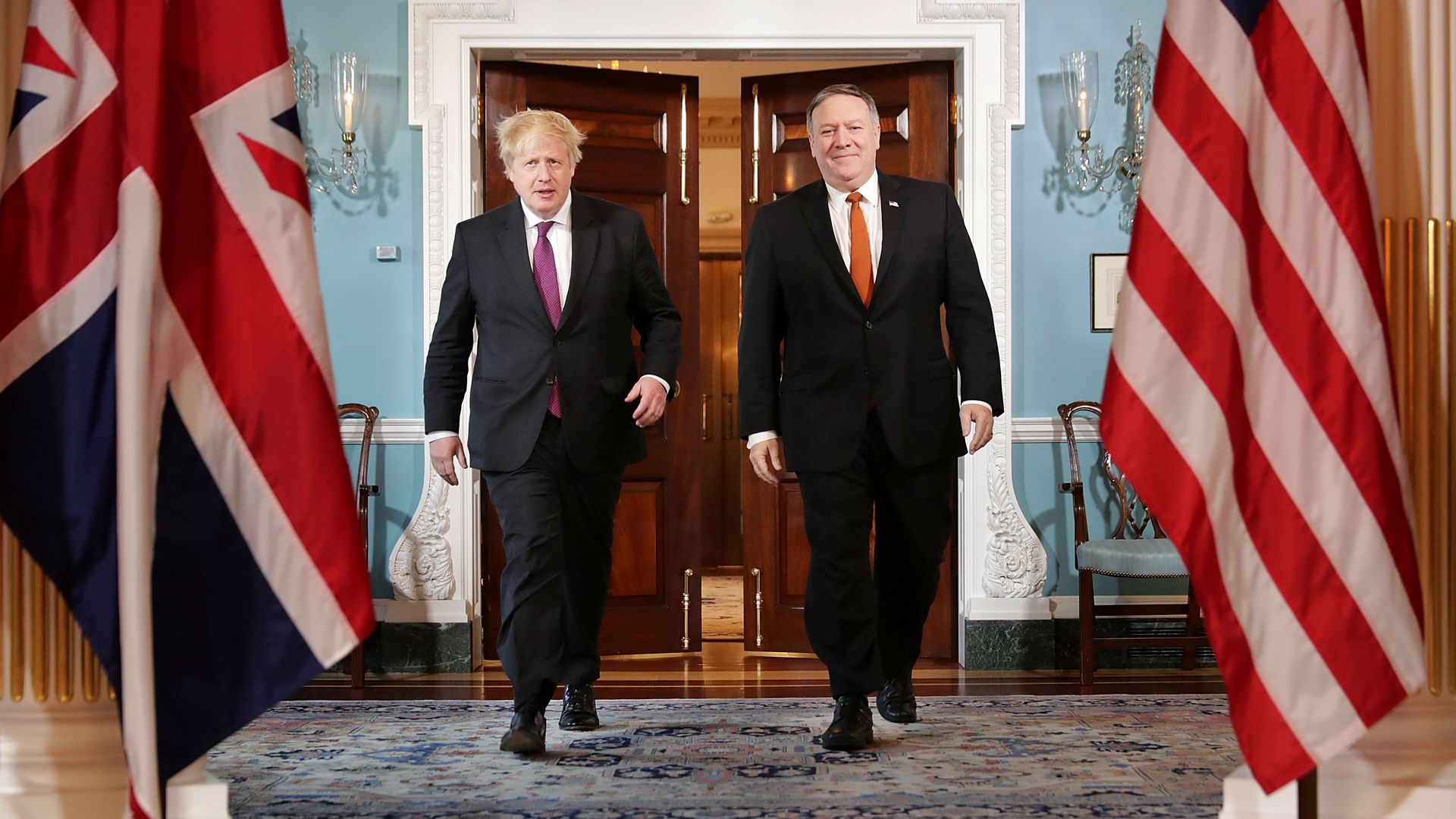 We're less than 24 hours away from President Trump's announcement on the Iran nuclear deal, and all indications are that he will throw the agreement into a death spiral by declining to waive sanctions.
Between the lines: This is one of the most significant decisions of Trump's presidency, and key players on both sides of the debate have been making last-ditch attempts to shape it.
Iranian president Hassan Rouhani said, "If we can get what we want from a deal without America, then Iran will continue to remain committed to the deal," but also warned that leaving would "entail historic regret" for the U.S.
Israeli Prime Minister Benjamin Netanyahu said, "a deal that enables Iran to keep and hide all its nuclear weapons know-how is a horrible deal," and insisted the "secret nuclear files" he presented last week contain new and damning information.
British Foreign Secretary Boris Johnson said on Fox and Friends that Trump's "Plan B does not seem, to me, to be particularly well developed at this stage," and the best course is to "work round what we have got and push back on Iran together," per the BBC.
I asked Jake Sullivan, who as a top aide to then-Secretary of State Clinton was tasked with opening the secret channel with Iran that set the stage for nuclear negotiations, what he would tell Trump if he had two minutes to convince him to stay in the deal.
His bottom line: "Each of the objections to the deal are better dealt with by staying in than by leaving," and "walking away from the deal means breaking international unity, taking the pressure off Iran and making people go to bed at night in capitals around the world worrying more about Washington than about Tehran."
"If we stay in the deal and enforce it, we can build international consensus to go after Iran on all of its other bad behavior — nothing in the nuclear deal stops us from ... imposing economic or military or other forms of pressure on Iran for its sponsorship of terrorism and its malign activity."
"Second, if you really want to make sure Iran doesn't start working its way secretly toward a bomb, you need inspectors on the ground. And the only way you're going to have inspectors have access to all of these facilities in Iran is if you keep the deal."
"And finally, if what you're concerned with is the out years — 10, 15, 20 years from now when some of the restrictions in the deal expire — well, the United States has a long history of negotiating follow-on agreements," in particular with the Russians.
I also asked the Atlantic Council's Matthew Kroenig whether there was a policy argument to be made for tearing up the deal now.
"Iran won't agree to a bigger deal out of the goodness of their hearts," he said, and the U.S. could "be in real trouble in 2025" if Iran ramps up its nuclear program as elements of the deal sunset, with the "international legitimacy" of having complied with the deal.
However, "nobody [in the Trump administration] has laid out a plan B," he said.
Go deeper: Defining week for the Trump Doctrine
2. Trump pushes Japan closer to China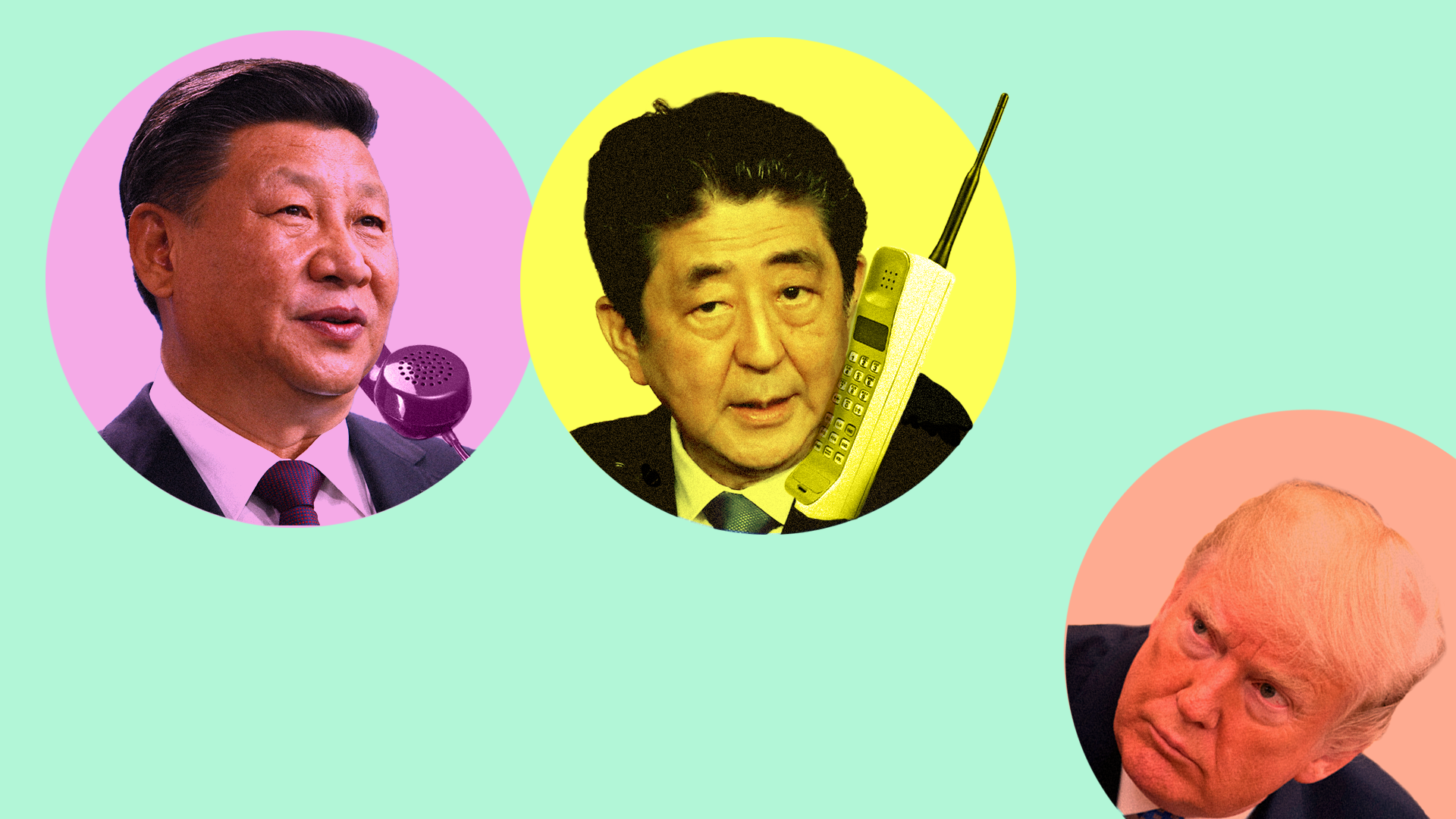 Japan has long taken a hawkish stance against China and its growing influence, but the Asian rivals have recently been working to thaw their relationship after years of tension— in large part because both fear Trump's trade war, Axios' Erica Pandey writes.
The steps: China is considering rolling back a ban on some Japanese imports, Japan is warming to China's Belt and Road project and Asian Infrastructure Investment Bank, and the countries are discussing a potential military hotline.
The talks: Xi Jinping and Shinzo Abe had their first phone call on Friday, last month saw the first "high-level economic summit" between the two countries in 8 years, and top diplomats from China, Japan and South Korea will hold a trilateral meeting for the first time since 2015 on Wednesday.
The Trump factor: Japan was disappointed that Trump pulled the U.S. out of the TPP and shocked not to be exempted from steel and aluminum tariffs.
The big picture: The Japanese "still fundamentally see China as the greatest threat to Japan, and they're still deeply reliant on the security relationship with the U.S. [in the East China Sea], but they're hedging," Dan Sneider, an expert on East Asia at Stanford University, tells Erica. "They're accepting the reality that China's going to be a major power, and they also have to hedge against the uncertainty of American foreign policy."
Go deeper: Read Erica's full report, The roadblocks in Japan's plan to counter China.
3. The risks of reducing troops in South Korea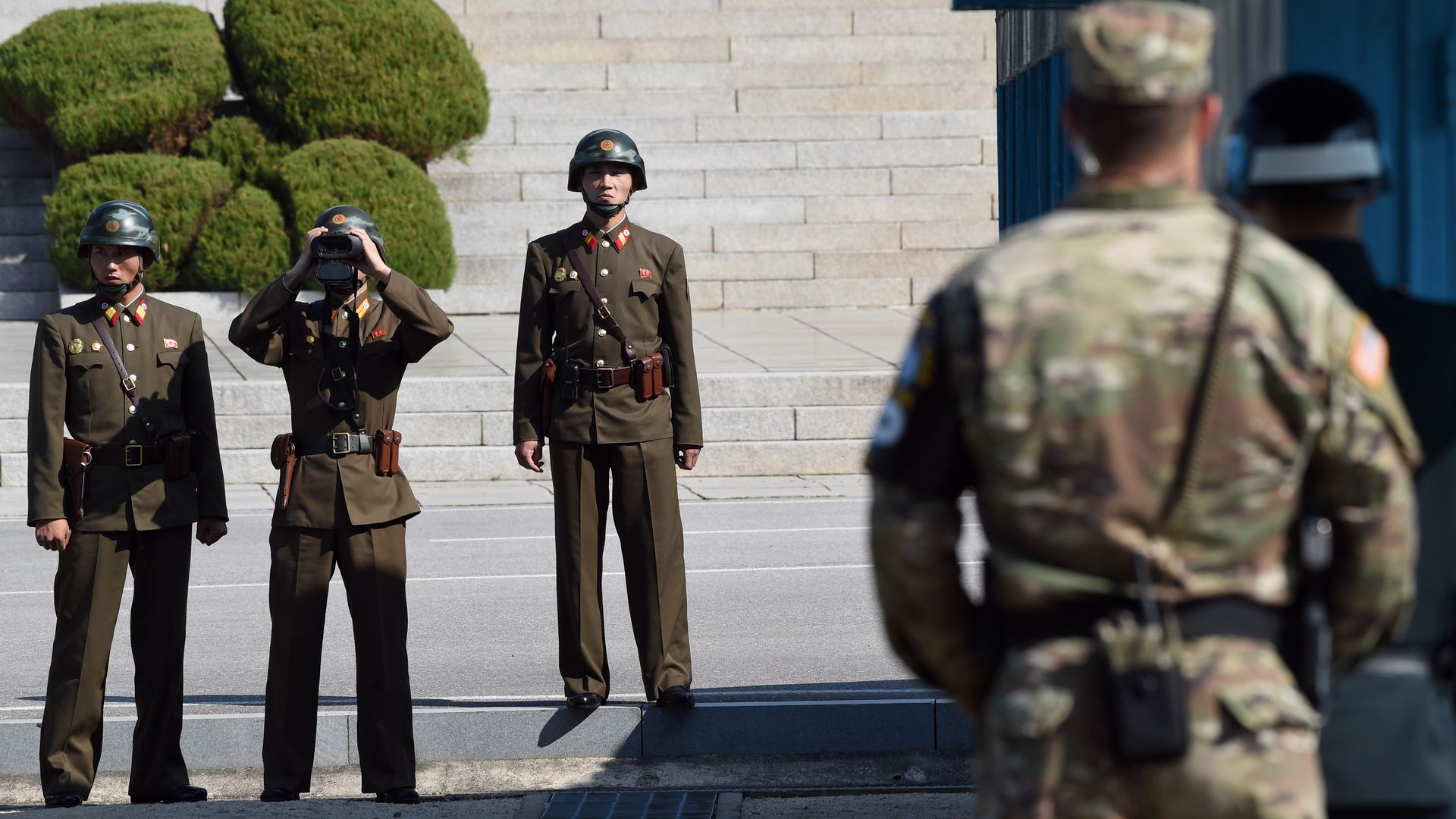 Weeks before his planned summit with Kim Jong-un, President Trump reportedly pushed the Pentagon to consider reducing troop numbers in South Korea. Ryan Hass of Brookings writes for Axios Expert Voices that "such a move could elevate the risk of catastrophic conflict."
"Trump's push follows his call for a withdrawal from Syria, in keeping with his apparent belief that strategic progress should yield peace dividends (namely troop returns and reduced overseas expenditures). But he appears particularly skeptical of the value of U.S. forces on the Korean Peninsula, given both the South's developed economy and the North's continued pursuit of nuclear and long-range weapons despite the permanent presence of some 30,000 U.S. troops."
"While Trump clarified that a drawdown was for future, not immediate, consideration, these reports could influence Kim's pre-summit calculations: If Trump seems eager at the outset to achieve peace and declare success by promising withdrawal, Kim might feel less pressure to sacrifice his primary leverage — his nuclear weapons and long-range missiles." 
"Any troop drawdown would also incur a long-term strategic cost, hardening impressions that the U.S. is ceding its leadership role. If confidence in U.S. power recedes, many Asian countries, including Japan, will confront a choice between deferring more to Beijing or developing military capabilities — including nuclear weapons — to protect against Chinese coercion."
4. Europe: Data charges may apply
Matt Hancock, the U.K.'s minister for digital issues, told my colleagues Steve LeVine, Sara Fischer and Alison Snyder that he is open to forcing platforms such as Facebook and Google to pay for the data they mine from their hundreds of millions of users.
The major platforms — Google, Facebook and Twitter among them — earn their enormous returns largely by offering their consumer services for free in an effective exchange for the data reflective of users' online behavior. That data allows the platforms to offer advertisers highly micro-targeted audiences for their messages.
Why it matters: Hancock may be the first senior Western government official to publicly offer a challenge to Facebook and Google's fundamental business model.
Go deeper: Most people wouldn't pay for Facebook, survey says.
Bonus: Two big benchmarks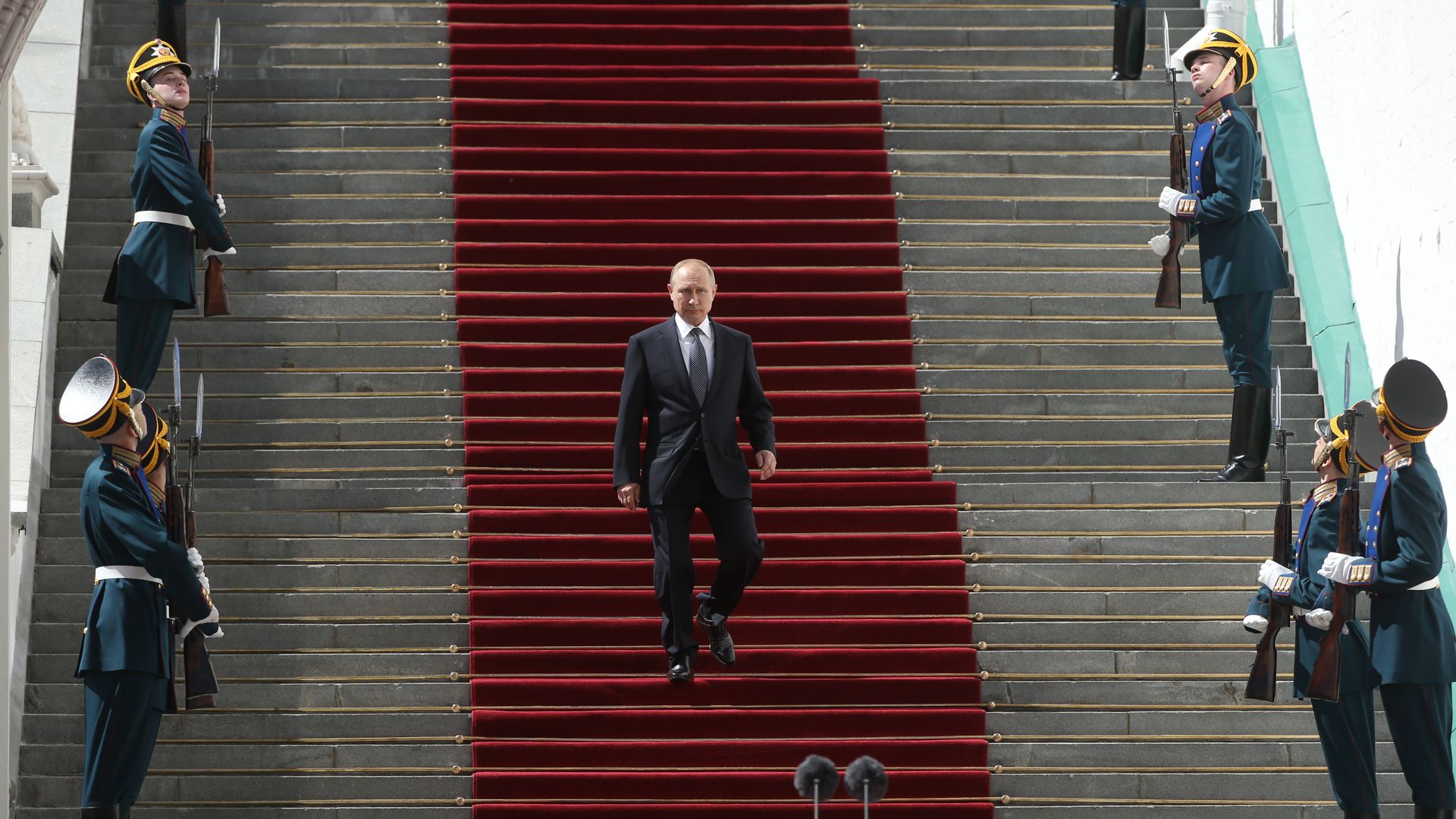 After 18 years as Russia's president or prime minister, Vladimir Putin was sworn in for a new six-year presidential term today.
NYT: "In a theatrical touch, a televised ceremony began on Monday with Mr. Putin sitting at his desk in the Kremlin, suit jacket looped over his chair, as if hard at work until moments before the ceremony. A phone rang, letting him know it was time for his fourth term. ... In a short speech, Mr. Putin suggested his focus had now turned to domestic matters and improving Russia's economy ... there were no words of reconciliation in the country's tense relations with the West."
The ceremony followed major protests over the weekend, during which over 1,000 people — including opposition leader Alexei Navalny — were detained.
It is also the first anniversary of Emmanuel Macron's election as France's president.
5. Asia: Free press eroding in Cambodia
The Phnom Penh Post was sold to an investor with ties to the Cambodian government, the paper reports, in a further signal that the free press is disappearing in the country, Axios' Michael Sykes writes.
The backdrop: The Post's sale comes nearly seven months after the Cambodia Daily, its biggest rival, was forced to shut down due to alleged tax violations. The Post itself owed $3.9 million in taxes prior to the sale.
After the Post's staff reported on the sale, the investor who bought the paper asked for the story to be taken down but the staff refused, resulting in multiple firings. One of his complaints: "The name of the new owner is wrong. It is reported as Sivakumar Ganapathy. In fact, it is Sivakumar S. Ganapathy."
6. Africa: Power play, or corruption crackdown?
João Lourenço, the hand-picked successor of long-serving autocrat José Eduardo dos Santos, took office in the southern African country of Angola last September with incredibly low expectations, the Economist reports:
"Yet since being sworn in, the soft-spoken Mr Lourenço has unleashed change that seemed unthinkable a year ago. As well as trying to revive an economy battered by low oil prices (which have rebounded), he has mounted a spirited anti-corruption campaign."
"He is also steadily prizing the fingers of the dos Santos clan from the levers of power," including by firing dos Santos' daughter as the head of the national oil company and his son as the head of the sovereign wealth fund.
"Yet the question many are asking is whether Mr Lourenço, a former defense minister, is sincerely trying to clean up the country or just showing who is in charge."
7. Stories we're watching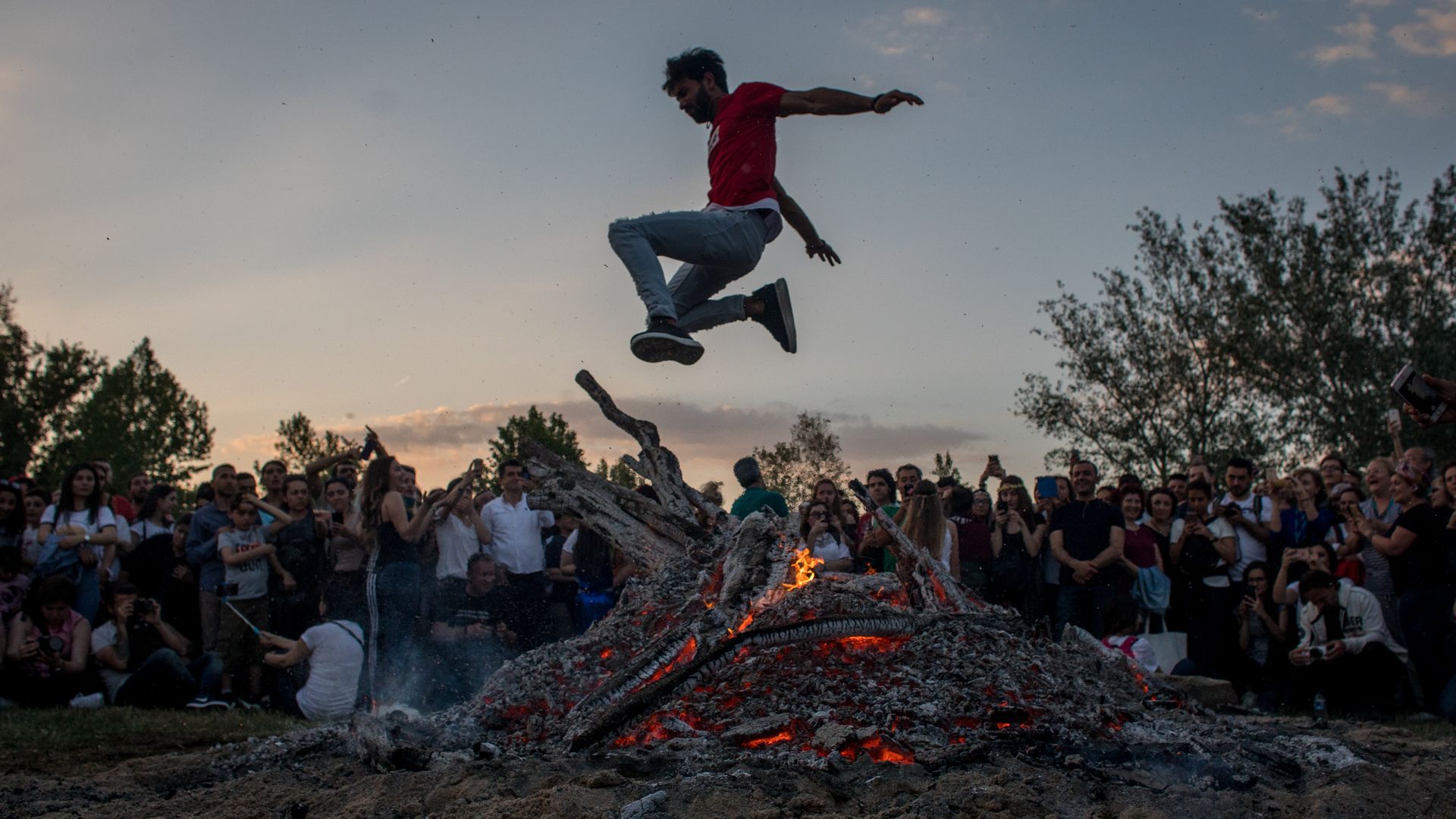 Quoted:
"The United States does not need John Kerry's possibly illegal Shadow Diplomacy on the very badly negotiated Iran Deal. He was the one that created this MESS in the first place!"
— Trump responds on Twitter to a
Boston Globe report
that Kerry met with Iran's foreign minister to try and "salvage a deal he helped craft."
Thanks for reading! See you Thursday evening.