Welcome to Axios World. The venerable Dave Lawler has given me the keys to his kingdom while he takes a deserved couple of weeks off. This is my first shot at this whole newsletter thing, so here goes nothing.
And while I've got your attention, let me tell you about some new Axios newsletters heading your way soon.
1 big thing: How populism extended across Europe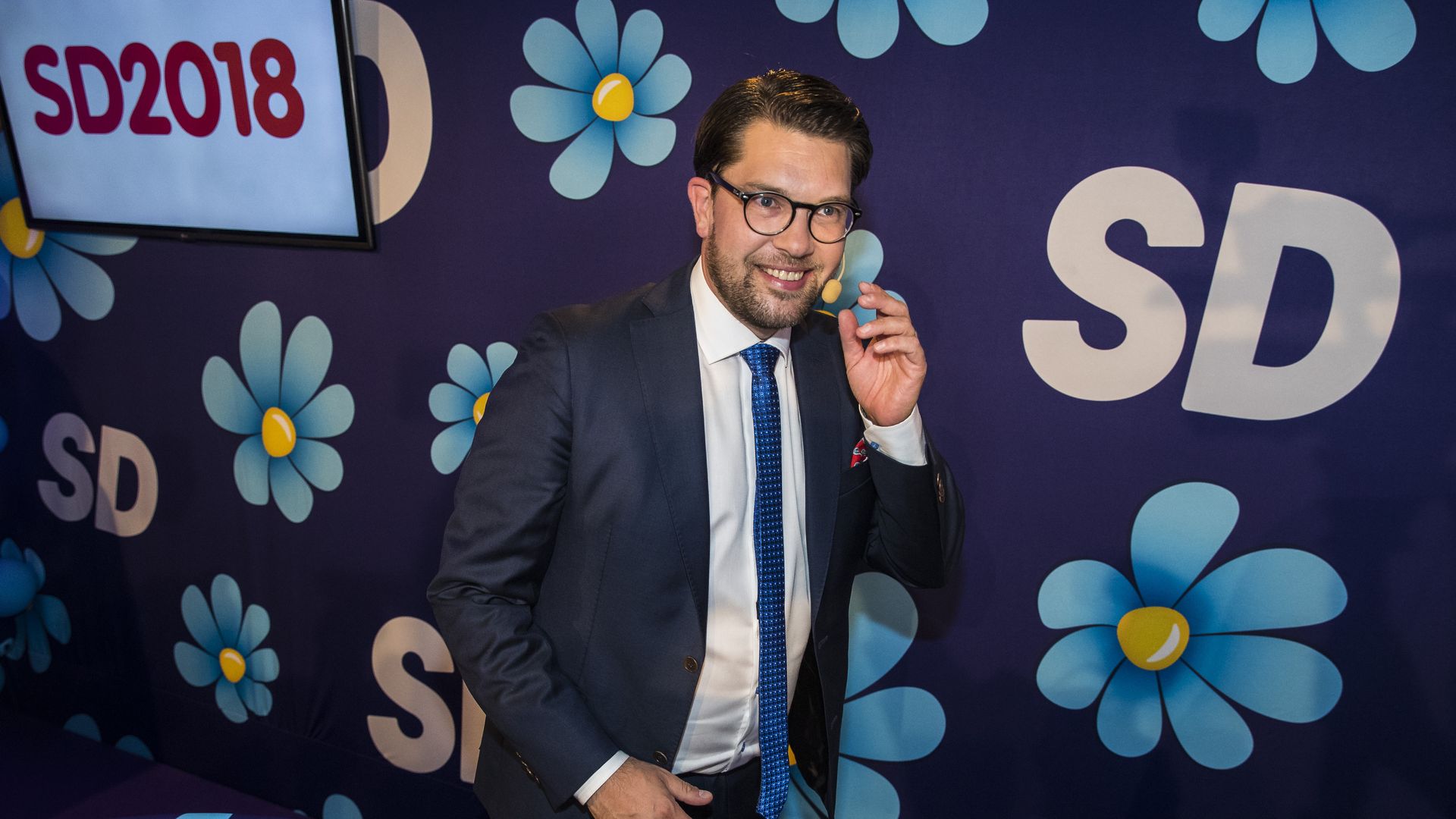 Attempting to discern the roots of Europe's rising populist minority is difficult given the broad range of attitudes and social currents across the continent.
The big picture: While Europe's populist movements get a lot of frenzied discussion in the press, they haven't really gained that much clear electoral success. But they're still managing to seize the political narrative seemingly everywhere — even in countries that vary wildly demographically.
Much of the movement's notoriety can be attributed to its most controversial figures, like The Netherlands' Geert Wilders or France's Marine Le Pen.
Religious voters in some of Europe's most traditionally Catholic strongholds, like Italy, are latching onto populist ideas. That's not always the case: Le Pen tried to avoid religion, but faced pushback from within her own family.
Meanwhile, the populist rise in more secular nations, especially in Scandinavia, is backed by rebranded, normalized right-wing political parties that have sought to seize the mantle of traditionalism.
There's no doubt that religious Western Europeans are pushing against immigration and non-minority religions, like Islam.
Pew's "Being Christian in Western Europe" survey shows that Western European Christians are much more likely to believe that immigration should be reduced and that Islam is incompatible with western society.
It's worth noting that Pew's survey doesn't find that most Western European Christians hold anti-Islam views — simply that they're much more pervasive among those who identify as religious.
And both practicing and non-practicing Christians in Western Europe are more likely to agree with the statement, "Our people are not perfect, but our culture is superior to others," than non-affiliated Western Europeans.
There are some noticeable outliers, including both Norway and Sweden, where the religiously unaffiliated are more likely to back reducing immigration levels than their non-practicing Christian counterparts. It tracks with a newer, more nuanced strain of populism.
Norway's populist Progress Party features a more traditional neoliberal economic focus, granting wider appeal as The Atlantic highlights. The party has benefitted from a stint in power that's allowed it to tone down some of its more controversial rhetoric.
And Sweden faces a reckoning on the issue of assimilation, seized upon by the far-right Sweden Democrats, which have attempted to shed their neo-Nazi roots with a more traditional "law-and-order" focus, per the NYT.
The bottom line: The social currents driving Europe's anti-immigration, anti-Muslim upheaval — attributable to a vocal minority — can't be described by one simple trend. Different European nations have different driving forces behind their populist, nationalist voices — all to varying levels of electoral success.
In order for those minority voices to seem more pervasive and influential, look for them to continue to join together, like Hungary's Viktor Orbán and Italy's Matteo Salvini, against the global, liberal establishment as next year's European Parliament elections edge closer.
2. Europe: Sweden's electoral indecision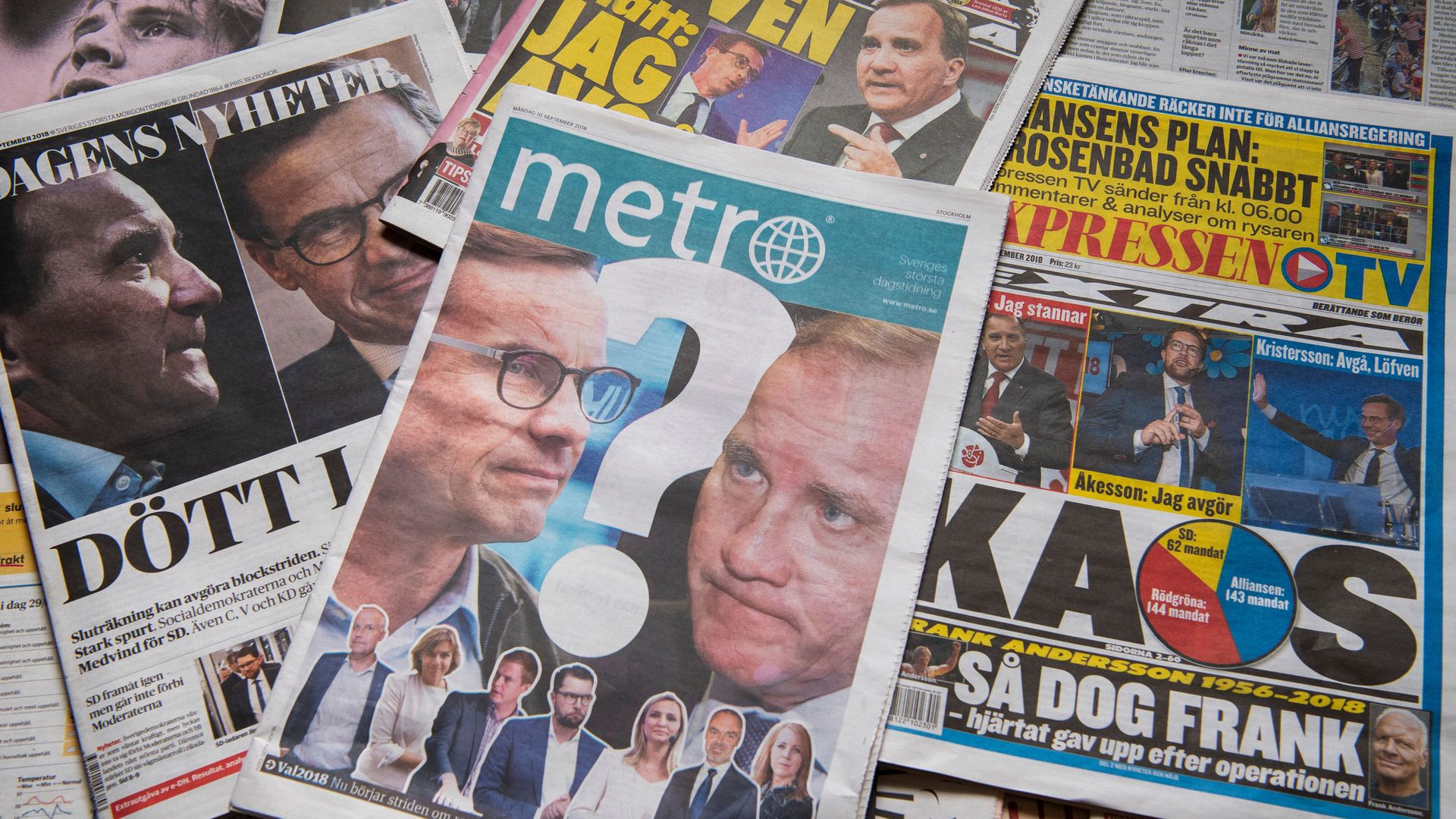 Sweden's Social Democrats, who led the previous government with a center-left coalition, had their worst election performance since World War I, but are neck-and-neck with a center-right coalition led by the Moderate Party, reports Axios' Zach Basu.
The far-right Sweden Democrats, who came in third, will likely be cut out of any forthcoming coalition, but will still hold enough seats to sway decisive votes in parliament.
Notable, from populism expert Cas Mudde: "Voter streams of

#

SwedenDemocrats show that they held on to almost all its 2014 voters and won almost exclusively, and equally, from [the Social Democrats] and [Moderates]."
Summing it up, via Politico's Brussels Playbook: "In other words, there's no winner. The coming weeks will be a Choose Your Own Adventure route to minority government. IKEA doesn't provide a manual for that sort of construction."
The big picture: The buzzword among analysts today has been "fragmentation," the fact that — across Europe — the biggest political parties are getting smaller and smaller political parties are getting bigger as more targeted options are presented to voters.
Worth reading: This Twitter thread from academic Sarah de Lange details the phenomenon and provides greater context.
3. Middle East: Palestinian pressures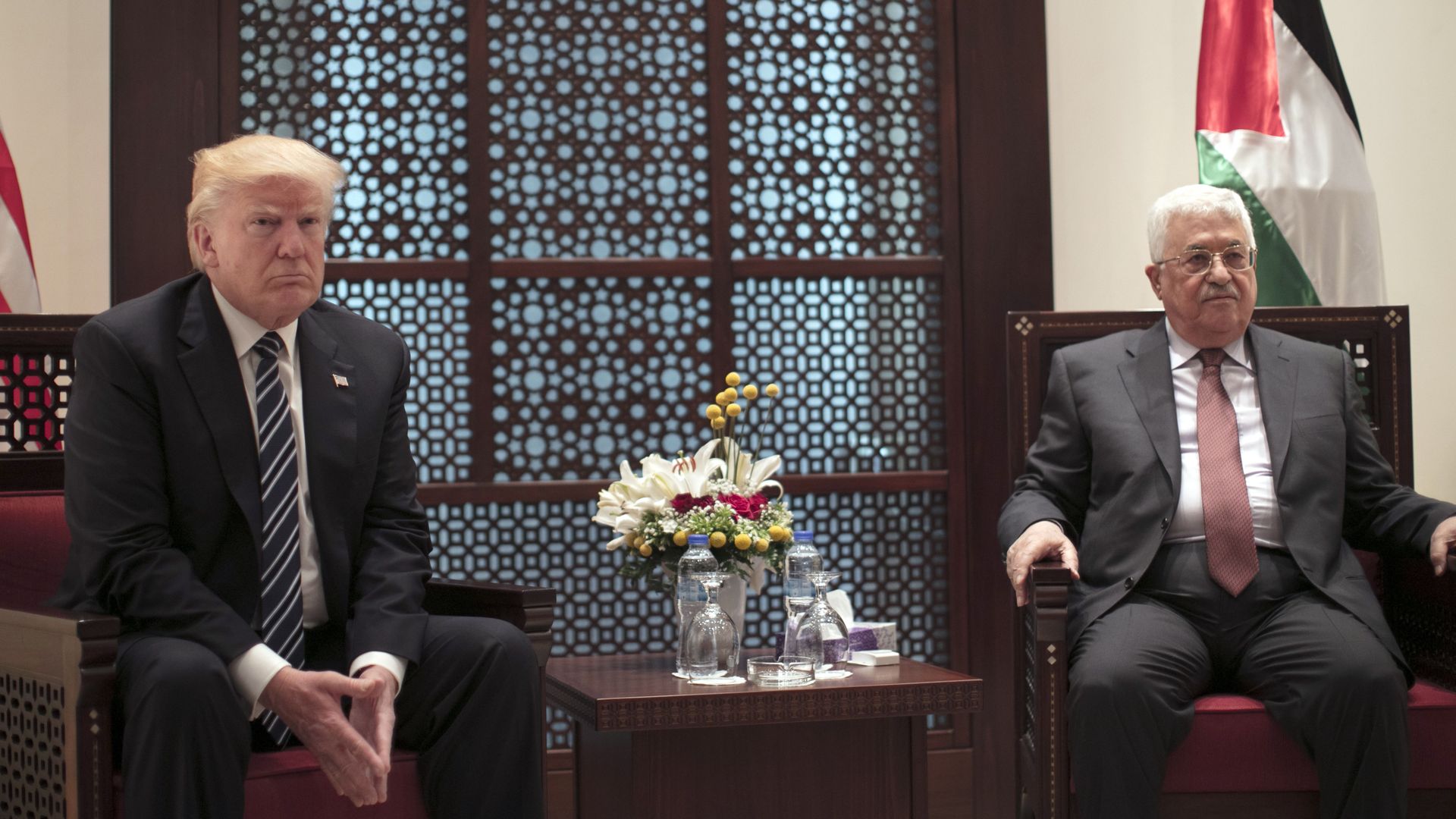 "The Trump administration is expected to announce Monday that it will close the Palestine Liberation Organization's office in Washington, administration officials said Sunday night, widening a U.S. campaign of pressure amid stalled Middle East peace efforts," scoops the WSJ's Michael Gordon.
That news comes in conjunction with President Trump's plan to cut $25 million in aid funding for Palestinians in East Jerusalem hospitals, per Reuters.
Trump is using the financial angle to bring the Palestinians to the table for a peace deal, as reported over the past few weeks in an excellent series of stories by Axios contributor Barak Ravid.
Trump on a conference call to Jewish leaders last week: "I said to some of the past negotiators, 'Did you ever do that before?  Did you ever use the money angle?' They said, 'No, sir. We thought it would be disrespectful.' I said, 'I don't think it's disrespectful at all. I think it's disrespectful when people don't come to the table.'"
It also comes on the heels of the administration's decision to cut hundreds of millions of dollars in funding to the UN's main aid agency for Palestinians.
4. Middle East: Idlib explodes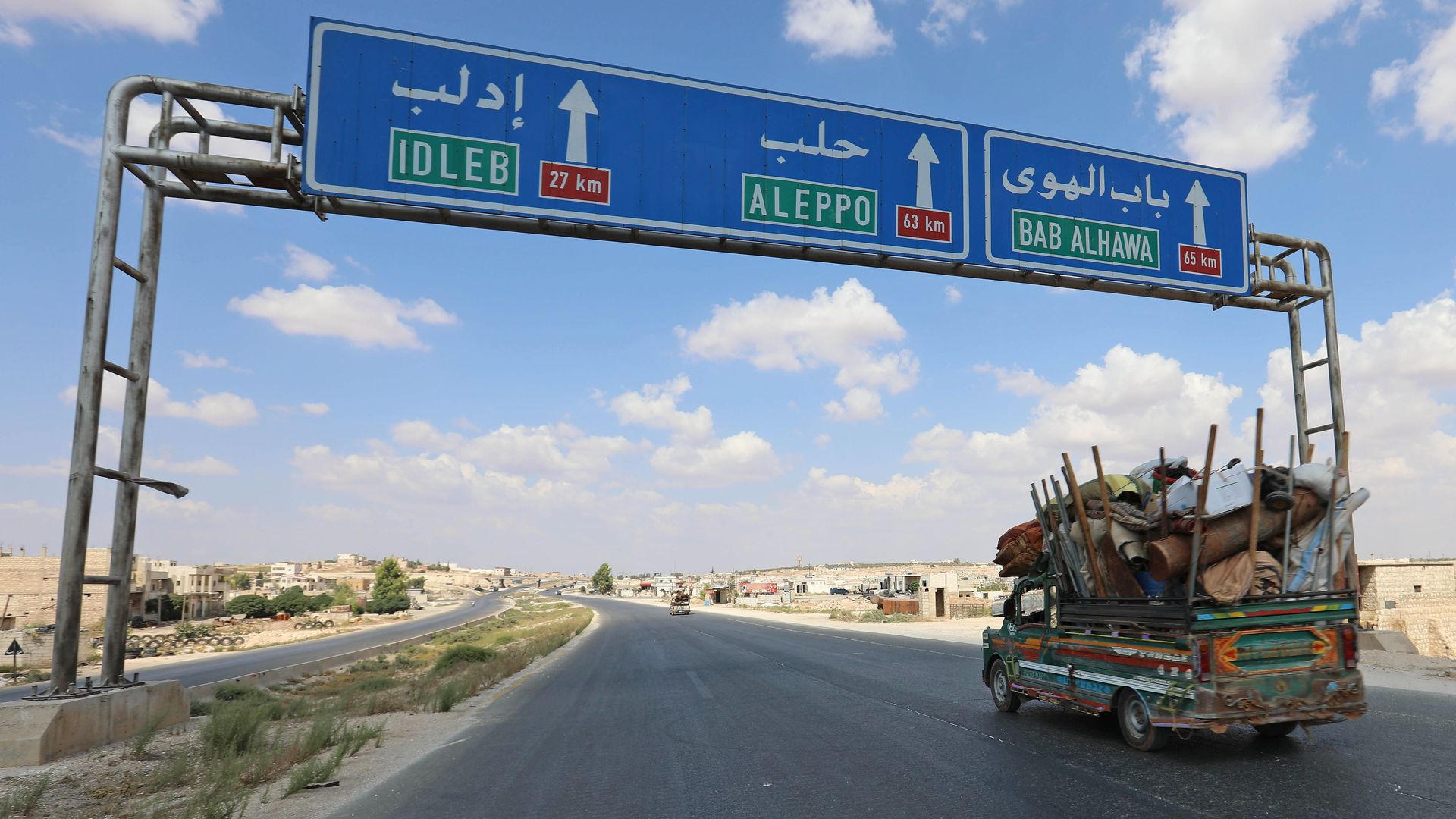 A Reuters news alert this morning: "JUST IN: More than 30,000 people have been displaced in Syria's rebel-held Idlib province by the latest offensive - U.N. official."
"'We are very actively preparing for the possibility that civilians move in huge numbers in multiple directions,' [head of the UN Office for the Coordination of Humanitarian Affairs Mark] Lowcock told a news briefing in Geneva."
Dave wrote about this coming crisis on Thursday, but it's happening now. And an Axios Expert Voices piece from Brookings' Jessica Brandt highlights the incredible, terrifying scale of the humanitarian disaster that is set to unfold.
An estimated 3 million civilians reside in the province, many of whom have already been displaced from other parts of Syria by seven years of violence and surrender deals with the government.
According to UN Special Envoy for Syria Staffan de Mistura, more than 2 million people in Idlib are already in need of humanitarian assistance, and the brunt of the expected assault has yet to begin.
5. Asia: North Korea turns 70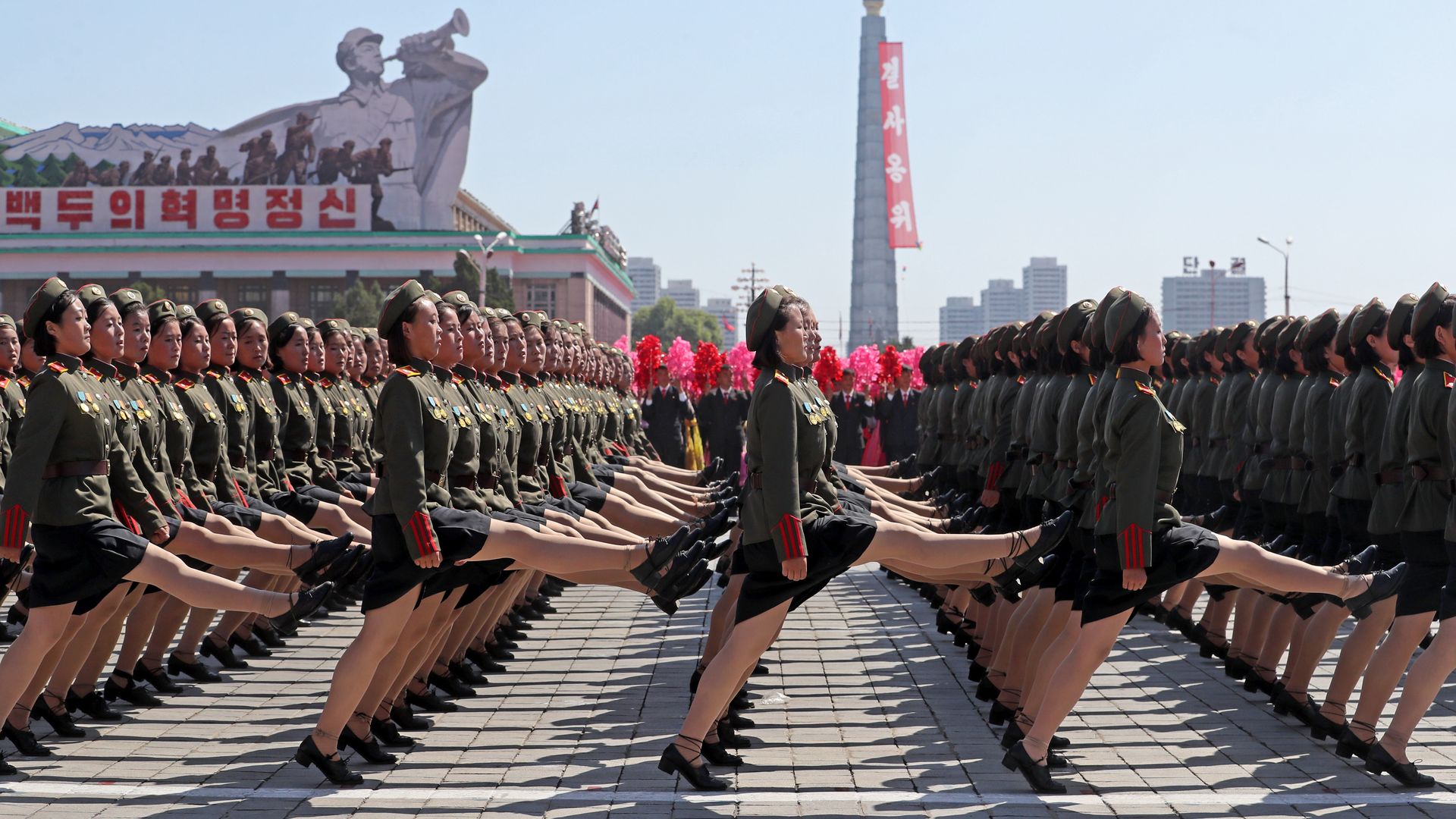 North Korea staged a huge military parade Sunday in commemoration of its 70th anniversary, but did not display the country's most advanced missiles as it had in the past, Axios' Zach Basu reports.
Dictator Kim Jong-un appeared to use the annual parade to celebrate North Korea's economic development, rather than its nuclear capabilities.
Some more insight, via the AP: "[Kim] strolled to the edge of the balcony with the Chinese special envoy, Li Zhanshu...though the absence of Chinese President Xi Jinping could indicate Beijing still has some reservations about Kim's initiatives."
It led President Trump to chime in on Twitter: "North Korea has just staged their parade, celebrating 70th anniversary of founding, without the customary display of nuclear missiles. Theme was peace and economic development."
"This is a big and very positive statement from North Korea. Thank you To Chairman Kim. We will both prove everyone wrong! There is nothing like good dialogue from two people that like each other! Much better than before I took office."
And today, per NBC News' Courtney Kube and Carol Lee: "The newest intelligence shows Kim's regime has escalated efforts to conceal its nuclear activity, according to three senior U.S. officials."
"The Trump administration has launched what it calls a 'maximum pressure' campaign against North Korea in response."
Split screen: The White House announced today that Trump received another "warm" letter from Kim requesting another summit.
6. Africa: Cameroon's lingual conflict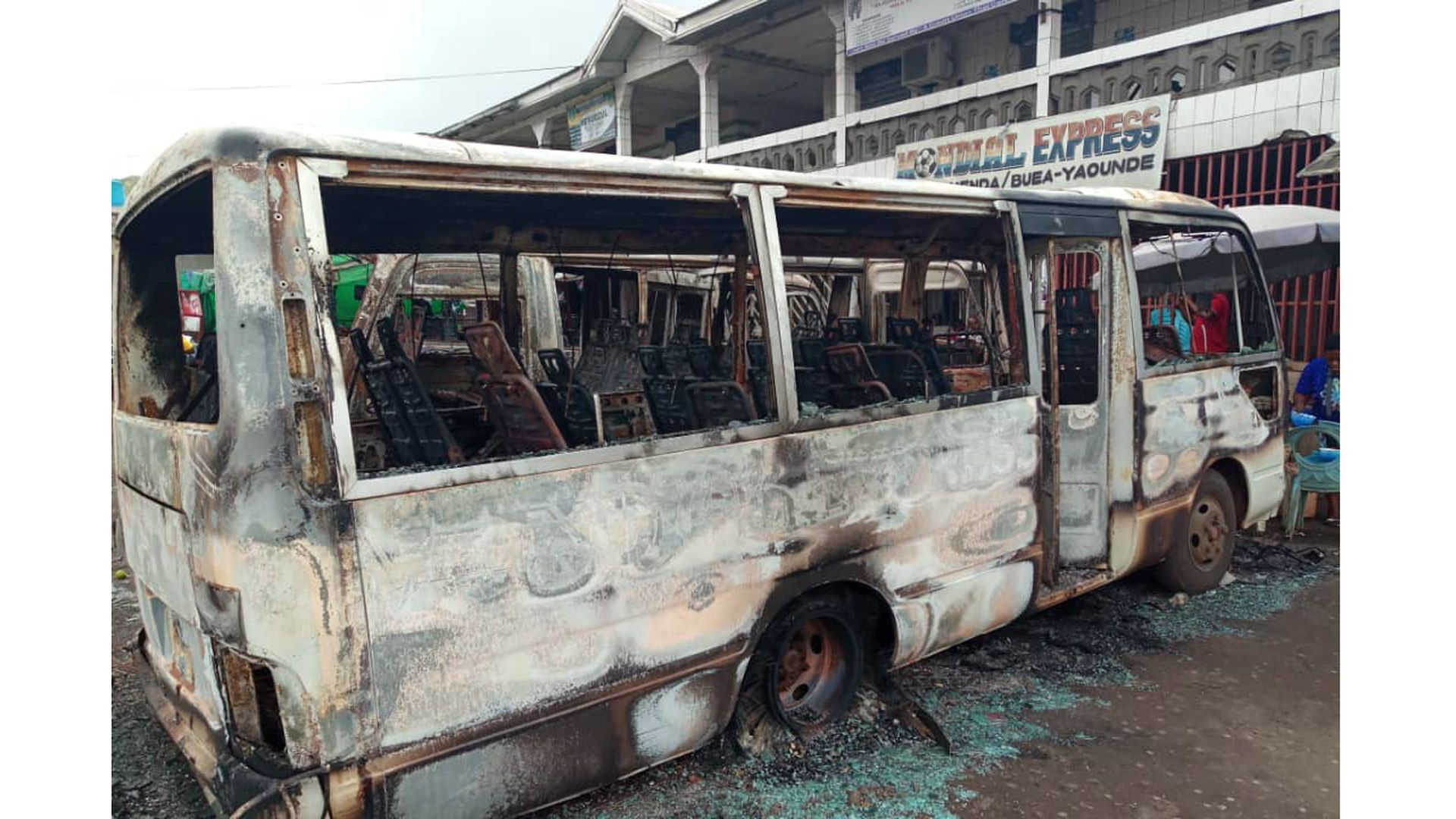 "Cameroon says it has deployed additional troops to Bamenda several hours after armed separatists blocked access into and out of the northwestern English-speaking town, attacking passengers and buses," reports Voice of America.
"Some of the buses that were traveling to the French-speaking cities of Yaounde and Douala have been burned and others damaged."
"Unrest began in Cameroon in November 2016 when teachers and lawyers in the English-speaking northwest and southwest began calling for reforms and greater autonomy."
"The separatists say it is part of their plan to disrupt Cameroon's October 7 presidential election, which they say can not take place in their territory because they are an independent state called Ambazonia."
7. Stories we're watching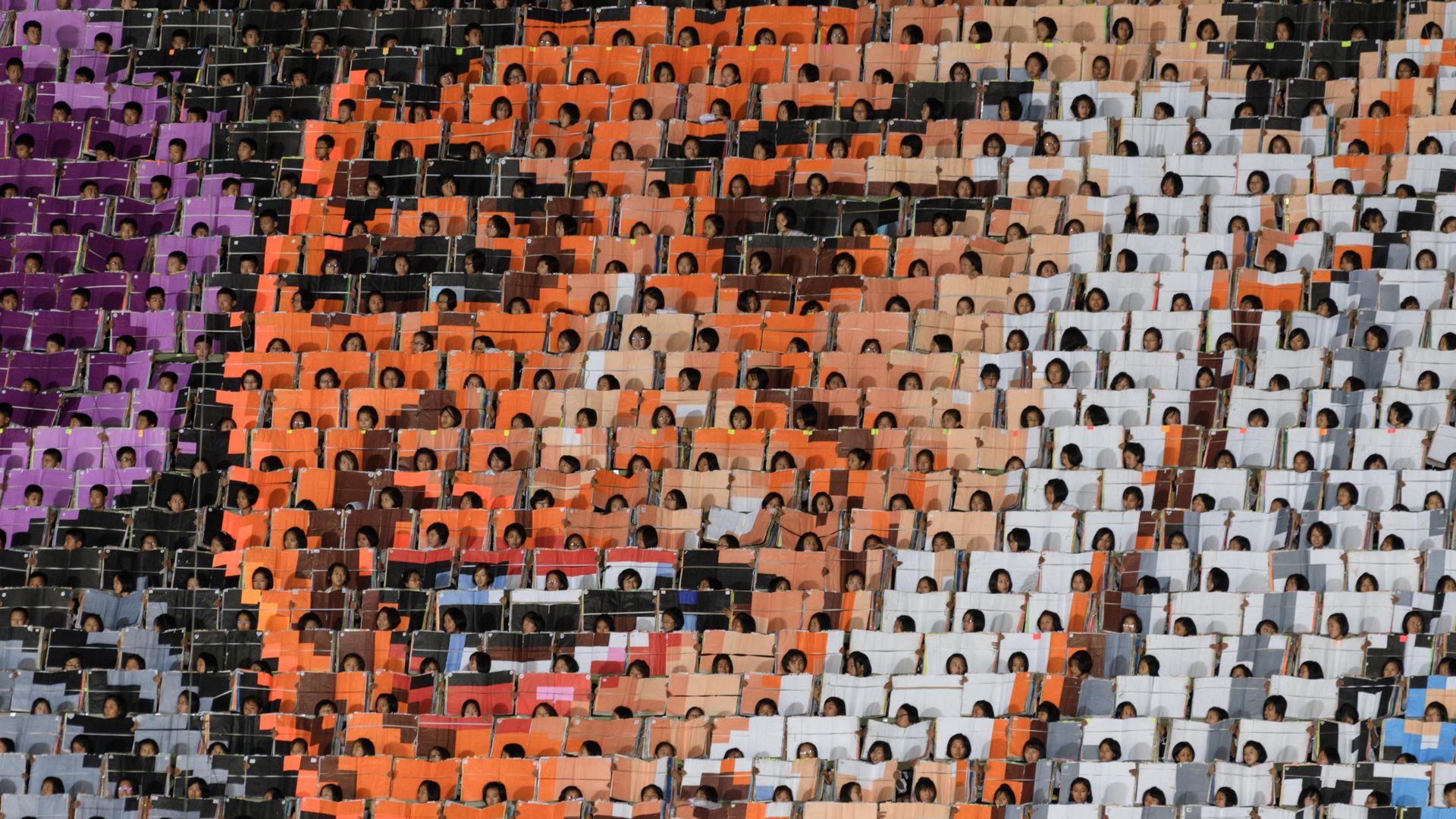 Quoted:
"We have wrapped a suicide vest around the British constitution — and handed the detonator to [the European Union's chief Brexit negotiator] Michel Barnier."
— Boris Johnson in the
Mail on Sunday
"This isn't language the prime minister would choose to use. Beyond that, I don't plan on giving this article further oxygen."
— Downing Street's response,
per The Guardian
Hope you enjoyed today's edition — and that I made Dave proud. See you again on Thursday!