Welcome to Axios World, where two evenings a week we break down what you need to know about the big stories from around the globe.
Thanks for joining me! Please tell your friends and colleagues to sign up here, and I'd love your tips and feedback: lawler@axios.com.
We're off on Monday for Christmas Eve, but I'll be back with an end-of-year edition next week. Until then, may your days be merry and bright.
1 big thing: Mattis gives up on Trump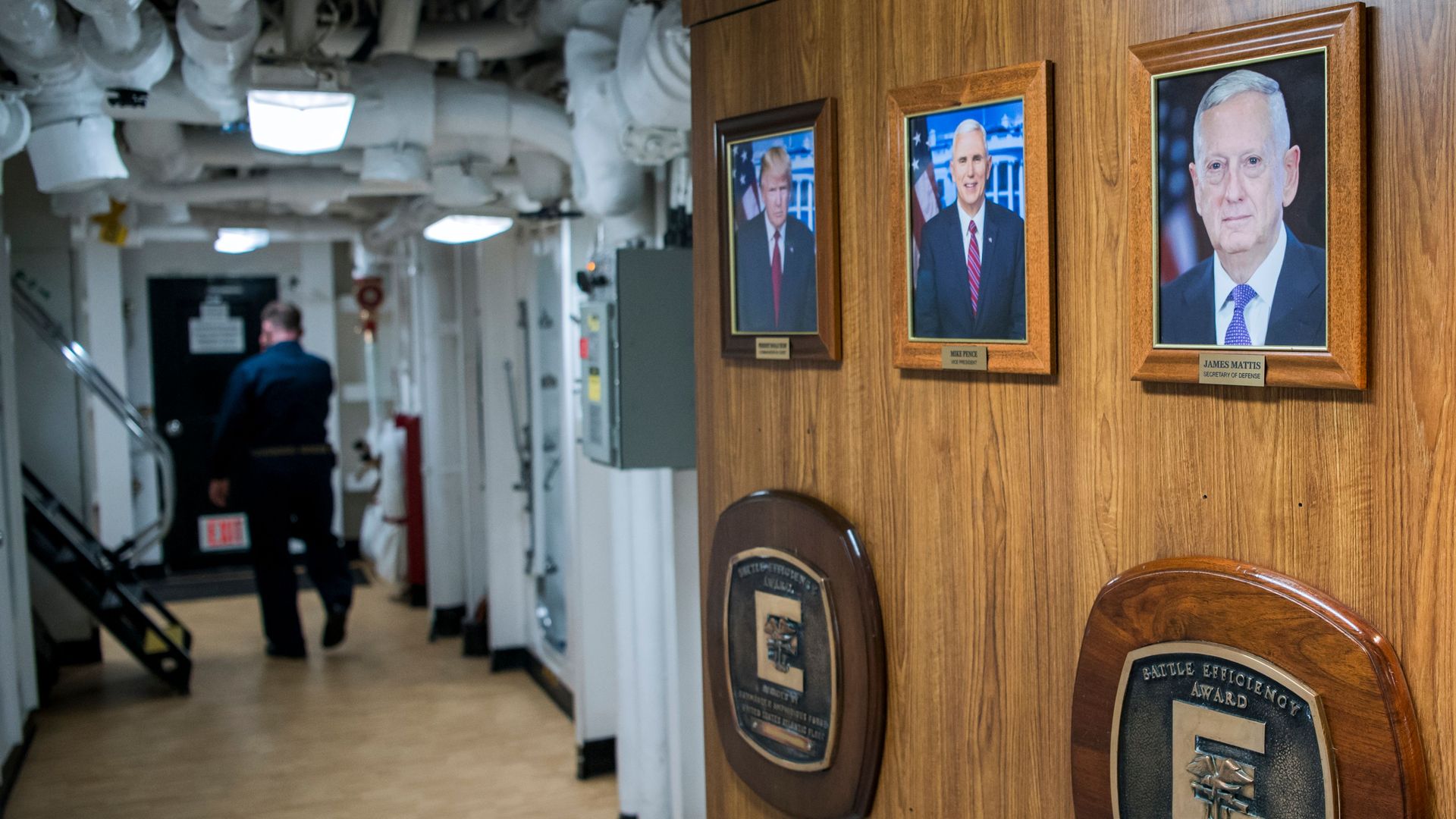 Among President Trump's Twitter bombshells, it ranks among the biggest, if not the most surprising: Defense Secretary James Mattis is leaving at the end of February.
Backdrop: Trump framed the news as a retirement. Mattis made emphatically clear it was a resignation. It comes during a week that revealed that what Trump's top national security officials say — to him, and to the world — doesn't necessarily matter.
Right up through Tuesday, Pentagon and State Department officials were briefing that the U.S. was staying the course in Syria. Then Trump pulled the plug. A day later, Mattis, who reportedly fiercely opposed that move, was out.
From his resignation letter …
"My views on treating allies with respect and also being clear-eyed about both malign actors and strategic competitors are strongly held and informed by over four decades of immersion in these issues. We must do everything possible to advance an international order that is most conducive to our security, prosperity and values, and we are strengthened in this effort by the solidarity of our alliances."
"Because you have the right to have a Secretary of Defense whose views are better aligned with yours on these and other subjects, I believe it is right for me to step down from my position."
Between the lines: The subjects on which Mattis writes that Trump disagrees with him are supporting allies and standing up to adversaries. Mattis didn't bother to offer Trump any praise, or thanks.
Mattis was a reassuring presence for allies trying to make sense of Trump's erratic foreign policy, and he was considered to be a brake on some of the president's impulses. But his influence with Trump had reportedly been waning for months.
From a front page Washington Post piece this morning: "Once considered among the most influential advisers to a president with no prior government or military experience, Mattis has been repeatedly overruled by Trump in recent months and left out of key discussions as the president pursues his own national security path."
Early on in the Trump presidency, diplomats from Europe and other allied countries would quietly say that Trump's fiery rhetoric didn't always matter because his national security team — Mattis, Tillerson, McMaster — would talk him out of it. That sense faded over time. So did the officials.
The bottom line: What we saw this week on Syria may be a sign of what's to come from Trump's foreign policy. No interagency processes, no consultation with the key players. Just Trump's instincts, and his twitter feed.
Bonus: The experts on Trump's Syria move
From the Axios Expert Voices network ...
2. Scoop: The Syria deal that came and went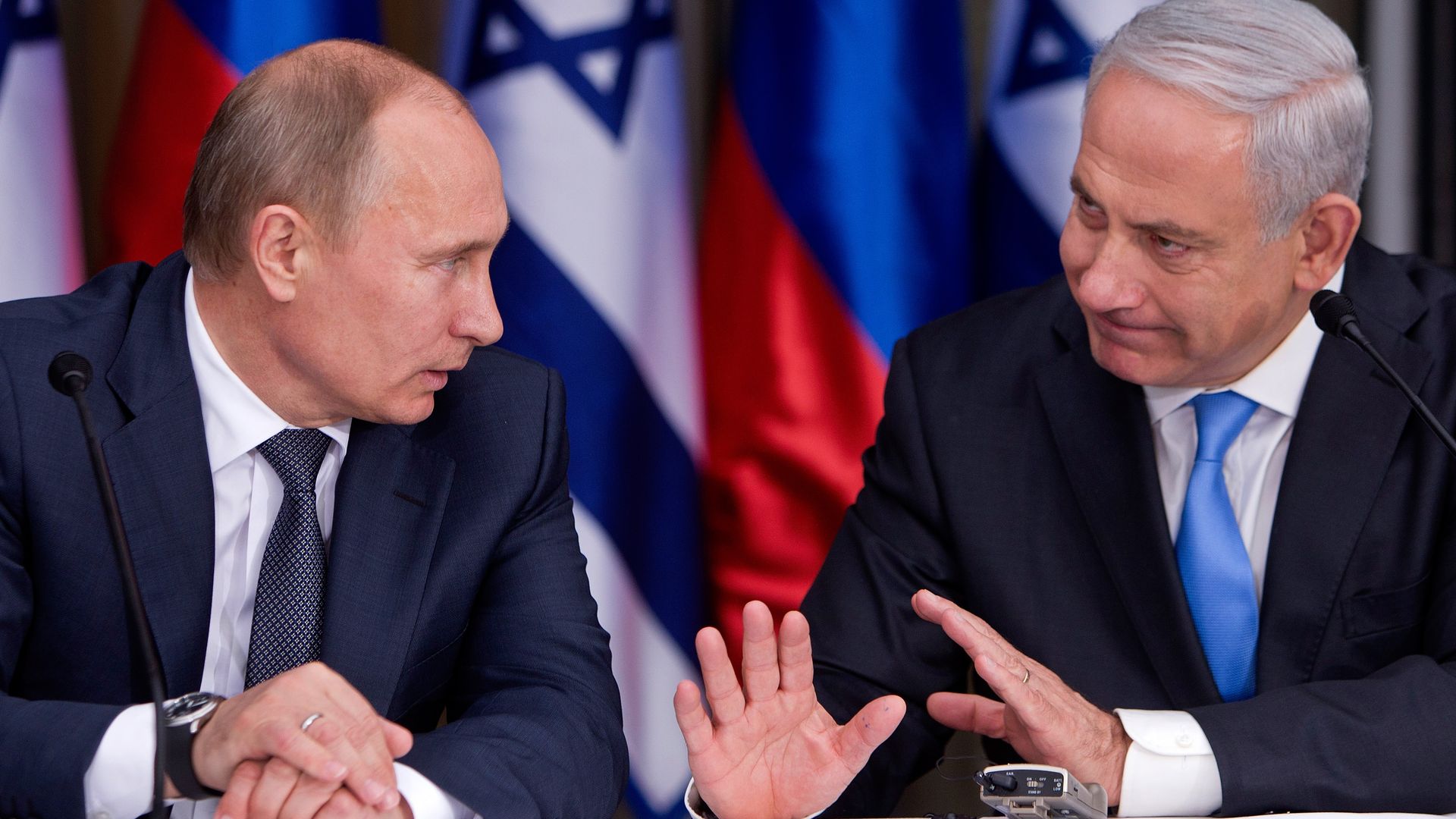 More than three months ago, Vladimir Putin's national security adviser Nikolai Patrushev gave his Israeli counterpart a document. Axios contributor Barak Ravid has the scoop on what it said, citing two Israeli officials with direct knowledge:
The Russian proposal would have tied a U.S. withdrawal from Syria to an Iranian exit from the country, and provided the U.S. and Israel more influence over a future political settlement in Syria. It also called for a freeze on U.S. sanctions on Iran — something Netanyahu found unacceptable.
It was intended to start a wider dialogue between Washington and Moscow to improve relations.
"They asked us to open the gates for them in Washington."
— Israeli official
Netanyahu rejected the proposal because he thought the reimposition of U.S. sanctions on Iran could be used as leverage on the Iranians over Syria, according to the Israeli officials.
Ultimately, the U.S. gave up much of its leverage in Syria with President Trump's surprise announcement of a unilateral withdrawal.
Go deeper: Read the full report
3. Europe: Don't take your eyes off Ukraine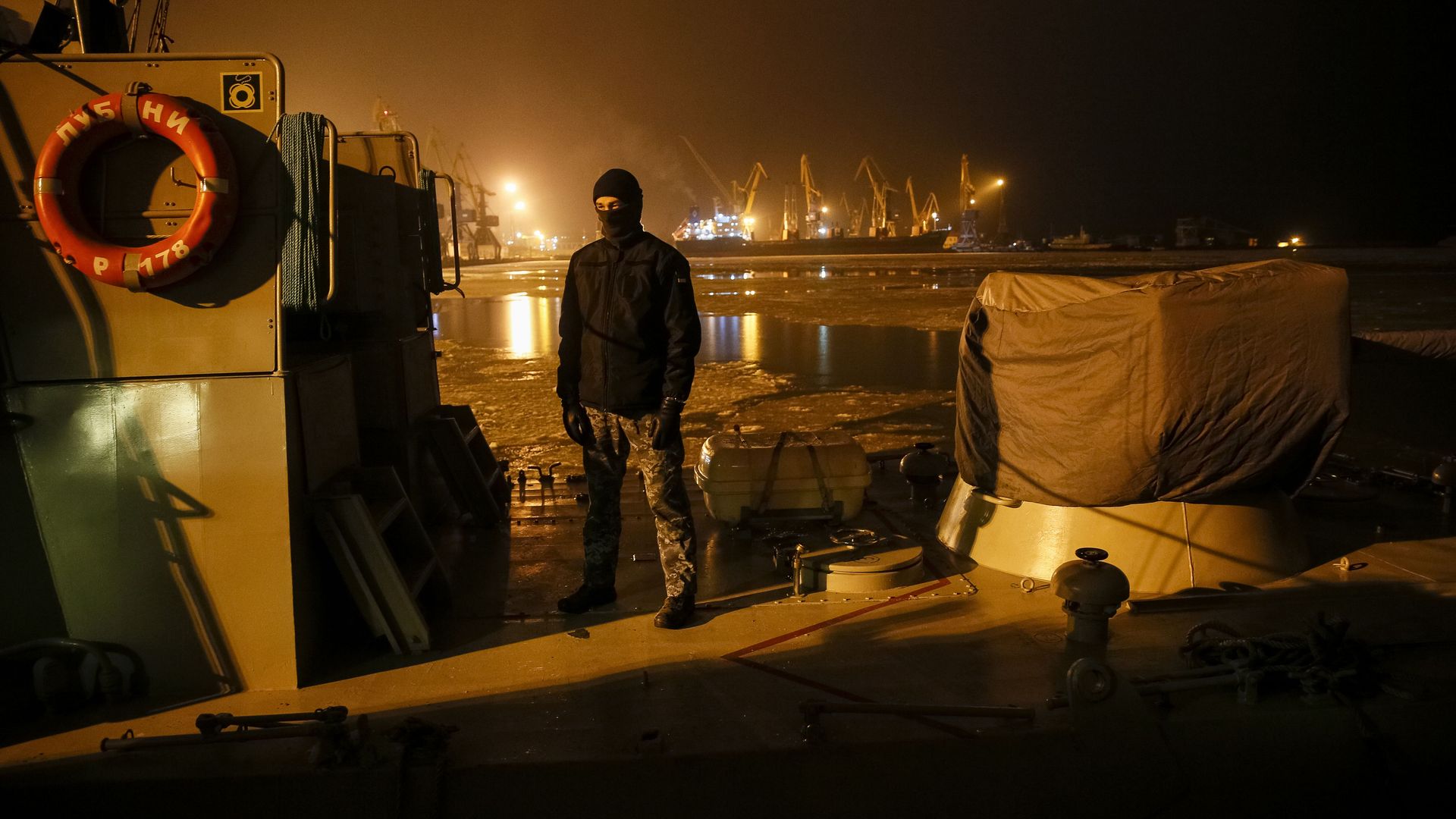 Vladimir Putin declared today that the crisis in relations with Ukraine will continue "as long as Russophobes remain in the corridors of power in Kiev." Meanwhile, in Kiev, a brawl broke out in parliament over a poster accusing a Ukrainian politician of serving as "Putin's agent."
The big picture: Tensions between Russia and Ukraine are still simmering 25 days after Russia intercepted, fired on and seized three Ukrainian naval vessels off of Crimea, taking 24 sailors prisoner in the process. Both sides continue to accuse the other of provocations that could lead to war.
Putin insisted that Russia will hold the sailors until they face trial. In Ukraine, a top national security official said Kiev has "no choice" but to send warships into the Sea of Azov — a move that could spark another confrontation.
"Just because it's been quiet for a couple weeks doesn't mean we won't have a Christmas surprise," Alexander Vershbow, a former NATO deputy secretary general and U.S. ambassador to Russia now at the Atlantic Council, tells me. "The propaganda coming out of the Russians is at least preparing the ground for something new."
"They've essentially annexed the Kerch Strait," Vershbow says of the waters separating Crimea and Russia, where the confrontation took place, "and the West swallowed it."
Go deeper: Watch for this full report — cut short here because of the Mattis news — in the Axios stream tomorrow morning.
4. Turkey: Has Erdogan's enemy overstayed his welcome?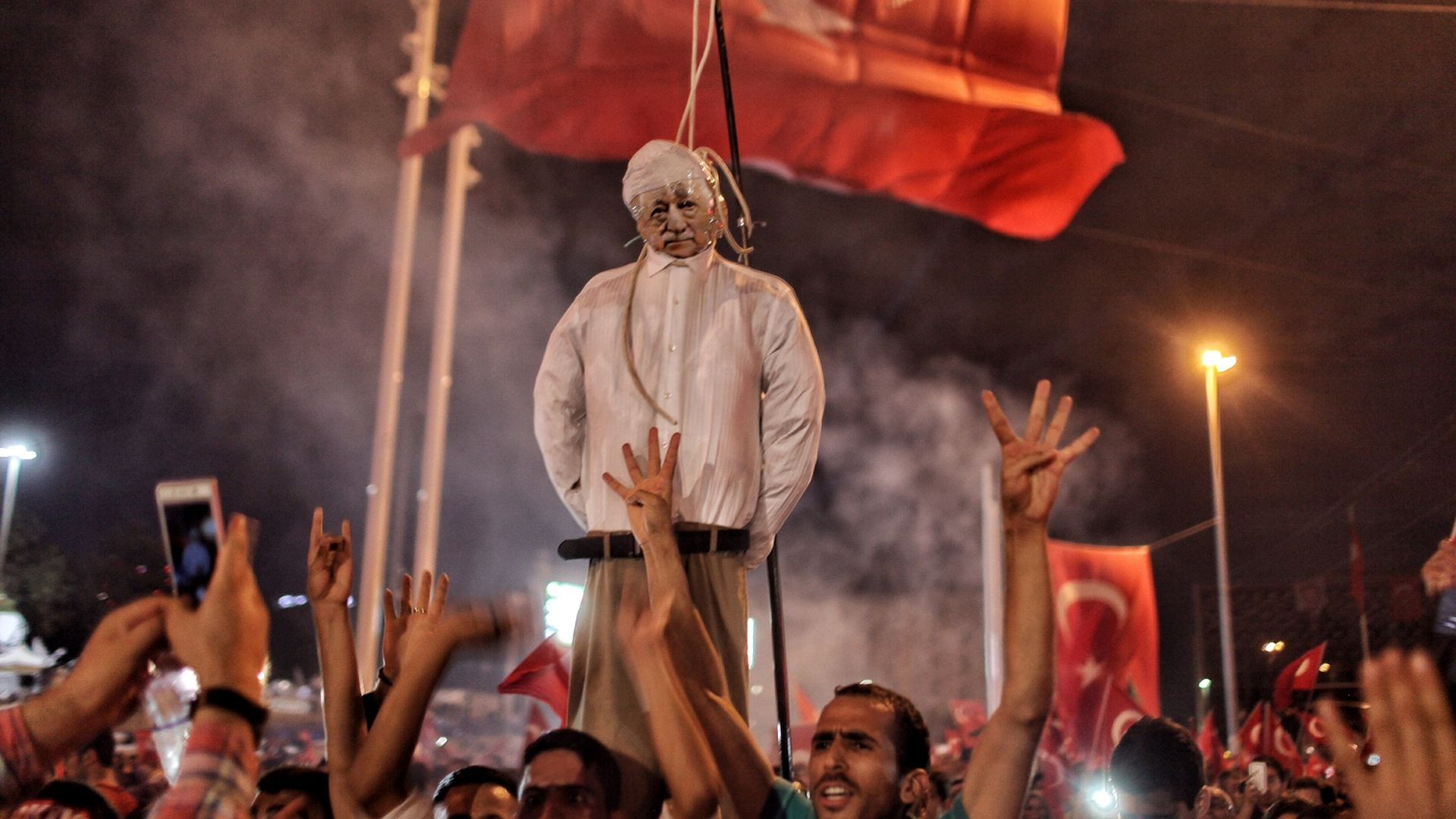 Press secretary Sarah Sanders said this week that President Trump has told Turkish President Recep Tayyip Erdogan he'll "take a look at" extraditing Turkish cleric Fethullah Gulen — the man Erdogan claims organized a coup attempt against him in 2016. Gulen has lived in the U.S. for two decades.
I spoke with Soner Cagaptay, a fellow at the Washington Institute and author of "The New Sultan," who says it's unlikely Trump would be able to extradite Gulen without a court decision.
Cagaptay says Trump's rhetoric, combined with the FBI's investigation into Gulen's network, send the signal that "Gulen has overstayed his welcome." He thinks the idea is to nudge Gulen to a third country that doesn't have an extradition treaty with Turkey.
According to Cagaptay, Gulen gains a certain amount of legitimacy by being protected by the most powerful country on earth — and Turkey's most important ally. That equation changes if he ends up somewhere else.
Zoom out: Cagaptay says Gulen is more than just Erdogan's enemy — his network once had millions of followers. Cagaptay says there is now a widespread consensus against Gulen in Turkey: "Half of the country that loves Erdogan thinks Gulen tried to kill him, and the other half of the country that hates Erdogan hates Gulen" for empowering him earlier in his political career.
5. Europe: You and what army?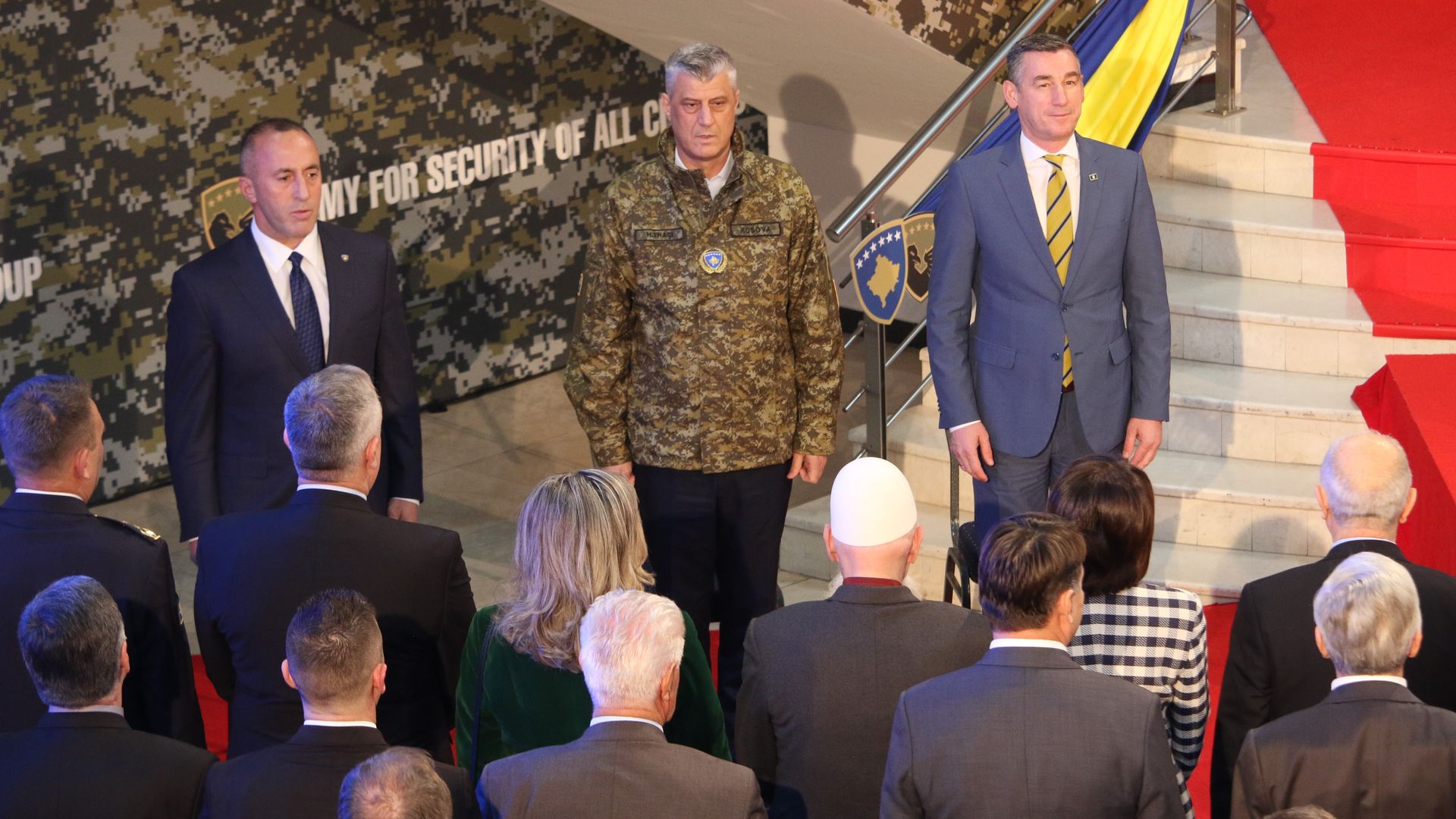 Kosovo voted last Friday to create a standing army. The move comes a decade after independence from Serbia, which was enraged by the move and went so far as to threaten military intervention.
Kosovo's vote has divided the international community, writes Ryan Scherba of Balkan Insider:
Serbia immediately called for a UN Security Council meeting — with support from Russia — where the Serbian and Kosovar presidents traded barbs on the world stage.
The U.S. Embassy in Kosovo released a statement fully supporting the transformation of the Kosovo Security Force (KSF) into an army.
Between the lines: The increase in the capacities of the KSF has been fraught with controversy. Some states, like Russia and Serbia, contend that it violates international law, while the U.S. and many EU countries consider it a sovereign right for Kosovo. Some of the hesitation from the international community is because Kosovo is bypassing a change to its constitution, which would be blocked by Kosovo Serb representatives.
What to watch: President Trump penned a letter to Kosovo's president urging him to agree to a comprehensive solution with his Serbian counterpart — and to sign it at the White House.
6. Was there ever a liberal world order?
Much has been written in recent weeks about the death of the U.S.-led world order. But at an event on multilateralism at the French Embassy on Tuesday evening, French Ambassador Gérard Araud made an interesting case:
"There is this idea of a so-called liberal world order. I've never seen any liberal world order. What you called the liberal order was the U.S. and Western Europe — and it's a miracle because Western Europe is usually quite talented at creating wars."
He said we tend to overlook the fact that millions of people around the world were killed in conflicts during the Cold War, and that the U.S. always ignored rules or global accords it didn't like because it was powerful enough to get away with it.
The difference now, he says, is "a new balance of power" that is "to the detriment of the West," which is now "less powerful, in relative terms."
His bottom line: "In a paradoxical way, we are back to power politics," with the big countries throwing their weight around. But this time, we lack the "unsaid rules of what you can do and cannot do," and the red lines countries know not to cross. The question: Can the U.S., China and Russia ever agree on the rules of the game?
7. Stories we're watching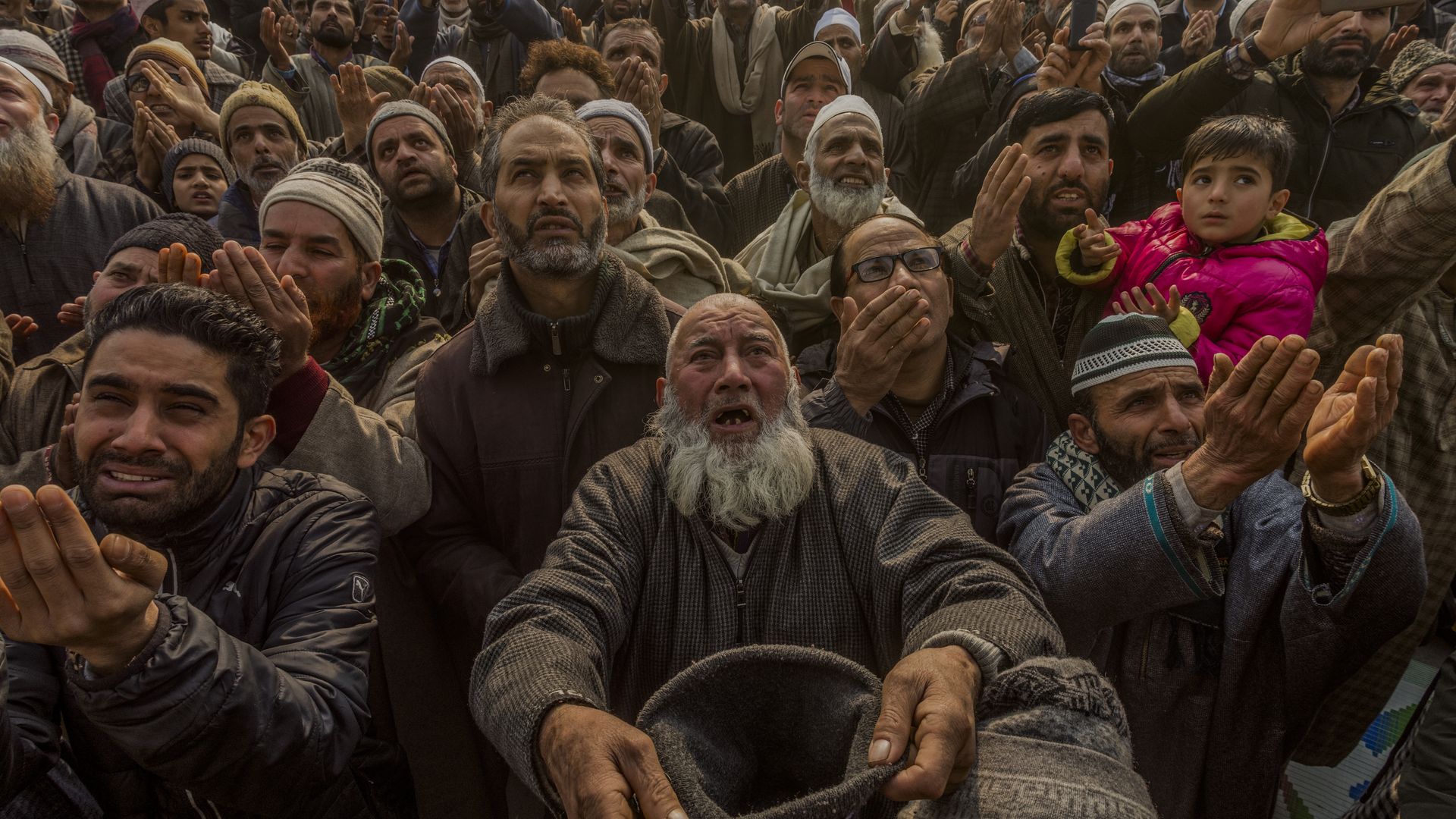 Quoted:
"People don't want to acknowledge [Trump's] victory — isn't that disrespect for the voters? Or in Britain, Brexit passed and no one wants to implement it. They're not accepting the results of elections. Democratic procedures are being weakened, they're being destroyed." 
— Vladimir Putin, champion of democratic values
Thanks for reading — I'll see you in a week!