Happy Thursday evening and welcome back to Axios World. We've got 1,592 worldly words (6 minutes) for your reading pleasure.
Thanks for joining me! Please tell your friends and colleagues to sign up, and I'd love your tips and feedback: lawler@axios.com.
1 big thing: Turkish offensive could break U.S. alliance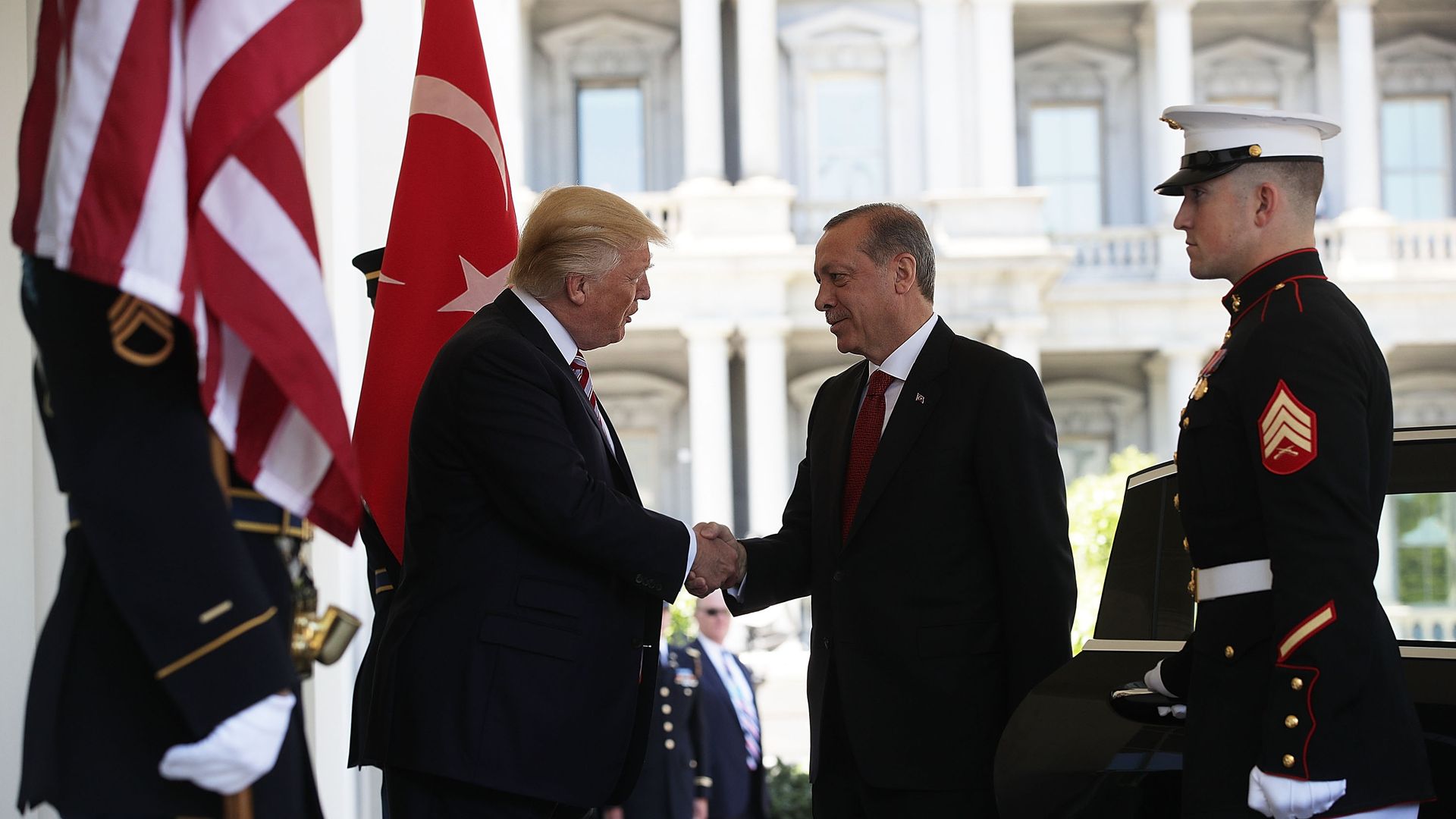 The Turkish offensive in northern Syria that began yesterday after President Trump withdrew U.S. special forces from the border has claimed its first casualties and sent an estimated 60,000 civilians fleeing for safety.
The big picture: Turkey's air and ground campaign is targeting Kurdish fighters who are central to the U.S. campaign to defeat the Islamic State, or ISIS, but viewed by NATO ally Turkey as elements of a terror group, the PKK.
Driving the news: There is virtually no international support for Turkey's incursion, with even President Trump now declaring it "a bad idea."
Responding to criticism from Europe, President Recep Tayyip Erdogan threatened to "open the gates" and let Syrian refugees flow into the continent.
Turkey's foreign minister also rejected Trump's claim that Turkey is now responsible for keeping some 10,000 ISIS suspects imprisoned, saying it will only take those inside the "safe zone" it intends to create.
The Kurds currently hold the prisoners. They've already halted all anti-ISIS operations amid Turkey's offensive, per AP, and said guards will have to abandon the prisoners to join the fight.
Trump warned today that he would "hit Turkey very hard financially & with sanctions if they don't play by the rules," though both he and Secretary of State Mike Pompeo have declined to say what those rules are.
As for the ISIS prisoners, Trump said "they're going to be escaping to Europe," not the U.S.
Zoom out: Soner Cagaptay, an expert on U.S.-Turkey relations and author of the new book "Erdogan's Empire," tells me Erdogan's offensive will further strain a long-standing alliance that looks increasingly likely to rupture.
Trump's announcement on Sunday threw U.S. frustrations with Turkey "into the open," Cagaptay says. "You saw the military pushing back, you saw the Hill pushing back."
Nikki Haley, Trump's former UN ambassador, tweeted: "#TurkeyIsNotOurFriend."
Flashback: The divide between the NATO allies, Cagaptay says, has grown across "16 years of war in 2 of Turkey's neighbors — Iraq and Syria."
Before the U.S. allied with the Kurds, Cagaptay notes, Turkey backed radicals in Syria that "morphed into ISIS."
"Both picked as their proxy a sworn enemy of their ally."
The other side: While Turkey is polarized on most issues, Cagaptay says, a large majority supports Erdogan's objective of moving Kurdish fighters away from the border.
Meanwhile, resentment over the 4 million Syrian refugees Turkey has taken in has intensified amid an economic downturn.
"It's forcing Erdogan to make it look like he's doing something to address the refugee problem. And that something will be to repatriate some refugees into Syria," Cagaptay says.
Turkey aims to move hundreds of thousands of mostly Arab refugees into the currently Kurdish-controlled area.
What to watch: As anger with Turkey grows in Washington over Syria and other issues, Erdogan continues to rely on his personal relationship with Trump.
"A relationship that hinges on personalities, Erdogan and Trump, will face long-term risks," Cagaptay says.
"You need agencies to trust each other again. You need bureaucracies to have faith in each other. And faith between the militaries has already been undermined."
The bottom line: "On a day-to-day basis, I wonder if one of these crises that are coming up will actually rupture the relationship."
Mapped: Control in Syria
2. Sports and geopolitics: Turning out and shutting up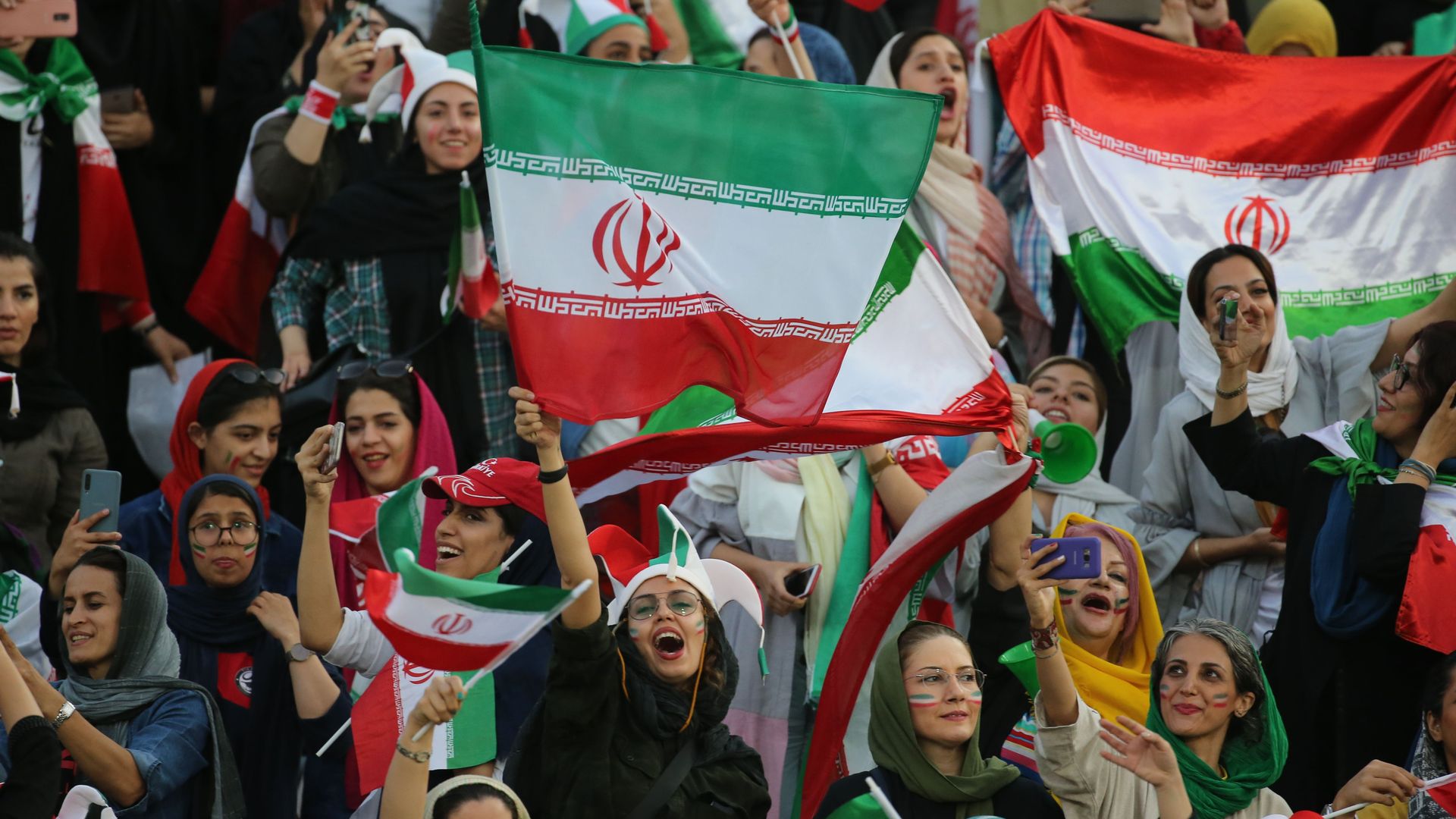 1. Iranian women were allowed to attend a World Cup qualifying soccer match in Tehran today for the first time since 1981, Axios' Rashaan Ayesh writes.
The NY Times called it one of the "most consequential sporting events to be played in years," and not because of any in-game drama. Iran beat Cambodia 14-0.
Women have been protesting the ban since its inception — even disguising themselves as men to enter matches.
2. It was also a landmark day for Iraq's national soccer team, which beat Hong Kong 2-0 in its first competitive match on home soil in 8 years.
Violence and instability at home had forced Iraq to play in Iran, Jordan and Kuwait, per CNN.
"Personally, I can't find the words to express how I feel. It's a huge accomplishment for the Iraqi people," defender Saad Natiq told FIFA.com.
3. Speaking of Hong Kong ... the NBA has been struggling to save its lucrative relationship with China without making a mockery of its pro-free speech stance. Beijing was infuriated by a pro-Hong Kong tweet from the Houston Rockets' general manager.
"[F]reedom of speech has potentially had what could be a catastrophic impact on the NBA's bottom line. The league generates hundreds of millions of dollars in revenue from China every year."
— Sports Illustrated's Chris Mannix on Axios'
Pro Rata podcast
The bottom line, per Axios' Erica Pandey: "An NBA GM has done a better job of alerting the U.S. to the China threat than any politician."
3. Latin America: Riots shake Ecuador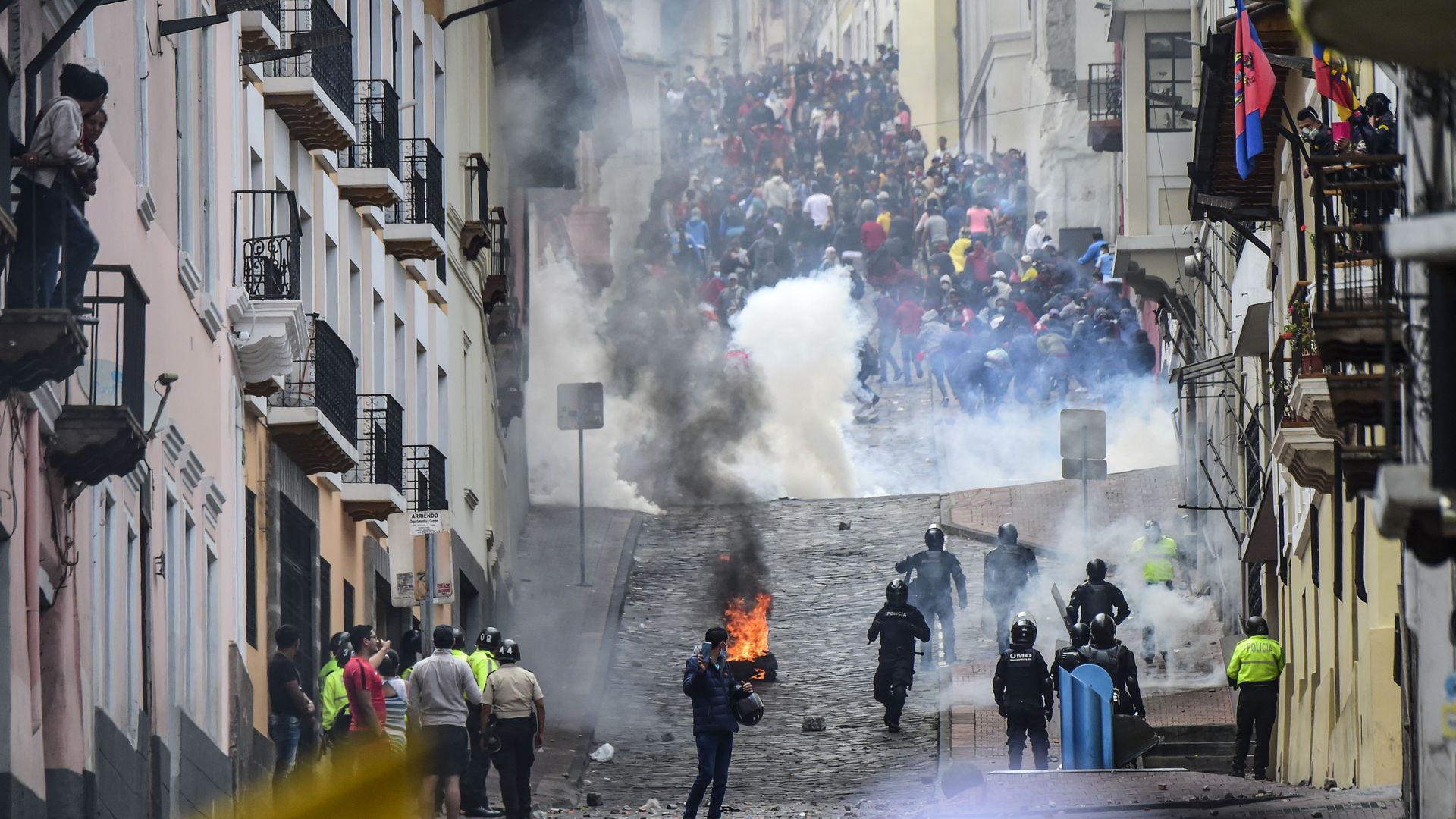 Violent protests continued in Ecuador today, 2 days after President Lenín Moreno fled the capital and moved government operations to a port city.
Driving the news: Moreno is standing by the policy that sparked the unrest — the termination of a popular but costly fuel subsidy.
"In one chaotic scene, protesters swarmed onto the top of a riot control vehicle that stopped in an alley. They pounded on its armored plating and reinforced windows with clubs and stones until the occupants accelerated away through clouds of smoke and tear gas," AP reports.
"Moreno knew his decision — by presidential decree — would provoke outrage. No previous government had dared to do it," per the Economist, which contends the step was necessary due to IMF terms and economic mismanagement by Moreno's populist predecessor, Rafael Correa.
Correa today denied he's planning a coup from self-imposed exile in Belgium.
What to watch: Only 2 Ecuadorian presidents have completed full 4-year terms over the past 27 years. Two others have been toppled by riots.
4. North Africa: Out of jail, into the presidency?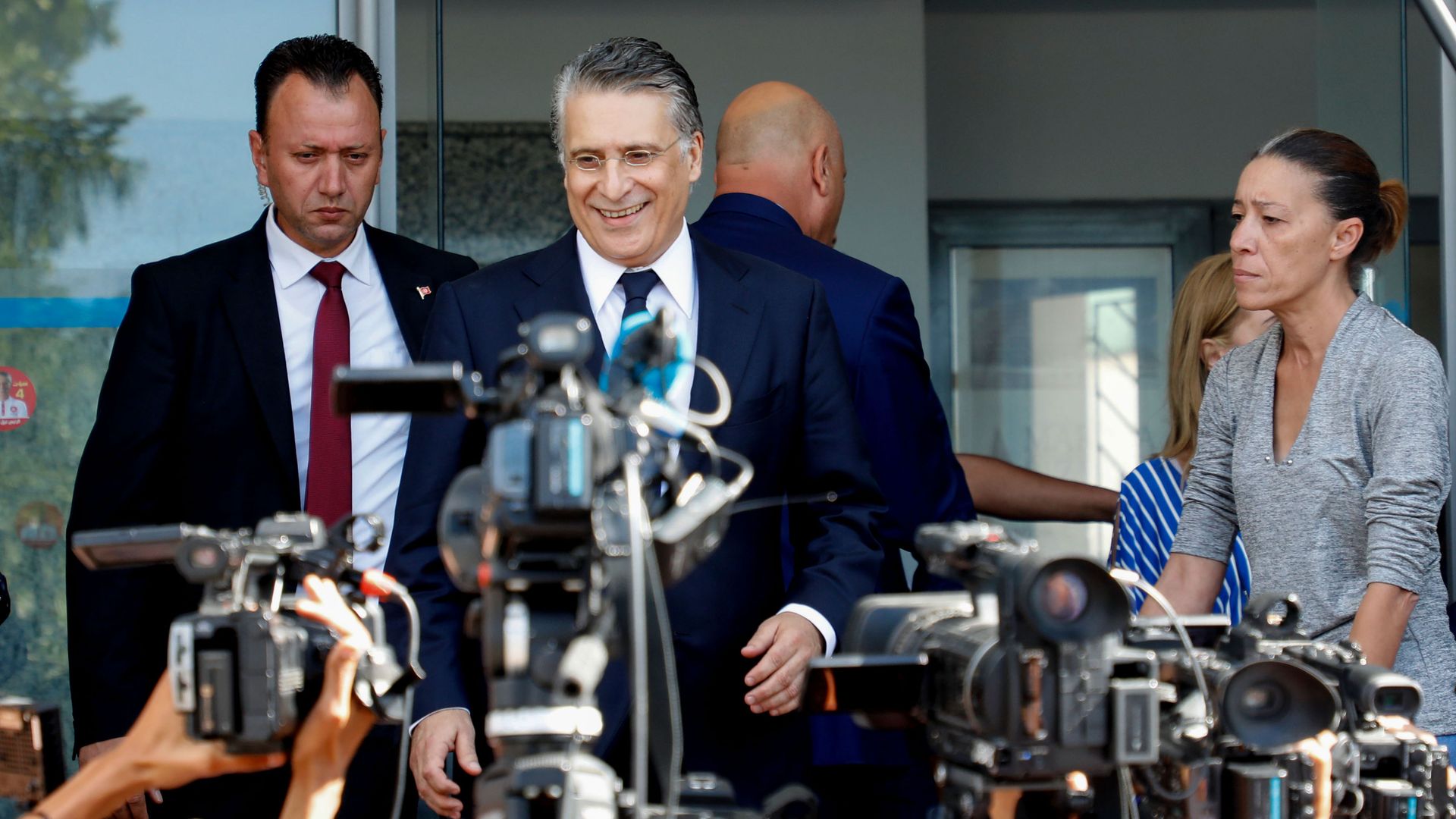 A Tunisian presidential contender who had campaigned from jail was released Wednesday ahead of Sunday's run-off.
Nabil Karoui, a media mogul and philanthropist, was arrested in August on tax fraud charges he says were politically motivated. He ran his populist campaign from prison.
He'll face Kais Saied, a socially conservative former law professor, in a matchup of unorthodox candidates after voters emphatically rejected the political establishment in last month's first round.
Why it matters: Tunisia was the only democracy to emerge from the Arab Spring of 2011. But its progress looks fragile and the population is growing disillusioned. Some fear that if Karoui loses, he'll challenge the results on the basis of his arrest.
Go deeper: Preliminary results of Tunisia's parliamentary elections were announced Wednesday night. Ennahda, an Islamist party, finished first.
5. Quick hits from Trumpworld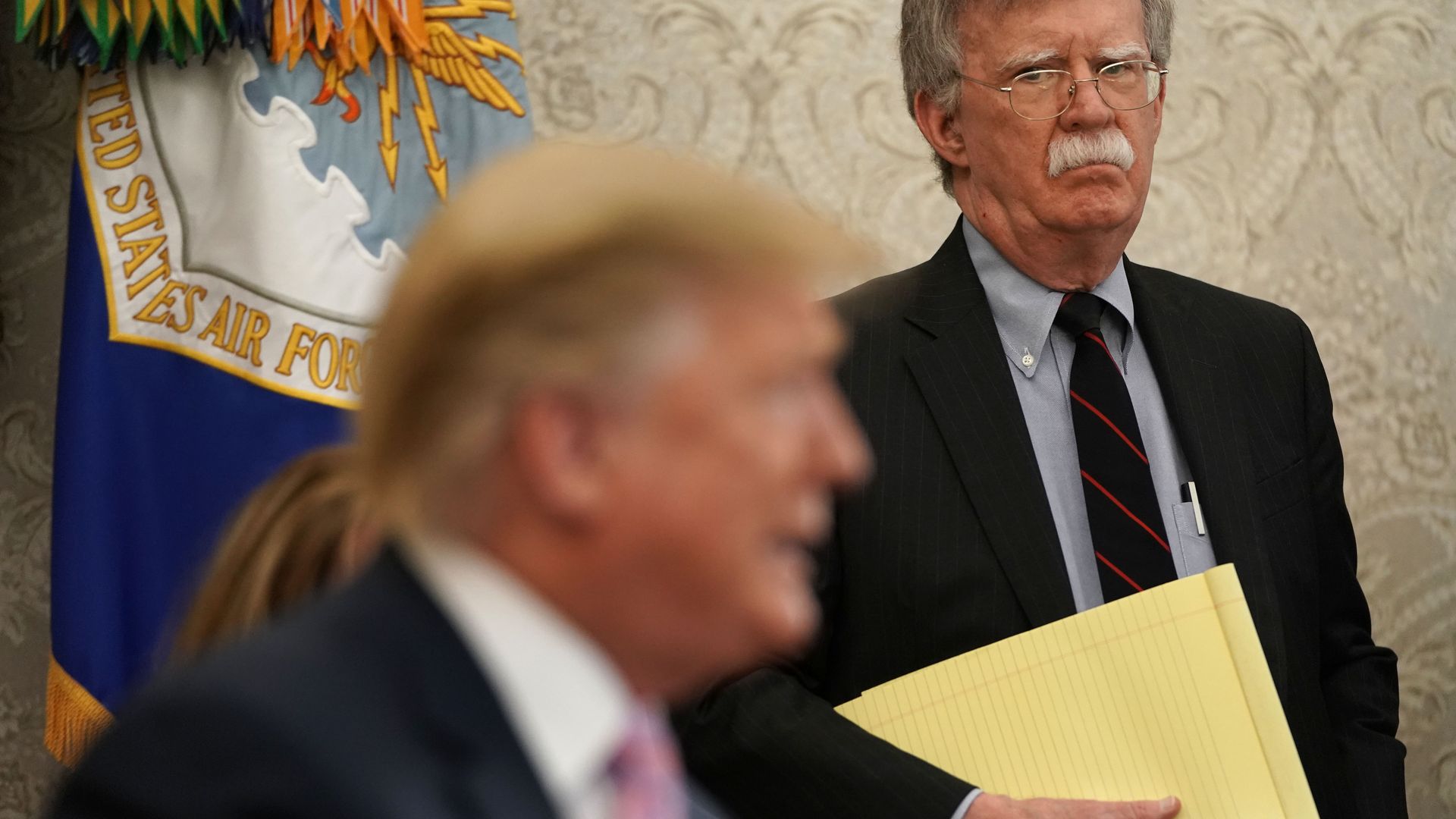 1. John Bolton is writing a book about his time as Trump's national security adviser, Axios' Jonathan Swan scoops.
From the moment he left the White House on bad terms with Trump, senior officials privately expressed concerns about what Bolton might reveal about his time serving Trump.
2. "Two Soviet-born donors to a pro-Trump fundraising committee who helped Rudy Giuliani's efforts to investigate Democrat Joe Biden were arrested late Wednesday on criminal charges stemming from their alleged efforts to funnel foreign money into U.S. elections and influence U.S. politics on behalf of at least one Ukrainian politician," WSJ reports.
3. "Michael Pillsbury, an informal White House adviser on China, said he received information about the business activities of Hunter Biden during a visit to Beijing in the same week Donald Trump urged China to probe the son of Joe Biden," the FT's Demetri Sevastopulo reports.
4. "Former national security adviser H.R. McMaster said at a Foundation for Defense of Democracies event on Thursday that it's 'absolutely not' appropriate for the president to solicit foreign election interference," Axios' Zach Basu writes.
Go deeper: I put together a cheat sheet on all the key players and dates in the Trump-Ukraine saga. I hope you find it useful.
6. What I'm reading: Reflections from the Obama era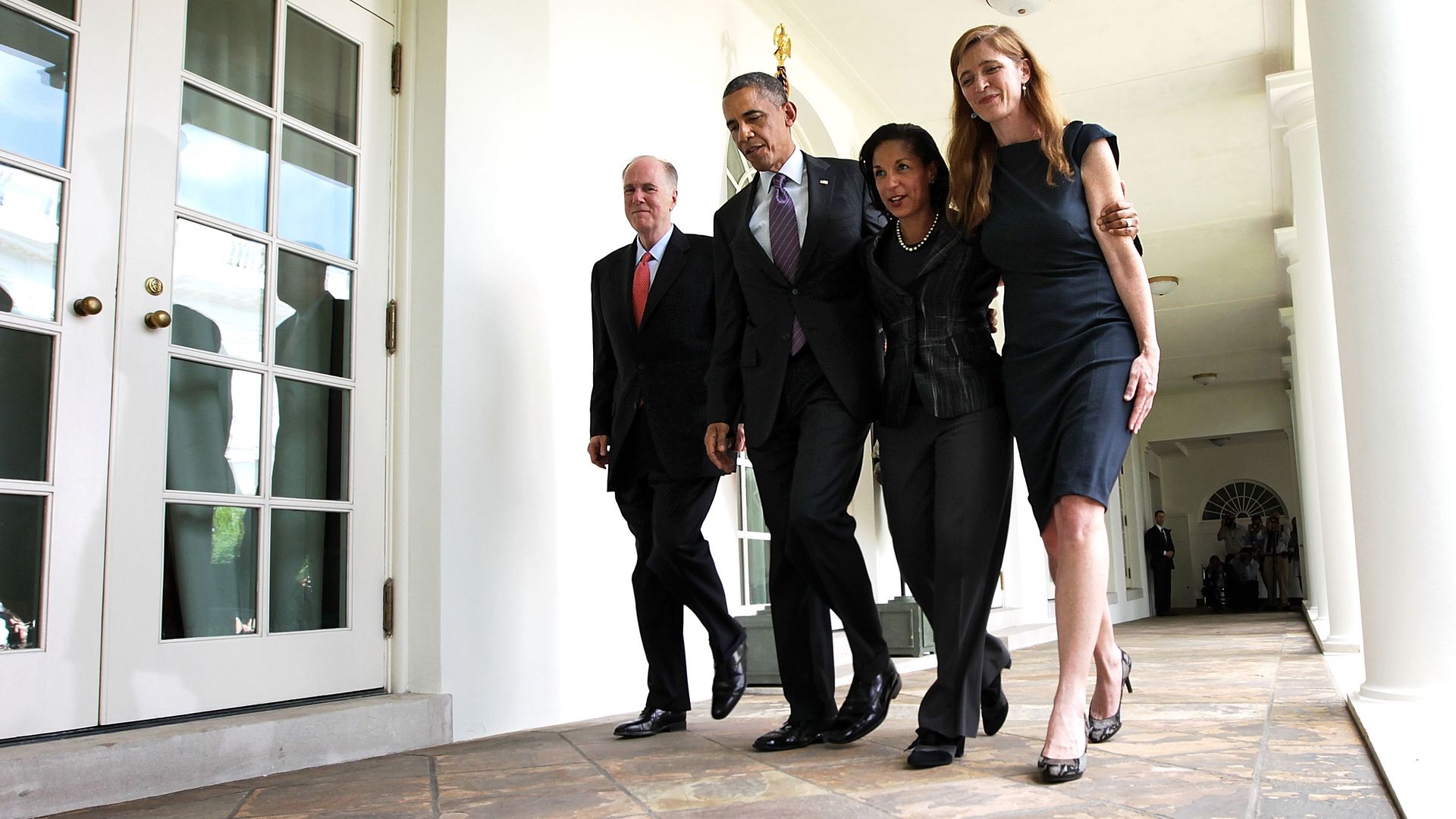 The recent memoirs of three key members of Barack Obama's foreign policy team — Susan Rice, Samantha Power and Ben Rhodes — chronicle "both the decline of American power and the decline of American exceptionalism: the belief that the United States is immune to the tribalism and authoritarianism that plague other parts of the world," Peter Beinart writes in Foreign Affairs.
The big picture: The memoirs are tinged with disappointment, Beinart notes, as the "young liberals" learn that defending human rights overseas has heavy costs, and "state collapse can be as brutal as state repression."
"In each book, three moments during the Obama administration play outsize roles in chastening this youthful idealism: the decision to bomb Libya in 2011, the decision not to bomb Syria in 2013, and the 2016 election."
Rice, for one, seems to have "reluctantly" concluded that it's better to let dictators "quash dissent" than to try and topple them, Beinart writes.
"At times, it appears that Obama agreed. 'Maybe we never would have done Rwanda,' he tells Rhodes at one point."
Zoom out: "That Beijing figures so little in all three books is the clearest indication that they chronicle a different time. In retrospect, the entire post–Cold War era that framed the careers of Rice, Power, and Rhodes... may turn out to have been merely a parenthesis between superpower competitions." 
D.C. readers: My colleague Margaret Talev will be interviewing Rice at an Axios event tomorrow morning. RSVP.
7. Stories we're watching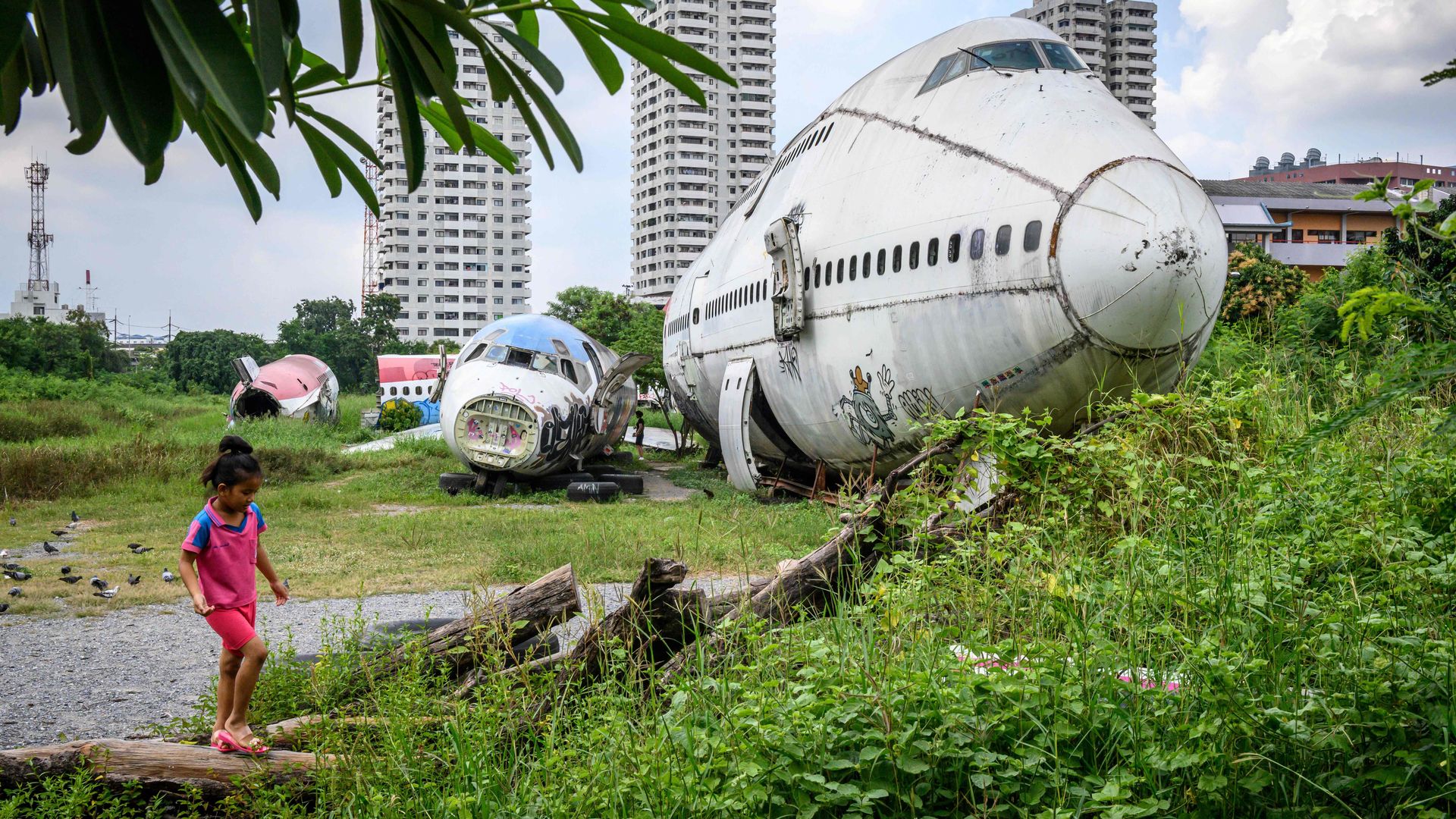 Quoted:
"The woman was driving on the wrong side of the road, and that can happen. ... I won't say it ever happened to me, but it did. When you get used to driving on our system and then you're all of a sudden on the other system — it happens. ... It was a terrible accident."
— Trump on
the crash in the U.K. in which the wife
of a U.S. diplomat, Anne Sacoolas, killed 19-year-old Harry Dunn. Sacoolas has claimed diplomatic immunity.
Have a wonderful weekend!