Welcome to Axios World, where two evenings a week we break down what you need to know about the big stories from around the globe.
Thanks for joining me! Please tell your friends and colleagues to sign up here, and I'd love your tips and feedback: lawler@axios.com.
1 big thing: Canada isolated in unfamiliar territory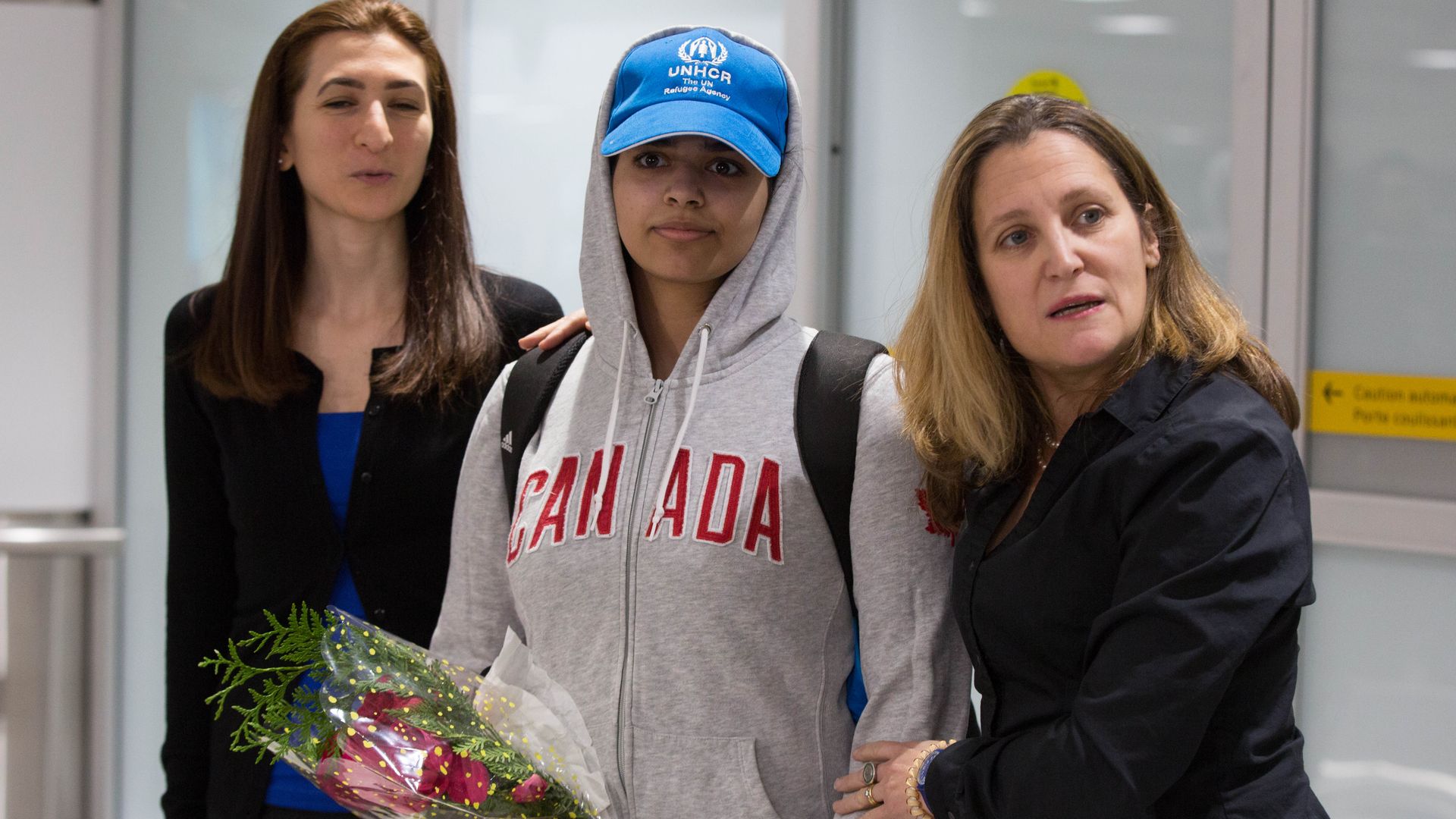 Canada is embroiled in escalating disputes with two authoritarian powers, without the U.S. to lean on for support.
In the past three days:
1. A Chinese court sentenced Canadian Robert Schellenberg to death today for drug trafficking, a move almost certainly tied to Canada's arrest last month of Meng Wanzhou, CFO of Chinese tech giant Huawei.
Schellenberg had appealed his 15-year sentence, only to have it increased to death. Canadian Prime Minister Justin Trudeau condemned that move and said "all countries around the world" should be concerned that China is refusing to comply with international norms.
Two other Canadians were detained days after Meng's arrest. She's facing U.S. charges tied to the alleged evasion of Iran sanctions, and is under house arrest while courts decide whether she will be extradited. Trump, meanwhile, suggested her case could be lumped in with trade talks.
2. Canadian Foreign Minister Chrystia Freeland greeted Rahaf al-Qunun — an 18-year-old Saudi who made international headlines last week after barricading herself in a hotel room in Thailand — Saturday night at an airport in Toronto.
Al-Qunun, who said she'd be killed if deported after renouncing Islam, was attempting to reach Australia. Instead, Canada granted her immediate asylum.
David Chatterson, a former Canadian ambassador to Saudi Arabia, told CBC that the scene will infuriate the Saudis, who "will look upon this as Canada interfering in what they view as a family dispute and in their internal affairs."
It was Freeland who sparked a diplomatic crisis with Riyadh last August with her tweet calling for the release of imprisoned Saudi activists. The Saudi response was startlingly fierce, and relations remain strained.
The big picture: Ferry de Kerckhove, a longtime Canadian diplomat now at the University of Ottawa, says the disputes put Canada in a "profoundly unusual" position. "We live in an entirely different world," he says, where the likes of Saudi Crown Prince Mohammed bin Salman are emboldened and know the U.S. won't stand behind Canada.
"The rest of the world that loves to have Canada doesn't like to come to our defense. If the U.S. drops Canada the way Trump has, you don't expect them to rush in," de Kerckhove says.
Since Trump took office, de Kerckhove says, 90% of Canada's foreign policy has been focused on managing relations with the U.S.
Still, Trudeau and Freeland have garnered considerable attention in their defenses of human rights, democracy and multilateralism. That growing profile is not because Canada is charging forward, de Kerckhove argues, but because others have stepped back.
The bottom line: "Canada can do very little to protect the liberal international order unless we have strong leaders in Europe pulling in that direction," he says, noting the diminished political statures of Emmanuel Macron in France, Theresa May in the U.K. and Angela Merkel in Germany. "We don't have much clout and there's very little Trudeau can do."
Go deeper: The new age of hostage diplomacy
2. China: Halfway through the trade truce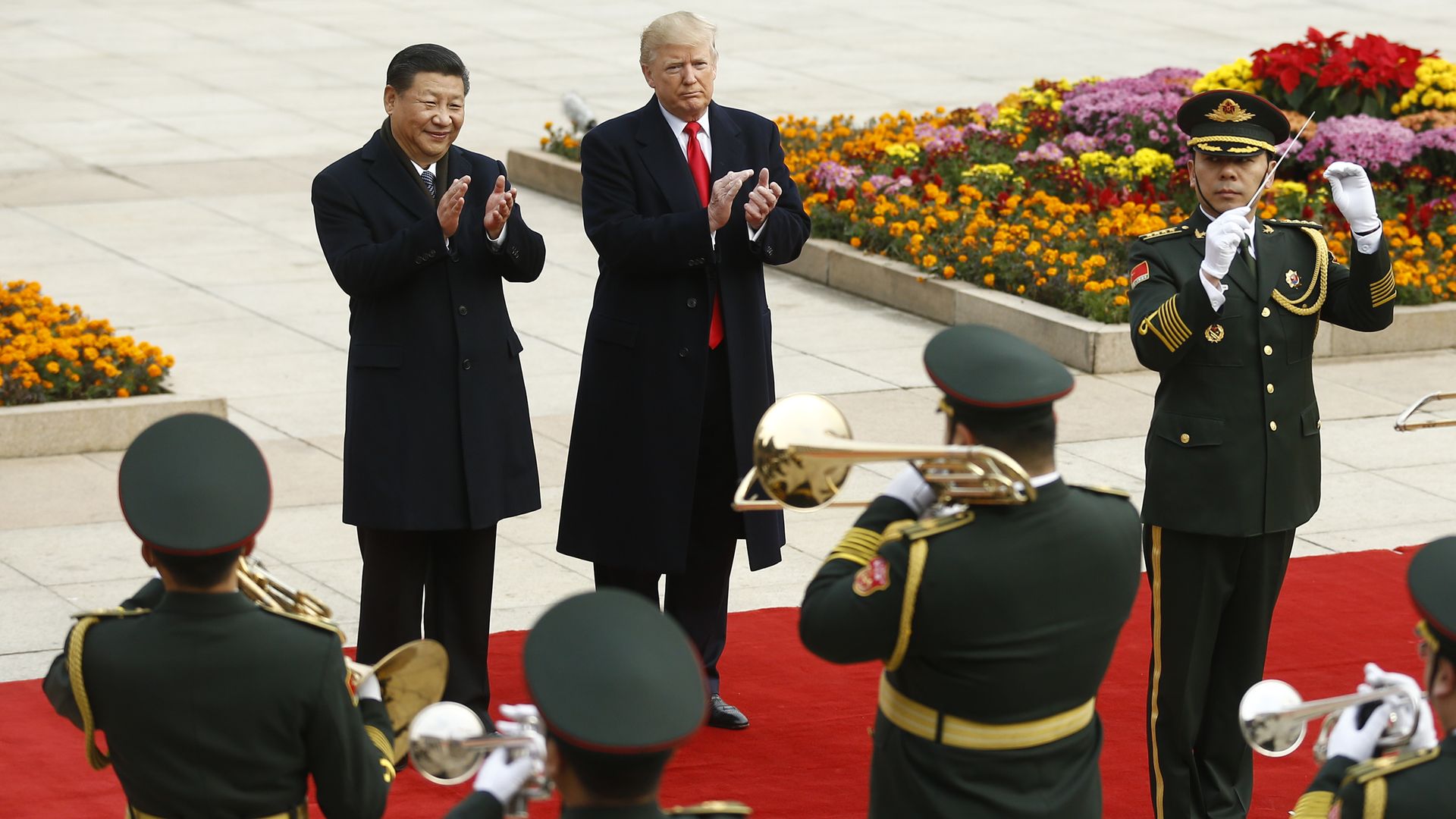 We're halfway through the 90-day truce with China that President Trump called in Buenos Aires to seek a wide-ranging solution to the trade war.
Recent economic wobbles give both sides extra incentive to make a deal — and underline the stakes of failing to get one.
Where things stand, from Axios contributor Bill Bishop:
The Chinese do need to make a deal, both because the trade conflict is exacerbating underlying problems in their economy and also because I hear President Xi Jinping is quite concerned about the possibility of the U.S. decoupling from China, especially in technology.
However, the Chinese side cannot accede to all U.S. demands without posing an existential challenge to the Party's view of how the economic system needs to be structured. Whether there is ultimately a deal will come down to how much is enough from the Chinese side to get President Trump to say "we have a deal."
The bottom line: I expect that the Chinese offer will fall far short of what U.S. trade representative Robert Lighthizer wants, but using a mixture of big purchase commitments, unofficial lobbying, flattery and headline concessions, it will ultimately prove enough for Trump.
Meanwhile, John MacLeod of Oxford Analytica points out that trade between China and Russia passed $100 billion for the first time in 2018, a year-on-year increase of 27%:
Between the lines: "Russia is more motivated to seek economic cooperation than China, and its adaptation to Western sanctions is more of a factor than Beijing's trade disputes with Washington. Moscow still has plenty to offer — oil, gas and hi-tech weapons — but will increasingly be the junior partner and remain focused on raw material exports."
Go deeper: More on that deepening relationship.
3. Brexit: Clocks run down on May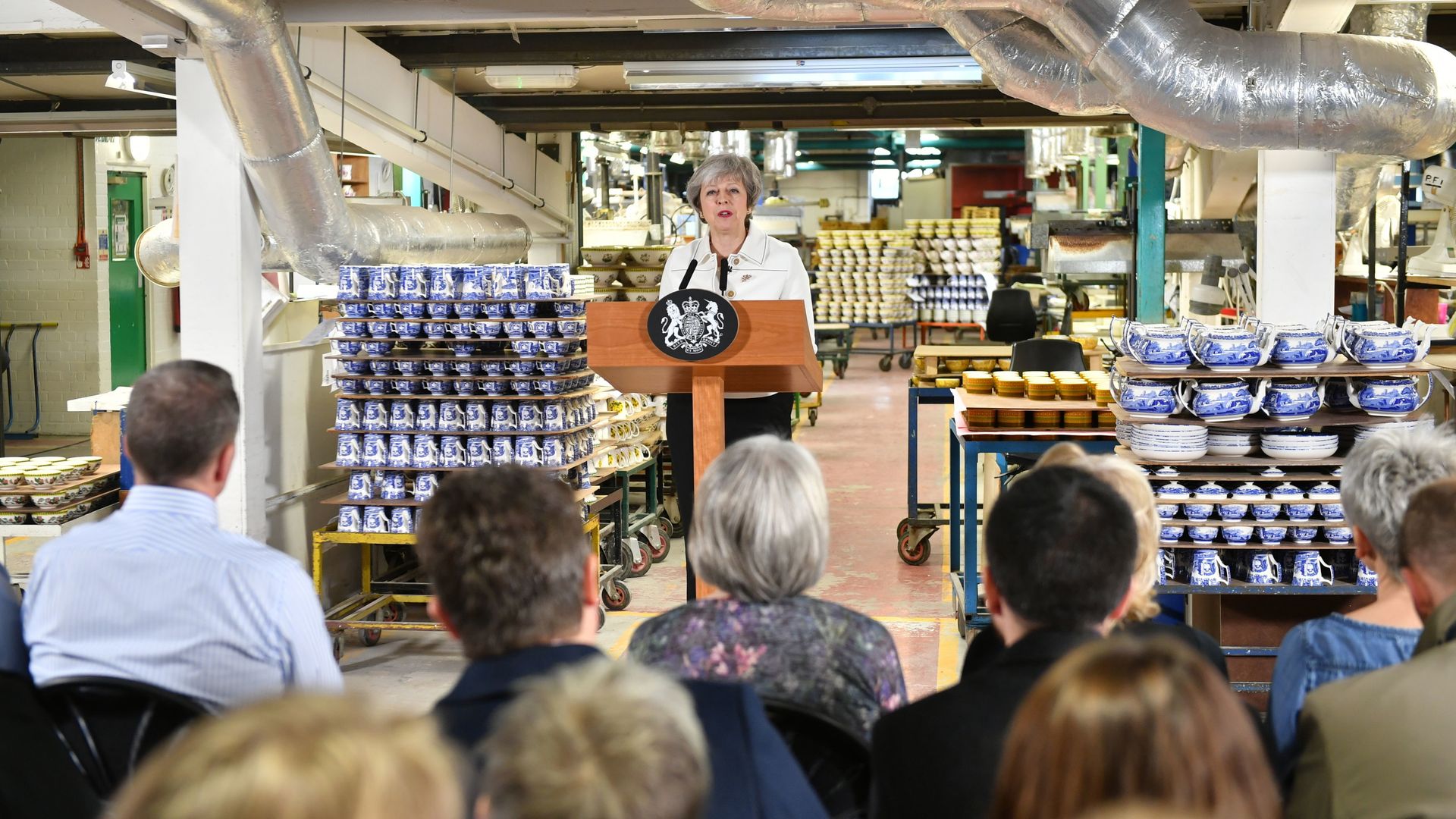 Five weeks ago, U.K. Prime Minister Theresa May postponed a vote on her Brexit deal to seek a lifeline from the EU over the so-called "Irish backstop" and run the clock down closer to Brexit Day on March 29. She hoped the time crunch and the specter of a disastrous "no deal" exit would focus minds in Westminster.
How'd that work out?
"Defeat on Tuesday for [May's] Brexit plan has been so thoroughly priced in that MPs are almost blasé about what would be the most shattering rejection of any prime minister in modern times."
— Robert Shrimsley
in the FT
Assuming May loses tomorrow, she might resign, but probably won't. Opposition leader Jeremy Corbyn says he'll table a no-confidence motion, but she'll likely survive that too. If she's still in the job, she'll have three days to present a new plan.
Corbyn, meanwhile, has declined to lay out a Brexit plan of his own. It's unclear what he wants, other than a general election.
Both "no deal" and "no Brexit" are now distinct possibilities.
"This week it distills into what people truly think — between those who are really scared of leaving without a deal, and those who are really scared of not leaving," one Cabinet minister told the BBC's Laura Kuenssberg.
What's next: I have no idea, but whatever it is, we'll be covering it closely in the Axios stream.
4. Middle East: Trump tweets a Syria policy
President Trump has attempted to redefine his Syria policy in a volley of tweets that included a threat to "devastate Turkey economically" if it attacks Kurdish forces in Syria.
Why it matters: Marc Pierini, a former EU ambassador to Turkey and Syria now at Carnegie Europe, writes for Axios Expert Voices that "rump's rhetoric may "further fuel anti-American sentiments in Turkey."
"While unexpectedly threatening Turkey with economic retaliation, however, Trump yielded to Ankara's longstanding request for a safe zone. ... Trump further intimated that the U.S. will act to prevent any provocation by Syrian Kurds with Turkey."
"With respect to the Syrian Kurds, who have been fighting for their survival against ISIS' onslaught and for the recognition of their cultural and political identity ... Trump's new proclamation means they will be left alone with only a vague promise of U.S. air support from air bases outside Syria." 
What to watch: "Consequently, Syrian Kurds will get even closer to the [Bashar al-] Assad regime than they already were, hoping to ensure their own survival by earning Moscow's support. ... Meanwhile, Russia and Iran ... will have an easier job helping Damascus retake control of all borders to the north, probably at Turkey's expense."
Bonus: Iran hawks in the Oval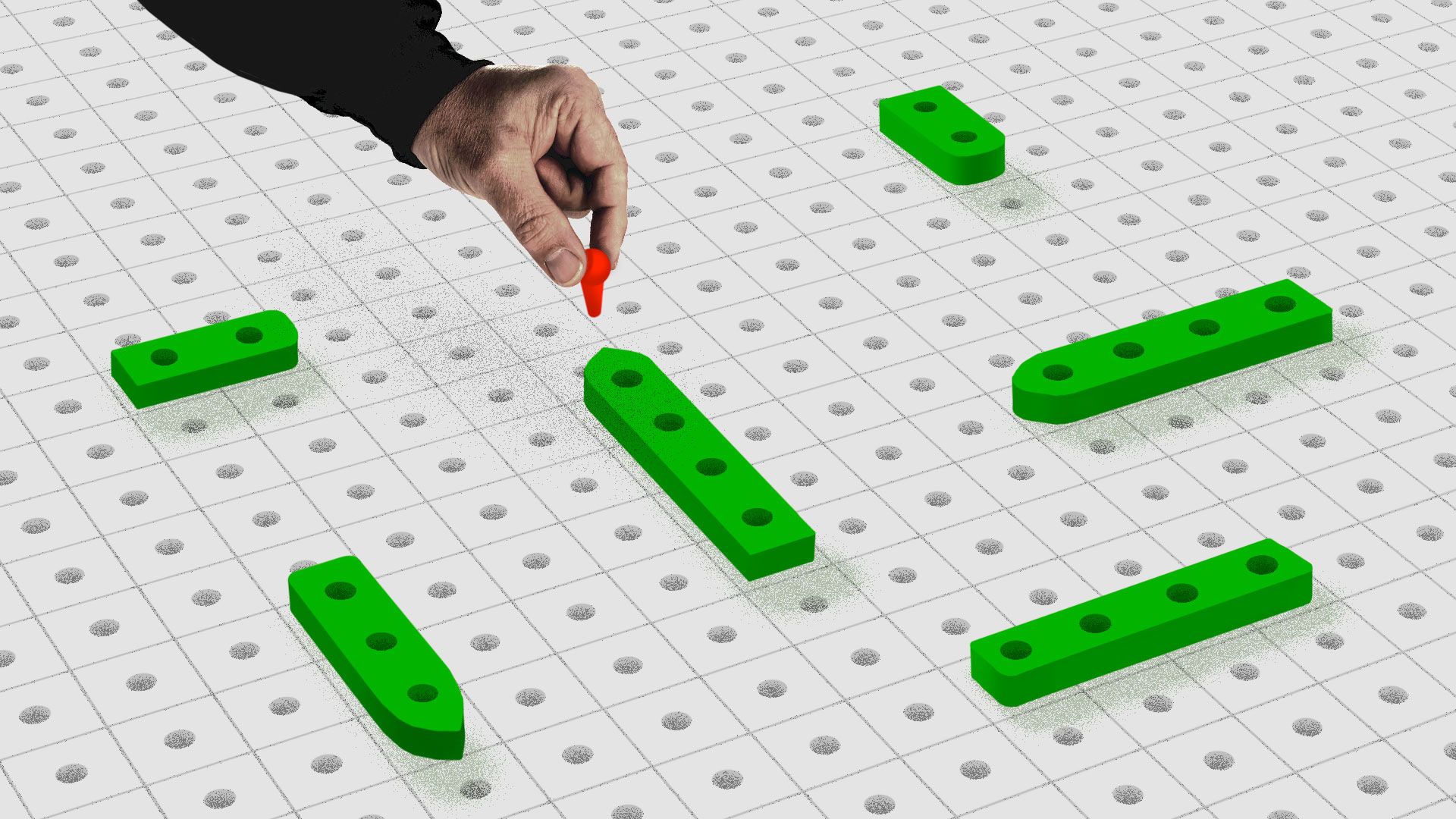 If you don't subscribe to Jonathan Swan's weekly Sneak Peek newsletter, you really should. Two items from last night's edition for your radar:
1. Of all the disagreements that drove President Trump and then-Defense Secretary Jim Mattis apart, one of the most perilous had to do with blowing up Iranian boats.
2. Mattis had "deep concerns" about a request late last year from national security adviser John Bolton for options to attack inside Iran, according to a source close to Mattis.
Behind the scenes: Mattis thought it risked escalating a conflict with an Iranian proxy into war with the Iranian regime. Read the piece.
5. Europe roundup: Tragedy and solidarity in Poland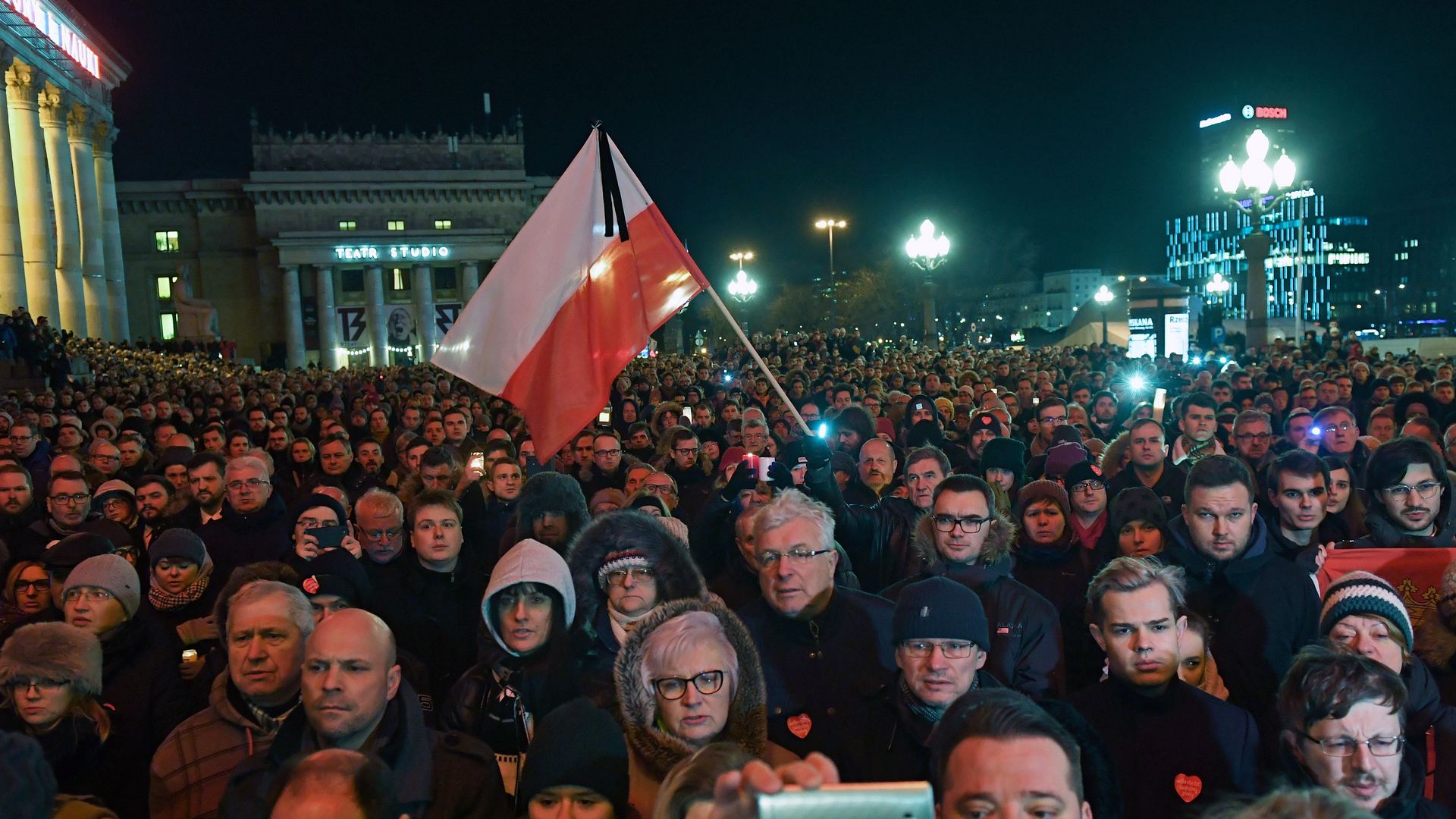 1. Pawel Adamowicz, mayor of Gdansk in Poland, has died after being stabbed last night at a charity event. Per AP:
"Adamowicz had just expressed gratitude to the 'generous' crowd, adding: 'This is a wonderful time of sharing good things. You are dear. Gdansk is the most wonderful city in the world. Thank you!'"
"The killing plunged the politically divided country into shock and grief and brought Poles into the streets for solemn vigils in a rare show of national unity."
2. Greek Prime Minister Alexis Tsipras faces a no-confidence vote this week after a dispute over the name of neighboring Macedonia led to the collapse of his coalition government.
The name dispute is complicated, but significant — Greece has blocked Macedonia from joining NATO and the EU, but would drop those objections under a deal that would see the country rebranded The Republic of North Macedonia.
The compromise was passed Friday by Macedonia's parliament. Two days later, the Independent Greeks party pulled out of Tsipras' coalition in opposition to the deal. Tsipras, a leftist, looks likely to survive.
3. File away this line from this week's Economist:
"Putin reckons Belarus could help him retain power after his current and supposedly final presidential term ends in 2024. A full-blown union of Belarus and Russia, created with or without Mr Lukashenko's agreement, could let Mr Putin dodge term limits in Russia by becoming the first president of a new entity, Russia-and-Belarus."
6. Bolsonaro's "little gift" to Salvini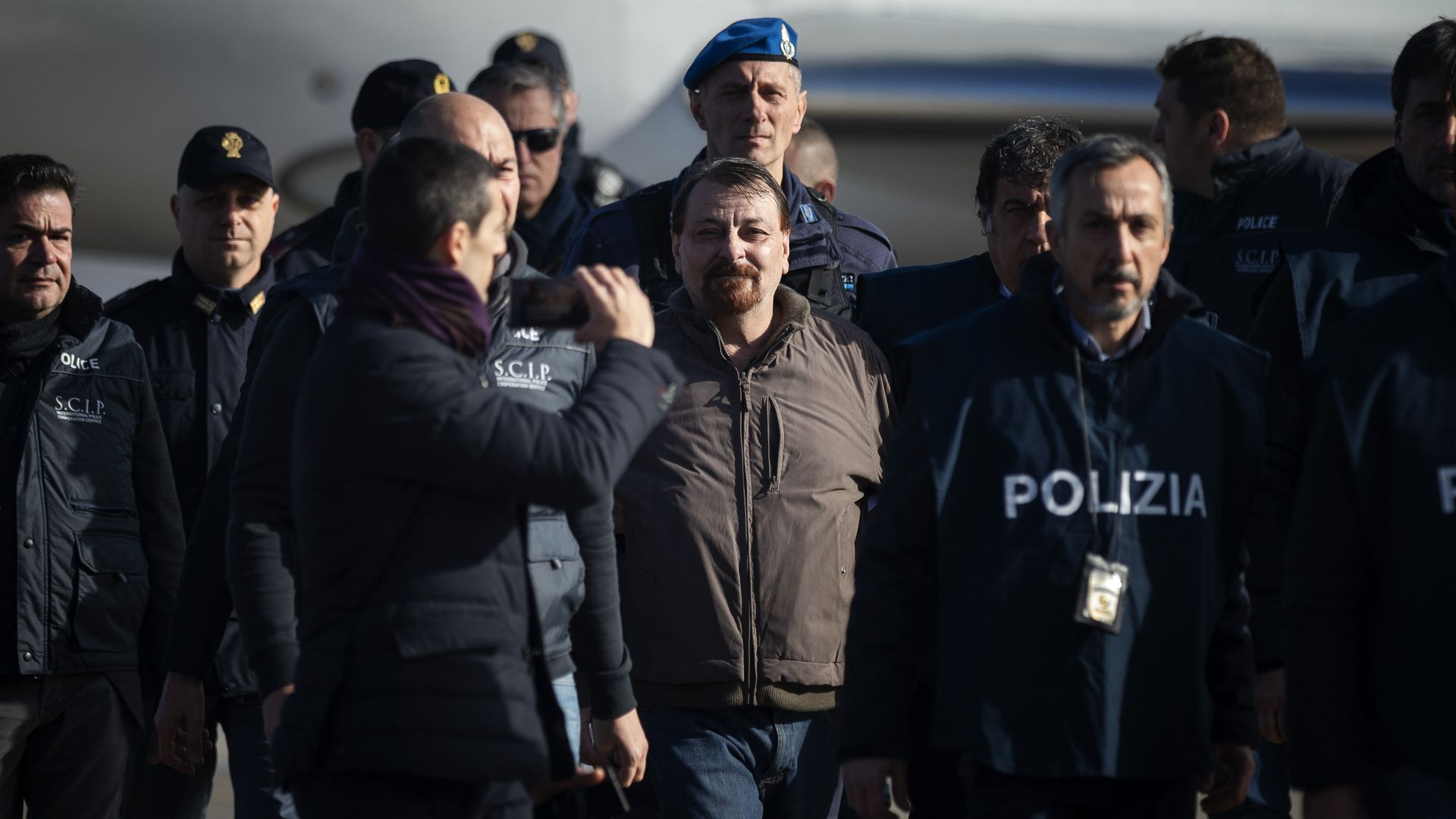 Cesare Battisti has been many things: communist militant, convicted murderer, crime novelist, refugee, fugitive. Now, nearly four decades after he escaped from a prison in Italy, he is back in Italian custody.
Battisti was harbored first by France — which under Francois Mitterrand "was offering sanctuary to former leftist militants from Italy who had renounced their violent pasts," per the BBC — and more recently by Brazil under Luiz Inácio Lula da Silva.
His fortunes changed with the election of Jair Bolsonaro. Battisti fled to Bolovia, reportedly donning sunglasses and a fake beard. He was captured there and extradited to Italy today.
Bolsonaro's son Eduardo, a member of Parliament, alerted Italy's Interior Minister Matteo Salvini — a fellow far-right firebrand — on Twitter that "The little gift is on its way."
What to watch: "'This is not the finish line but the starting point,' Salvini said, citing the presence of 'dozens' of other former militants still on the run in countries from Latin America to France,'" per The Local.
7. Stories we're watching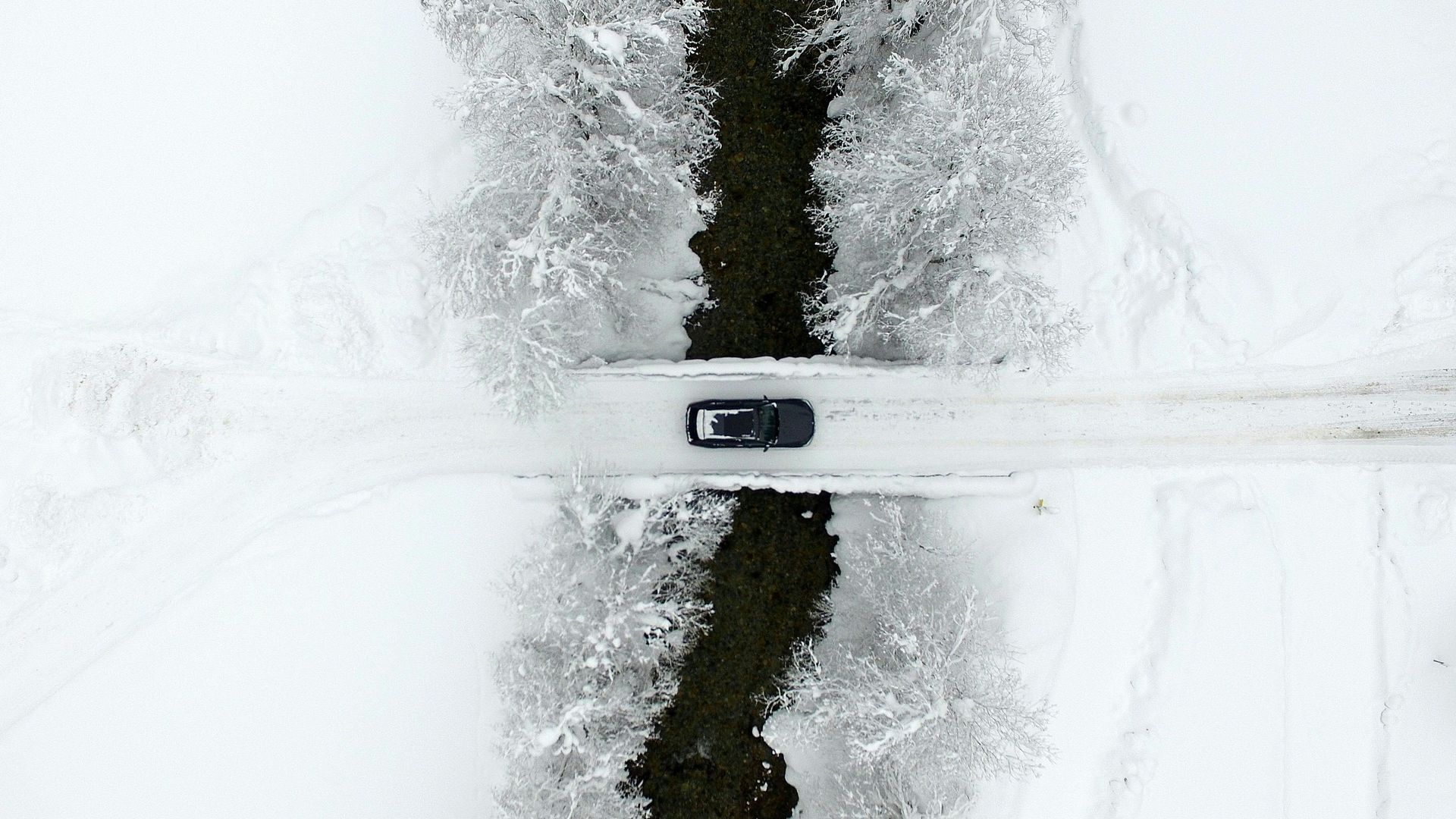 Quoted:
"[O]ne of the reasons that Britain's democracy has been such a success for so many years is that the strength of our identity as one nation ... means that when a vote has been held we all respect the result. The victors have the responsibility to act magnanimously. The losers have the responsibility to respect the legitimacy of the outcome. And the country comes together."
— Theresa May two years ago this week, in a
speech
announcing her Brexit strategy
Thanks for stopping by — see you Thursday evening!