Axios Sneak Peek
January 13, 2019
Welcome to Sneak Peek, our weekly lookahead for both ends of Pennsylvania Avenue, plus my best scoops. Please urge your friends and colleagues to sign up for Sneak Peek.
1 big thing: Scoop — Trump dressed down Mulvaney in front of leaders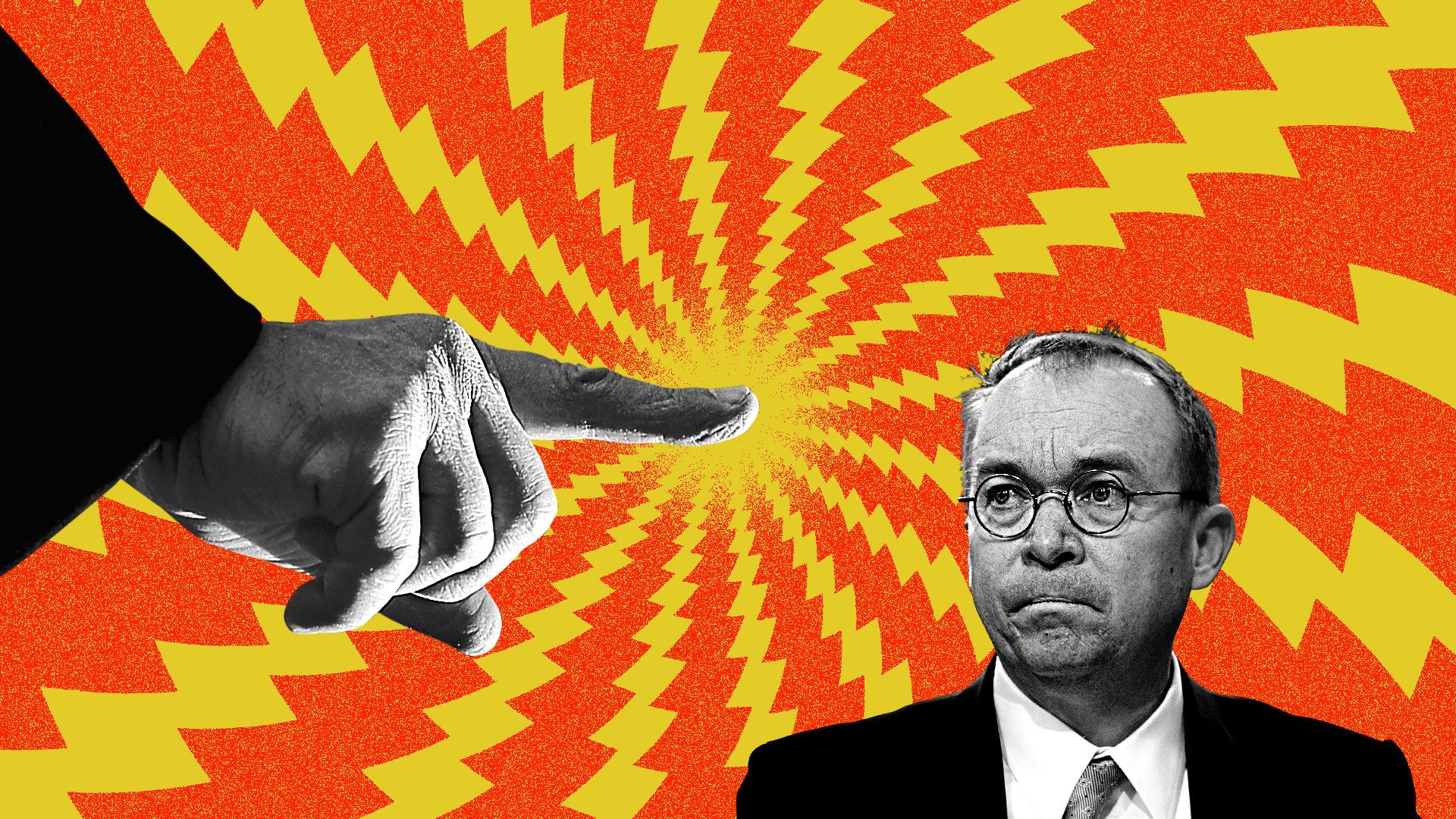 President Trump chastised his new chief of staff, Mick Mulvaney, over his handling of shutdown talks, creating an awkward scene in front of congressional leaders of both parties, according to two sources who were present.
Behind the scenes: The encounter came near the end of a meeting in the White House Situation Room on Jan. 4, these sources said. Trump had spent the meeting restating his demand for $5.7 billion for his wall. (Vice President Pence, at Trump's behest, had previously asked the Democrats for just $2.5 billion.)
Mulvaney inserted himself into the conversation and tried to negotiate a compromise sum of money, according to the sources in the room. Mulvaney said "that if Dems weren't OK with $5.7 [billion] and the president wasn't OK with $1.3 [the Democratic offer] ... he was trying to say we should find a middle ground," one of the sources said, paraphrasing Mulvaney's remarks.
"Trump cut him off ... 'You just fucked it all up, Mick,'" the source recalled Trump saying. "It was kind of weird."
Another source who was in the room confirmed the account. That source said their impression was that Trump was irritated at Mulvaney's negotiating style. "As a negotiator, Trump was resetting," the source said. "Mick was not reading the room or the president."
A White House official, who was in the room, responded to Axios' questions about the encounter: "This is an exaggerated account of the exchange that doesn't reflect the good relationship Mulvaney has built over the last two years with the president." (The official did not deny the quote we provided, but denied that it was as heated a moment as some in the room perceived it to be.)
The same WH official said, "The president and Mulvaney joked about it afterwards."
Between the lines: A fourth source, who was not in the room but has observed Mulvaney and Trump's interactions during previous congressional talks, told me Trump has long been irritated that Mulvaney's initial 2019 budget only requested $1.6 billion for the wall. Democrats relish pointing this out, asking the White House why they're not happy getting the money they originally asked for.
Why it matters: Trump's willingness to humiliate his top staffer in front of Chuck Schumer and Nancy Pelosi is another reminder — beyond Democratic unwillingness to fund a barrier — of why shutdown talks have made zero progress: Trump exhibits little regard for the credibility of his own deputies.
2. Inside the Oval: How Trump tormented Mattis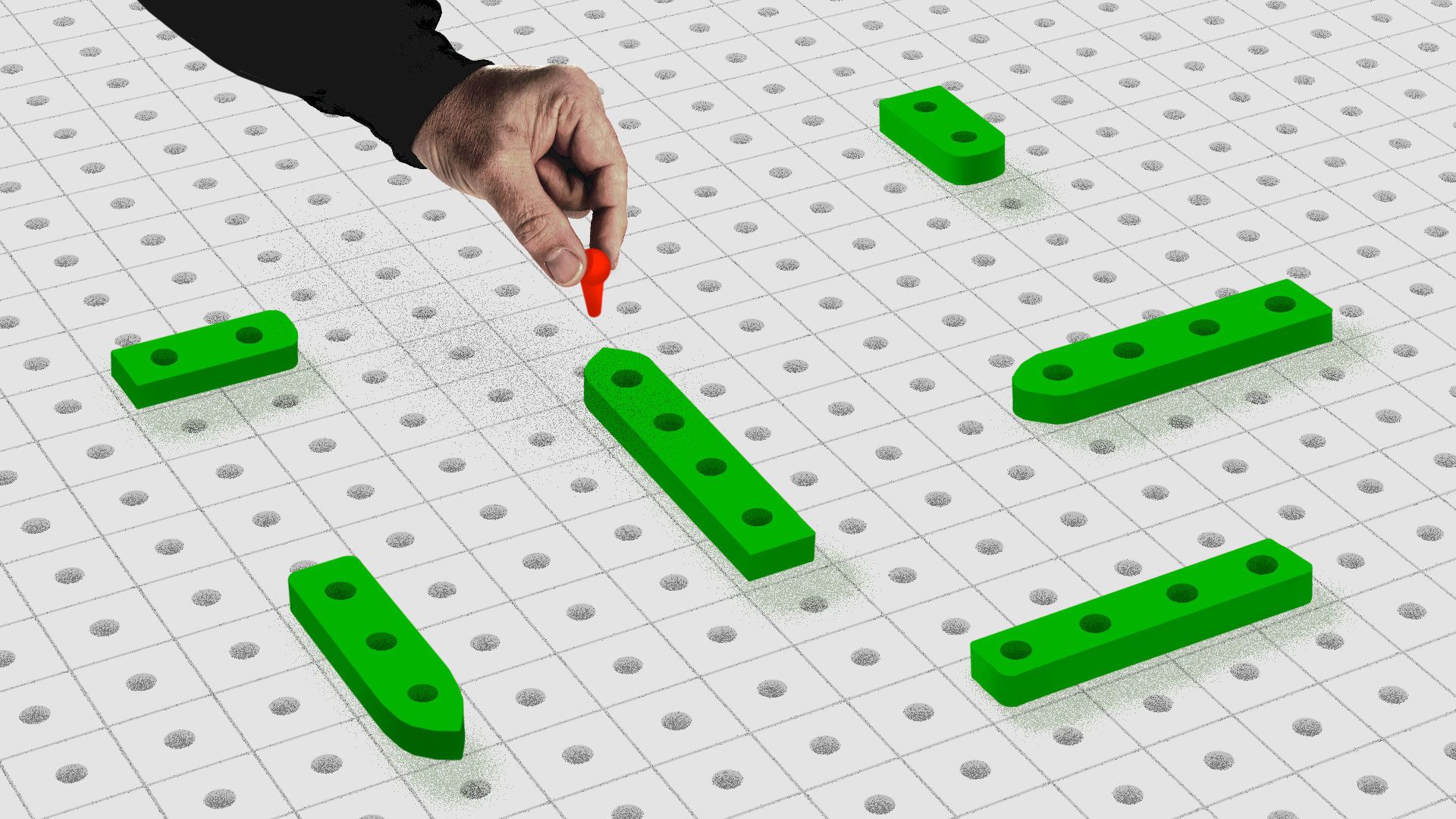 Of all the disagreements that drove President Trump and then-Defense Secretary Jim Mattis apart, one of the most perilous had to do with blowing up Iranian boats.
"Why don't we sink them?" the president would ask.
Acting on an obsession that went back to the campaign, Trump repeatedly asked his national security team for plans to blow up Iranian "fast boats" in the Persian Gulf during the first year of his presidency, according to two sources who directly heard Trump's requests and three other former senior officials briefed on them.
Trump appeared incredulous that the U.S. military hadn't sunk these small Iranian attack boats, and he viewed it as a humiliation and sign of weakness.
"So these boats, they get in, they come in really fast, they come in really close ... and they might have explosives on them and we don't even know," Trump said, repeatedly, in the recollection of a source who heard the president directly in the Oval Office.
"Can you believe this? And we don't do anything?"
There was just one problem:
Iran's "fast boats" were harassing U.S. navy vessels less than in previous years. Such a disproportionate response from Trump could have quickly metastasized into war with Iran, these sources said.
The U.S. previously responded to Iranian naval provocations by attacking their ships and speedboats during the end of the Iran-Iraq War in the late 1980s.
Over the years since, Iran has persistently used its small attack boats, armed with machine guns and rocket launchers, to harass U.S. Navy vessels.
At times the confrontations in the Persian Gulf have become so testy that the U.S. vessels fired off warning shots.
Why it matters: The episode, first referenced last year by the Washington Post, shows Trump's often-contradictory national security impulses. While Trump has been eager to withdraw U.S. troops from their stations in the Middle East and Asia, he's also, at times, proposed military actions that could draw the U.S. further in.
We have seen this pattern throughout Trump's term. For example, he launched strikes against the Bashar al-Assad regime in Syria before announcing he was withdrawing U.S. troops from the region. He threatened apocalyptic war with North Korea — telling Kim Jong-un that there'd be "fire and fury" if he kept threatening America — and has at other times flirted with withdrawing all U.S. troops from the Korean Peninsula.
Mattis, who took pride in resisting Trump's errant instincts, never provided the plans to blow up the Iranian fast boats, according to three former officials involved in the deliberations. Former national security adviser H.R. McMaster had to try to pacify the boss.
While receiving the President's Daily Brief — on multiple occasions, and in at least one separate Oval Office meeting — Trump chastised McMaster about it.
A source who observed the exchange said McMaster replied: "Mr. President, this has happened in the past, but DOD [Department of Defense] is telling us it hasn't happened lately. ... So they're not that concerned about it."
Trump persisted: "OK, but if it happens again, what would we do?"
McMaster replied: "We've got them [DOD] looking at options."
As his presidency wore on, Trump became less interested in the boats.
That's probably because Iran stopped the "fast boat" harassment during the first summer Trump was in office, according to the U.S. Navy.
This change in Iranian behavior ultimately became a point of pride for the president.
The bottom line: Close observers of the Iranian military caution against reading too much into this narrow retreat from Tehran.
"From mid-2017 to mid-2018, it's likely that the Iranians were worried about the prospects of escalation with the U.S. in the Persian Gulf. More worried than perhaps any other time since the end of the Iran-Iraq War," says Behnam Ben Taleblu, an Iran expert at the Foundation for Defense of Democracies.
"But caution should not be mistaken for a change in Iran's asymmetric naval doctrine, capabilities or intentions. As always, Iran plays the long game."
"Just because Iran's naval harassment numbers have dropped, does not mean it hasn't found another medium to use, like drones, to signal resolve against the U.S."
3. Mattis expressed concern about WH request for Iran strike options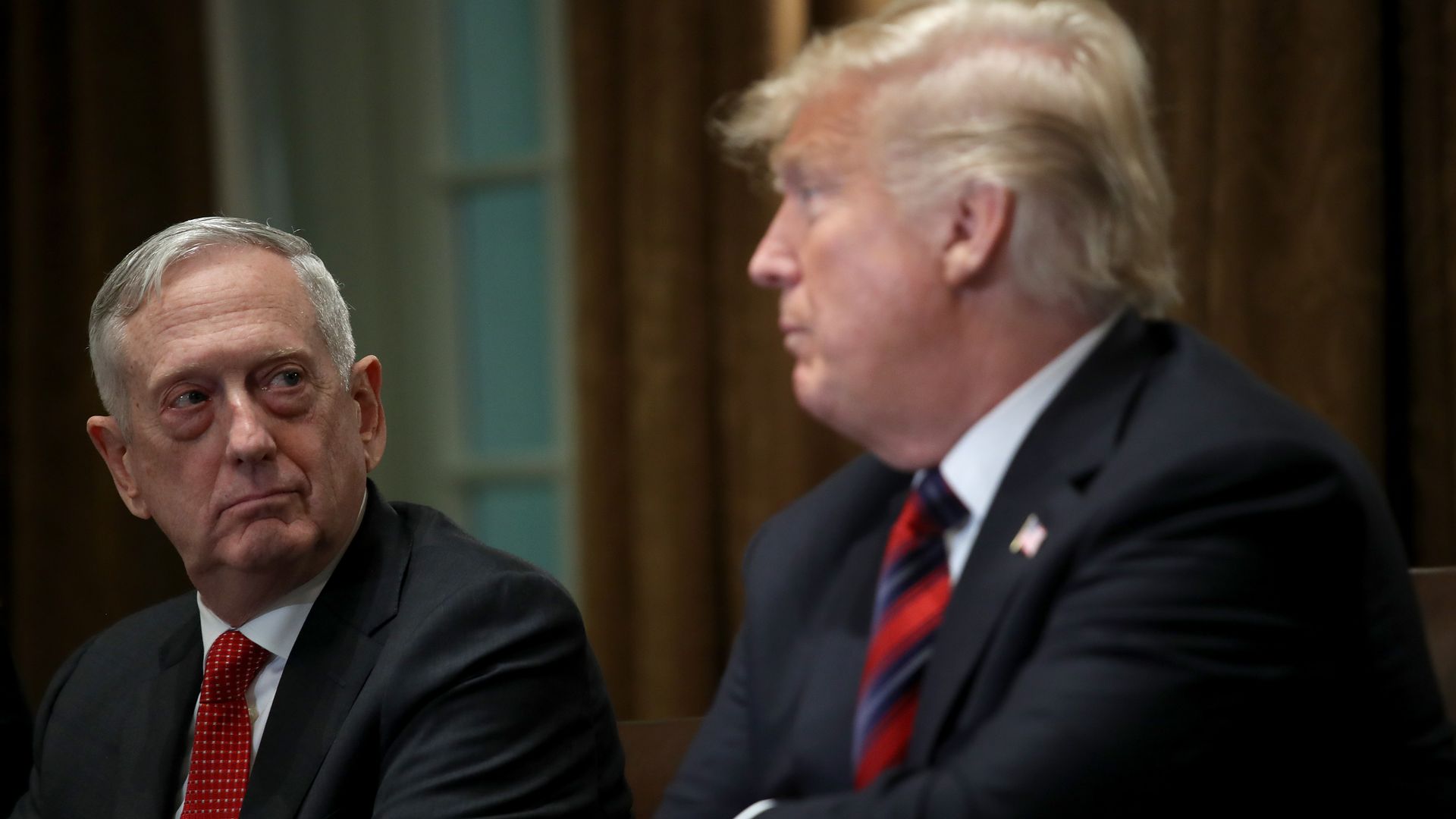 Former Defense Secretary James Mattis had "deep concerns" about a request late last year from national security adviser John Bolton for options to attack inside Iran, according to a source close to Mattis.
"There were deep concerns about any efforts to escalate a conflict with Iran," the source told me.
As the Wall Street Journal first reported, Bolton's request came "after militants fired three mortars into Baghdad's sprawling diplomatic quarter, home to the U.S. Embassy, on a warm night in early September. The shells — launched by a group aligned with Iran — landed in an open lot and harmed no one."
Behind the scenes: Mattis thought that attacking inside Iran risked escalating a conflict with an Iranian proxy into war with a nation state — the Iranian regime. The source told me that despite Mattis' concerns, the Pentagon provided the White House with options to counterattack against Iran.
In response to questions for this article, National Security Council spokesman Garrett Marquis said: "The NSC coordinates policy and provides the president with options to anticipate and respond to a variety of threats. We continue to review the status of our personnel following attempted attacks on our embassy in Baghdad and our Basra consulate and will consider the full range of options to preserve their safety and our interests."
And Pentagon spokesman Col. Rob Manning responded: "The Department of Defense is a planning organization and provides options to the president for decision. Discussions between the secretary of defense and the president are privileged."
4. Behind the scenes: Mass confusion on shutdown
I've spent the weekend calling Trump administration and congressional sources to get a read on what's going to happen with the government shutdown. Nobody could confidently describe the exit ramp, and it seems there's no immediate end in sight.
The bottom line: The only thing everyone agreed on was that Trump is so far dug in that there's little if any chance he'll reopen the government without a concession from Democrats.
"Normally at this time [in a shutdown], we know what the exit is and we're just waiting for the clear moment," said a Republican member who is in close touch with Trump. "But there isn't a clear path to an exit."
Behind the scenes: Senior administration officials have discussed inviting rank-and-file Democrats to the White House, hoping they may be willing to negotiate over funding for a barrier, according to two sources privy to the private discussions. They're planning to target freshman Democratic House members from districts Trump won in 2016.
Republican officials involved conceded to me that it's a stretch to imagine the White House can break Nancy Pelosi's strong command of her caucus. But administration officials tell me they're going to try.
A House Democratic aide emailed: "Dems have been united behind the Speaker's approach to these shutdown negotiations but look to anxious freshmen potentially becoming more vocal / public with their desire to reach compromise and get the government open. They are ready to get to work on the issues they campaigned on."
What's next? Trump has so far held off on declaring a national emergency, in an effort to tap the Pentagon, and other sources, to pay for his wall. And several senior Republican members are urging Trump, publicly and privately, not to do it.
"I would hate to see it," Wisconsin Sen. Ron Johnson, chair of the Senate Homeland Security Committee, told Jake Tapper on CNN's "State of the Union" today. "If we [declare an emergency], it's going to go to court, and the wall won't get built."
Several prominent Republican members have privately told Trump it will set a terrible precedent and give the Democrats everything they want. It will let them bash Trump as lawless and avoid taking a tough vote, one of these members told me.
5. Sneak Peek interview: Chuck Grassley on trade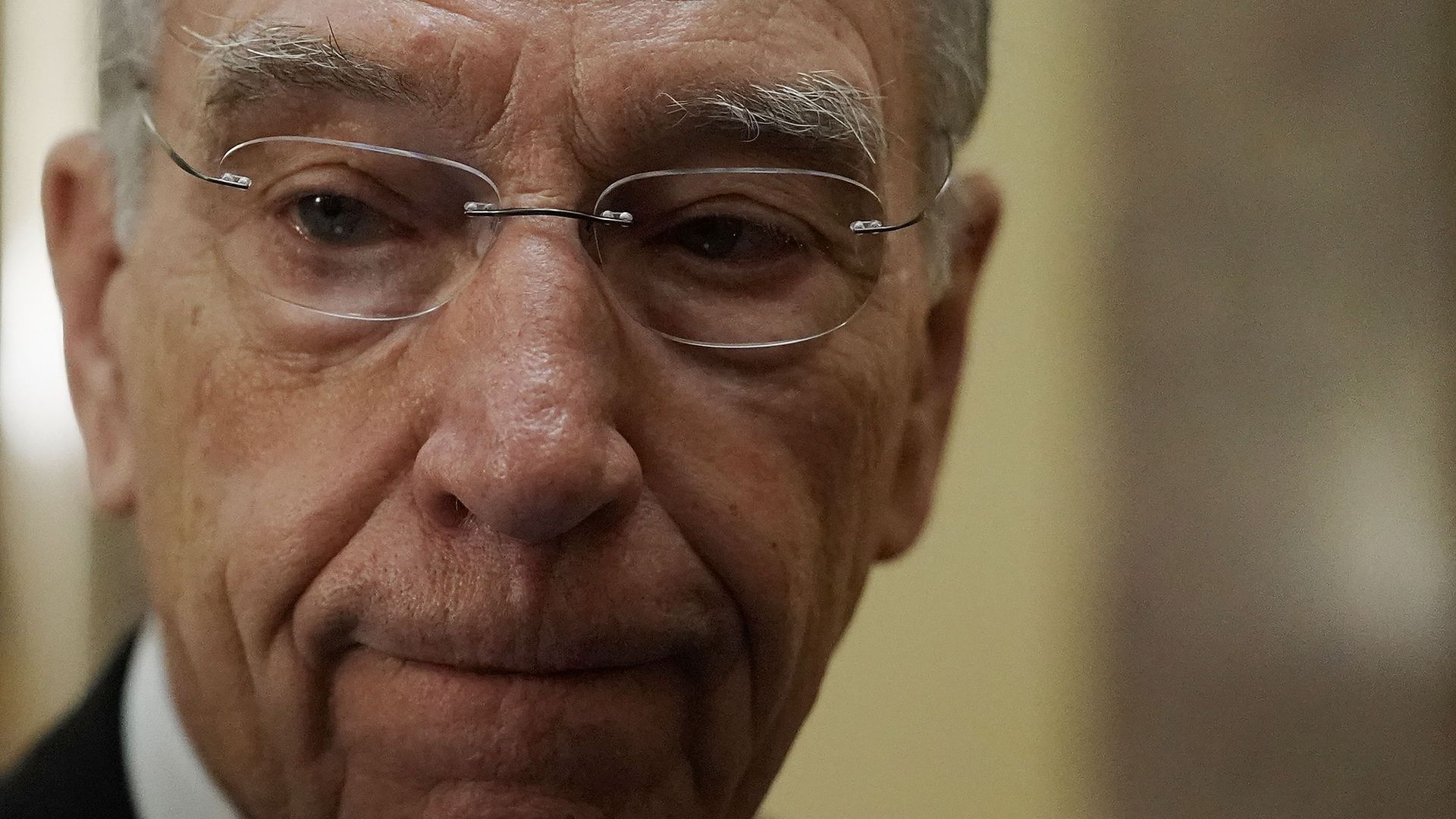 Powerful Republican Sen. Chuck Grassley, who as Finance Committee chairman will oversee Trump's trade agenda, sat down with Caitlin Owens and me on Friday to discuss this fraught moment in international trade.
Trump's principal trade negotiator Robert Lighthizer had just left Grassley's office as we entered, a Grassley aide told us, and we began the trade discussion by asking Grassley what he learned from that conversation with Lighthizer.
Grassley said they discussed the ongoing China negotiations, the early moves toward a U.S.-Japan bilateral trade deal, and the USMCA (Trump's re-negotiated NAFTA, which Congress has yet to approve).
Highlights from our conversation:
On China negotiations: "I think I would make my comment based upon what I've read in the paper, which isn't a whole lot different than what maybe he [Lighthizer] told us. Progress made on a lot of little things, but on the structural things that we want progress made on, there hasn't been much progress made. ... And a conclusion I've drawn, that doesn't necessarily come from his conversation, is so China makes an agreement. How are you going to police it?"
Why it matters: Trump has been touting the progress he's been making with China, but China hawks are worried he's going to let Beijing off the hook by effectively letting them purchase away their problems.
The risk: Instead of stopping their bad behavior — including theft of U.S. intellectual property — the Chinese government would go on a short-term shopping spree, buying U.S. products. Such a deal might temporarily stimulate the U.S. economy, and therefore be politically tempting for Trump, but it wouldn't solve any of the major long-term problems with China.
On the USMCA: Grassley reiterated that Trump should "pull out" of NAFTA if the Democrat-controlled House doesn't ratify the deal signed by the U.S., Mexico and Canada last November.
On re-engaging with Asia: Grassley said it "was a mistake" for Trump to withdraw from the Trans-Pacific Partnership trade deal with 11 other countries. He said the first step to repairing Asian trading relationships would be to "start with Japan. ... If we get a good bilateral agreement with Japan ... I'll bet it'll make up 90% of the bad things that resulted because we pulled out of TPP."
On Trump's hawkish trade adviser Peter Navarro: "He's a professor. Professors often aren't practical. ... His way, I think the practical effect would be to move forward ideologically without any concern about impact on the economy."
6. Supreme Court lookahead
Supreme Court Justice Ruth Bader Ginsburg will miss this week's oral arguments — a reminder of just how high the stakes are in America's quietest but most functional branch of government, my colleague Sam Baker writes.
Ginsburg is working from home as she recovers from a late-December surgery to remove two malignant nodules from her left lung. Post-surgical evaluations show she is free of cancer, the court said.
The 85-year-old justice is still participating in cases, but she will not make it to the court for arguments or the justices' private conferences. She also missed last week's arguments.
Why it matters: Ginsburg is the court's oldest justice and one of just four liberal-leaning justices on a court that is already pulling harder toward the right.
The court has largely been able to avoid politically charged cases during its current term, and that may continue.
The court has been asked to hear three high-profile issues: a lawsuit over President Trump's ability to unilaterally end DACA; his ban on transgender people serving in the military; and workplace protections for LGBTQ workers.
So far the court has taken no action on any of those cases.
If the court wants to hear any of them during its current term, this week is likely the last chance to say so. Its docket for the term appears to be full or nearly full.
Otherwise, the justices could decline to hear those cases altogether, or push them into its next term, which doesn't start until October — which would of course also push the eventual rulings closer to the 2020 election.
7. Sneak Peek diary
The House, now controlled by Democrats, has no votes scheduled this week but will consider a $12 billion emergency disaster assistance package "to provide relief and recovery assistance for Americans affected by recent hurricanes, typhoons, wildfires and other natural disasters," according to a leadership aide. That package includes new money for Puerto Rico. (As we've previously reported, Trump wants to cut off relief money to Puerto Rico.)
In the Senate, Republicans will hold their annual "Issues Conference" on Thursday, per a leadership aide.
Trump's nominee for Attorney General, Bill Barr, will begin his confirmation hearing before the Senate Judiciary Committee on Tuesday morning. As Politico reported, Democrats plan to "grill Barr" on his views of Robert Mueller's Russia investigation, "focusing on a controversial memo Barr wrote last year to Deputy Attorney General Rod Rosenstein.
In that memo, Barr criticized Mueller's investigation into possible obstruction of justice as "fatally misconceived."
President Trump's schedule, per a White House official:
Monday: Trump will speak at the American Farm Bureau Federation's 100th Annual Convention in New Orleans. In the evening, Trump will host the college football national champions, the Clemson Tigers, at the White House.
The White House has not finalized the rest of the week's schedule, amid the government shutdown.
8. 1 overlooked thing: Congress to push Trump on Uyghurs
The Chinese government has detained more than 1 million Uyghur Muslims in re-education camps. Beijing has put Uyghur children into dozens of orphanages while their parents are incarcerated for their faith and culture. It's one of the world's most shamefully overlooked atrocities, and some members of Congress plan to step up efforts to pressure the administration to hold China accountable.
What we're hearing: Democratic Sen. Bob Menendez and Republican Sen. Marco Rubio plan to introduce this week the Uyghur Human Rights Policy Act, according to sources with direct knowledge. (They introduced a similar version of the bill late in the last Congress but didn't have time to get it onto the Senate floor.)
Key elements of the legislation, per a source involved:
"Urging high-level U.S. engagement on this issue, including by the president, the application of Global Magnitsky and related sanctions, the full implementation of the Frank R. Wolf International Religious Freedom Act, and a review of Commerce Department export controls and end user restrictions.
"Calling on the Secretary of State to create a special coordinator for Xinjiang."
"Reports regarding the scope and scale of the crackdown; regional security threat posed by the crackdown; the frequency with which Central Asian countries are forcibly returning Turkic Muslim refugees and asylum seekers; a list of Chinese companies involved in the construction and operation of the camps; creation of a database of detained family members of US citizens and residents" and much else.
Why it matters: These reports would be important because they could build a case that will meet a legal threshold to impose sanctions against the Communist Party of China.
Rubio told Axios: "The United States must hold accountable officials in the Chinese government and Communist Party responsible for gross violations of human rights and possible crimes against humanity, including the internment in 'political re-education' camps of as many as 1 million Uyghurs and Muslim minorities. "
Menendez told Axios: "The Trump administration needs to finally develop a coherent strategy for China that reflects our nation's values. ... I am proud to lead this important effort so we don't abandon our values and simply turn a blind eye as a million Muslims are unjustly imprisoned and forced into labor camps by an autocratic Chinese regime."