Welcome to round two of the Axios World newsletter, where two evenings a week we'll break down what you need to know about the big stories from around the world.
Thanks for joining me! Tell your friends and colleagues to sign up here, and send tips and feedback to [email protected]
1 big thing: Trump's next move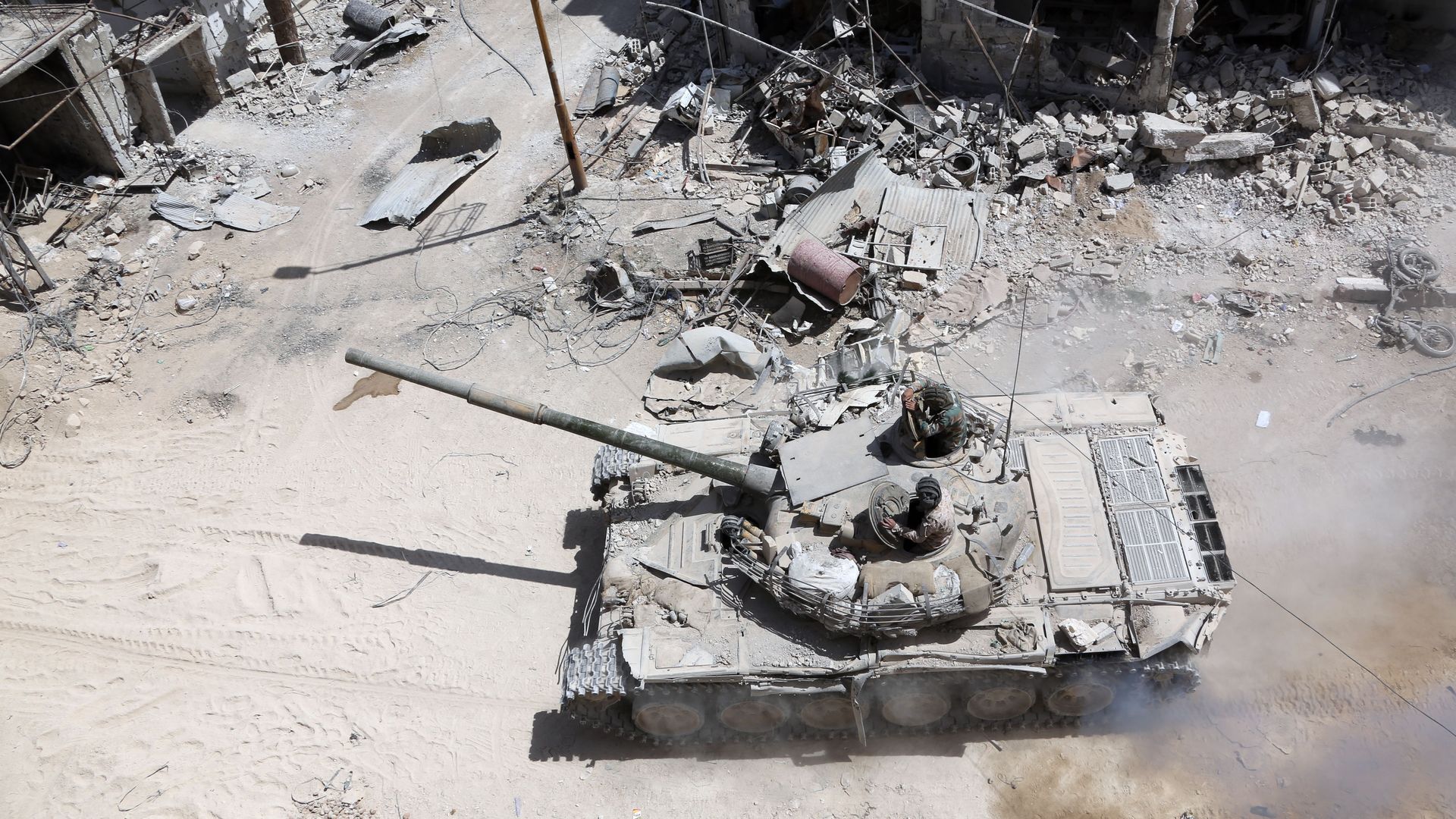 The world is waiting to see whether President Trump takes military action in response to a chemical attack that killed dozens of civilians in Syria, now that he's said he'll decide in the next 24 to 48 hours.
"If it's Russia, if it's Syria, if it's Iran, if it's all of them together, we'll figure it out and we'll know the answers quite soon," he told reporters before a cabinet meeting. "So we're looking at that very strongly and very seriously."
Between the lines: Trump's next move could be a preview of things to come now that National Security Adviser John Bolton has taken the reins from H.R. McMaster. Bolton has written thousands of words of op-eds, but it's unclear what course he might advise in this specific situation.
Axios' Jonathan Swan emails, "While Bolton is an interventionist hawk, he doesn't favor interventions on humanitarian grounds. He regards his foreign policy views as 'pro-American' and says he views intervention entirely through that lens."
Bolton opposed strikes in 2013, when Barack Obama was deciding whether to enforce his "red line" in Syria, but praised the "very precise nature"of Trump's strikes last year, per the NY Times. 
Trump's range of options, according to Jennifer Cafarella of the Institute for the Study of War...
Pinprick strikes on the Assad regime, like those he ordered last April after a previous chemical attack. The downside: Those strikes failed to deter Assad.
More damaging strikes targeted at the Assad regime, for example striking "numerous regime airfields and military bases, and warning the Russians in advance," Cafarella says. The downside: "It will not harm Assad's backers and therefore is unlikely to weaken his resolve."
Strikes that would affect all three actors Trump named, hitting targets like joint Russian-Iranian bases or command and control centers. The downside: Russia has said it will retaliate to strikes that endanger Russian troops.
The bottom line: Cafarella says if Trump chooses option number 3, Russia, Iran, and Assad might limit their response to attempting to shoot down the U.S. missiles or aircraft. More dangerous is the possibility of a counter attack, perhaps on a U.S. warship in the Mediterranean. 
The big question: Will Trump shift from his goal of getting out of Syria ASAP to a broader policy of constraining Iran, Russia and Assad?
2. Expert Voices: Bolton's first day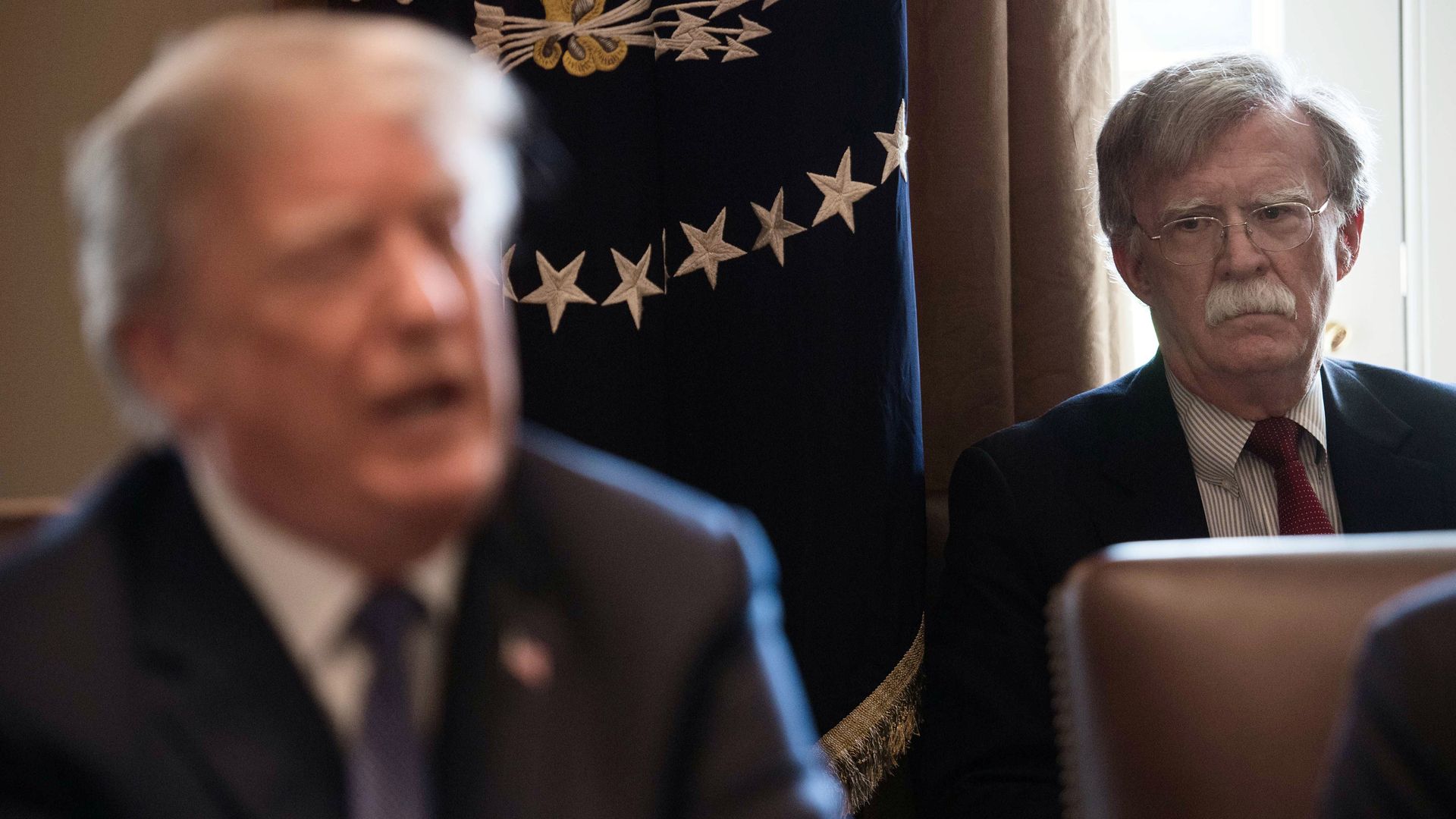 Aaron David Miller of the Wilson Center writes that Bolton's biggest challenge "may not be the bureaucracy, but the all-important presidential constituency of one."
"Although Bolton doesn't yet enjoy the trust Trump has in Secretary of Defense Mattis or the personal chemistry he has with Secretary of State designate Mike Pompeo, he will have several advantages," including proximity.
"Bolton will be charged with developing options on two critical issues — a planned US-North Korean summit and the status of the Iran nuclear accord — and planning for a third, how to respond to the Assad regime's latest use of chemical weapons.... If he is able to help Trump through the present Syrian crisis, that could cement his credentials with the president on other issues."
The bottom line: "Bolton will face a challenge in creating and sustaining a functional relationship with a president who's even even more combustible and unpredictable than he is. The real question is whether he has the personal skills and emotional intelligence to handle the president."
3. Europe: Macron the railway gambler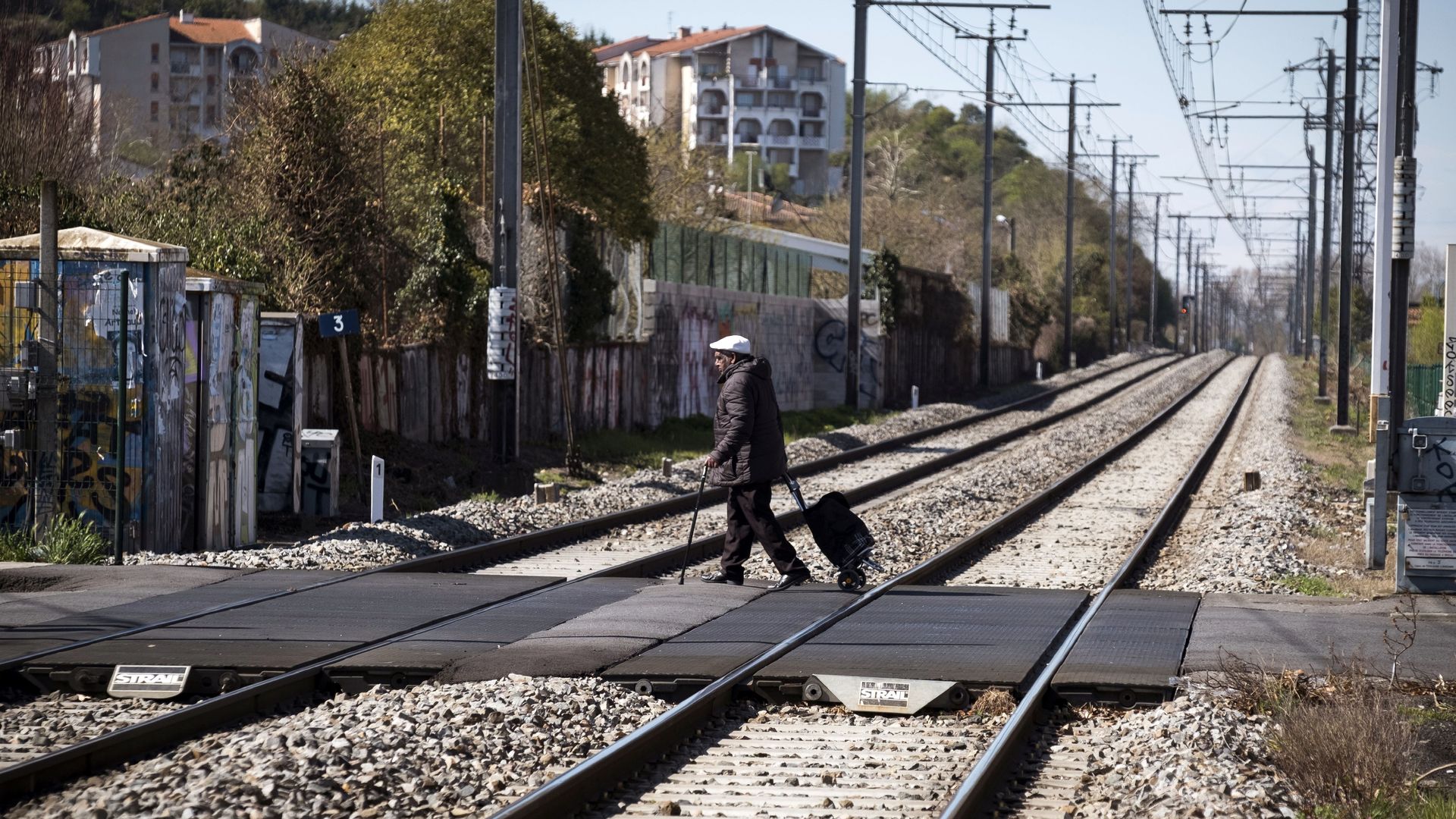 A showdown with rail workers is shaping up as a make-or-break moment for French president Emmanuel Macron, with "another wave of crippling transport stoppages" hitting France yesterday, per France 24. Rolling strikes are due to continue through June.
The backdrop: Macron is targeting France's state-owned railway company, citing job-for-life guarantees, automatic pay increases and early retirement as the sorts of "privileges" for economic insiders that need to be trimmed.
Why it matters: Because his proposal would only affect new hires, this particular fight is "more about symbols than substance for both sides," the FT's Anne-Sylvaine Chassany writes. But failure could scuttle Macron's wider economic agenda, as a similar fight doomed Prime Minister Alain Juppé in the mid-1990s.
Where things stand: Public opinion on the strikes is narrowly in Macron's favor. And while his popularity has slumped below 50%, Macron still commands a large parliamentary majority. As the Guardian notes, "the strikers believe momentum is on their side."
Go deeper: Macron on how AI will shape the future, and threaten democracy.
4. Africa: Somalia seizes Emirati cash
Somalia's government has seized three bags of money worth $10 million from a plane that landed in Mogadishu from United Arab Emirates, Voice of America reports, citing a source that says a UAE envoy was at the airport "to receive the money" when it was confiscated.
The big picture: Somalia's interior ministry says security agencies are investigating where the money was going. So why would $10m in cash from the UAE show up in Somalia? As the BBC notes, a crisis in the Gulf is "playing out in dramatic form in Somalia and the wider Horn of Africa. Some argue it could tear the whole region apart."
Somalia's national government opposes the UAE's development of a military base in Somaliland, which Somalia considers part of its territory.
Tensions with the UAE have also swirled over Somalia's neutral stance on the Qatar diplomatic crisis. Per the BBC, the Somali government "owes allegiance to Qatar and Turkey, but its key trading partners, Saudi Arabia and the UAE, are on the other side of the Gulf divide."
Go deeper: Axios' Shannon Vavra breaks it down.
5. Asia: Taiwan's view on the trade war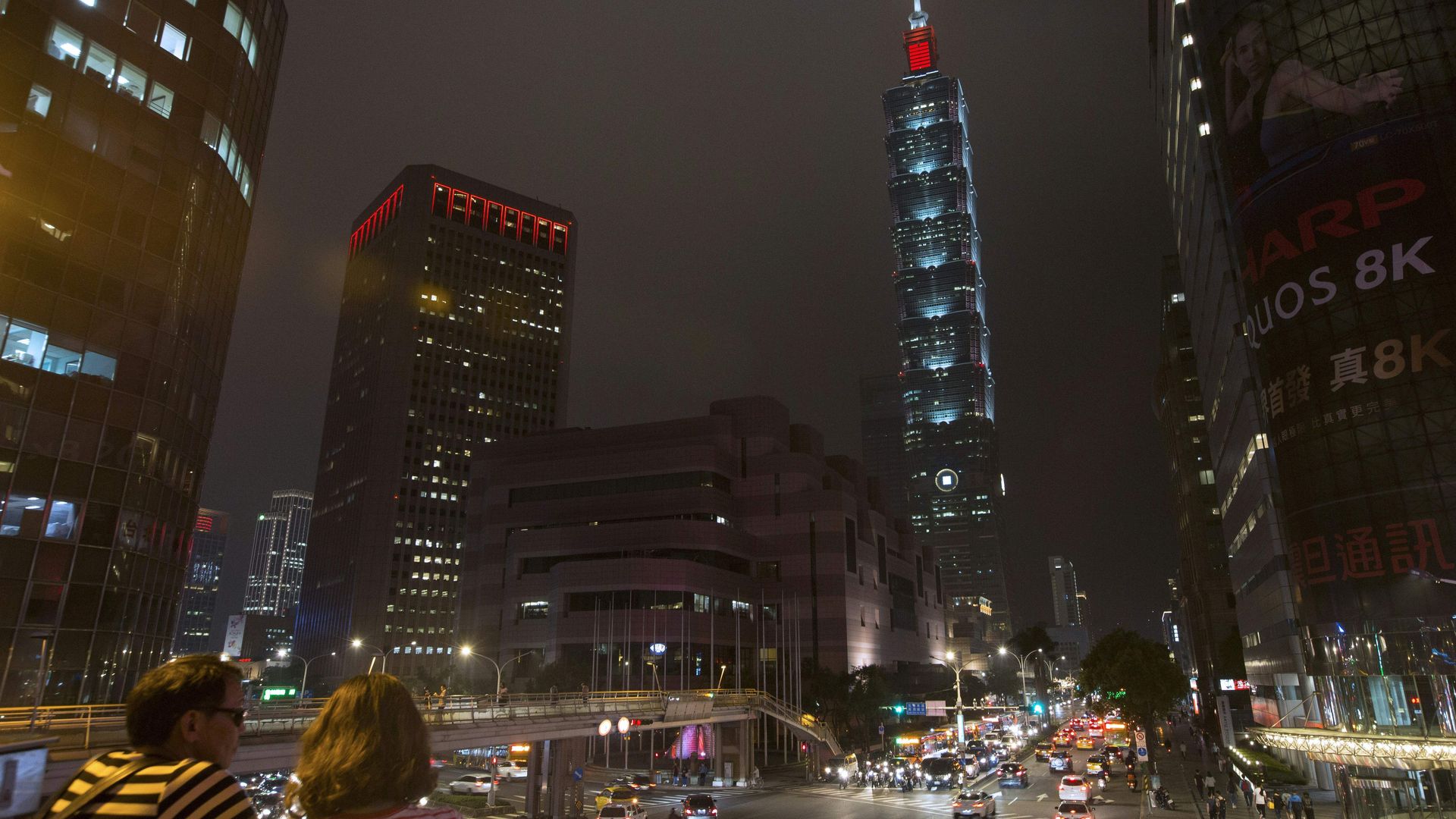 As the U.S. and China gear up for a trade war, Taiwan is stuck in the middle — and worried it'll become a bargaining chip, Axios' Erica Pandey reports.
The bottom line: The U.S. is stoking Beijing's ire by increasing its engagement with the self-governing island. Things could heat up quickly if the U.S. backs away from the One-China policy, which prevents Washington from recognizing Taiwan's independence. While he's unlikely to abandon the policy entirely, President Trump could raise the issue if China won't give in to his trade demands, Richard Bush, a Taiwan expert at Brookings, tells Erica.
John Bolton argued that Trump should "play the Taiwan card" against Beijing in a January op-ed in the Wall Street Journal, titled "Revisit the 'One-China Policy.'"
The latest: Trump's State Department approved a measure granting American companies licenses to sell Taiwan technology that would allow it to build submarines, reports Reuters, citing Taiwan's Central News Agency, prompting a strong response from Beijing.
Go deeper: Read Erica's full report.
6. Latin America: Life after Lula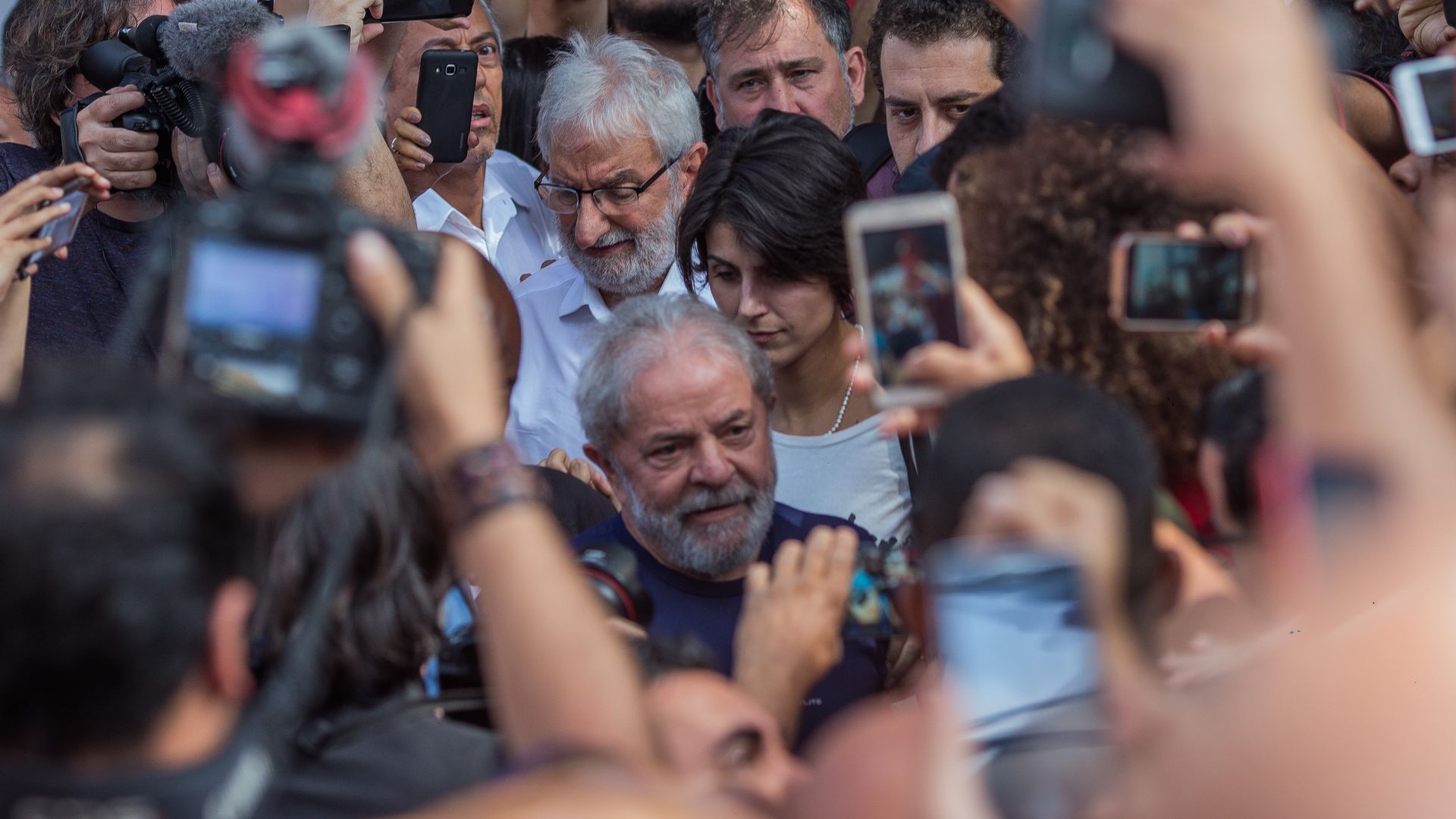 Luiz Inácio Lula da Silva, the former Brazilian president, turned himself in to police on Saturday after the Supreme Court rejected his plea to remain free while he appeals his corruption conviction.
Hundreds of supporters have camped outside of prison where Lula, who was leading polls ahead of October's general election, is being held, per the BBC. He's not the only former leader in legal trouble...
Park Geun-hye, who was ousted as South Korea's president last March, was sentenced to 24 years in prison on Friday for her role in a corruption scandal.
Jacob Zuma, the former president of South Africa, is also facing corruption charges. He appeared in court on Friday and professed his innocence.
Carles Puigdemont, who was Catalonia's president during an independence referendum last year, was granted bail last week by a German court. He's wanted in Spain for "rebellion, sedition and misuse of public funds," charges he says are politically motivated.
7. Stories we're watching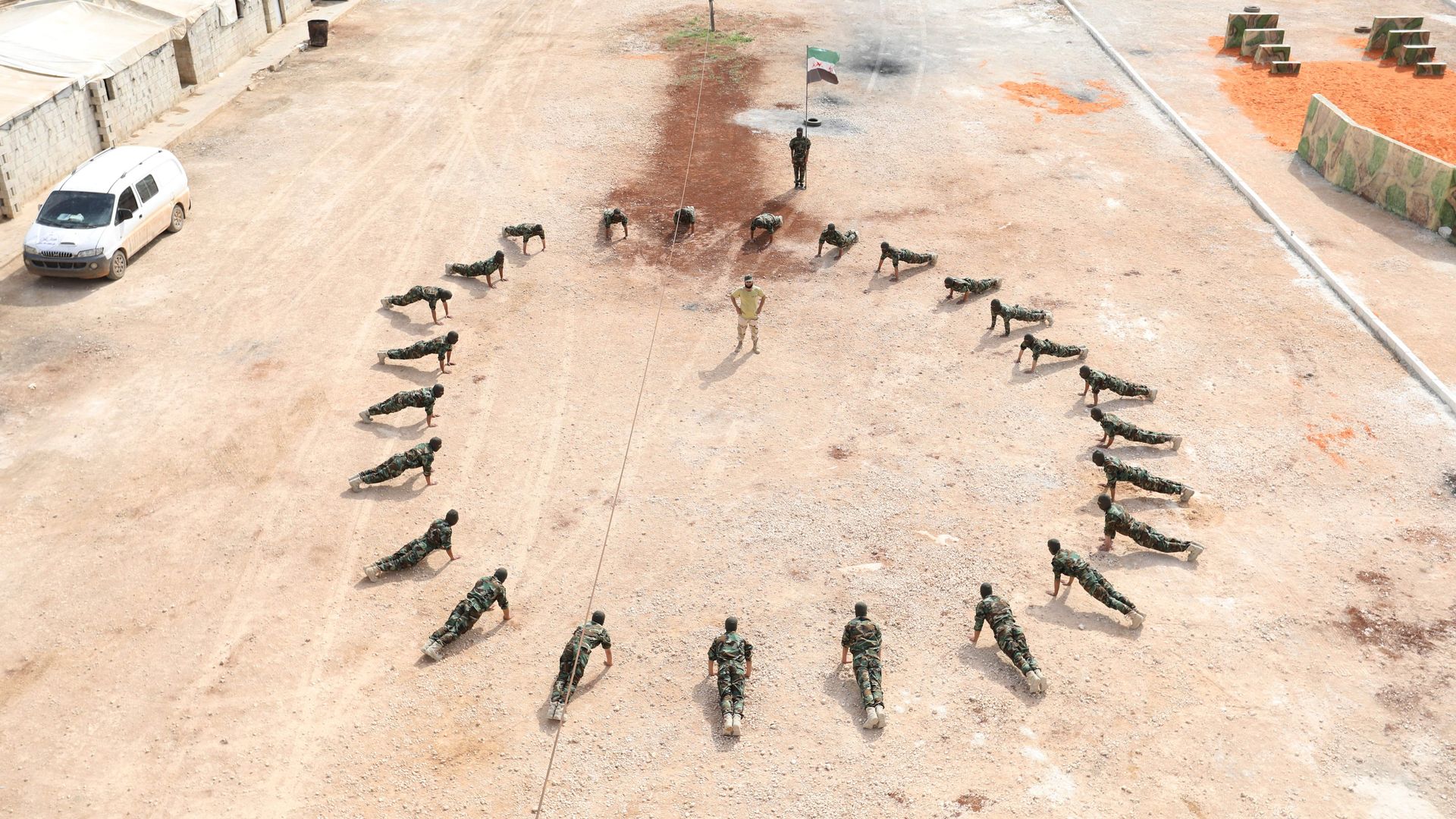 Quoted:
"In the world's perception, the U.S. is overshadowed by an anxiety disorder and is very keen to show its anxiety."
— The People's Daily, a Chinese state newspaper,
on tariff proposals
.
Thanks for reading, and see you Thursday!