Welcome to Axios World, where two evenings a week we break down what you need to know about the big stories from around the globe.
1 big thing: Whispers in the court of Putin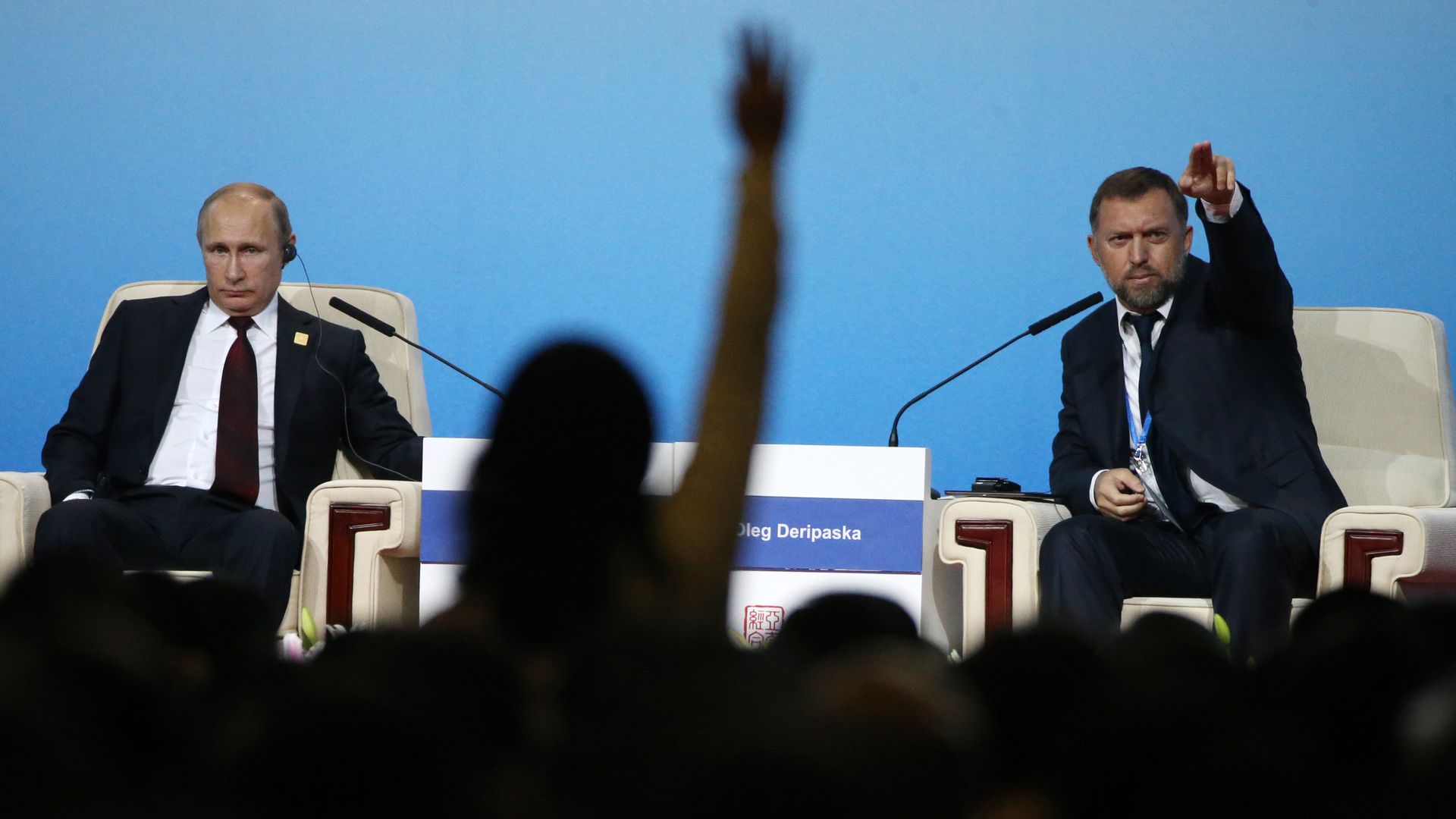 Russia watchers tend to believe it will be Russia's elites, and not its people, who eventually remove Vladimir Putin from power.
The big picture: The U.S. and Europe know Putin is not going to change his stripes. They've been deploying sanctions in an effort to increase the pressure on him, in part by deepening fissures within Russia's power structure.
Yes, but: The case of oligarch Oleg Deripaska shows there are limits to the costs the West is willing to absorb in the process.
Zoom out: Nigel Gould-Davies of Chatham House said today at a Wilson Center event that Russia's elites are in an "unprecedentedly uncomfortable position" as access to the Western institutions they rely on to secure their wealth is severed.
Gould-Davis said the oligarchs can choose to: "Get closer to Putin and seek the protection of the Russian state," move their assets out of the West (perhaps to Asia) or "muddle on" and hope things change.
However, "some might be tempted to think about how they can use these resources to bring about some sort of change in Russia itself." In Russia and the broader region, he said, "political change always takes place, or certainly is initiated … when the networks of elite power defect."
Between the lines: That's not to say sanctions will tip the scales, says Alina Polyakova of Brookings: "The political will isn't there to push as hard as they'd have to to convince the oligarchs Putin can't guarantee the security of their assets."
"If they do go so far," she adds, "there are second- and third-tier knock-on effects" because of Russia's integration into the global economy.
Zoom in: That brings us to Deripaska. He's among the most powerful oligarchs in Russia and was one of a number of influential Russians sanctioned last year due to ties to Putin.
The U.S. Treasury delayed the implementation of sanctions on Deripaska's businesses, including aluminum giant Rusal, before agreeing last week to drop the sanctions in return for Deripaska reducing his ownership stakes.
That deal divided leaders on Capitol Hill. It came after lobbying from European governments and companies who were concerned about the broader economic impacts of targeting Rusal, which produces 7% of the global aluminum supply.
Western business interests aren't the only factors blunting the force of sanctions. At the Wilson Center event, Daniel Ahn, former chief economist at the State Department, presented findings that show the Kremlin is bailing out firms hit by sanctions to the tune of "$13 billion and growing."
That's an expensive balancing act for the Kremlin. And as Gould-Davies said, "If they need to be compensated, they can't be ignored."
The bottom line: While the West may not be able to destabilize Putin through sanctions, "we know we can weaken him," says Anders Aslund of the Atlantic Council.
"As long as Russia continues with war, and we continue with sanctions," Russia's economic outlook won't improve, he says. "Sooner or later this regime will collapse."
Go deeper: Putin Joins Trump in Finding Ways to Ease Deripaska's Pain (Bloomberg)
2. A world without nuclear constraints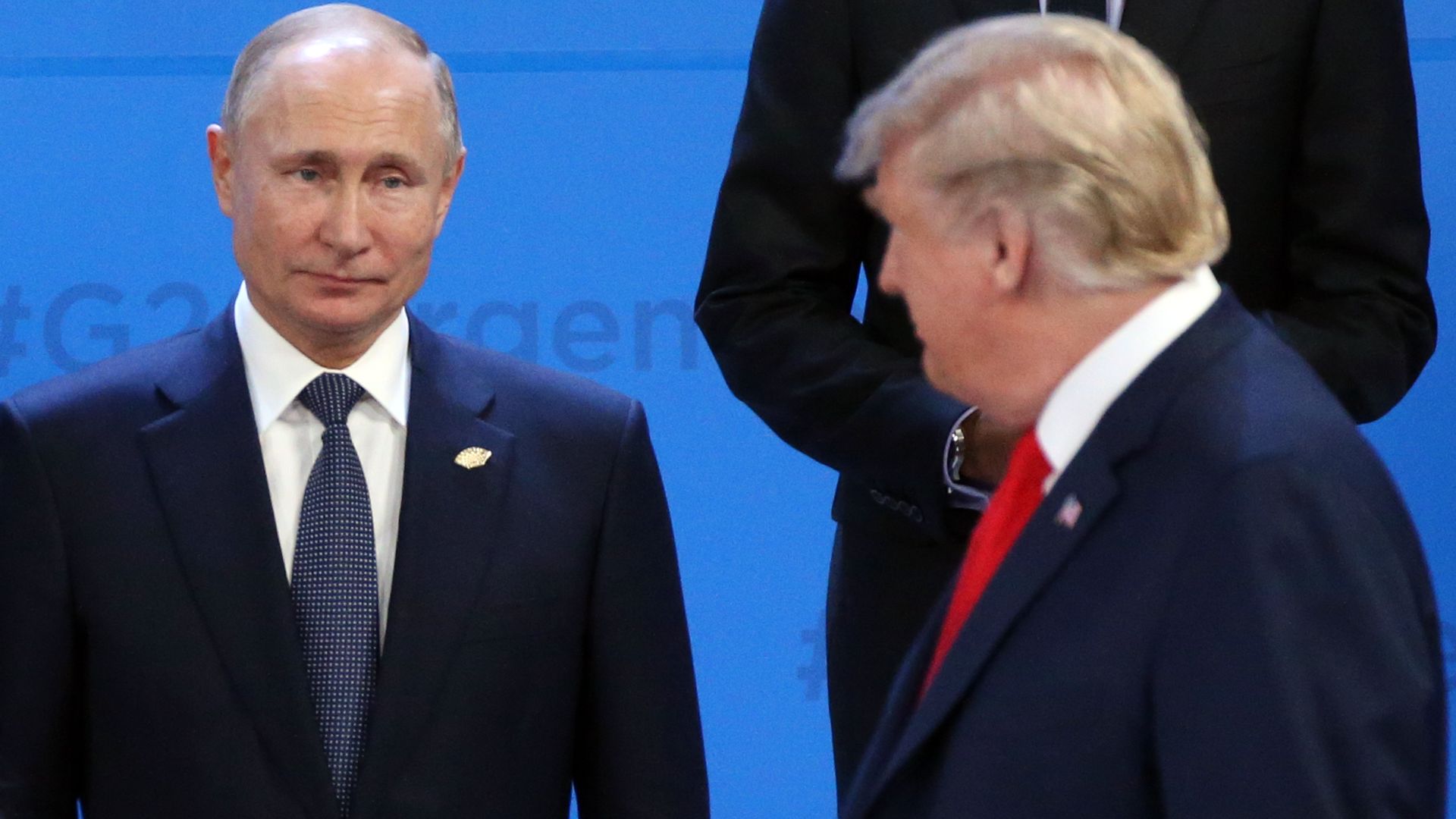 As expected, the Trump administration announced it is pulling out of the landmark Intermediate-Range Nuclear Forces (INF) treaty, signed in 1987 by Ronald Reagan and Mikhail Gorbachev. And as expected, Vladimir Putin followed suit.
"[A]dding to a sense that the broader architecture of nuclear disarmament has started to unravel, Mr. Putin also said that Russia would build weapons previously banned under the treaty and would no longer initiate talks with the United States on any matters related to nuclear arms control," the NY Times notes.
China, which was never constrained by the treaty and has an arsenal of ground-launched intermediate-range missiles (which the treaty bans the U.S. and Russia from developing), lamented the news but dismissed the idea it would sign on to an updated treaty.
What's next: The treaty includes a six-month window before withdrawal is finalized, but U.S. officials don't expect Russia to return to compliance.
"Let's be clear: If there is an arms race, it's Russia that started it."
— Senior U.S. official to reporters
What to watch: "Attention will now turn to the remaining U.S.–Russian nuclear arms control agreement: the 2010 New Strategic Arms Reduction Treaty," Steven Pifer of Stanford writes for Axios Expert Voices. "New START [Strategic Arms Reduction Treaty] expires by its terms in two years but can be extended by up to five years."
"The Russians are complying with New START, and they have expressed interest in its extension. That should be a no-brainer, but [national security adviser John] Bolton disdains arms control and President Trump has criticized the treaty as 'one-sided.' U.S. agreement to extension is not a given."
"If New START lapses in 2021, no treaties will constrain U.S. and Russian nuclear forces, a break from some 50 years of nuclear arms control between Washington and Moscow. That world invariably will be less stable, less predictable and less secure."
3. Afghanistan: What to make of the Taliban talks
Laurel Miller, a former State Department official responsible for Afghanistan and Pakistan now at International Crisis Group, explains the divided response to reports of a breakthrough in U.S.-Taliban talks for Axios Expert Voices:
"Some say the U.S. is negotiating its surrender in Afghanistan and selling out its Afghan allies, while others see the first steps toward ending the world's deadliest conflict."
Reality check: "To stop the fighting, the U.S. and the Taliban must hold formal talks; to bring stable peace to Afghanistan, the Taliban and Afghan power-players opposing them must do so as well. That the former has happened first doesn't inherently constitute a betrayal."
Background: "Divergent views on whether to negotiate have long stymied Afghanistan peace efforts. The U.S. has vacillated on talking to the Taliban, usually trying to gain a battlefield advantage beforehand. The Trump administration has run through this cycle, first increasing troops and bombing to gain a military upper hand, then last fall opting to prioritize diplomacy instead."
Afghan "President Ashraf Ghani has bristled at the Trump administration's activism on the peace front; others are more welcoming."
"The Taliban, meanwhile, has long been open to talks, but exclusively with the U.S. and about a timetable for removing U.S. troops. Only after, with its leverage increased, would the group then negotiate with other Afghans."
What's next: "The U.S. reportedly floated a troop drawdown timeline and the Taliban a pledge to prevent terrorists from using Afghan territory. However, U.S. envoy Zalmay Khalilzad has said that nothing is agreed until everything is agreed, including a ceasefire and Taliban commitments to negotiate with the Afghan government over the country's political future. For the Taliban, those are tough lines to cross."
4. Venezuela: Next turning point in power struggle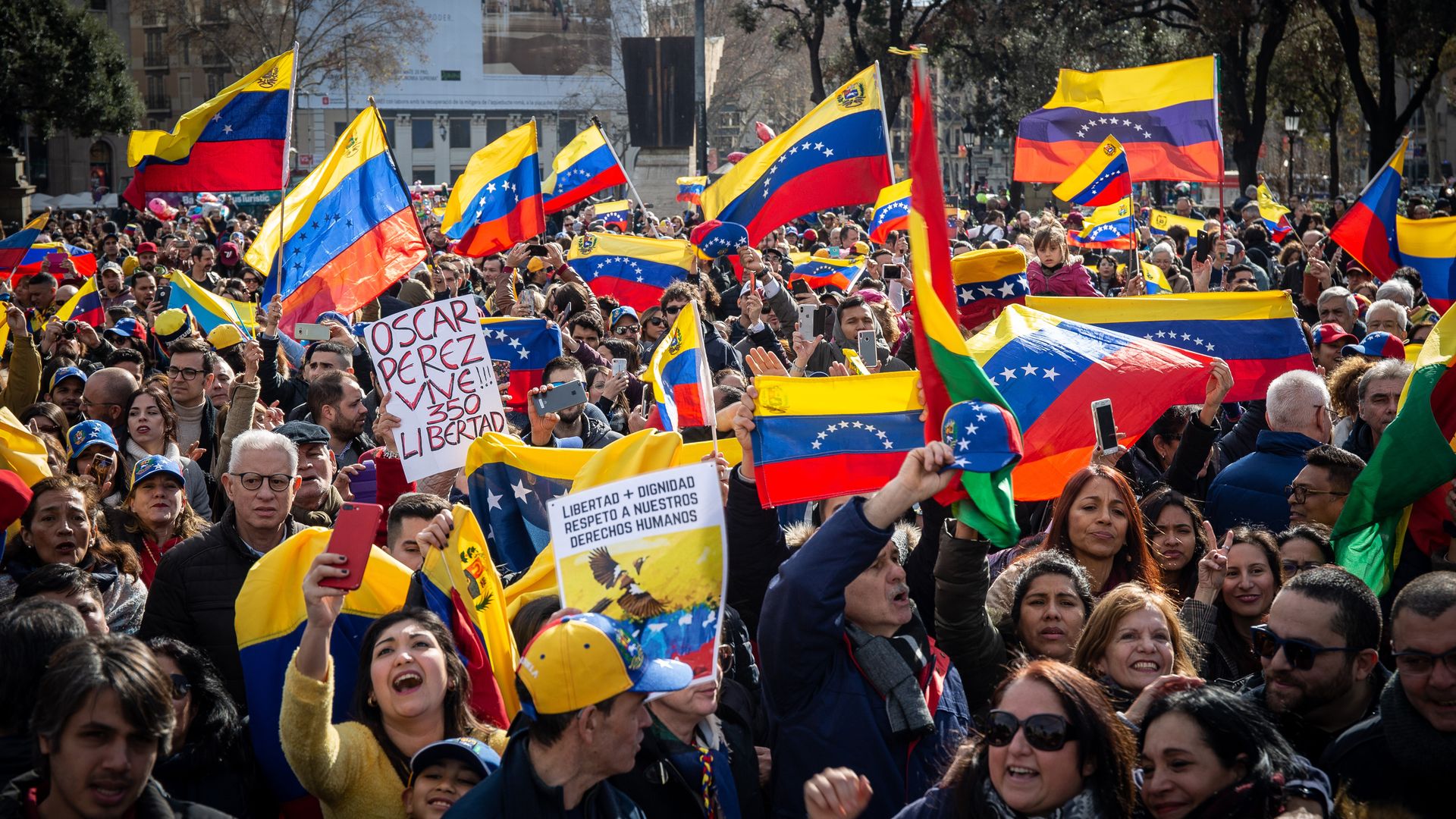 Thirteen European countries today recognized National Assembly leader Juan Guaidó as Venezuela's interim president — though opposition from Italy helped prevent a unified front in the EU, the Washington Post reports.
Guaidó, meanwhile, accused Nicolás Maduro today of "trying to transfer up to $1.2 billion to a bank in Uruguay," per Voice of America.
What to watch: The world is waiting to see whether the Venezuelan military will abandon Maduro, but for now "politicians are still writing the storyline," American University's Michael McCarthy writes for Axios Expert Voices:
"The next potential turning point could arise when the U.S. government looks to empower Guaidó via the delivery of humanitarian assistance, an offer Maduro flatly rejected."
"The donations will reportedly be delivered over the Colombia–Venezuela border. If Maduro lets the aid come in, he risks looking weak — giving Guaidó a victory that could further embolden the opposition — but avoids directly provoking the Trump administration."
5. Latin America: El Salvador's anti-establishment turn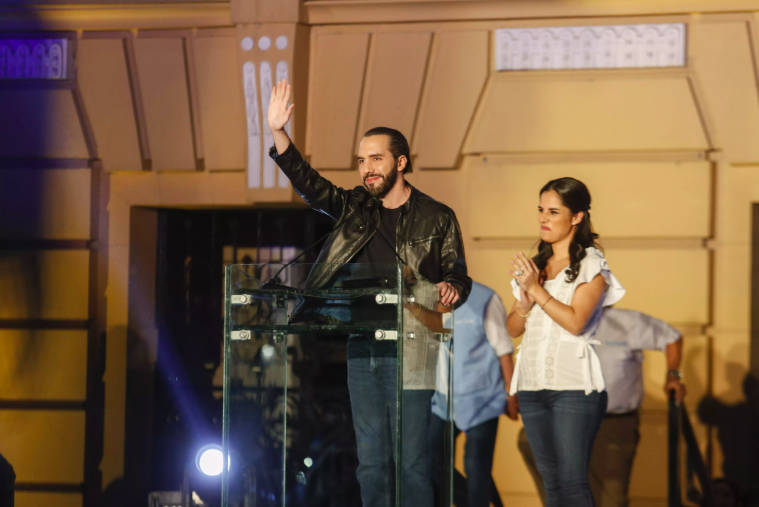 Nayib Bukele and his wife. Photo: Alfredo Zuniga/Anadolu Agency via Getty Images
On Sunday, Nayib Bukele, the 37-year-old former mayor of San Salvador, won a first-round victory in El Salvador's presidential election, handily vanquishing candidates from the country's two major parties, Daniel Erikson of the Penn Biden Center writes for Axios Expert Voices:
Why it matters: "El Salvador is a longtime ally and free-trade partner of the U.S., but recent relations have been tense owing to the outgoing government's close ties with Venezuela and its decision last August to drop diplomatic recognition of Taiwan in favor of China."
"Moreover, El Salvador is 1 of 3 countries, along with Guatemala and Honduras, that together make up Central America's Northern Triangle, which has been a chief source of migrants to the U.S.-Mexico border."
Bukele campaigned on an anti-corruption, anti-establishment platform. It's easy to see why.
Just 26% of Salvadorans approve of their country's current leadership, according to a Gallup poll. 51%, meanwhile, said they'd like to move to a different country.
6. Booming cities in a post-industrial age
One of the key global trends we're tracking is urbanization, particularly in the developing world. Axios' Erica Pandey took a fascinating look at what it means for workers:
Background: During the industrial revolution, hundreds of U.S. and European cities turned themselves into prosperous manufacturing towns. After World War II, Japan used the same export-led growth strategy to rebuild itself. More recently, China did the same and lifted hundreds of millions of people out of poverty.
Now technology is shifting manufacturing away from humans and toward machines, and the need for massive labor pools in emerging markets is slowly disappearing.
By the numbers: The world's fastest-growing cities are stretched too thin to serve their gargantuan populations. The crisis will only deepen as they grow, says Anjali Mahendra, co-author of a new report from the World Resources Institute.
In 60 years, Lagos, Nigeria, grew from a city of 200,000 to 22 million. But less than 10% of Lagos' population has a sewer connection, and just one-fifth has access to tap water.
Mexico City, which has seen its population double in the last decade, attempted to build affordable housing on the periphery of the city center to address the boom. But the homes were too far from jobs and have remained largely empty, Mahendra says.
The bottom line: "There's still a lingering belief that the next success story will be an exporter," says Karen Harris, managing director of Bain Macro Trends. But in many of the world's poorest, biggest metro centers, "you've created a labor force without anything to apply it to."
Go deeper: Read Erica's full piece.
7. Stories we're watching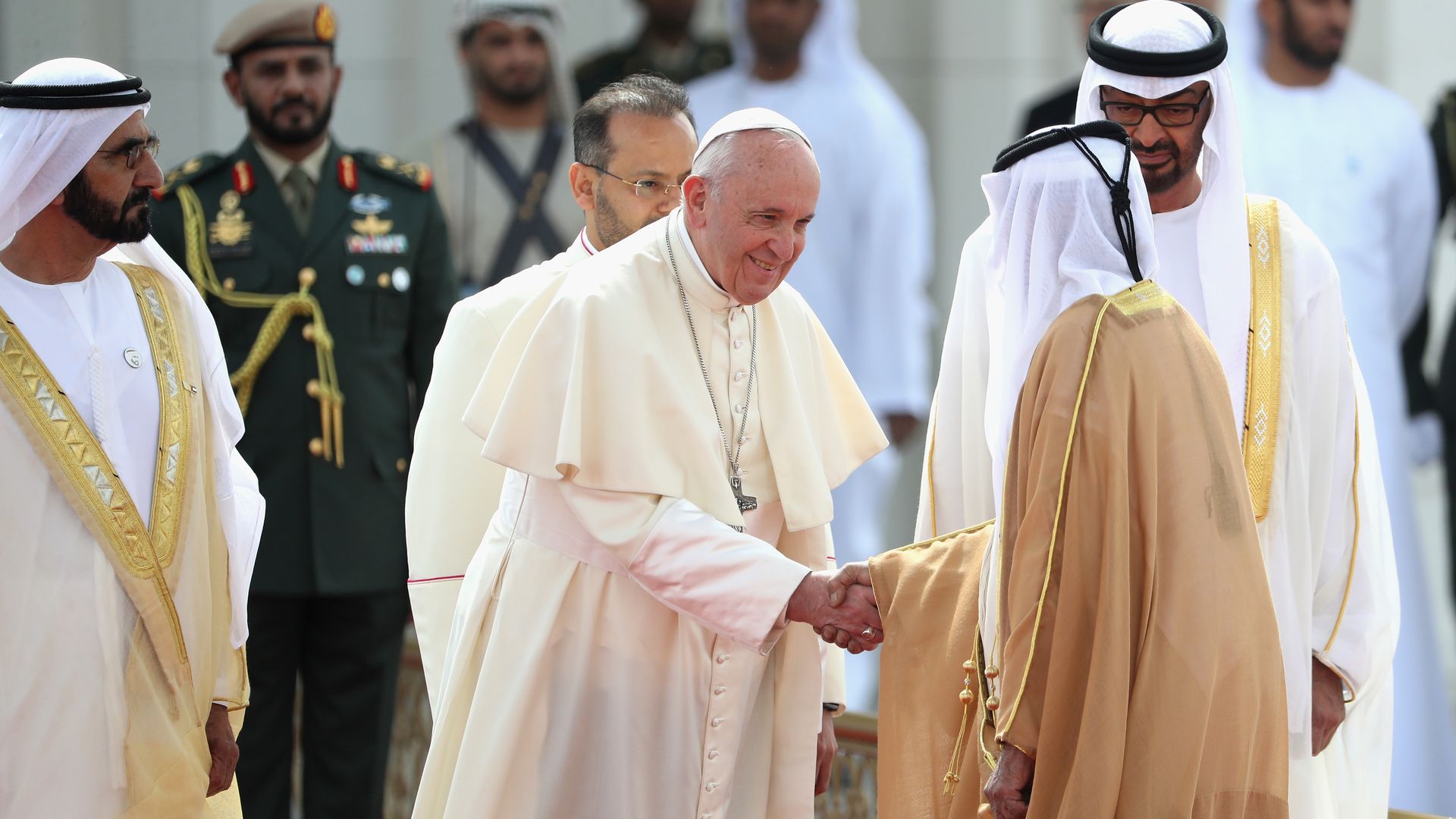 Quoted:
"... because I want to be able to watch Iran."
— Trump to CBS' Margaret Brennan on why he wants to keep troops in Iraq
"Don't overburden Iraq with your own issues. The U.S. is a major power ... but do not pursue your own policy priorities, we live here. ... It is of fundamental interest for Iraq to have good relations with Iran."
— Iraqi President Barham Salih on Monday, in response:
Thanks for reading — see you Thursday evening!