Welcome to Axios World, where two evenings a week we break down what you need to know about the big stories from around the world.
Thanks for joining me! Tell your friends and colleagues to sign up here, and send tips and feedback to [email protected].
1 big thing: What's in it for Macron?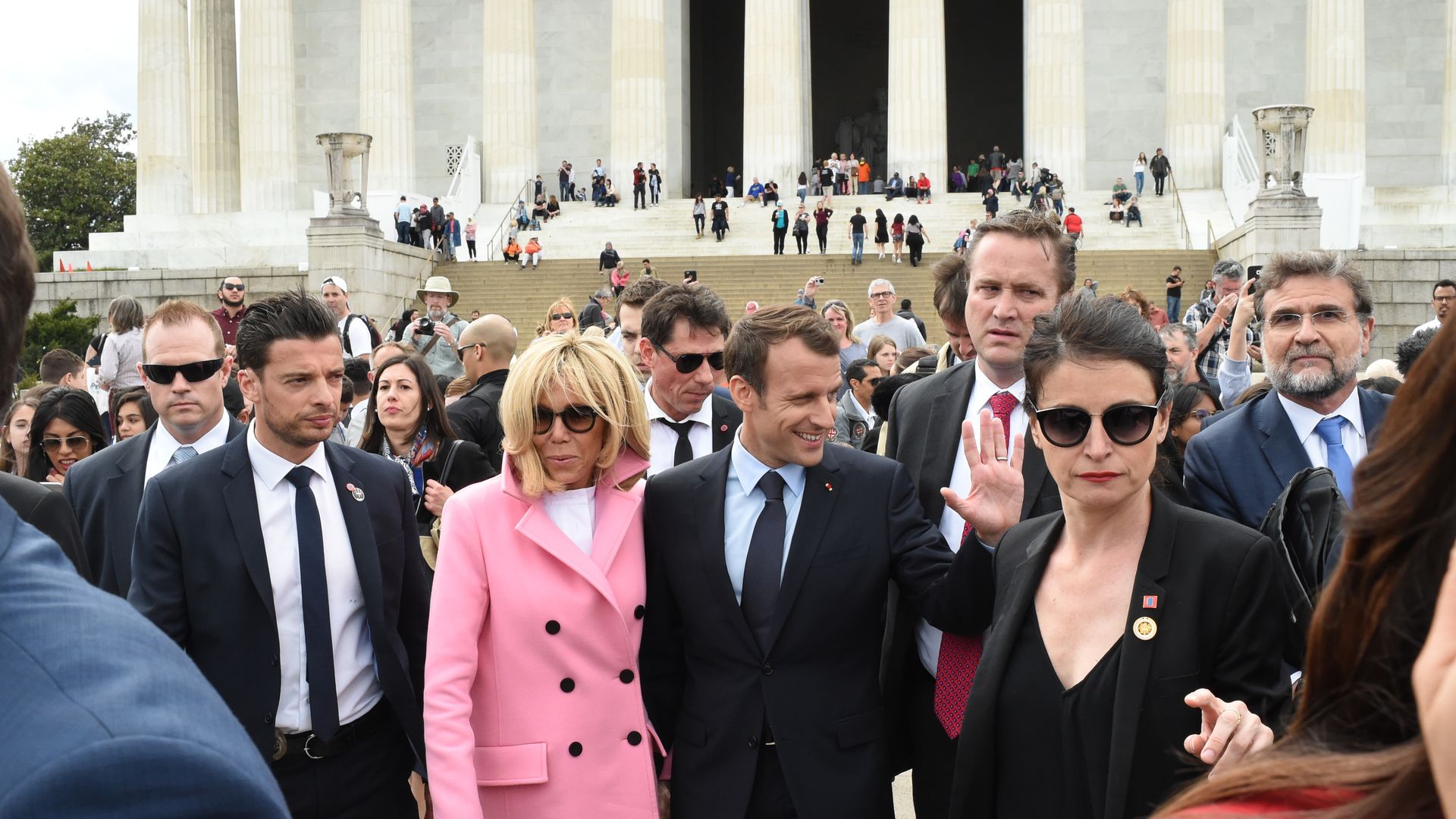 Fresh off a Fox News interview in which he described President Trump as a fellow "maverick," French President Emmanuel Macron arrived today for the first state visit of the Trump presidency. He and his wife Brigitte are dining on "rack of spring lamb" and "burnt cipollini soubise" with the Trumps this evening at Mount Vernon.
The visit provides Trump with an opportunity to showcase his strong relationship with a key ally, and perhaps snag a couple positive news cycles. But given Trump's widespread disapproval in France, what's in it for Macron?
Major breakthroughs seem unlikely. "Ideally he'd get a long-term U.S. exemption from tariffs, an agreement to remain in the Iran deal and a long-term strategy in Syria," says Jeff Lightfoot of the Atlantic Council. "While they're at it, they might as well try to get a cure for cancer."
Prestige is one factor, and this solidifies Macron's status as Trump's key interlocutor in Europe. German chancellor Angela Merkel, who played that role under Barack Obama, will arrive with less pomp and circumstance later this week.
But there's a broader message, says Lightfoot: "France is back," as a leader in Europe and a key player on the world stage.
French voters are "very pragmatic," says Celia Belin of the Brookings Institution. "The only thing they're asking is, even if Macron can't change Trump's mind, he needs to state their differences and not appear as an enabler."
The visit comes nearly a year into Macron's presidency, and as he trudges through a thicket of difficulties on other fronts.
At home: Macron has undertaken a whirlwind of reforms to "modernize" France. While he's moved remarkably quickly, his popularity has fallen sharply and he's now engaged in a high-stakes battle with railway workers that could stall his economic agenda.
In Europe: Macron wants to build a more centralized and ambitious E.U., but he's swimming against the tide at a time when Germany's appetite for such reforms has decreased and Euroskeptics are surging around the continent.
Overseas, though, Macron is flying high. "He has revitalized the way France is viewed around the world," says Lightfoot.
Between the lines: Francois Hollande, Macron's predecessor and former mentor, writes that he "is certain that reality graciously bends to his will as soon as he expresses it." That sentiment could describe either president at tonight's dinner.
News bulletin
"Nine dead, 16 injured after van drives onto Toronto sidewalk and strikes pedestrians. Investigation ongoing," — AP.
"The Senate Foreign Relations Committee voted in favor of Mike Pompeo's nomination for Secretary of State 11-9-1 on Monday, thanks to Sen. Rand Paul who flipped from opposing to supporting his nomination," — Axios.
2. Asia: Sri Lanka's Chinese debt trap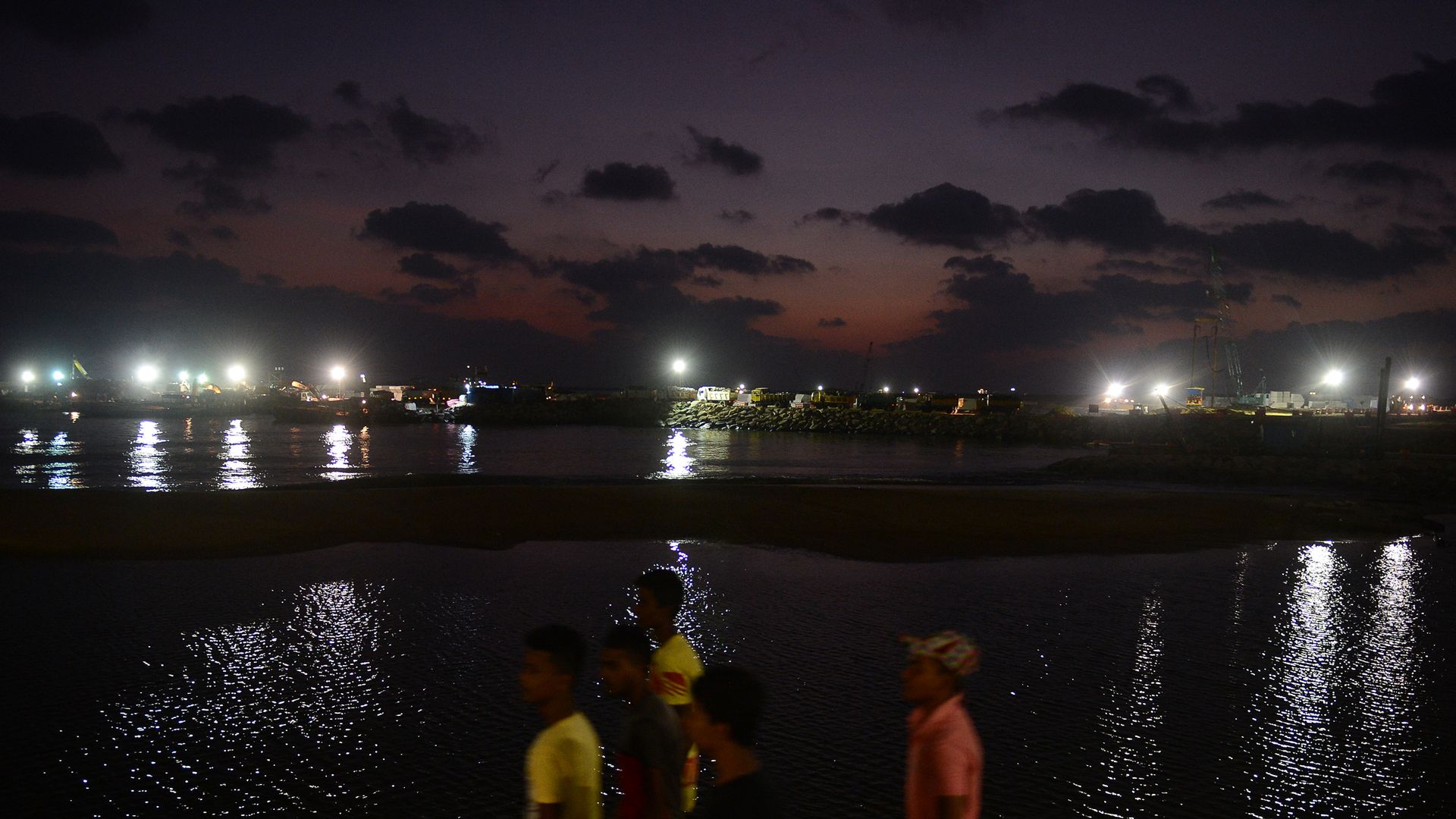 Sri Lanka's rupee hit an all-time low today as the small South Asian country struggles under the weight of massive debts owed to China, Axios' Erica Pandey writes:
There are two big economic problems in Sri Lanka, according to Shailesh Kumar, a South Asia expert at the Eurasia Group:
Huge debts, largely from big-ticket infrastructure projects China funded as part of its Belt and Road Initiative.
Falling foreign currency reserves. That's an indicator of poor economic health, and it's leading to a drop in the value of the Sri Lankan rupee.
What to watch: Sri Lanka is freeing itself from its debts by selling Chinese-funded infrastructure projects back to China, giving Beijing influence over strategic ports close to its rival India's shores.
Go deeper: Read Erica's full story ; The militarization of Belt and Road
3. Europe: Checking in on Brexit
Sebastian Payne, political editorial writer at the Financial Times, emails this update on the state of Brexit:
"Steady progress has been made in negotiations over the last year. But one issue remains intractable: how to maintain the invisible border between the Republic of Ireland and Northern Ireland. The British government says it is leaving the EU's customs union and single market, which means some kind of physical border in Ireland."
"The EU has said it will not countenance any exit deal with the U.K. that puts border infrastructure in Ireland, fearing a return of sectarian violence. Prime Minister Theresa May is under huge domestic pressure to outline her solution this week, although both sides ultimately have until June to broker a solution."
The bottom line: "May has to fudge a customs union (whatever they call it) while keeping her Brexit-backing colleagues on side. If she resiles too far, she will face a leadership challenge. If no compromise can be found, she may be forced to consider leaving the EU without a formal deal. That means a hard border in Ireland, potential administrative chaos and years of legal wrangling."
4. Expert voices: Kim's announcement is no game-changer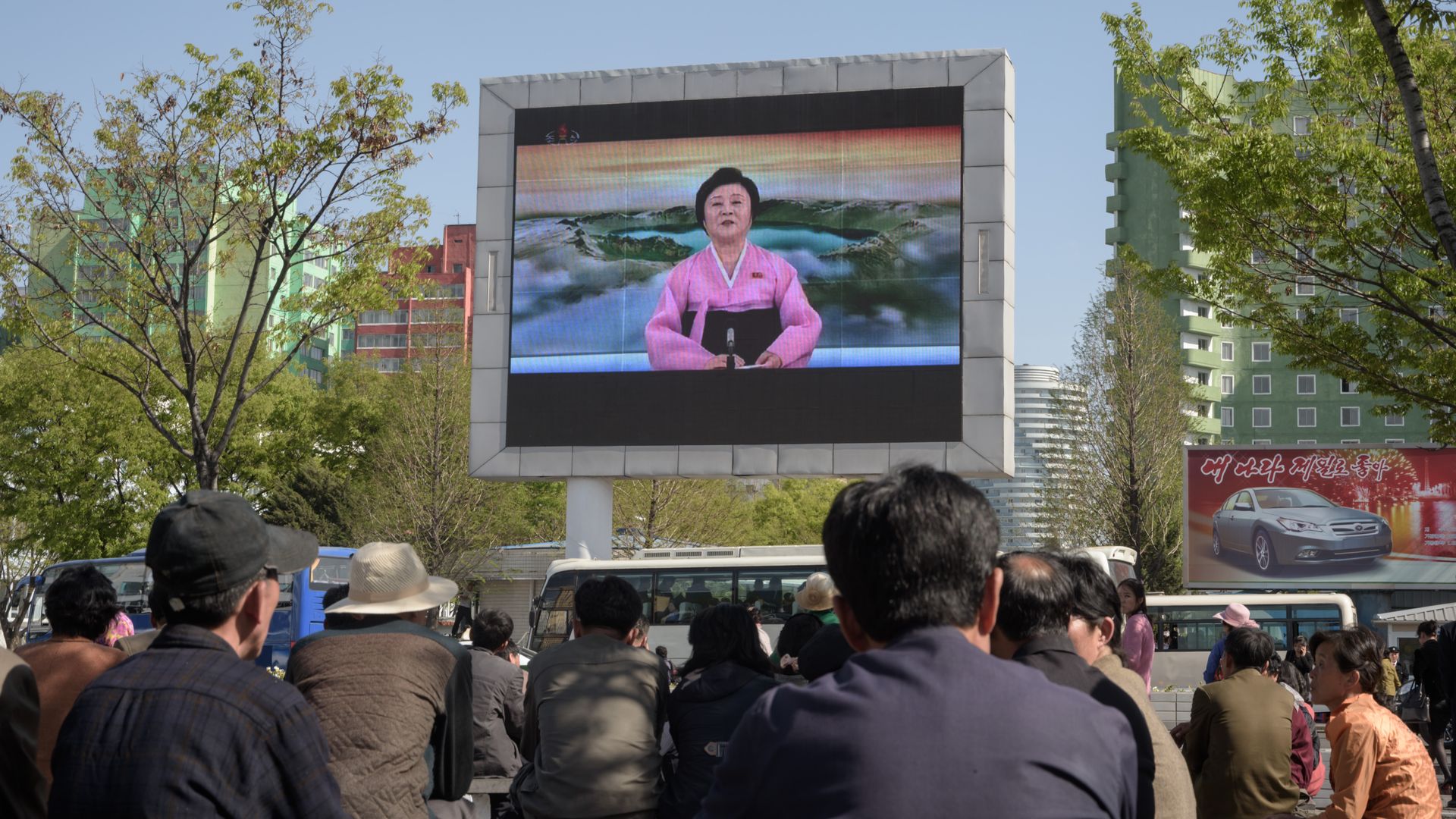 Last week, Kim Jong-un set the stage for upcoming summits with South Korea and the U.S. by announcing the suspension of North Korea's nuclear and long-range missile tests and the closure of its northern nuclear test site.
Although Kim's move is clever, we have been here before and it doesn't change the game, Stanford University's Gi-Wook Shin writes:
North Korea may have no need of another nuclear test in the near future — there hasn't been one since September — and Kim knows that this concession is the bare minimum he will need to offer at his meeting with Trump.
Kim's announcement needed to justify this course reversal to the North Korean people, and did so by declaring that the country had now achieved nuclearized status and that it was therefore time to focus on economic development.
The bottom line: This most recent declaration is a smart strategic move by Kim, but there is still cause for skepticism: There is no indication that he will dismantle North Korea's nuclear weapons, and the thorny question of whether denuclearization will be achieved remains unanswered.
5. Middle East: ISIS turns toward "near enemy"
ISIS spokesman Abu Hassan al-Muhajir called for attacks against Arab nations on Sunday in an hour-long recording the terrorist group released via the app Telegram, the New York Times' Rukmini Callimachi reports.
Why it matters, per Callimachi:
"Back when ISIS was still part of al-Qaeda, one of the ways they differed from the larger terror brand is their focus on the 'near enemy' (attacks on Shias in Iraq)."
"But by 2014 when ISIS seized a territory the size of Great Britain, they were clearly committed to fighting both the near and the far enemy. Starting in early 2014, ISIS was infiltrating fighters back to Europe to carry out attacks."
"This is the first time post-2014 that they seem to be taking a turn back toward the 'near enemy.' It's too early to say and this is just one speech, but ... this fits with the turn inward that we have been seeing since the loss of their territorial caliphate."
The latest: 57 dead in ISIS suicide bombing in Kabul.
6. Arctic Circle: The great game comes to Greenland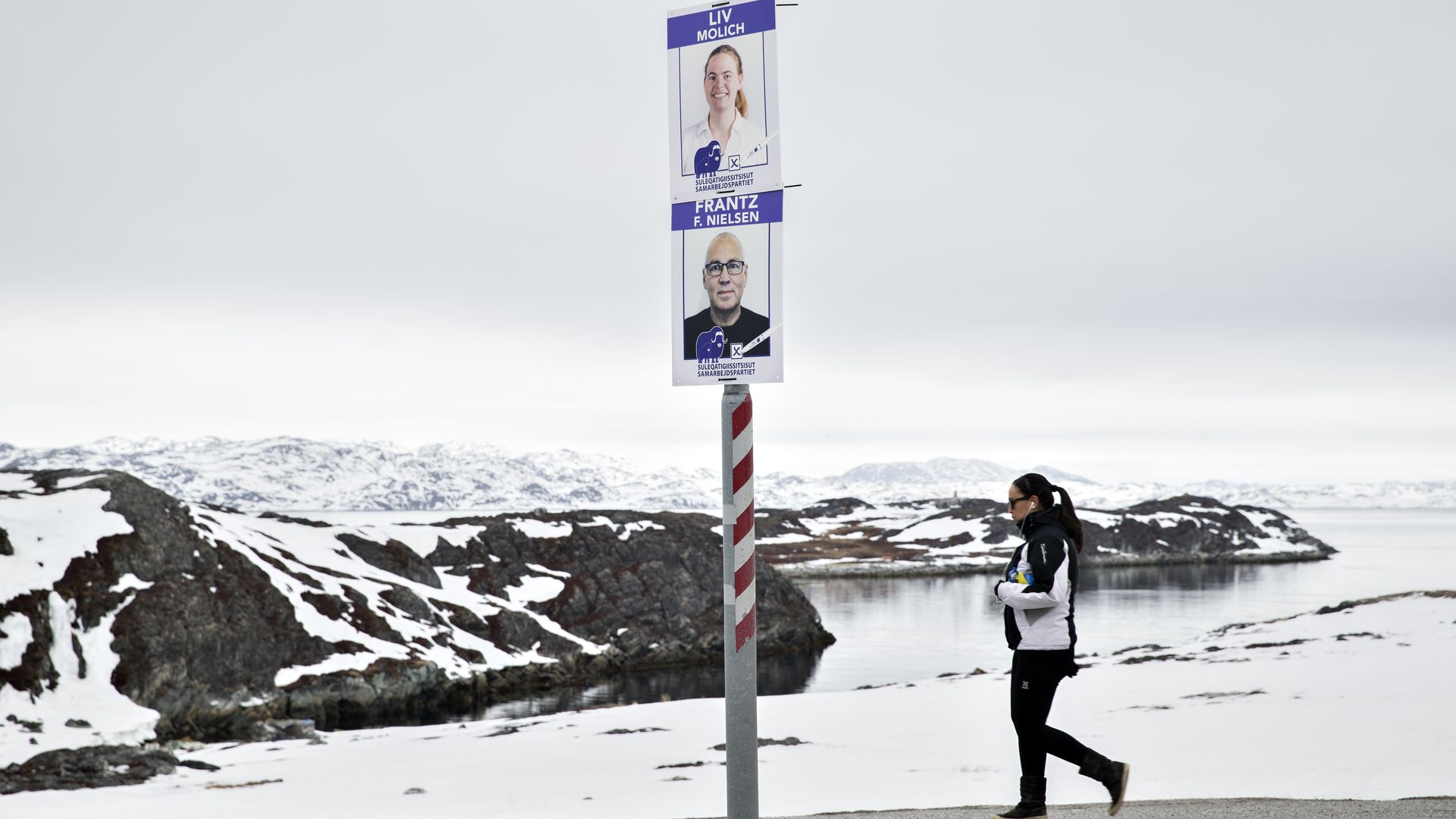 Greenland has self-rule, but formally remains part of the Kingdom of Denmark. Some of its 56,000 residents want full independence, but the country needs Denmark's cash, GZERO Media's Willis Sparks writes in the latest edition of the Signal newsletter.
"China, as you may have heard, also has cash, and it wants access to the Arctic's potentially vast reserves of oil, gas, metals and minerals. China is also interested in new sea lanes created by melting ice, for reasons both commercial and strategic."
"Greenland has access to the Arctic, but it needs infrastructure. It has no roads connecting the country's 17 towns and just one international airport. China, as you may have heard, likes to invest in construction of infrastructure in other countries."
"As international competition for Arctic resources heats up, lot of governments — particularly Arctic Council members the United States, Canada, Russia, Norway, Sweden, Finland, Iceland and (especially) Denmark — are watching closely to see what Greenland's government does next."
7. Stories we're watching
Quoted:
"Whenever we go abroad, people refer to us as Switzerland."
— King Mswati III on changing his country's name.
Thanks for reading! See you Thursday evening.