Axios World
April 29, 2019
Welcome to Axios World, where two evenings a week we break down what you need to know about the big stories from around the globe.
1 big thing: ISIS leader Baghdadi is back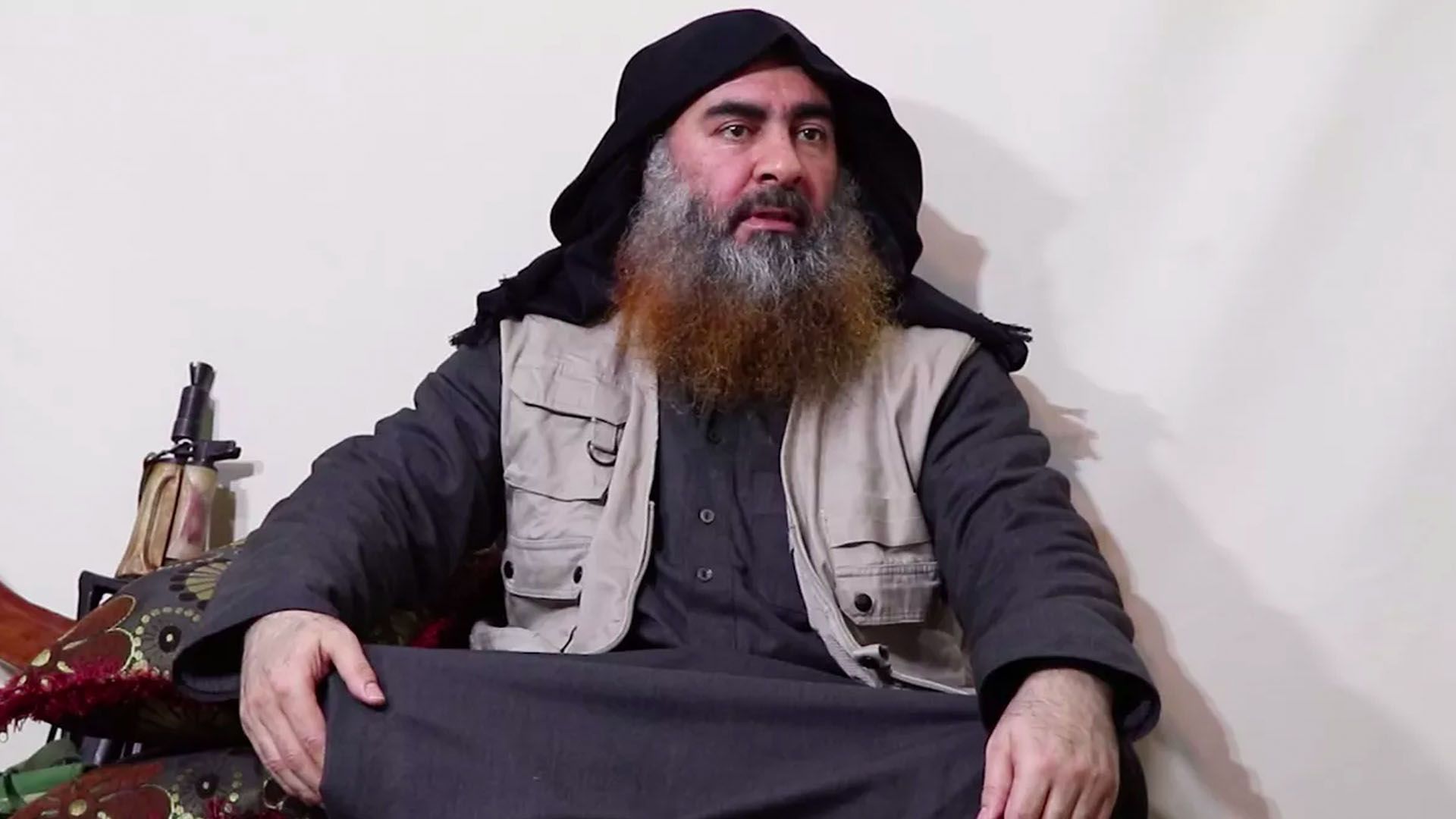 The caliphate is gone, but ISIS leader Abu Bakr al-Baghdadi seems to be alive.
Driving the news: The Islamic State, or ISIS, has released an 18-minute video showing a man who appears to be Baghdadi speaking with masked supporters in an undisclosed location and referring to events that took place in the past month.
Baghdadi last appeared publicly in 2014 at the Nuri Mosque in Mosul, Iraq, where he proclaimed the creation of the caliphate.
The new video belies reports that he was killed or gravely wounded and rebuts claims from President Trump and others that his terror organization has been defeated.
Why it matters: Baghdadi is perhaps the world's most-wanted man. He maintains an "extreme security protocol" the NY Times' Rukmini Callimachi notes, and this is only his second video appearance in more than a decade. It comes at an "inflection point" for ISIS, she says.
In the video, Baghdadi acknowledges the fall of Baghouz, ISIS' last stronghold in Syria. After dominating an area across Syria and Iraq roughly the size of the U.K., the Islamic State now lacks a state.
Baghdadi said the ISIS-claimed attacks last week in Sri Lanka were revenge for the defeat in Syria and vowed that "there will be more to come."
Between the lines: "This strikes me as an attempt to shore up global community in the face of territorial losses," Joshua Geltzer, formerly a top counterterrorism adviser to Barack Obama, told the Times. "I guess they considered the payoff worth it to show the organization hasn't truly been defeated, even in its core manifestation."
"The underlying message is not just one of survival against the odds," BBC's Frank Gardner writes.
"The optics here are vintage Osama Bin Laden: the jihadist leader squatting cross-legged in an anonymous room beside a short, personalised, paratrooper version of an AK assault rifle, the quasi-military fishing waistcoat, the attentive companions calmly discussing plans, and the long, prematurely ageing grey beard (he is only 47)."
"Back when Baghdadi ruled a state—complete with a well-armed military, tax collectors, and health inspectors—he and his top deputy spoke with grandiosity that inspired followers and irritated enemies," writes The Atlantic's Graeme Wood.
"Now, as an insurgent leader again, he has dispensed with the fanciness. He governed in poetry; he terrorizes in prose."
"[Baghdadi] is believed to be in hiding somewhere in the sparsely populated desert spanning the border between Iraq and Syria, where he avoids the use of technology like cellphones that could help his many enemies track him," the NY Times' Ben Hubbard writes.
What to watch: In addition to claiming the Sri Lanka attacks, Baghdadi accepted oaths of allegiance from groups in Mali and Burkina Faso. ISIS and its offshoots pose a grave and growing threat in West Africa.
2. Europe: Spain's Socialists declare election victory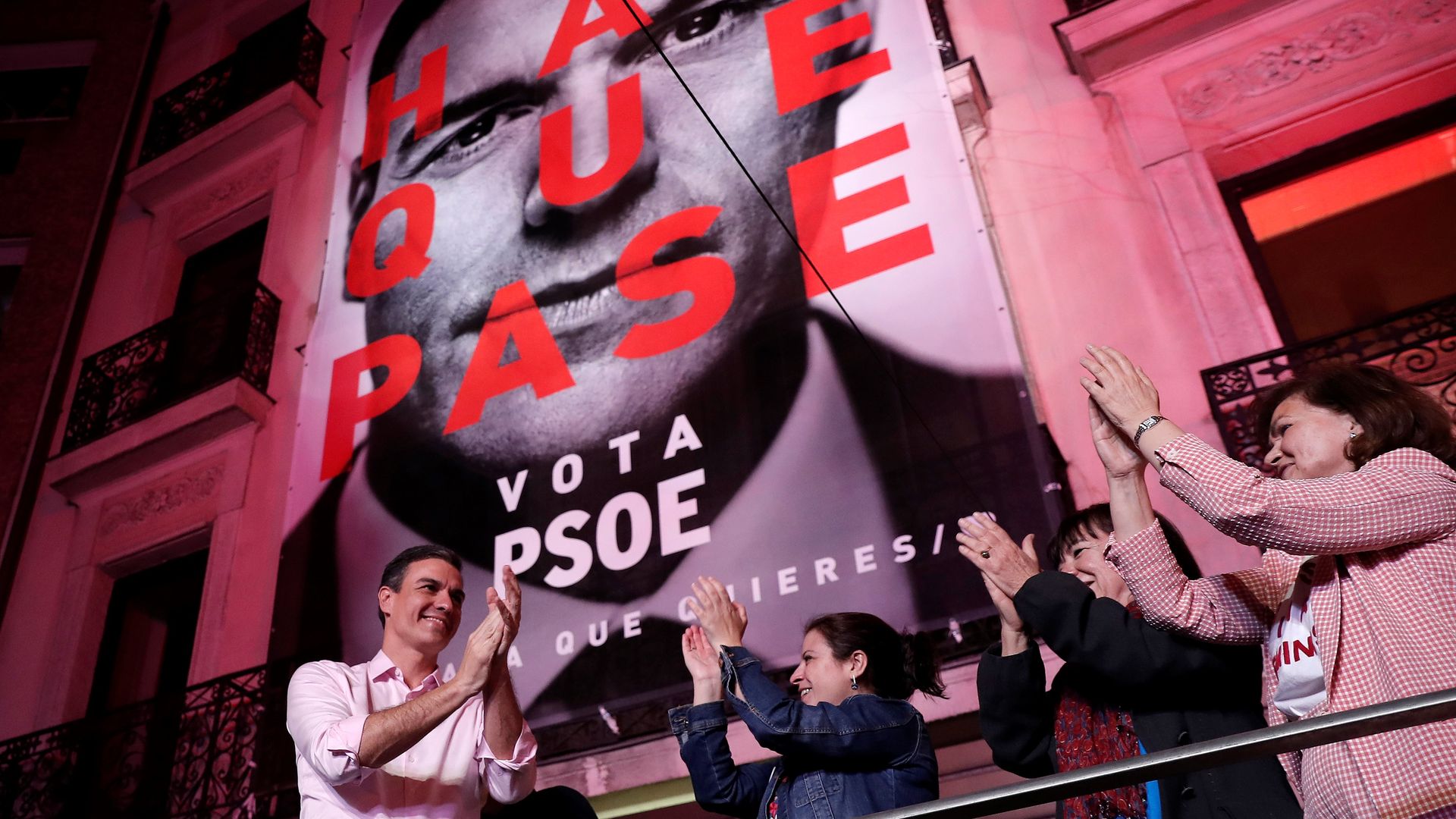 Spanish Prime Minister Pedro Sánchez was backed into a corner when his minority government crumbled earlier this year, but he emerges from it strengthened.
Why it matters: Sánchez's Socialists won 29% of the vote in Sunday's election, leaving them far short of a parliamentary majority but with nearly twice as many seats as the next largest party. In Spain's deeply fractured political moment, that almost registers as a triumph.
The other major headline is that the far-right Vox party tallied 10% of the vote, short of many projections but easily the best result for an ultra-nationalist party since the return of democracy four decades ago.
The election campaign was waged during the high-profile and polarizing trial of Catalan political leaders, who face charges stemming from a 2017 independence referendum. Pro-independence parties gained seats on Sunday.
For his part, Sánchez said Spain had "sent a message to Europe and the world that you can defeat reaction and authoritarianism."
The path forward: The Socialists could join forces with hard-left Podemos and an assortment of regional parties. They could also team up with center-right Ciudadanos, though that party's leader has ruled such a coalition out.
The bottom line: Spain's unemployment rate has climbed to nearly 15% in the biggest quarter-on-quarter increase in 6 years. The Catalonia question isn't going away. It was a good night for Sánchez, but forming a government is only the first of many challenges.
3. Workers sending $700 billion back home
We have hit a major milestone in terms of the cash flowing to low- and middle-income countries, writes Axios chief financial correspondent Felix Salmon:
Remittances are now significantly larger than any other source of funds — bigger than foreign direct investment, much bigger than flows from bond and stock markets, and about three times bigger than flows from official sources like the World Bank.
The big picture: Remittances sent by foreign workers back to their home countries generally arrive in small chunks, but they add up. They now amount to more than $700 billion per year, most of which goes to poor people in poor countries.
The development impact of remittances is enormous because the funds go straight to poor individuals and they are the only major foreign-currency flows that do not need to be repaid.
In Venezuela, remittances are a literal lifeline — many Venezuelans would die without them, according to World Bank remittances expert Dilip Ratha. And those flows aren't even measured in the chart above, since they take place in the grey market, out of sight of the authorities.
4. Remembering Dick Lugar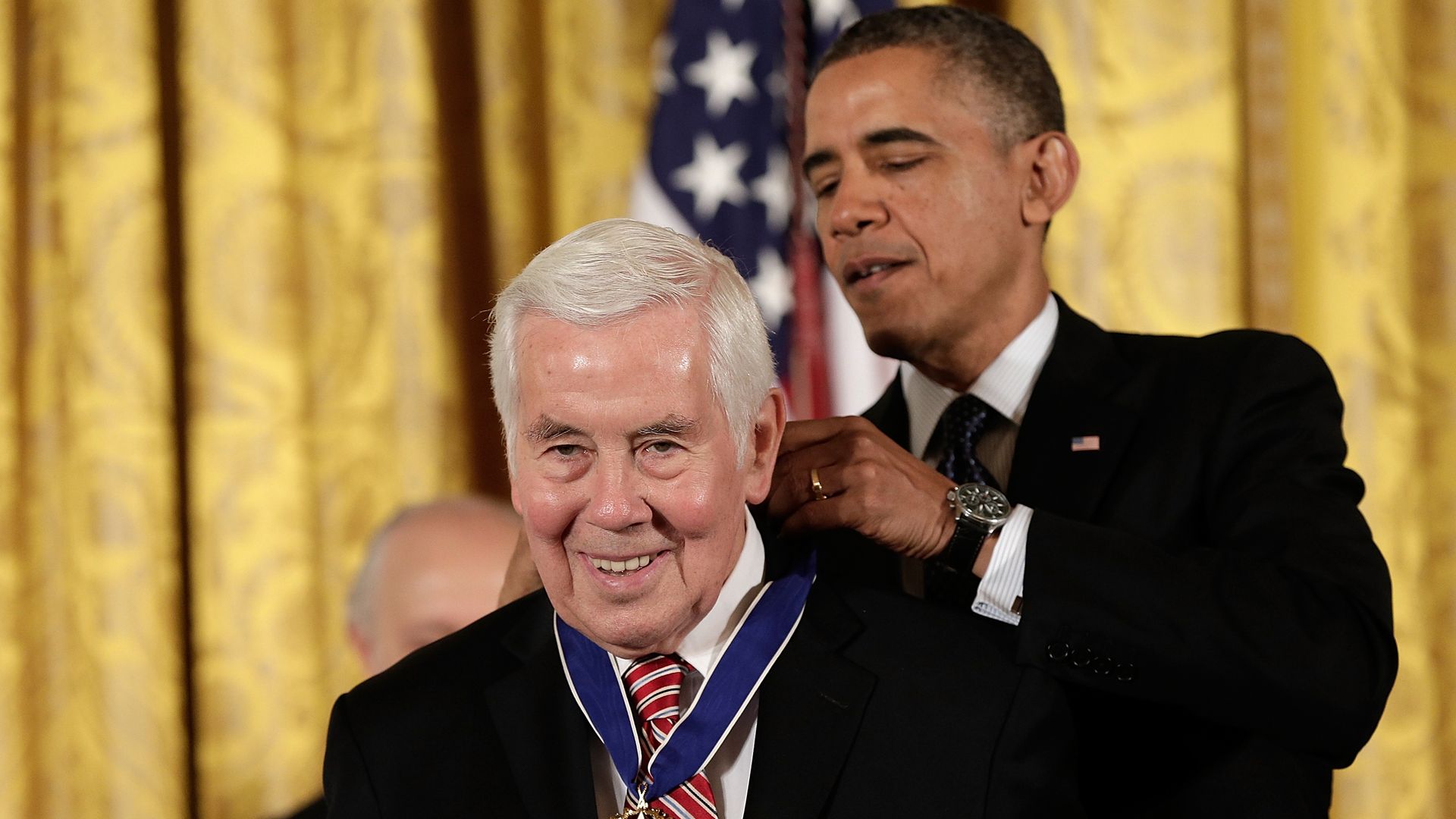 Longtime Indiana Sen. Richard Lugar died yesterday at the age of 87. He's perhaps best known for his work on nuclear security.
Lugar's greatest achievements were bipartisan, and so are the tributes to his life:
Barack Obama wrote that Lugar "understood the intricacies of America's power and the way words uttered in Washington echo around the globe," and added that "thousands of warheads, bombers, and submarines no longer threaten us because of Dick's work."
Vice President Mike Pence wrote that Lugar "was a leader not only in the Senate but also on the world stage, where he worked tirelessly to bring pressure to end apartheid in South Africa and enforce treaties that destroyed Soviet weapons of mass destruction."
On a personal note, I was fortunate enough to be seated with Lugar at a dinner just last month while taking part in a conference at Indiana University's Hamilton Lugar School of Global and International Studies.
Lee Feinstein, dean of the Hamilton Lugar School, says Lugar "was determinedly decent, but he was also quietly very ambitious." Feinstein told me that Lugar's "ambition wrapped up in modesty" served him well in his long career.
"It's an incredible record. He was not always making headlines or getting the quotes, but there are very few members of Congress who have had such a profound effect on U.S. foreign policy."
Feinstein says that in his later years, Lugar was concerned about the collapse of arms control agreements, breakdown in strategic communications between Washington and Moscow, and disregard for multilateral agreements like the Iran nuclear deal and Paris Climate Accord.
Bonus: A global game
The NBA playoffs are an international affair, Axios' sports editor Kendall Baker writes.
5. What I'm reading: Bolton's moment is coming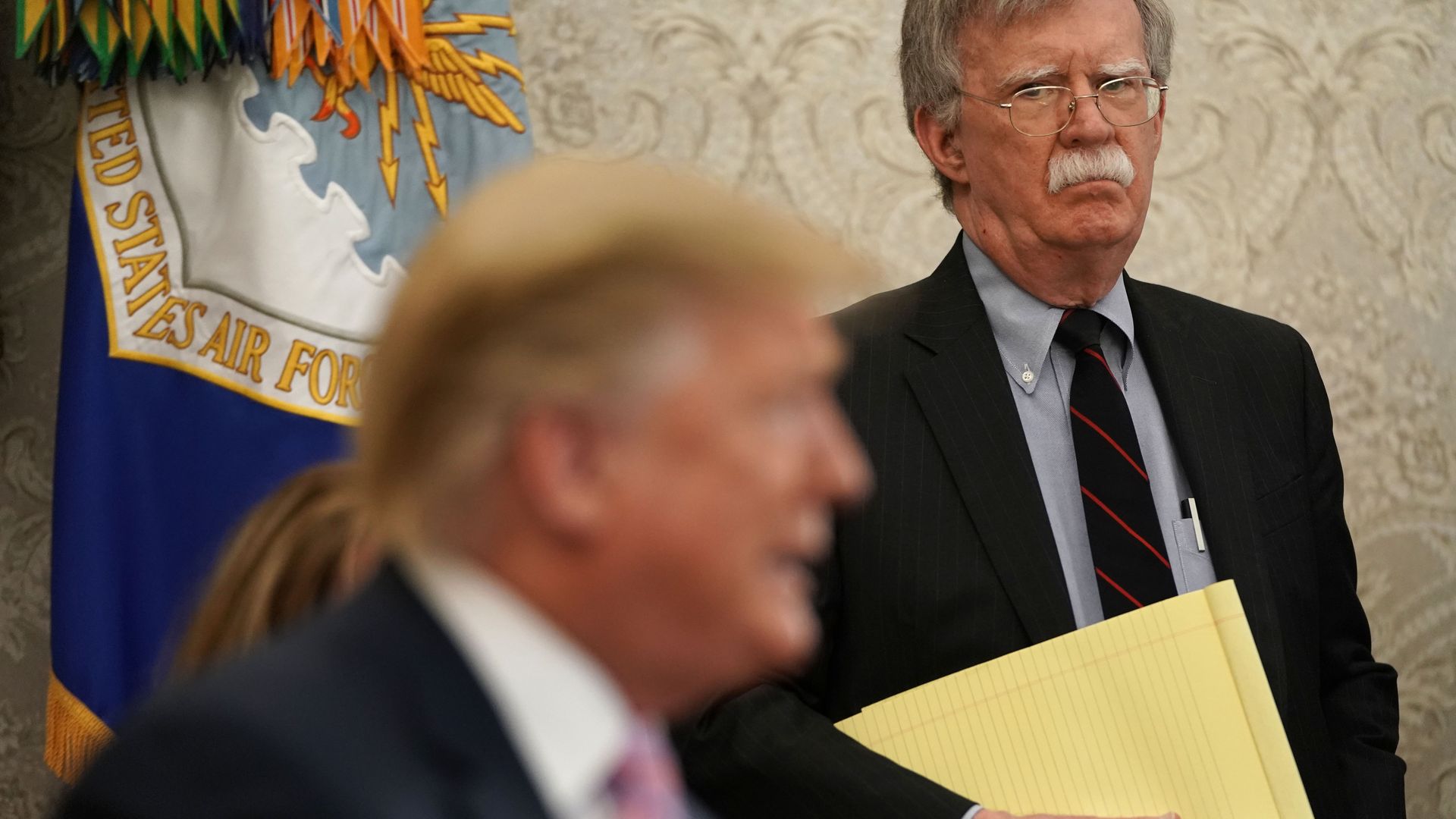 In a New Yorker profile published today, Dexter Filkins traces national security adviser John Bolton's militaristic impulses and the fact that — be it in North Korea, Iran or Venezuela — he might soon get an opportunity to act on them.
On Bolton's relationship with Trump:
Western diplomat who knows Bolton: "The trouble for Bolton is, Trump does not want war. He does not want to launch military operations. To get the job, Bolton had to cut his balls off and put them on Trump's desk."
Former senior administration adviser: "Trump had big reservations. John wants to bomb everyone."
Mark Groombridge, former Bolton aide: "John is thinking, To the extent I can modify or mollify the President's actions, I will. He is truly a patriot. But I wonder how he goes into work every day, because deep in his heart he believes the President is a moron."
Bolton: "I don't socialize with the President, I don't play golf with him — I see him in the morning and I talk to him at night."
On working with Bolton:
Tony Blinken, on reviewing Bolton's nomination to be UN ambassador: "We saw a pattern of Mr. Bolton trying to manipulate intelligence to justify his views. ... [H]e would stake out a position, and then, if the intelligence didn't support it, he would try to exaggerate the intelligence and marginalize the officials who had produced it."
Western diplomat: "[Secretary of State Mike] Pompeo is really interested not in foreign policy but in what is good for Trump. When you are out of the Trump field, he has nothing to say. When you meet Bolton, it's a real conversation on any issue, no matter how obscure."
Former senior national security official: "It's chaos under Bolton. The national security adviser is supposed to facilitate the President's directives and coordinate national policy among the various government agencies. That process has completely broken down. Bolton hasn't set any priorities. ... I don't remember the last time there was a fucking principals' meeting."
The bottom line: Some of the most interesting reporting in the piece is about the role James Mattis played in keeping military options from being presented to Trump. Filkins notes that no one of such stature stands in Bolton's way, and he writes that "Bolton would have extraordinary latitude in a crisis."
6. Data du jour: How's democracy working for you?
Just 45% of respondents across 27 countries surveyed by Pew say they're satisfied with the way democracy is working in their country.
Confidence in democracy is falling in most of the countries, most dramatically in India and Germany.
Question: Most people have a good chance to improve their standard of living, agree/disagree?
Highest: Indonesia (88%), Philippines (86%), Sweden (80%), Australia (77%), U.S. (74%), Canada (74%).
Lowest: Greece (25%), Spain (27%), Italy (28%), Hungary (37%), South Korea (38%).
Question: Most politicians are corrupt, agree/disagree?
Highest: Greece (89%), Russia (82%), South Korea (75%), South Africa (72%), Nigeria (72%), ... U.S. (69%).
Lowest: Sweden (20%), Netherlands (23%), Indonesia (24%), Mexico (27%), Germany (33%).
7. Stories we're watching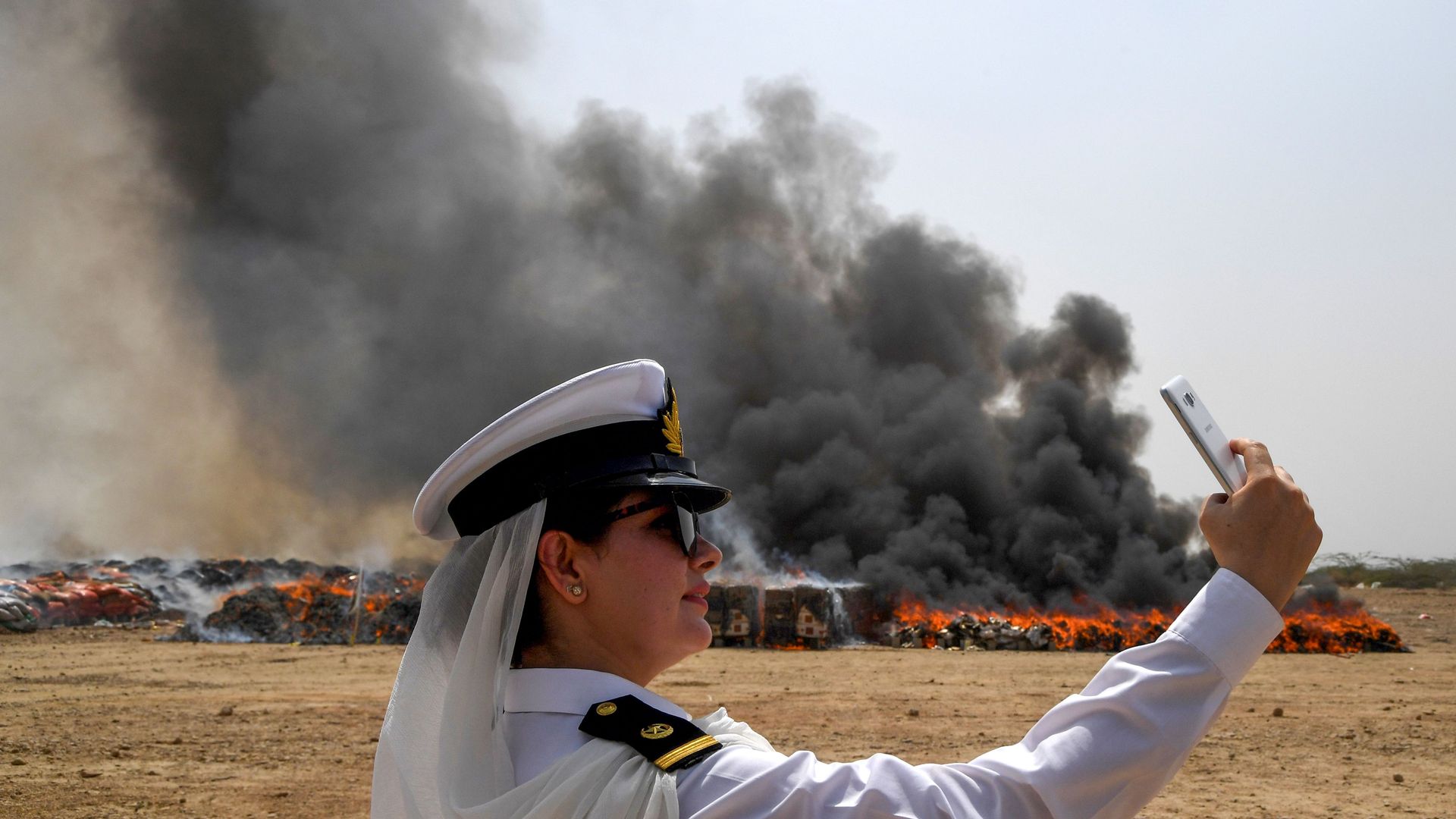 Quoted:
"The ridiculous idea of the century. Only rich people are delighted. Don't give us 10 consecutive holidays."
— The Daily Gendai tabloid summing up the
surprisingly negative reaction
in Japan to a 10-day national holiday tied to the ascension of the new emperor.
Thanks for stopping by — see you Thursday evening.