Welcome to Axios World, where two evenings a week we break down what you need to know about the big stories from around the globe.
1 big thing: Trump pushes China and Iran to the brink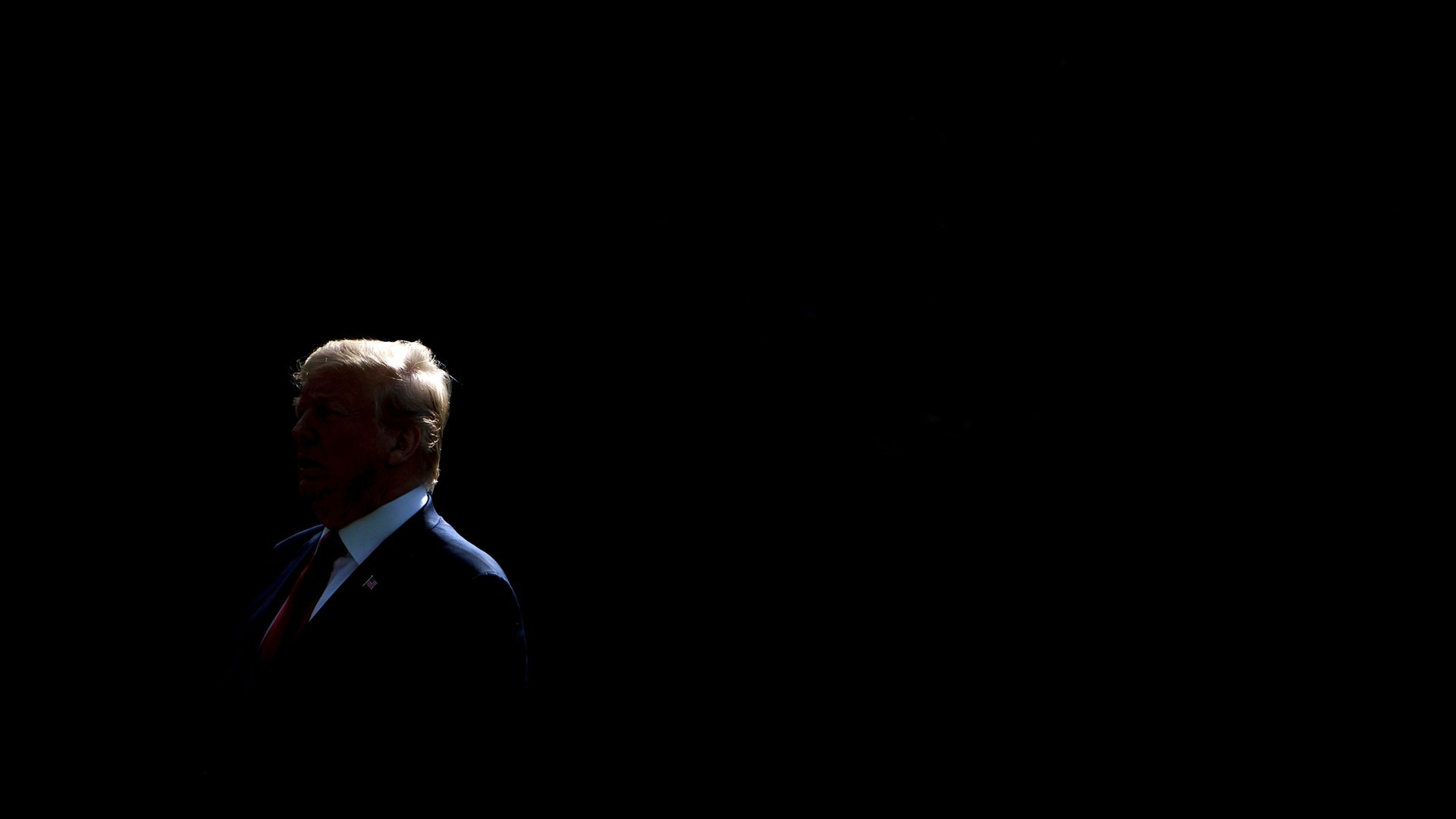 President Trump is pushing both China and Iran to the brink, betting they'll capitulate and warning of dire consequences if they don't.
Why it matters: The stock market is already taking a beating as China retaliates to Trump's tariff hikes on $200 billion in Chinese goods, and analysts are warning of a possible global recession if he follows through with his threat to extend them to all Chinese imports.
Meanwhile, Trump's warnings that Iran will "suffer greatly" if "they do anything" to provoke the U.S., paired with bellicose statements from senior officials, are deepening fears of another war in the Middle East.
Even short of war, Trump's pressure campaign will likely mean higher oil prices, more suffering for the Iranian people and the collapse of the 2015 nuclear deal.
Between the lines: This is how Trump negotiates, Axios' Jonathan Swan emails:
"He believes in grand displays of hard power — extreme threats of military force ('fire and fury' for North Korea, sending the carrier to Persian Gulf) and punitive measures (tariffs and sanctions) — more than he does the subtler tools of statecraft."
"He believes the only way to get what you want from another country is to first force them into a begging position. The leaders in both China and Iran are hardliners who put a premium on maintaining national pride and, as the Chinese explicitly said, 'dignity.'"
"Both countries' leaders have indicated they're willing to be patient with Trump and intend to wait him out. The question is how impatient Trump becomes and how he reacts to the negative domestic effects of some of his punitive policies."
The latest: China announced tariff hikes today on $60 billion in U.S. goods. Meanwhile, the Communist Party's propaganda machine kicked into high gear, Bill Bishop reports in his Sinocism newsletter.
Chinese media "has struck a defiant tone since Friday, blaming the US for the failure, playing the victim with its usual shrill skill, talking tough about being able to outlast the US in any prolonged trade fight, and … threatening non-tariff retaliatory measures," Bill notes.
Meanwhile, Secretary of State Mike Pompeo added a last-minute stop in Brussels to his schedule today in order to warn leaders there of the "escalating threat" from Iran.
Pompeo and national security adviser John Bolton have continued to raise such threats over the past week without offering specifics. Trump told reporters today that he'd been "hearing little stories about Iran," adding: "If they do anything, they will suffer greatly."
"Today, the question in Washington — and surely in Tehran, too — is whether President Trump is making moves that will provoke, instigate, or inadvertently drag the United States into a war with Iran," Robin Wright argues today in the New Yorker.
"The Administration has vowed to keep increasing pressure until Iran changes its behavior. ... So far, Tehran has not changed course."
The stated position from both civilian and military leaders is that the U.S. isn't seeking a military confrontation with Iran but is prepared for one if necessary.
"The problem, as U.S. history proves, is that the momentum of confrontation is harder to reverse with each escalatory step," Wright contends.
What to watch: Last month, as the U.S. stepped up its attempts to block all Iranian oil exports, Iran threatened to close the Strait of Hormuz, the "world's most important oil chokepoint," per Fortune.
Today, Saudi Arabia announced that two Saudi tankers were damaged by an "act of sabotage" over the weekend in the Gulf, without identifying any suspects. Iran's foreign ministry distanced itself, calling the incident "worrisome" and "regretful."
But now, AP is citing an anonymous U.S. official as saying an "initial assessment is that Iranian or Iranian-backed proxies" were responsible.
2. Trump lauds Hungary's "respected" strongman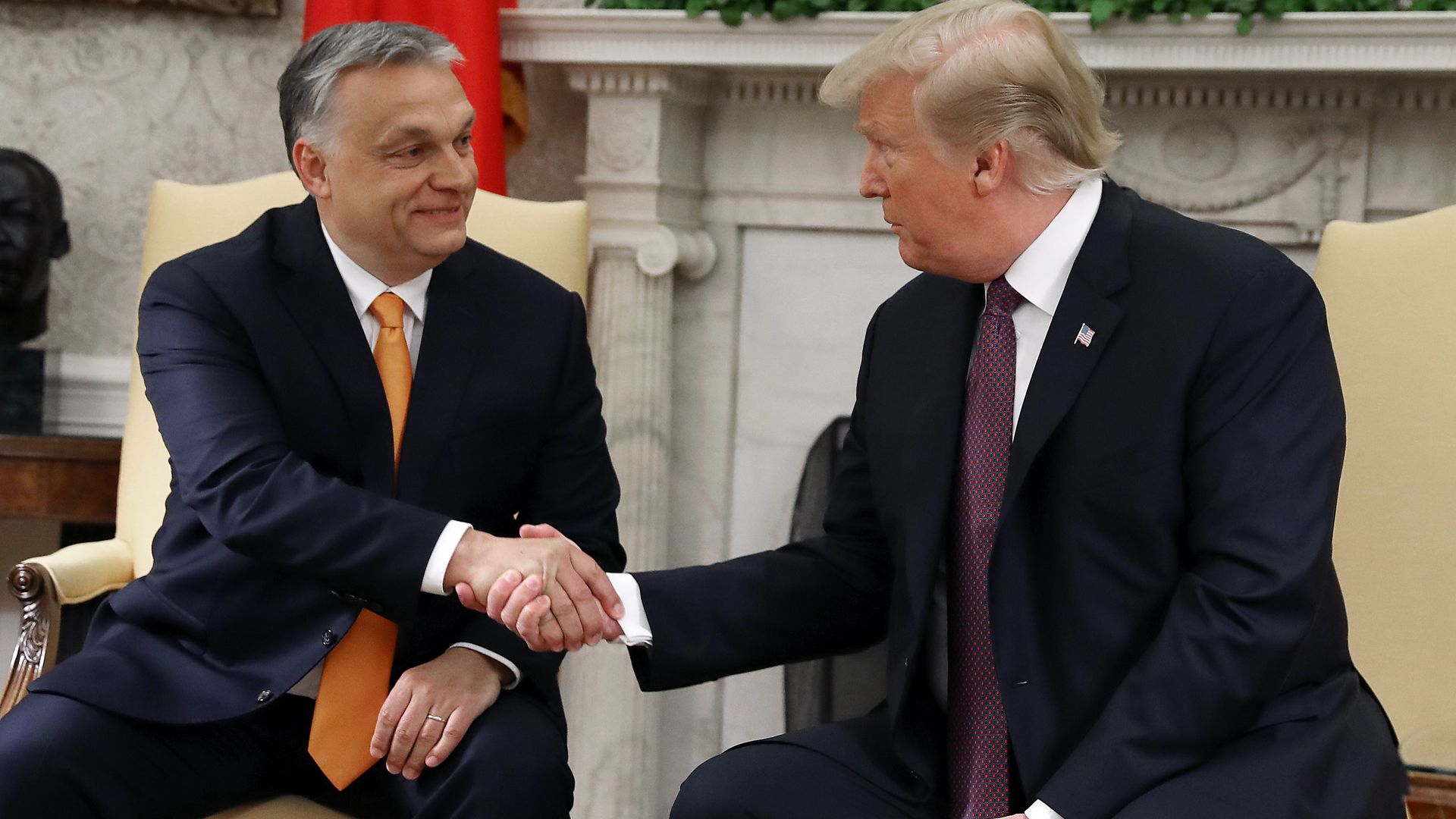 Trump praised Hungary's Viktor Orbán in an Oval Office meeting today as "respected all over Europe," lauded his draconian approach to immigration and brushed aside a question about his efforts to undermine Hungary's democratic institutions.
Why it matters: "Orbán's politics skew authoritarian: He has repressed civil society and the media while fueling corruption, xenophobia and anti-Semitism. Trump's meeting with him lends legitimacy to his illiberal agenda," Jonathan Katz of the German Marshall Fund writes for Axios Expert Voices.
The meeting comes as Orbán and his populist allies "are contesting critical European Parliamentary elections. Trump is signaling support for them as he disavows our true friends — Merkel, Macron," tweets Nicholas Burns, a former senior U.S. diplomat.
Flashback: Barack Obama declined to host Orbán, and George W. Bush moved a 2001 meeting from the Oval Office over concern about his more controversial views. Bill Clinton did host the Hungarian prime minister in 1998, during his first stint in office.
Then, as now, the focus from the press corps was on an issue that had nothing to do with Hungary. In Clinton's case, it was impeachment. Today, it was China, Iran and the Russia investigation.
Correction: This post previously stated that Bush declined to host Orbán altogether. I apologize for the error.
3. Latin America: Populism rebounds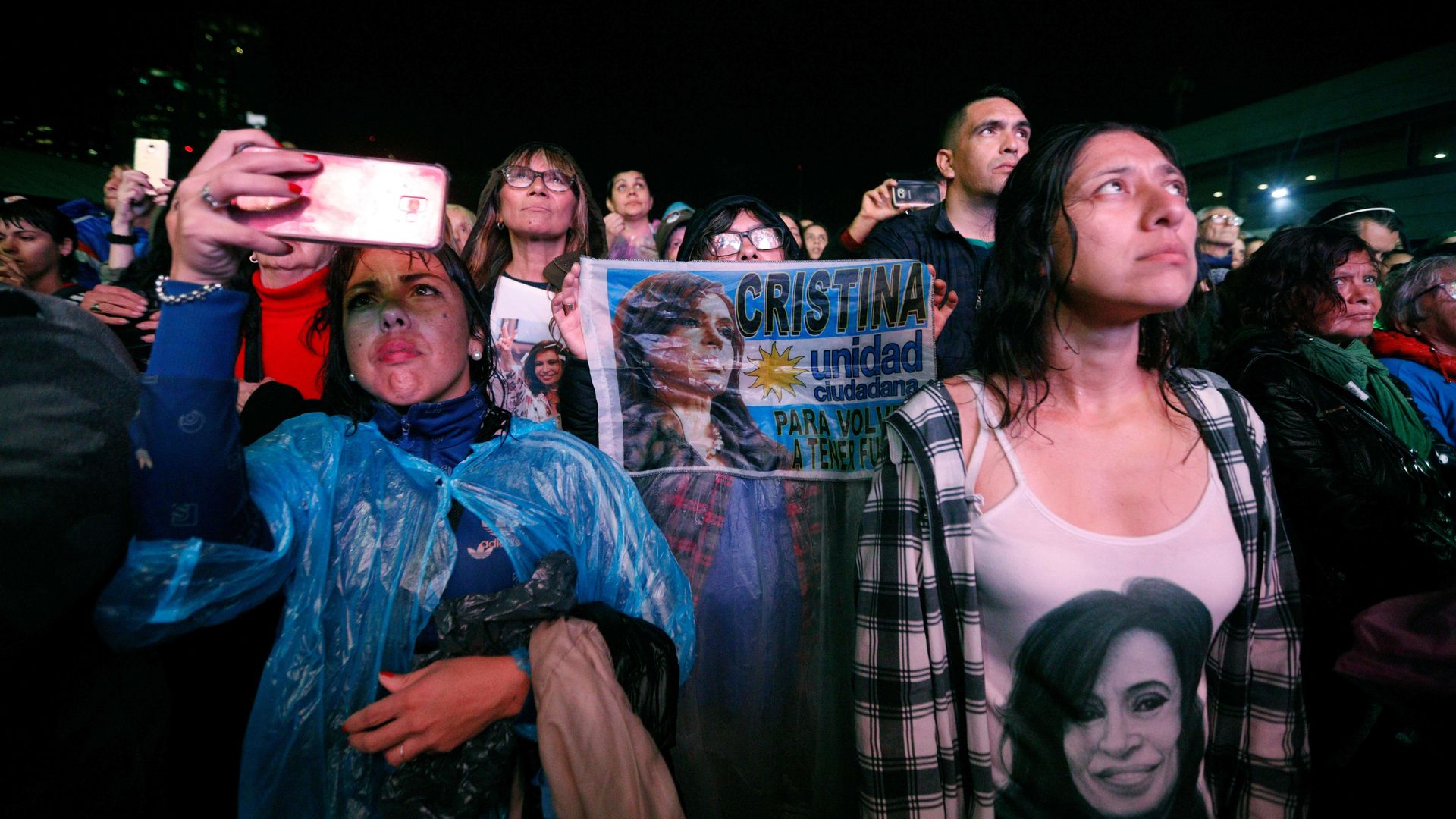 Argentina's center-right ruling coalition suffered a resounding defeat Sunday in regional elections, but the lessons ahead of October's presidential vote are less clear cut.
The big picture: The landslide winner in Córdoba, incumbent Gov. Juan Schiaretti, falls between two pillars of Argentine politics — Mauricio Macri, the unpopular president, and Cristina Fernández de Kirchner, his populist predecessor. Fernández is aiming for a political comeback despite facing a slew of corruption charges.
"Amid economic turmoil that has battered Argentina's markets, job losses and stubborn inflation, hard-hit voters have been losing faith in Macri, though many are wary of turning back to ... Fernández, seen as the likely main contender," per Reuters.
What to watch: A recent poll put Fernández 9 points ahead of Macri in a hypothetical second-round matchup. Fernández held a campaign-style rally last week to launch her new book, which is already a smash hit, the FT reports.
Flashback, from the FT's outgoing Latin America editor John Paul Rathbone:
"[F]our years ago, I was amazed, as were many, when [Macri] unexpectedly won Argentina's presidency. He was young, apparently sensible and open-minded. Most important of all, he was unencumbered by ideology or nostalgic nationalism."
"Wonderful irony: perhaps the continent was at last rejecting the siren call of populism, just as the west had begun to embrace it. Yet now, the region, or at least Brazil and Mexico, have apparently returned to form and elected 'national saviors' as their leaders. Is there ever an escape from the labyrinth?"
Zoom out: The Economist lays out "clear signs of disenchantment with democracy" across Latin America in this week's edition.
4. Africa: World's biggest free trade area
The largest free trade area in the world, both by area and by population, will formally come into effect on May 30, now that Gambia has become the 22nd country to ratify the Africa Continental Free Trade Area, or AfCFTA, Axios' Felix Salmon writes.
The big picture: Africa has 1.2 billion people — more than double the EU or NAFTA. Almost every African country has signed the treaty; the one big exception is Nigeria. AfCFTA came together in record time, after first being proposed by Rwandan President Paul Kagame in March 2018. As a result, a lot of the implementation details are a bit fuzzy.
"What's been really impressive is how quickly they've agreed to and then ratified the deal," says Grant Harris, the CEO of Harris Africa Partners. "Now the real work begins in terms of how issues are worked through in practice."
Reality check: Africa's trade problems won't be solved overnight. The continent needs some $50 billion per year in infrastructure investment, and truckers are still likely to spend hours or days idling at international borders.
By the numbers: The World Bank's Paul Brenton calculated in 2012 that passenger traffic between Brazzaville and Kinshasa — on opposite sides of the Congo River — was just 20% of the amount of traffic between East and West Berlin before the wall came down.
Why it matters: Almost every African country exports more outside the continent than it does within it. African supply chains are extremely weak, and the amount of prosperity that could be generated by strengthening them is enormous. AfCFTA, on its own, is not sufficient to create a booming market in intra-African trade. Still, it's an extremely important milestone on the way there.
5. Data du jour: Sharing, not trusting
People in emerging economies around the globe are becoming wary of using social media for political news due to the rampant amount of misinformation spreading on those platforms, according to a new Pew Research Center study.
Why it matters: Social media has largely democratized ideas and information, but people in developing countries now say that the technology also makes it easier for politicians to manipulate them — meaning it isn't as reliable as in-person communications, Axios' Sara Fischer writes.
Details: A median of 65% of respondents from the 11 countries surveyed say that social media increases the risk of manipulation by domestic politicians. A median of 57% say those same technologies increase people's ability to have a meaningful voice in politics.
While most people in developing countries say they still rely on social media to introduce them to new ideas, most say they don't trust the news on those platforms.
Go deeper: Subscribe to Sara's Media Trends newsletter
6. What I'm watching: "Meeting Gorbachev"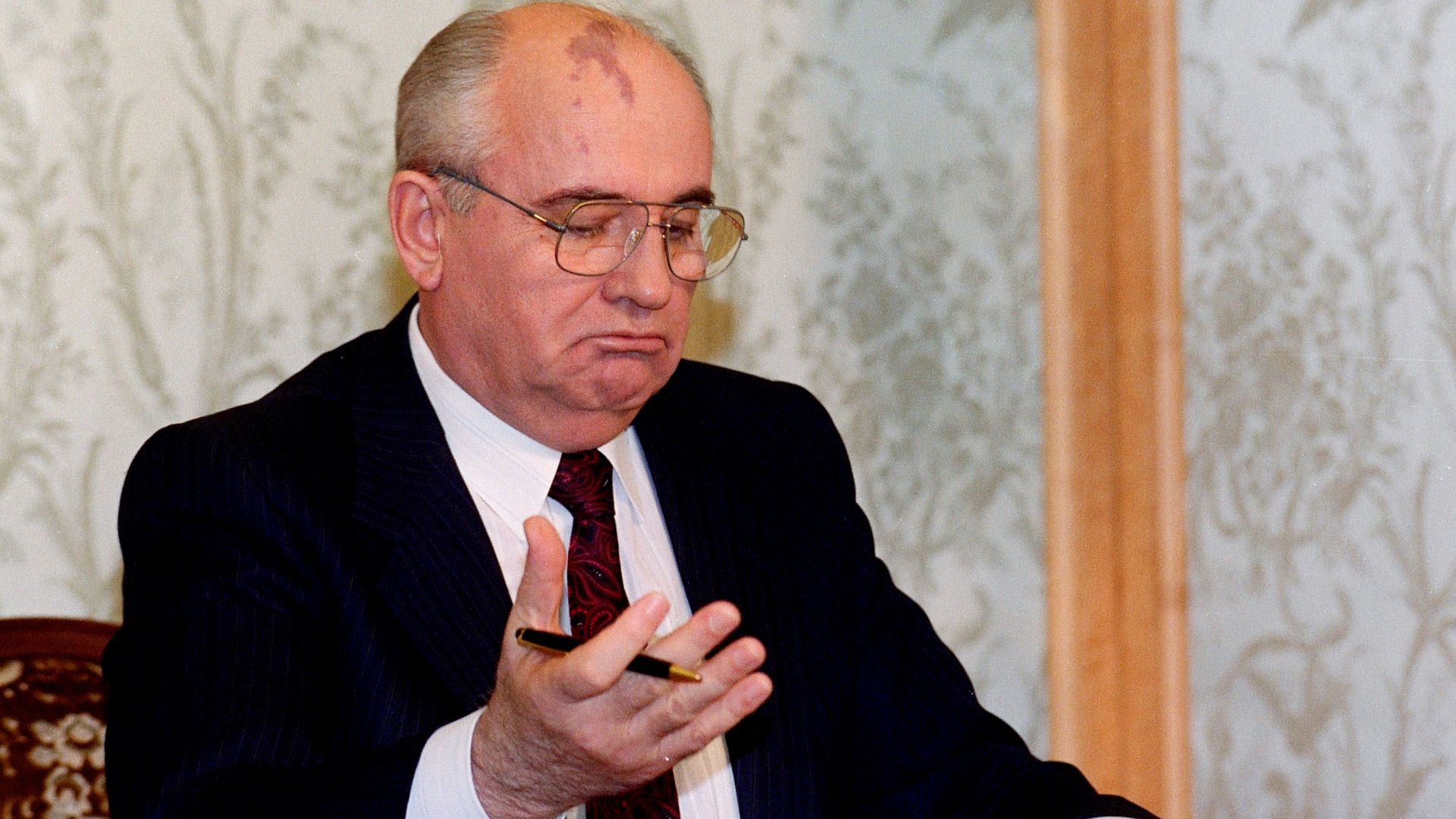 Werner Herzog's portrait of Mikhail Gorbachev is of a profoundly lonely man for whom pride and regret have blended into a single emotion.
Herzog's film uses historical footage, conversations with leading figures of the era (former Secretary of State George Schultz, former Polish President Lech Walesa) and three interviews with the man himself to trace Gorbachev's rise and the Soviet Union's fall.
Gorbachev is now 88, overweight and exhausted, but he summons a mischievous smile and bursts of defiance.
One key quote: "Americans thought they'd won the Cold War and this went to their heads. What victory? It was our joint victory; we all won! It would never have happened if the entire world didn't want it."
Gorbachev blames "reckless" politicians like Boris Yeltsin for the collapse of the USSR:
"And now I get asked, why didn't I stop them? But it was like hitting my head against a brick wall. ... I probably should have acted differently towards [Yeltsin]. But I'm not that kind of person. I'm not vengeful. I should have sent him off somewhere. He was playing up. I feel sorry for my own people."
"I regret it to this day," Gorbachev says of the dissolution of the Soviet Union. "Yes, it's hard. It's my own internal problem."
Gorbachev brightens when asked about his good fortune in meeting his wife, Raisa, who died in 1999: "Why do you say it was luck? I searched for her and I found her."
The camera lingers on his pain-stricken face after Herzog asks if he can remember her laugh, her smell. "When she died, my life was taken away from me," he says.
As the film concludes, Gorbachev tells Herzog he has asked God for two more years, and recites a poem by Mikhail Lermontov titled, "I Go Out on the Road Alone."
"Meeting Gorbachev" is playing in select theaters and will come to DC's E Street Cinema later this month.
7. Stories we're watching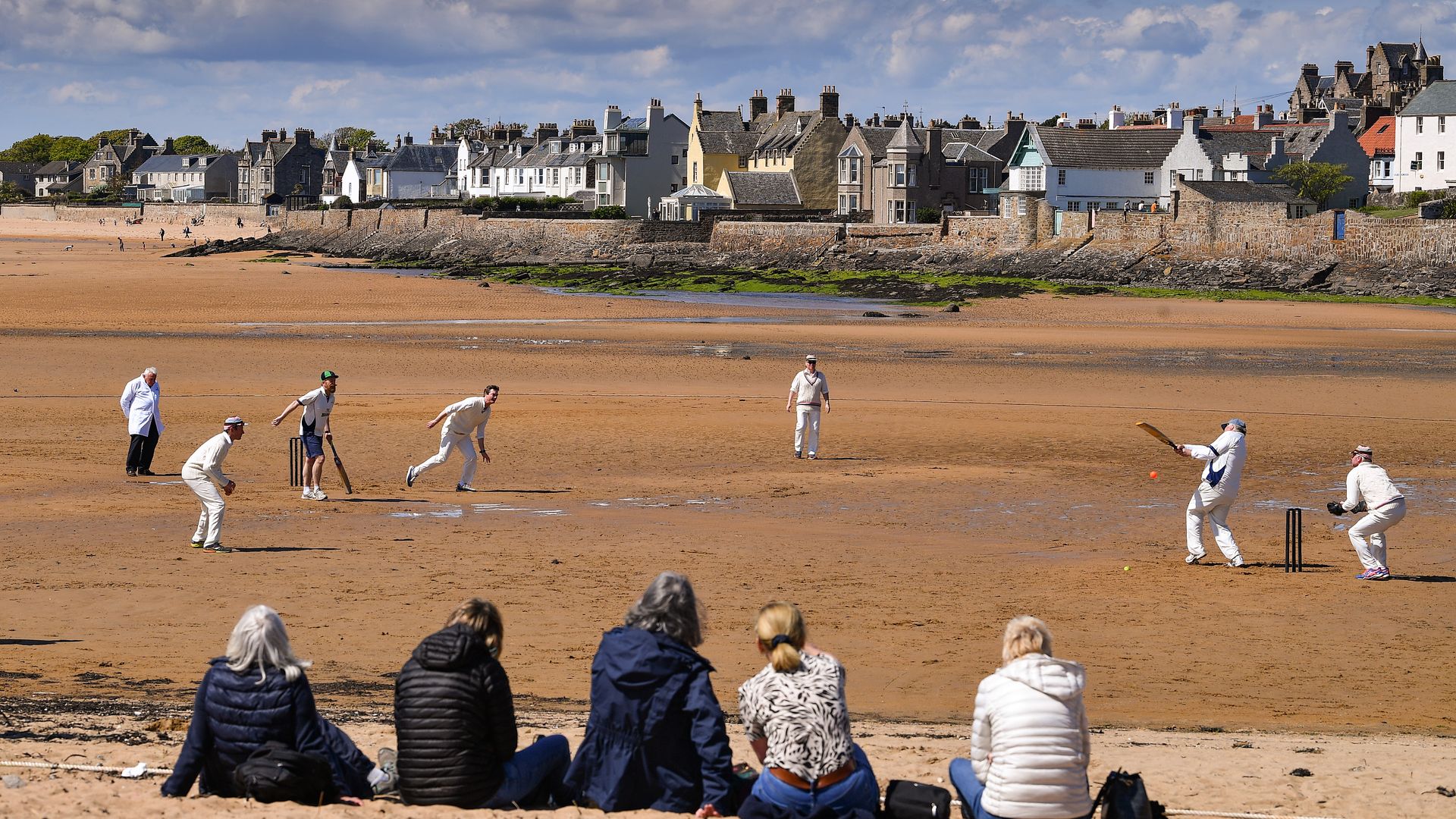 "Let's quarrel with Canada. I will declare war against them. Load that up on a ship and I will advise Canada that your garbage is on the way. Prepare a grand reception. Eat it if you want to."
— Philippine President Rodrigo Duterte last month on a
long-running garbage feud
with Canada
Thanks for reading — see you Thursday evening