Axios World
May 14, 2018
Welcome to the Axios World newsletter, where two evenings a week we break down what you need to know about the big stories from around the world.
Thanks for joining me! Tell your friends and colleagues to sign up here, and send tips and feedback to [email protected]
1 big thing: Gaza violence sparks diplomatic crisis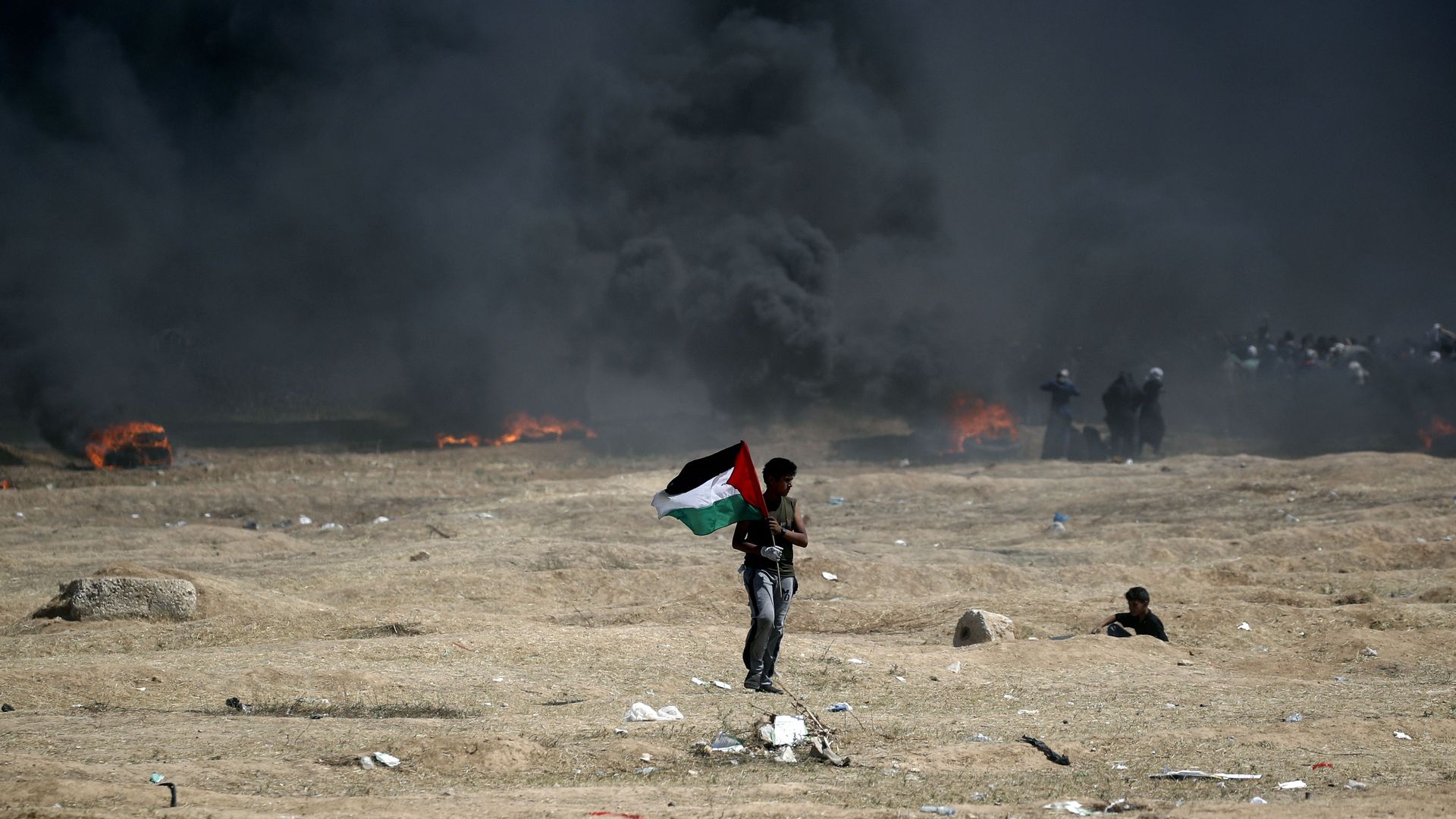 At least 55 Palestinian protesters were killed by Israeli forces near the Gaza border today. Israel and the U.S. both said force was needed to prevent a border fence from being breached, while Palestinian, Iranian and Turkish leaders accused Israel of a "massacre."
Today was the bloodiest in Gaza since 2014, and Axios contributor Barak Ravid reports that a diplomatic crisis is developing:
White House deputy spokesman Raj Shah said responsibility for the deaths "rests squarely with Hamas" which "is intentionally and cynically provoking this response."
France and the U.K. called on Israel to show restraint. Asked if the U.S. would make a similar appeal, Shah said no.
South Africa and Turkey announced they are recalling their ambassadors in Tel Aviv in protest over the events in Gaza. Turkish President Erdogan slammed Israel, called it a "terror state" and said "it commits genocide in Gaza."
Kuwait has asked for an emergency meeting of the UN Security Council tomorrow in New York to discuss the escalation in Gaza. Jordanian King Abdullah II accused Israel of "blatant aggression and violence" and warned that "moving the US embassy will have dangerous implications on security and stability." Egypt also condemned "the use of force against peaceful marches."
The bigger picture: Palestinians have repeatedly gathered near the border over the past six weeks to demand the "right of return" for Palestinian refugees. Today's protests were fueled by anger over the opening of the new U.S. embassy in Jerusalem. Tomorrow's could be even larger, as May 15th is Nakba Day, which commemorates the displacement of Palestinians during Israel's founding.
Split-screen: Most speakers at the embassy ceremony in Jerusalem this morning chose to ignore the events in Gaza, but Prime Minister Netanyahu praised the "brave soldiers protecting the borders of Israel." Jared Kushner said "those provoking violence are part of the problem and not part of the solution," though those remarks were omitted from an official White House transcript.
From the ceremony...
Netanyahu: "You can only build peace on truth, and the truth is that Jerusalem has been and will always be the capital of the Jewish people, the capital of the Jewish state. … Remember this moment! This is history. President Trump, by recognizing history, you have made history."
Israeli president Reuven Rivlin: "In every U.S. election, every presidential candidate has promised to move the American embassy to Jerusalem. Finally, we have a leader who promised this and also kept his promise."
Trump (via video): "Israel is a sovereign nation with the right like every other sovereign nation to determine its own capital. ... We extend a hand in friendship to Israel, the Palestinians and to all of their neighbors. May there be peace."
2. North Korea's nuclear riddle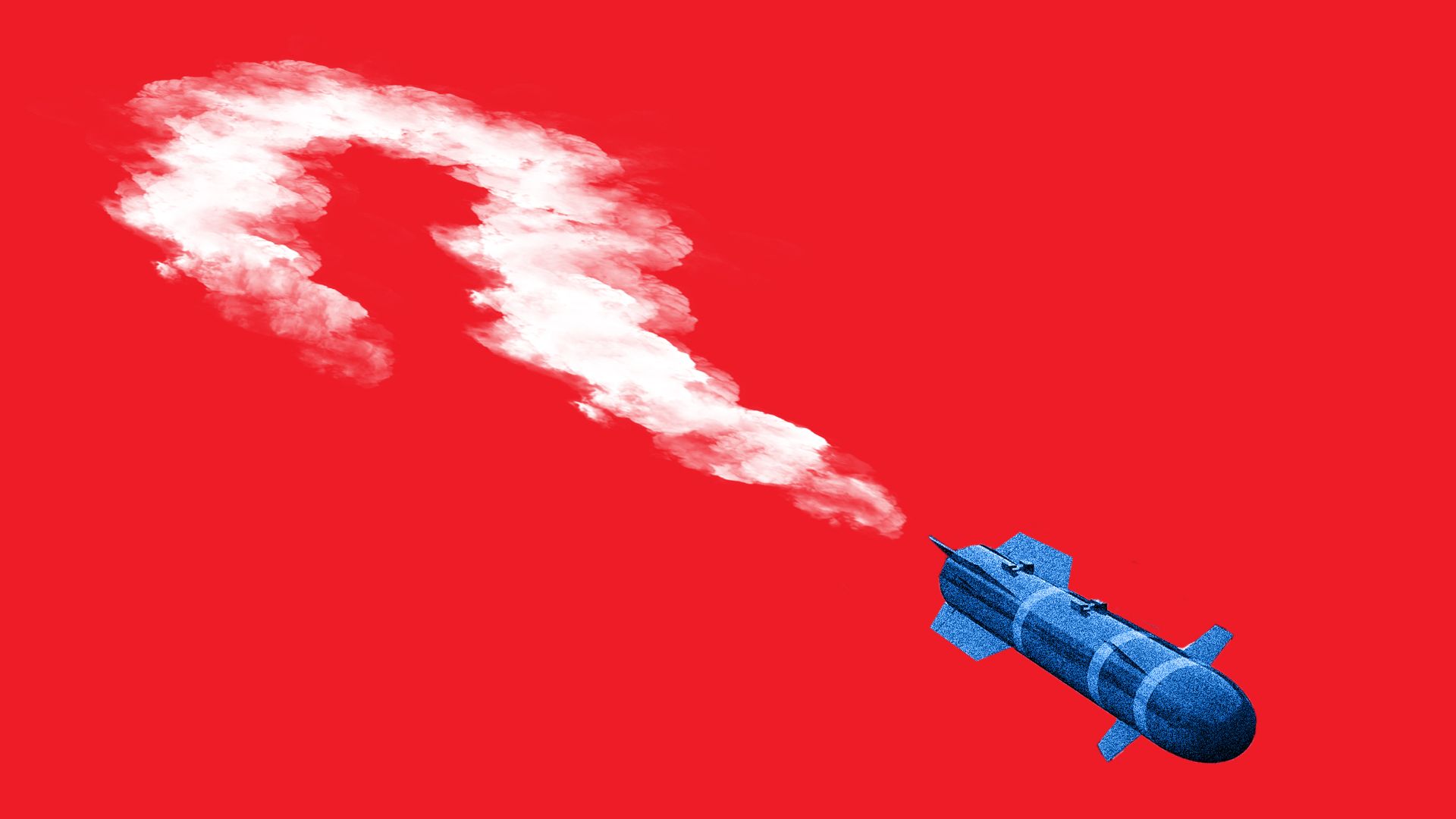 President Trump has laid out what a successful outcome from his talks with North Korea looks like: "They get rid of their nukes." North Korea may well make such a promise, but experts told Axios' Shannon Vavra it'll be desperately tricky to determine whether they're keeping it.
James Acton, a physicist and verification expert: "It is going to be emphatically impossible to conclude definitively that North Korea has given up all of its nuclear material. The big challenge is not verifying the dismantlement of those they tell us" about, "it's verifying that they haven't maintained materials secretly."
Jon Wolfsthal, a former senior director for arms control and nonproliferation on Barack Obama's National Security Council says U.S. intelligence gaps on North Korea's nuclear program exacerbate the problem: "There's no way Donald Trump comes out verifying all their nuclear weapons" because "we don't even know how many we have" to begin with.
Corey Hinderstein, a former senior coordinator for nuclear security and nonproliferation policy affairs at the Department of Energy says inspections in North Korea, which is already a nuclear power, are far different than in Iran: "We have never verified the dismantlement of nuclear warheads at the time they're being dismantled."
Go deeper: Read Shannon's full report.
3. Iraq's next government likely to be hostile to U.S.
Following Iraq's parliamentary elections on Saturday, the political coalition of Muqtada al-Sadr — the firebrand nationalist Shiite cleric — has emerged as the surprising frontrunner, followed by Fatah, an alliance of leaders of Shiite paramilitary groups with close ties to Iran.
Hardin Lang of Refugees International writes for Axios Expert Voices that "the new government will likely be far less favorable to the U.S."
"Turnout was low at 44.5 percent — the lowest since the 2003 U.S. invasion — appearing to reflect the Iraqi electorate's growing apathy and frustration with the country's political class. Prime Minister Haider al-Abadi, a key ally and U.S. partner in the fight against ISIS, is underperforming in third place.'
Why it matters: "The next prime minister will have the power to call for a U.S. withdrawal, and the two leading coalitions have deep ties to armed groups that fought the American presence over the last decade."
The bottom line, from Bilal Wahab of the Washington Institute for Near East Policy: "The product of ethno-sectarian power-sharing, past governments have been weak and ineffective. Iraqis wanted a new, corruption-free government that would offer services, jobs and security, and a victor with a clear agenda and a strong national mandate. Instead, this weekend's elections only deepened the country's political fractures."
4. China's debt-trap diplomacy spreads in Africa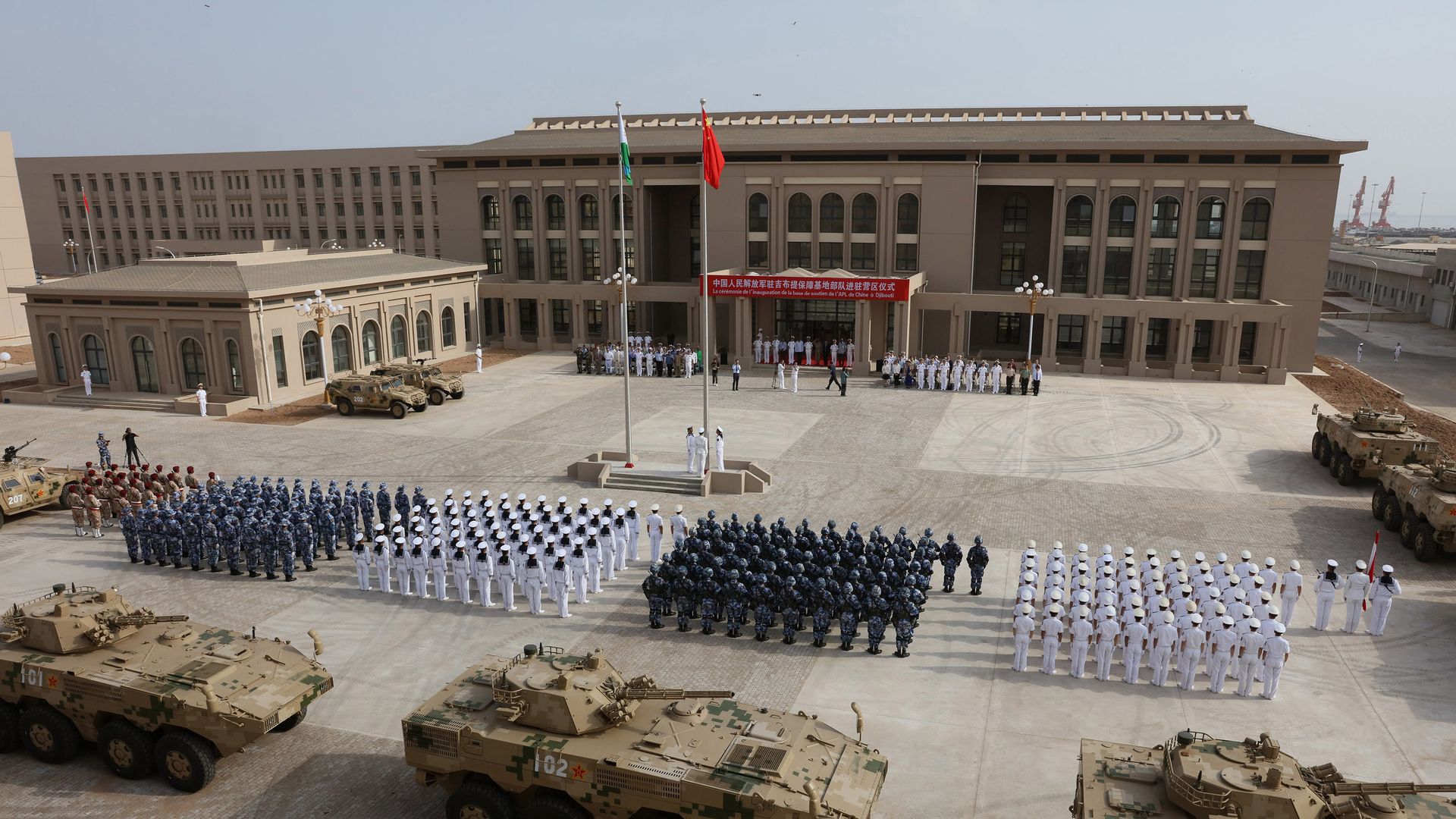 China is leveraging debts to gain control of strategic ports and secure primary access to African oil in Angola, Kenya and Djibouti, Axios' Erica Pandey writes.
Angola pays its $25 billion debt to China in oil, which means its ability to pay depends on the price of crude and leaves less oil for Angola to sell to other trading partners.
Djibouti is home to China's only overseas military base, and it could soon give up a key port to Beijing. Djibouti's foreign minister brushed off concerns, saying, "no country can develop itself without having a strong infrastructure. And China is, from that perspective, a very good partner."
The majority of Kenya's external debt is Chinese, and the country has a growing trade deficit with Beijing, leading to concerns from the Kenyan public over China's influence.
Why it matters: China is offering up attractive infrastructure projects to the countries that need them most and following up with escalating demands for influence. That approach will spread to even more of the globe under Beijing's trillion-dollar Belt and Road Initiative.
Go deeper: China's long game for Middle East influence.
Bonus: General Tso marches on China
P.F. Chang's has arrived in Shanghai, marketing itself as "an American bistro," reports the Wall Street Journal.
Quotes from the soft opening...
"I don't think this is Chinese food ... I think it's what Americans think Chinese food should taste like," animation designer Zhang Xue told the Journal.
"In U.S. films and TV shows, everyone is eating American Chinese takeout ... They eat noodles out of these paper cartons, slurp the noodles down with chopsticks, and look like they are enjoying themselves very much … It made me wonder what Chinese American food was like," she said.
"In a fun kind of a way, we're bringing Chinese intellectual property back to China," P.F. Chang's CEO Michael Osanloo said.
5. Latin America: Argentina's currency crash
Argentina's currency sunk to new lows today, sparking fears of a crisis that could expand throughout the region, Martin Aguirre writes for Axios.
The peso has lost 18% of its value against the U.S. dollar in the last 12 days despite an aggressive rate hike and the announcement of a loan from the IMF, per the FT.
Why it matters: President Mauricio Macri has been trying to push more pro-market policies after a decade of populist governments in Argentina. His reforms have not produced the desired economic boost in a country with high inflation and anemic growth.
There are real worries the storm will spread, but Argentina is "unusually vulnerable," the Economist reports: "Inflation expectations for this year have risen to 22%. ... Investors are worried by foreign-currency debt ... and large fiscal and current-account deficits. High interest rates and underdeveloped capital markets mean Argentina has been unable to find the financing it needs locally and in its own currency, as some developing countries have done."
6. Africa: Bracing for "worst-case" Ebola outbreak
The World Health Organization is mobilizing to fight an Ebola outbreak in the Democratic Republic of the Congo (DRC) that health officials say will be particularly tough and costly to eradicate, Axios Science Editor Andrew Freedman writes.
A total of 39 total Ebola cases have been reported in the area in the past five weeks, including two confirmed, 20 probable, and 17 suspected, the WHO said in a statement.
The outbreak is currently confined to the Bikoro health zone in the western part of the DRC, which has a population of about 160,000. It's nothing like the historic 2014-2016 outbreak that struck major cities in West Africa, which affected 30,000 people in three countries and killed more than 11,000.
The big picture: The WHO, along with local health workers, is trying to keep the outbreak contained in a rural area, while preparing for the "worst case scenario."
7. Stories we're watching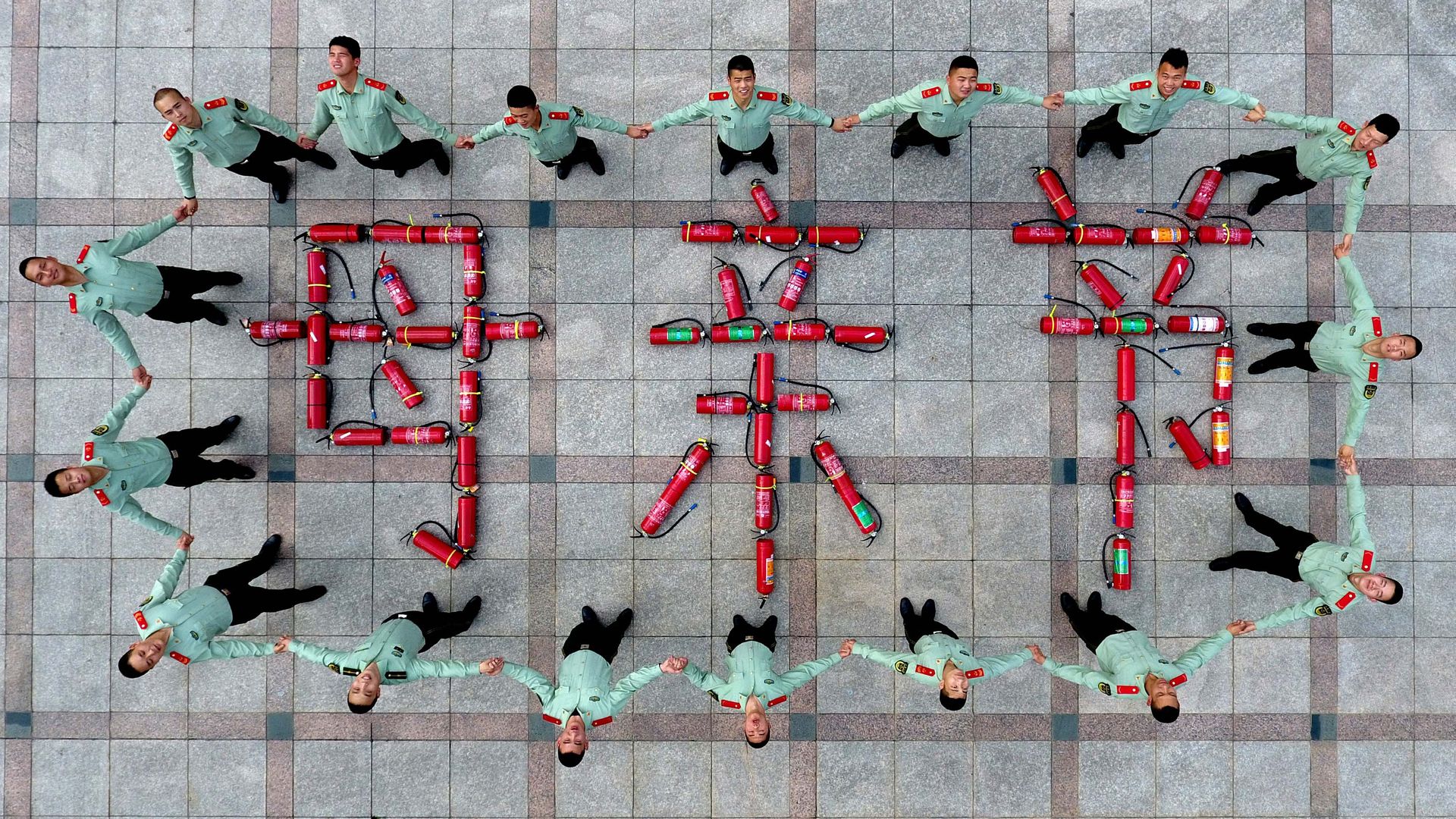 Thanks for reading! See you Thursday evening.