Welcome to Axios World, where two evenings a week we break down what you need to know about the big stories from around the globe.
Thanks for joining me! Please tell your friends and colleagues to sign up here, and I'd love your tips and feedback: [email protected]
BREAKING: President Trump, who is in the U.K., has given an interview to the Sun newspaper. He is quoted as saying Prime Minister Theresa May's plans for a "soft" Brexit "will probably kill" a potential trade deal with the U.S., and that May's rival Boris Johnson would make a "great prime minister."
1 big thing: Allies relieved Trump's jab wasn't a haymaker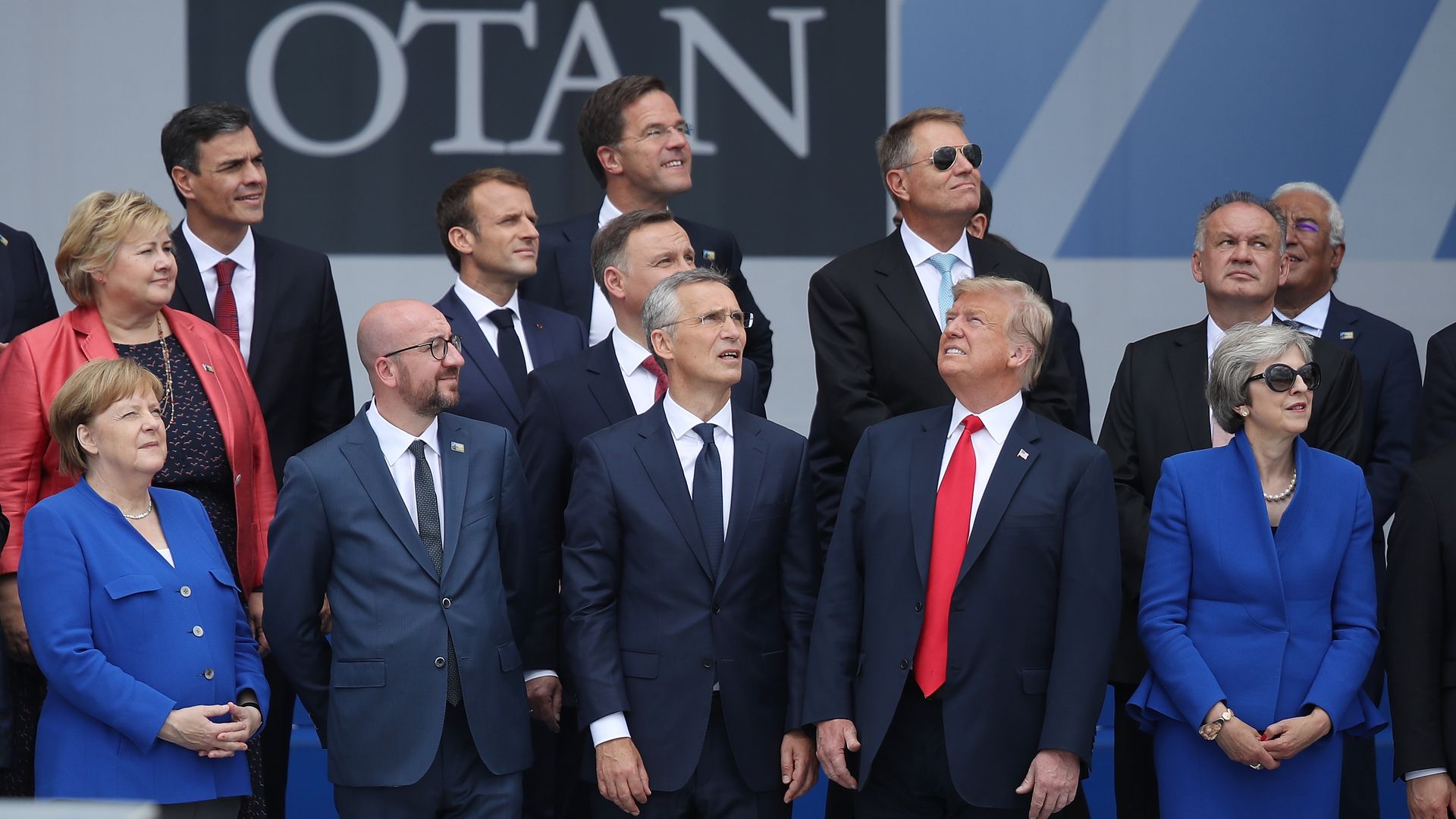 America's closest allies emerge from a NATO summit that felt like a giant group therapy session relieved that no fundamental damage was done, Axios' Jonathan Swan emails from Brussels:
"The Europeans felt a constant need to validate NATO and defensively explain why it's worthwhile. Trump is the shadow over everything here and even when a foreign official tries to avoid mentioning him, their remarks seem aimed at him."
"A European official told me: 'We try leave emotions out, so we just don't think about if we're angry. We focus on the outcome which is the communiqué. We are happy with that.'"
"A lot of it comes down to wishful thinking: When I questioned [NATO Secretary General Jens] Stoltenberg yesterday he chose to totally ignore Trump's public rhetoric and praise what the U.S. has been doing. So long as Trump doesn't act on his apparent instincts to reduce U.S. commitments overseas, foreign leaders will — publicly at least — keep pretending everything is ok and normal."
Catch up quick: The summit began with Trump berating allies for not spending enough on defense, and declaring Germany is "captive" to Russia due to a pipeline deal. It ended with a press conference in which Trump claimed allies had pledged to increase spending more than expected (France's Emmanuel Macron disagreed) and reiterated America's commitment to the alliance.
The big picture, from Tarun Chhabra of Brookings, who emails that U.S. administrations from both parties have been pressuring Europe for decades to raise defense spending, "or else."
"The difference now is that the 'or else' is here: Trump doesn't believe we share a long-term common interest with Europe in sustaining free and open societies from growing authoritarian pressure, subversion, and aggression. He therefore doesn't believe Russia poses a real threat."      
Threatening NATO didn't work in the past because "they knew we believed in NATO and would push but not shove. Now, Trump has leverage, but our allies are getting the sense he'll never be satisfied — because he ultimately doesn't believe in NATO."
"The summit could have been much worse, but we're hardly out of the woods. The higher stakes for NATO are at the follow-on summit with Vladimir Putin in Helsinki."
Smart takes, from the Axios Expert Voices network:
Go deeper: Read Swan's report from Brussels.
Bonus: NATO by the numbers
Here's how NATO members stacked up last year in terms of defense spending...
72% of all defense spending among NATO members comes from the U.S. The next biggest spenders — the U.K., France and Germany — together spend 20% of the U.S. total.
62,635 U.S. troops were based in Europe as of 2016, with about half of those in Germany. A new poll finds that 42% of Germans want those troops out of the country, compared to 37% who want them to stay.
62% of Americans have a favorable view of NATO, per Pew. That's right at the median among member states. 78% of Democrats have a favorable view, up from 58% in 2016. 47% of Republicans approve.
Go deeper: NATO by the numbers.
2. The next stop on Trump's European tour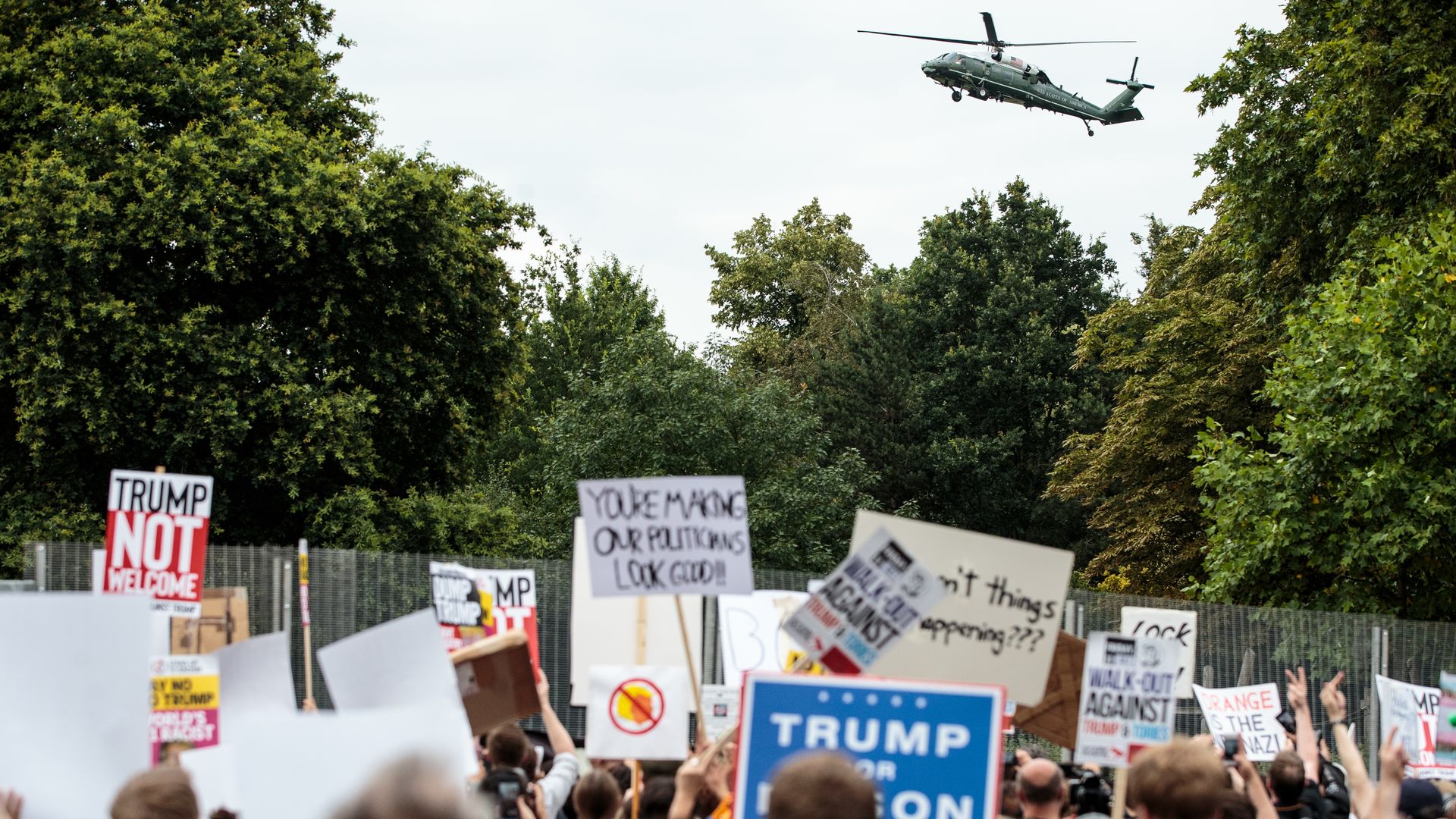 President Trump landed in London today to find the U.K., as he put it, "in turmoil." So where do things stand for Prime Minister Theresa May three days after two high-profile resignations sparked speculation her government might collapse?
Sebastian Payne, political editorial writer for the Financial Times, emails from London:
"May is desperate to unlock the Brexit negotiations, which have been stalled for months. She is now offering greater compromises to the EU that are infuriating Brexit-supporting MPs in her Conservative party. The surprise departures of senior ministers Boris Johnson and David Davis have put the jitters into the party."
"Many MPs who desire a clean break with the EU think the prime minister is selling them out — and the will of 17.4m Brits who voted to leave the EU. Others, however, think she is doing what is necessary to strike a deal that will ensure the U.K. makes a smooth exit from the bloc and protects the economy."
The bottom line: "Trump is absolutely correct about May's situation. But it is about to get worse: the prime minister will have to make even more compromises if she is to re-engage the EU and avoid a messy exit without a formal deal. For all the chatter about an impending leadership challenge, there's no obvious alternative to replace her. And there's no realistic alternative to her new gentler Brexit strategy."
3. Asia: Blasphemy politics in Pakistan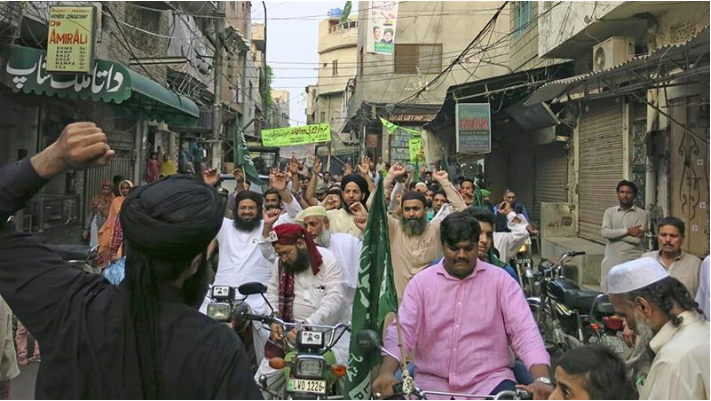 Photo: Asad Hashim/Al Jazeera
With Pakistan's general election just two weeks away, Al Jazeera's Asad Hashim reports from a motorcycle rally in Lahore held by a new hardline religious party, TLP, which calls for blasphemers to be put to death and celebrates those who have murdered the alleged perpetrators.
The TLP is confident it can mobilize a religiously-motivated vote on the basis of its anti-blasphemy and anti-corruption agenda.
Blasphemy is a sensitive issue in Pakistan, where at least 74 people have been killed in attacks motivated by blasphemy accusations since 1990, according to an Al Jazeera tally. The TLP's election posters often carry images of those who have killed in the name of the prophet's honor.
"When it involves the honor of the Prophet Muhammad, the finality of his prophethood or the dishonoring of his person, then every Muslim will become an extremist," says Ejaz Ashrafi, a senior TLP leader.
The bigger picture: TLP is still a fringe player, but the political environment is far from predictable, and new entrants are shaking up the political scene.
Go deeper: Read the full report on Al Jazeera.
4. Turkey: Erdogan wields his new powers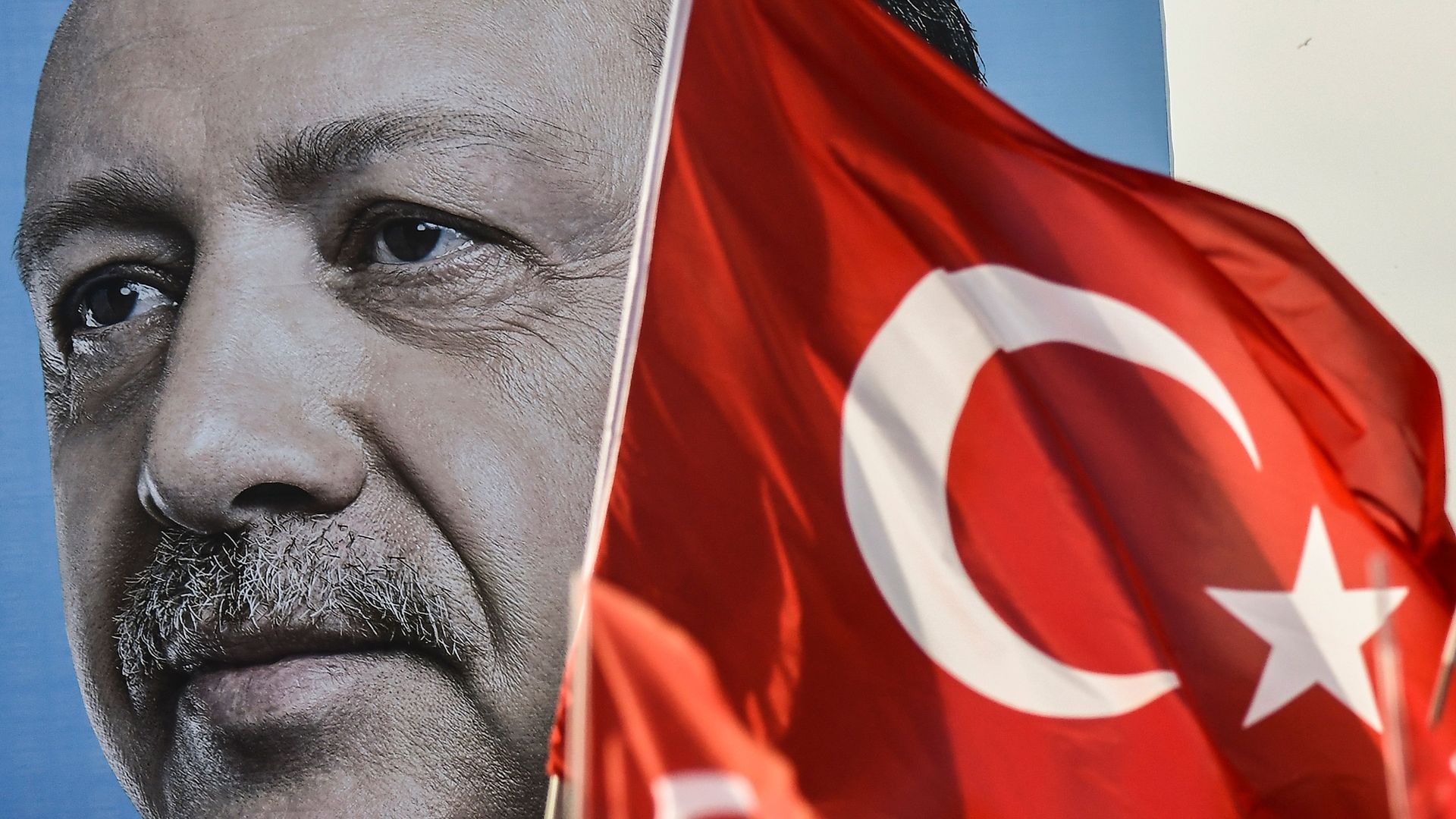 Turkish President Recep Tayyip Erdoğan was sworn in for a fresh term on Monday, assuming sweeping new executive powers granted in a 2017 referendum.
In recent days, he has continued his purge of the civil service, expelling 18,600 people from government jobs, appointed his son-in-law as finance minister and suggested the army, currently a separate institution, be brought under the authority of the defense ministry.
Soner Cagaptay, a Washington Institute for Near East Policy fellow and author of The New Sultan, lays out the bigger picture for Axios Expert Voices:
With the prerogative to appoint a majority of the judges to the Turkish high courts and his control of the country's legislature, Erdogan has become the most unassailable Turkish leader since Mustafa Kemal Ataturk established modern Turkey as a secular republic in 1923.
Yes, but: Turkey differs from other one-party-dominant countries, as the AKP vote has never surpassed 50%. Erdogan barely won the June 24 elections, with only 52% of the vote, and owed his victory to support from the allied Nationalist Action Party. Nearly half of the country vehemently opposes him.
The bottom line: Despite its limited electoral dominance, the AKP operates as if it has overwhelming support, and eschews consensus-building. As Erdogan continues to establish a dominant-party system over a split electorate, Turkish society may be heading for a long-term political crisis.
5. Trade winds blow parties apart
Trump is doing battle on trade on at least three fronts: a ballooning conflict with China, disputes over metals and autos that are infuriating allies like Japan and the EU, and combative NATO negotiations with Mexico and Canada.
So do Americans agree with Trump that China, Europe and their North American neighbors are all ripping the U.S. off? Some data on that, from Gallup.
By country... Canada: 65% of Americans say trade with Canada is fair, and 24% unfair. EU: 56% fair, 29% unfair. Japan: 55% fair, 33% unfair. Mexico: 44% fair, 46% unfair. China: 30% fair, 62% unfair.
By party... In every case, Republicans were less likely to consider trade fair. 49% of Republicans say trade with Canada is fair, for example, compared to 82% of Democrats. The other splits: EU (70% fair for Dems, 42% for GOP), Mexico (59% Dems/29% GOP), Japan (65% Dems/46% GOP) and China (38% Dems/21% GOP).
Times a changin'... Just 7% of Americans considered trade with Canada unfair in 1993, compared to 41% now, while Democrats are actually more likely to consider trade fair now. The trends are similar for Mexico and the EU.
Between the lines: Trump's base is buying what he's selling, and the GOP is now the more skeptical party when it comes to international trade.
6. World Cup roundup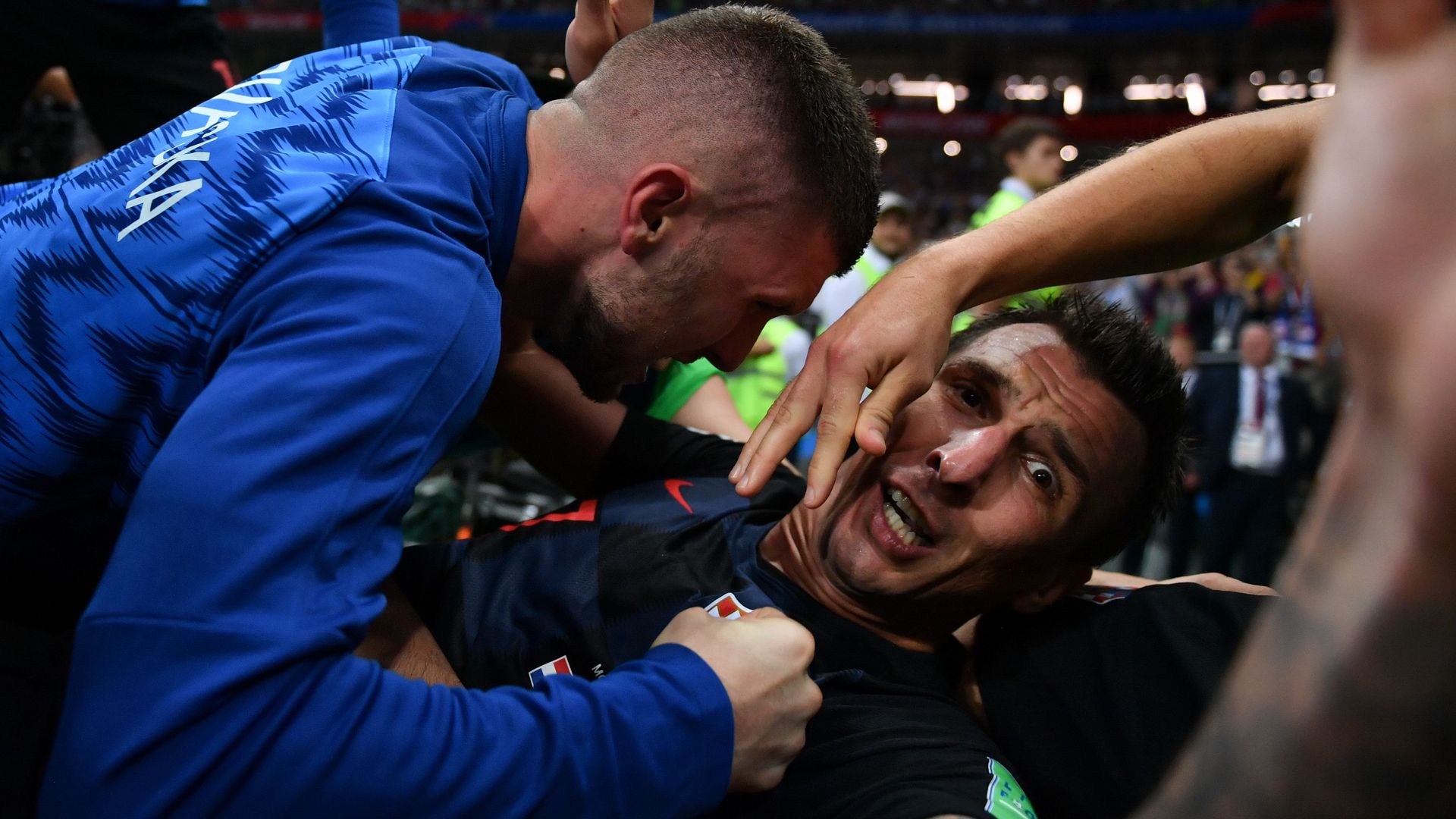 Thirty countries are gone, and two remain: France and Croatia will square off on Sunday for the World Cup title. A cheat sheet for those who'll be tuning in and may be coming to the tournament late:
Two players stealing headlines...
Kylian Mbappé, France's 19-year-old striking sensation. He'll be the one streaking up the field at astonishing speed.
Luka Modric, Croatia's midfield maestro and one of my favorite players to watch. He'll be the one popping up all over the field and making what's difficult look simple.
Breaking it down...
France are the favorites. They've paired talent with pragmatism on an unbeaten run to the final. Croatia have needed extra time to win each of their last three but have that whole 'team of destiny' thing going for them.
Sports as politics...
After what felt like a fairy tale run for the English team came to an end against Croatia, much of the coverage in the U.K. has focused on the unity the team brought to a divided nation. That unity doesn't seem likely to last long, but hopefully it doesn't take four years to return.
There's outrage in Kenya today over news that 20 members of parliament traveled to Russia to watch 4 World Cup Games at the taxpayer's expense, the BBC reports. Two problems with that: the Kenyan team came nowhere near the World Cup, and the government struggled to explain why such a large and expensive delegation was necessary.
7. Stories we're watching
Quoted:
"I think they like me a lot."
— Donald Trump on the people of the U.K.
Thanks for reading — see you Monday evening!