Welcome back to Axios World. Tonight's global tour is 1,528 words ( ~ 5 minutes).
Thanks for joining me! Please tell your friends and colleagues to sign up, and I'd love your tips and feedback:

[email protected]

. 
1 big thing: A "face-saving way out of Afghanistan"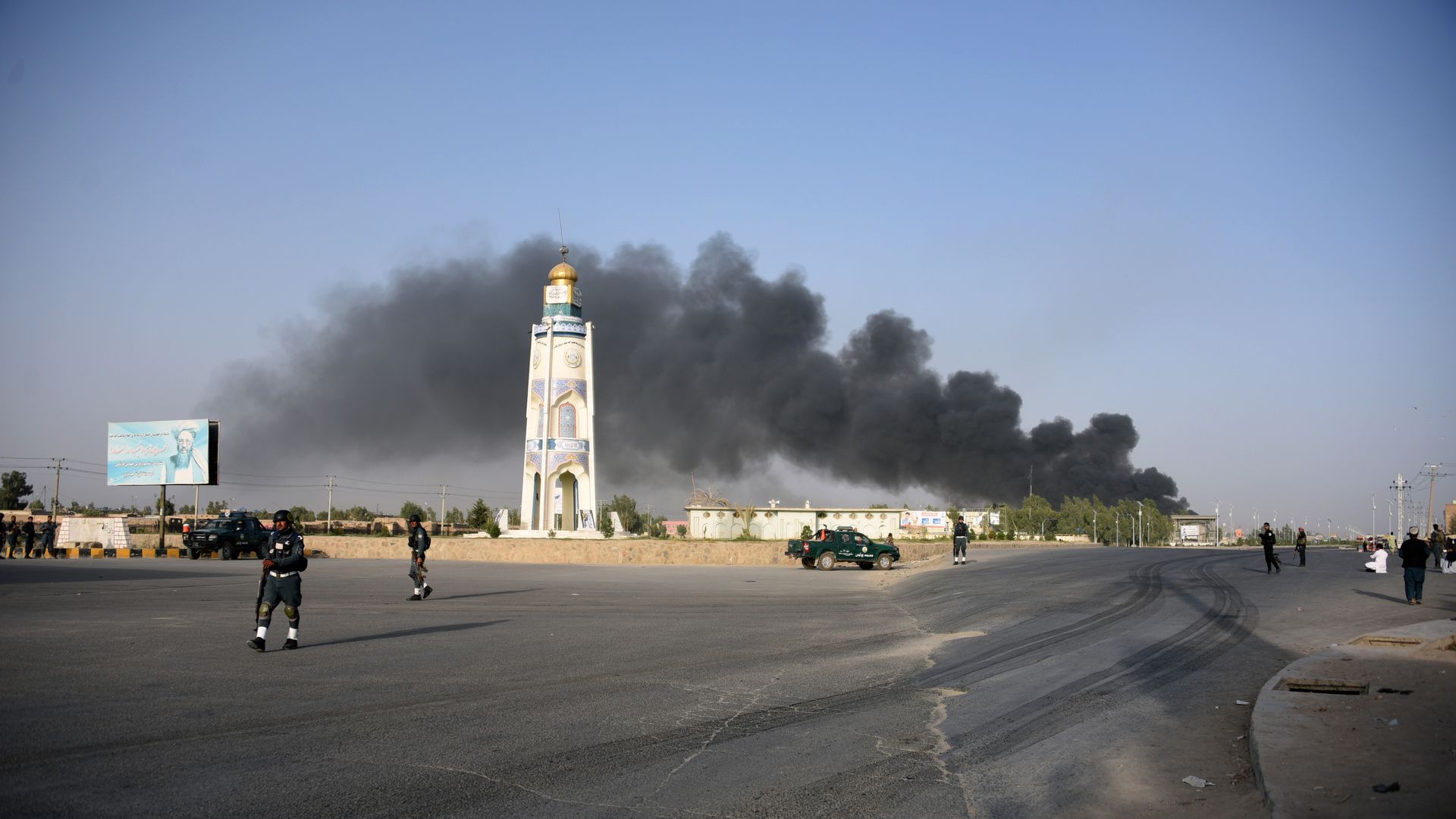 The ongoing negotiations between the U.S. and the Taliban are a "charade" designed simply to provide the U.S. a "face-saving way out of Afghanistan," former CIA deputy director Michael Morell tells Axios.
Why it matters: The Trump administration wants to move quickly toward a deal to end the war in Afghanistan. But Morell, who now hosts the Intelligence Matters podcast, is one of several experts and former officials warning that such a deal won't secure peace.
"The president has said the Taliban is tired. That's not true. The Taliban controls more territory than at any time since the 9/11 attacks and it seeks what it has always sought: to fully control Afghanistan as a one-party state," Morell contends.
He says a recent Taliban video that justifies the 9/11 attacks based on "interventionist" U.S. policies — and threatens "vengeance" against Afghan security forces — "represents their true views" more clearly than anything told to U.S. negotiators.
Despite the U.S. red line that Afghanistan never again be used as a base for international terrorism, Morell says the Taliban would welcome al-Qaeda back into the country after a U.S. withdrawal.
The big picture: "This argument I'm making — that the Taliban is going to take over, al-Qaeda is going to have a safe haven — is exactly the argument the president made to stay in Afghanistan two years ago," Morell says. "But we all know… [then-Defense Secretary] Jim Mattis kind of dragged him kicking and screaming to that, and the president wants out."
Where things stand: State Department spokeswoman Morgan Ortagus said today that the administration is "committed to" getting a peace deal, though she wouldn't confirm reports of a September deadline.
Asked why the time is right now, given ongoing Taliban attacks, she cited the blood and treasure the U.S. had committed over nearly 2 decades "to see the people of Afghanistan have a choice for their own future." She also referenced President Trump's calls for withdrawal dating back "to his campaign days."
The latest: Secretary of State Mike Pompeo and Afghan President Ashraf Ghani released a joint statement today intended to show a united front on the path ahead. But the Afghan government has been shut out of the U.S.-Taliban negotiations.
Husain Haqqani, a former Pakistani ambassador to the U.S. now at the Hudson Institute, says the Afghan officials with whom he's been speaking are deeply frustrated.
"How can a peace process take place when the United States will only talk to the enemy and not their ally," he says, referring not only to the exclusion of Kabul but also to Trump's embrace of Pakistan as a partner for peace.
"Real peace in Afghanistan would mean that the institutions that have been built over the last 17 years are retained and the Taliban gets a share in the existing political system," he says, "but the Taliban are ideologically not disposed to sharing power."
The bottom line: "I would bet that the U.S. intelligence community and policymakers have a pretty good understanding of what the Taliban's intentions are," Morell says. "So we're making a deal that we know isn't going to be kept just to save face, just to maintain honor."
2. Afghanistan: Something has to give
After nearly 18 years, Americans tend to view the war in Afghanistan as a failure.
Trump is far from the only politician, or even the only presidential hopeful, to call for withdrawal. Many of his potential 2020 rivals also argue it's time to bring U.S. troops home.
"I understand the politics in the United States and I understand that in order to have military force somewhere on the planet that has to have political support," Morell says.
He acknowledges that the shift in objectives to "remaking Afghanistan into a multi-party democracy didn't make a lot of sense at the time," adding, "that's what we failed at over the last 17 years."
What to watch: The administration has said the pace of withdrawal would be determined by conditions on the ground.
There are reports a small counter-terror force could remain in the country, though the Taliban is likely to reject such a proposal.
Morell says that if Trump is determined to pull out, he should "tell the Taliban that if al-Qaeda comes back we're going to do what we have to do."
3. Latin America: Venezuela's stalled uprising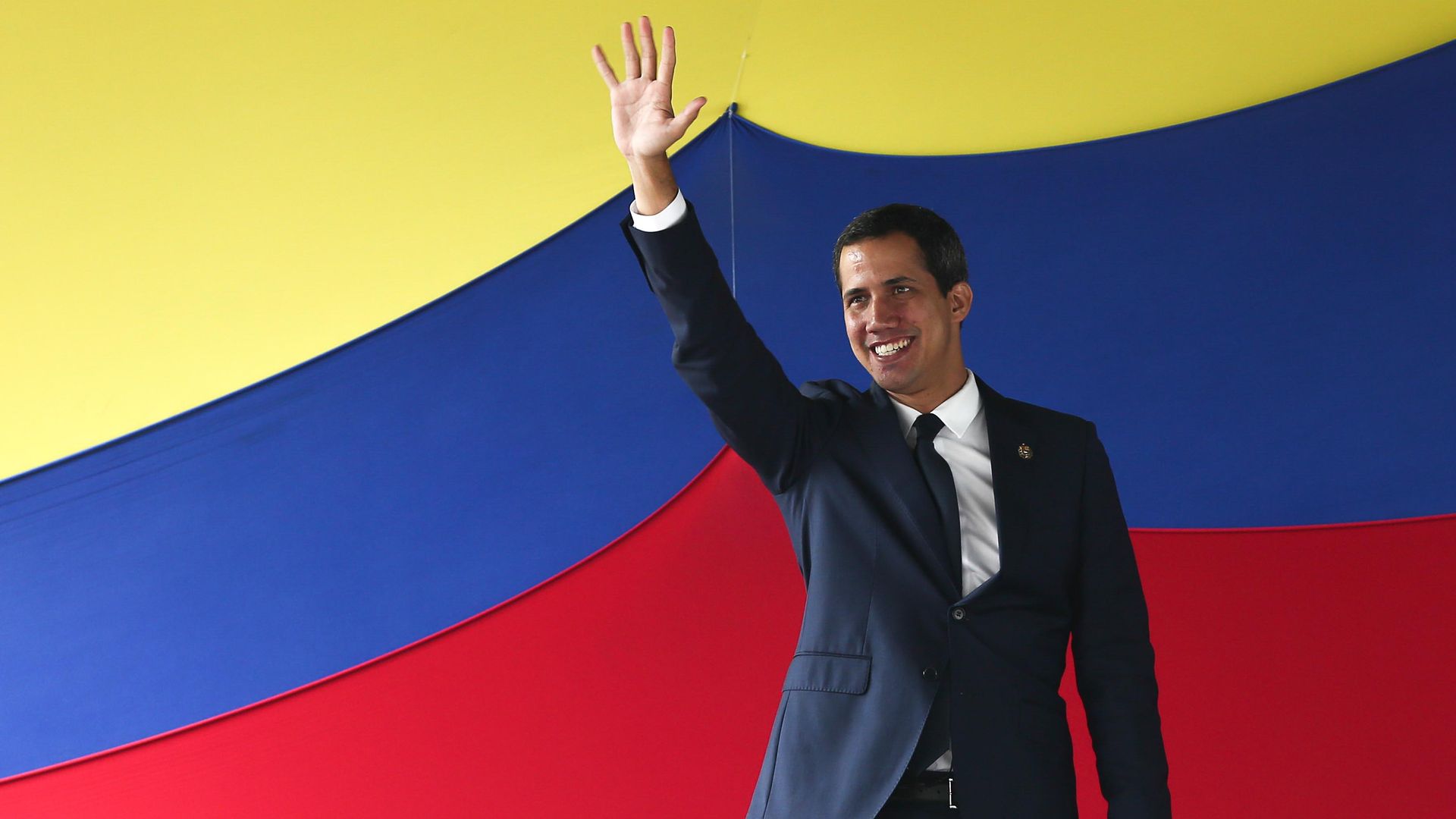 It has now been 6 months since Juan Guaidó declared himself Venezuela's legitimate president.
Flashback: The Trump administration demanded at the time that Nicolás Maduro leave office immediately, or else. He didn't. An attempt to topple him in April failed. Rumblings of potential U.S. military intervention haven't come to fruition.
Nevertheless, President Trump's Venezuela envoy says he's "absolutely" confident Maduro will be gone by year's end.
"I can't predict how the regime falls, I can't predict the date," Elliot Abrams said yesterday at the Foundation for the Defense of Democracies, "but I think it's inevitable."
Where things stand: Representatives of the Maduro regime and the opposition are holding talks in Barbados, mediated by Norway.
Guaidós ambassador to Washington, Carlos Vecchio, said at the event that there's no possibility of a political settlement unless Maduro steps down and elections follow.
I asked Abrams whether the U.S. now sees negotiations as the most likely endgame, rather than an uprising within the Venezuelan military. "People power in the streets, military coups, negotiated settlements, they interact," he said. "It's a combination of all these pressures."
Zoom out: Abrams said that of the outside actors in Venezuela, Cuba is the most vital to Maduro's survival because of the security and intelligence it provides.
He said Russia contributes the "psychological-political" boost of knowing "there's a big country backing you," though he claimed they're "hedging their bets."
"What China and Russia are doing is very interesting," he continued. "On the one hand, they're providing political support for the regime. On the other hand, they're wringing it dry."
"Venezuela's exporting roughly 750,000 barrels a day of oil. 500,000 goes to Russia and China... to pay back previous loans."
4. World news roundup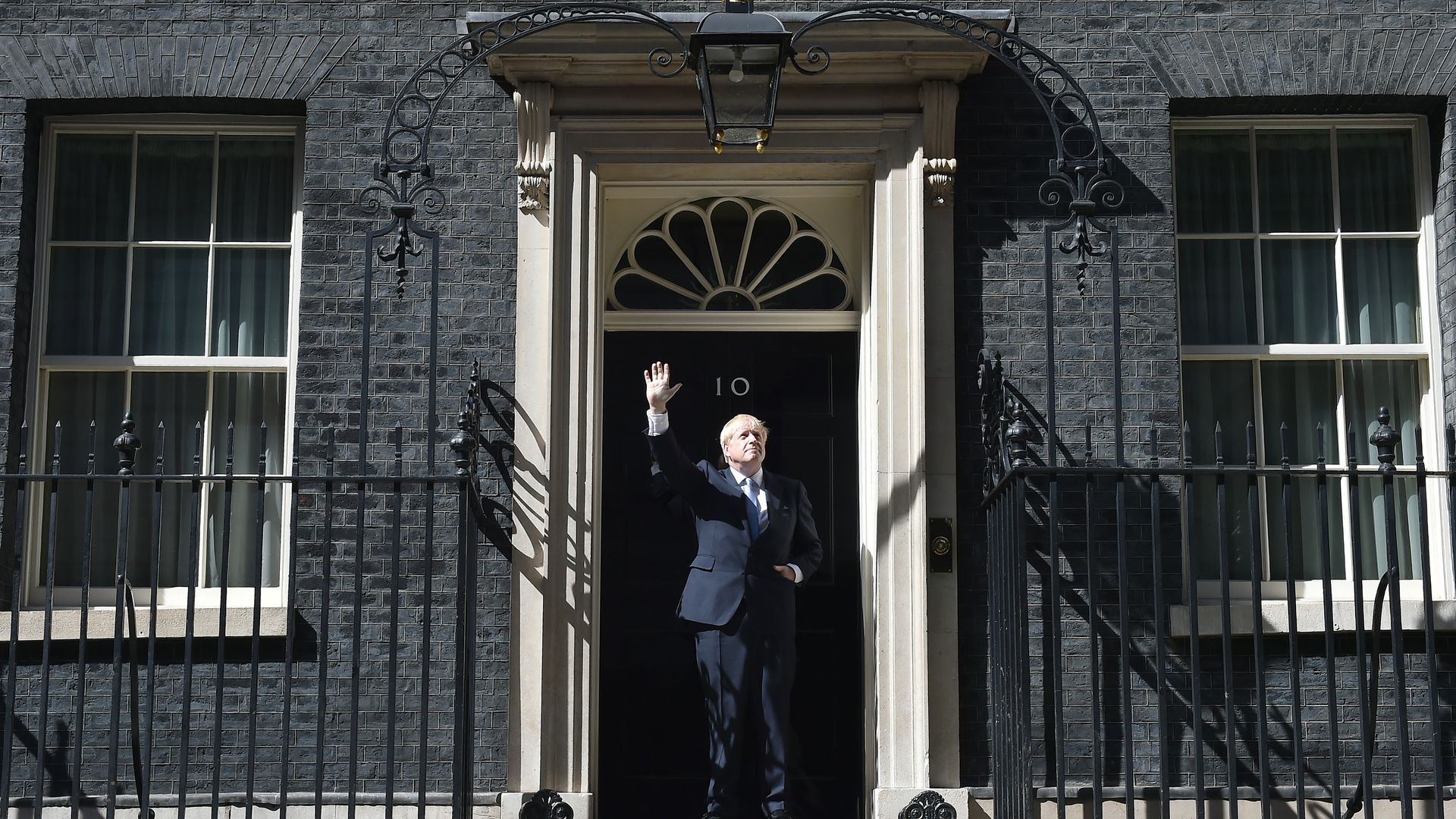 1. Prime Minister Boris Johnson brought the Theresa May era to a screeching halt on Wednesday, dispatching 17 Cabinet ministers and installing a team of loyalists and enthusiastic Brexit backers.
My thought bubble: The early (admittedly very early) signals are that Johnson may be setting a course for a general election later this fall.
He's already setting out red lines Brussels is unlikely to meet, and Parliament is poised to block his Plan B — a "no deal" Brexit.
Johnson could then call an election, framing himself as the man protecting British democracy from bureaucrats in Brussels and pessimists in Westminster.
2. "The death of Tunisian President Beji Caid Essebsi on Thursday will complicate the country's upcoming elections and may spell the end of his increasingly fractious political party," Sarah Yerkes of the Carnegie Endowment writes for Axios Expert Voices.
"The 92-year-old leader was Tunisia's first democratically elected president."
3. "Turkish Defence Minister Hulusi Akar met military officials on Thursday to discuss a possible offensive east of the Euphrates River in Syria as Ankara ramped up warnings of a cross-border operation," Reuters reports.
"The meeting came a day after Turkey said it would launch an offensive unless agreement on a planned safe zone in Syria could be reached with the United States, saying it had run 'out of patience' with Washington."
4. Spanish Prime Minister Pedro Sánchez failed for the second time to secure the parliamentary majority needed to form a government.
"He now has two more months to find a solution or face a general election," per the BBC.
5. "North Korea fired a new type of short-range ballistic missile in two launches into the sea Thursday," AP reports, citing South Korean officials.
"They were North Korea's first weapons launches in more than two months and appeared to be a pressuring tactic as Pyongyang and Washington struggle to restart nuclear negotiations."
Go deeper: North Korea's pattern of talks and provocations.
5. Europe: Heat and danger
A heat wave is roasting western Europe, where temperatures records are falling in quick succession, Axios' Ursula Perano notes.
Temperatures recorded today...
Paris area: 109 degrees Fahrenheit
Germany: 109
Netherlands: 105
Belgium: 105
London: 98
Why it matters: When heat waves hit Europe, they can kill. A 2003 heat wave killed 15,000 people in France.
"Until now, fewer than 5% of all European households have air conditioning, compared with 90% in the United States," the WashPost notes.
The good news: Europe is expected to cool down starting tomorrow.
6. Data du jour: Our world in 2050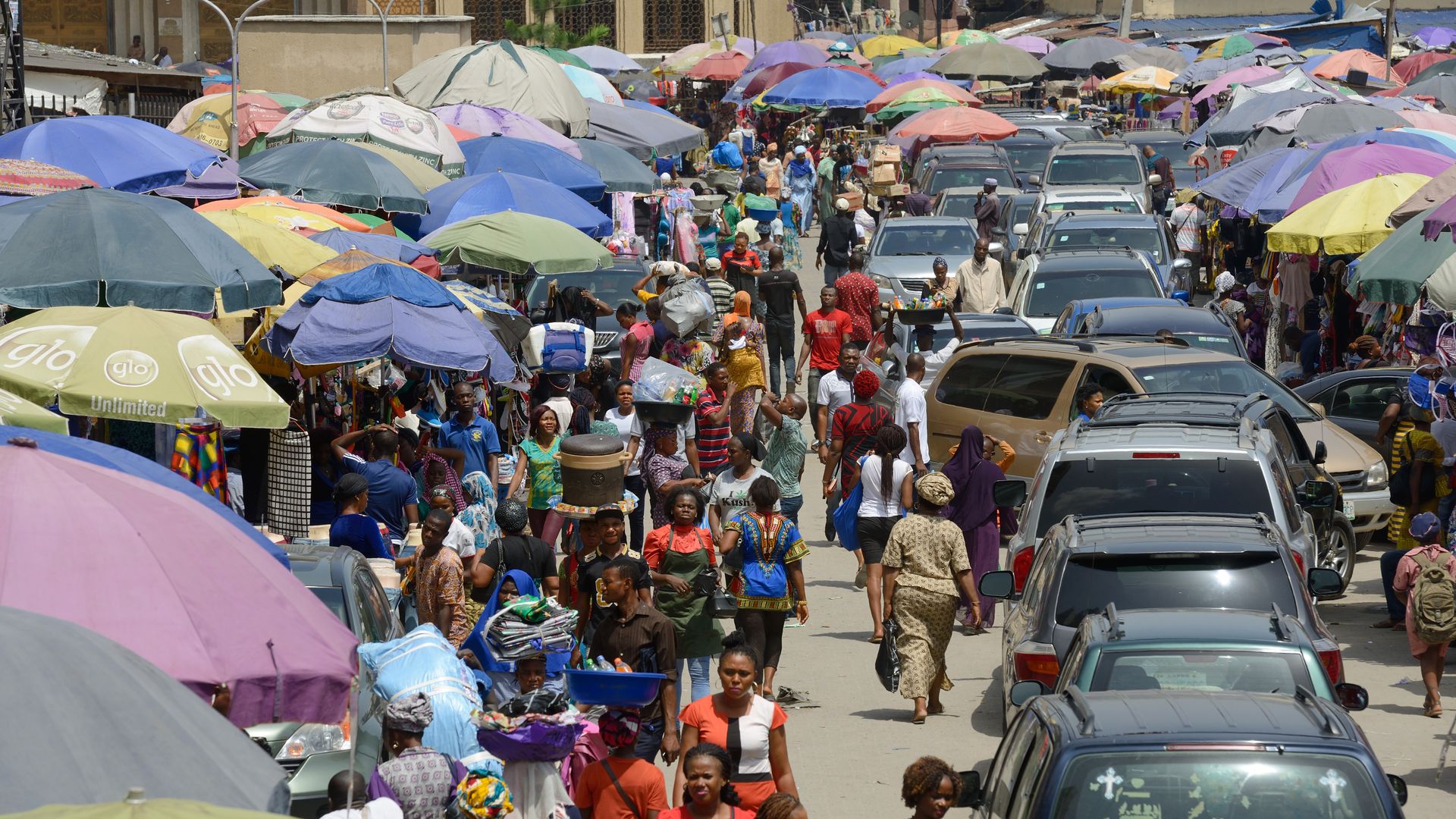 Between now and 2050...
The global population will rise from 7.7 billion to 9.7 billion. India will be home to 1.6 billion by then, and pass China's population within a decade.
Half the growth will come from 9 countries: India, Nigeria, Pakistan, DR Congo, Ethiopia, Tanzania, Indonesia, Egypt and the U.S.
55 countries will see their populations decrease. China will level off in the next decade or so and then gradually fall.
The population of sub-Saharan Africa will double, while the population of Eastern Europe will fall by around 11%.
... according to the UN's latest World Population Prospects update.
7. Stories we're watching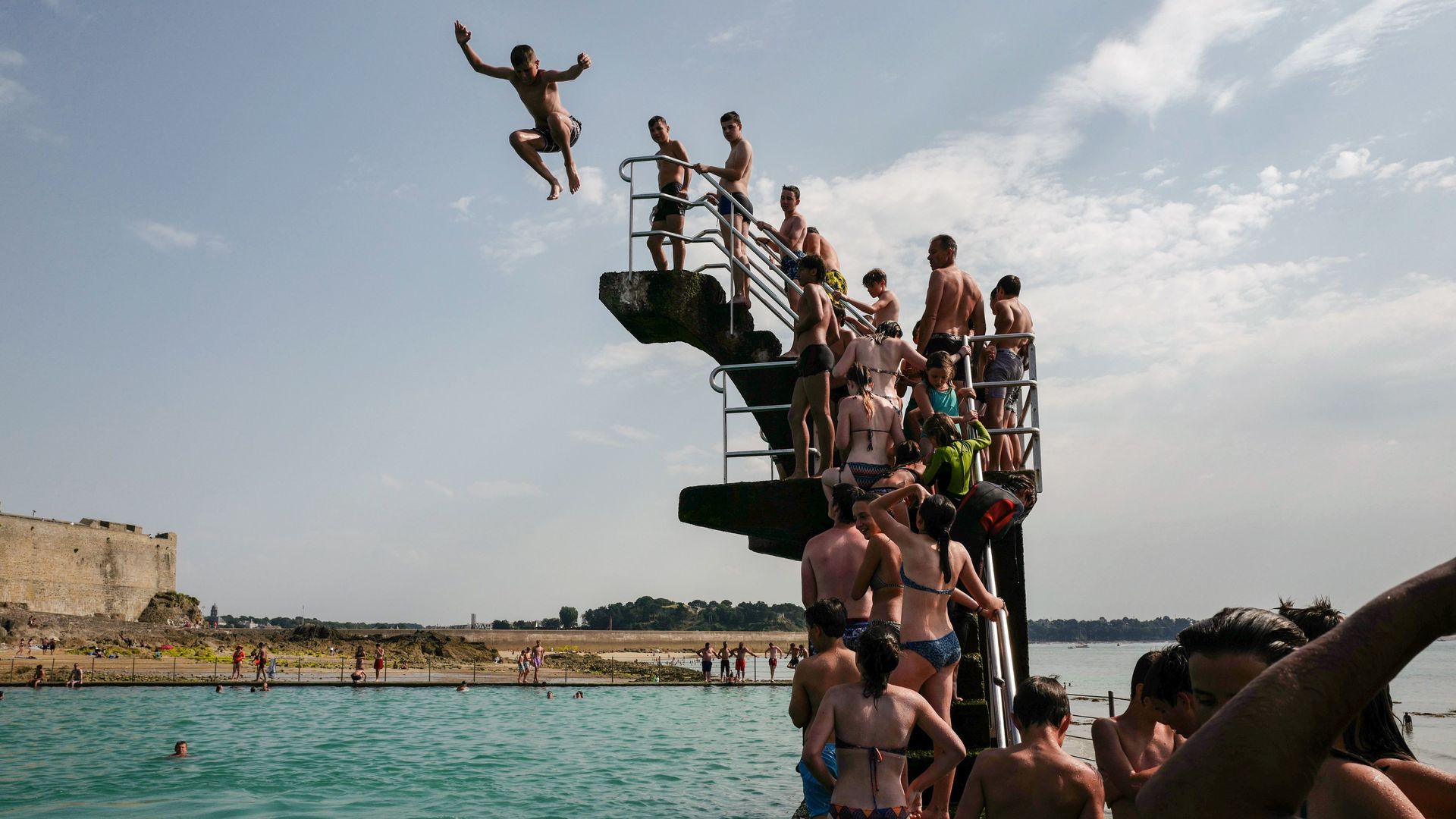 Quoted:
"We've got your ship, is it called Stella? And you've got our ship, which is called something else. Well, the best thing would be to say, 'Look, we let your ship go, you let our ship go.' Easy peasy."
— Boris Johnson's father,
to Iranian TV
.
Thank for stopping by — have a wonderful weekend.