August 27, 2021
All you need is a picnic-table-sized clearing in your backyard or driveway and you can get 3 pounds worth of stuff — rotisserie chicken, sushi, coffee, bread — delivered by drone (as long as you live in Logan, Australia).
Also below: The winner of today's What's Next photo competition. Let's feature your photo sometime!
How to get into the newsletter: Send us a picture you took, and 'splain what it says about What's Next in our world:

[email protected]

.
Today's Smart Brevity count: 1,070 words ... 4 minutes.
1 big thing: The drone delivery capital of the world
Drone delivery still seems exotic to most of us, but people in Logan, Australia, near Brisbane, routinely get food and other items delivered from the sky, Joann Muller writes.
Why it matters: On-demand delivery is growing alongside an explosion in e-commerce, fueled by changes in consumer behavior during the pandemic. With roadways ever more congested, airborne delivery could sometimes be a faster option.
What's happening: This weekend, Google's drone delivery service, Wing, expects to hit 100,000 deliveries in Logan, two years after starting operations there.
More than 50,000 deliveries were made in the past eight months, including a record 4,500 in the first week of August.
That includes more than 10,000 cups of coffee, 2,700 sushi rolls, 1,000 loaves of bread and 1,200 hot chooks (Australian slang for rotisserie chickens).
Wing started in two Logan neighborhoods and now serves 19 suburbs with a combined population of more than 110,000 people.
Of note: The Google delivery milestone comes a few weeks after Wired reported that Amazon's drone delivery program in the U.K. was "collapsing."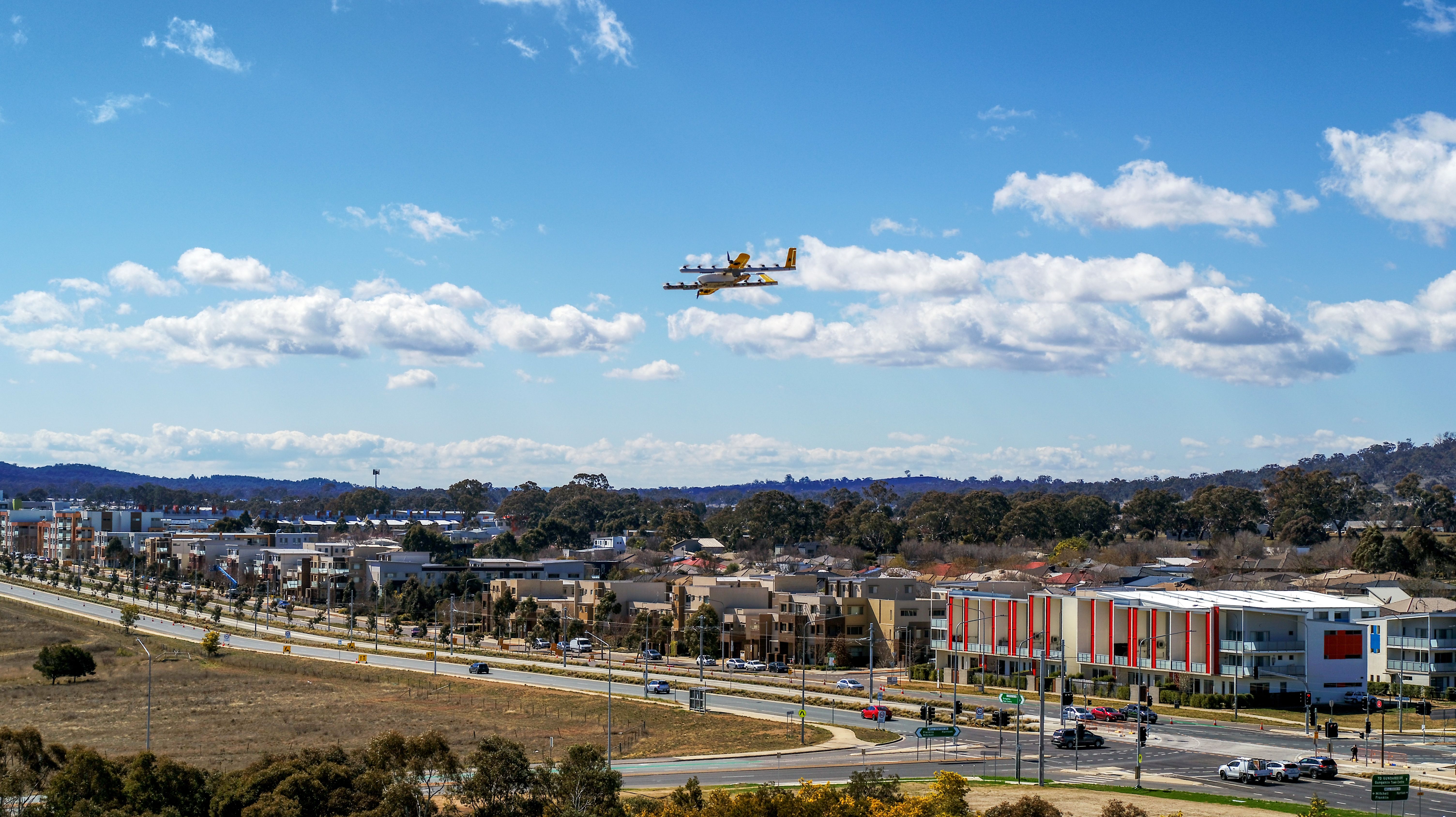 State of play: There are various commercial drone trials in the U.S., but the Federal Aviation Administration is still writing safety and navigational rules.
For now, drones can't fly beyond the line of sight of the operator, which limits any kind of regular delivery service.
Wing has an FAA waiver to test drone deliveries in a portion of Christiansburg, Virginia.
How it works: Wing's operation in Logan is a live, automated, on-demand service.
Customers use the Wing app to place orders from one of 11 participating vendors operating out of one of Wing's "nests," or operations centers.
Available items include coffee, food, hardware, clothing, pet supplies and beauty products — up to 3 pounds.
The vendor secures the order inside the package and attaches the box with a clip to the underside of the drone, which itself weighs just 10 pounds.
Wing's software chooses the optimal route to the destination, which can be as small as a picnic-table-sized clearing in someone's backyard, driveway or a nearby park.
When the drone arrives, it descends and hovers while the package is dropped down on a line. When it reaches the ground, the clip automatically releases the package, and the line recoils inside the drone.
Customers never interact with the drone itself.
By the numbers: The 3-pound weight cap would seem to be a limiting factor, but Wing says 90% of last-mile deliveries weigh less than 5 pounds.
We checked: The average rotisserie chicken — er, hot chook — is about 2 pounds, per Betty Crocker.
Be smart: Drone deliveries could be a novel service, but the real opportunity for drones is industrial. They can be used to survey and inspect buildings, pipelines and bridges, for example, keeping workers safely on the ground.
Go deeper: Fly me a pizza (or two)
2. Where the people are
Immigrati0n, affordability and access to good jobs are fueling population growth in places one might not necessarily expect, Jennifer A. Kingson writes.
Why it matters: The data from the U.S. Census Bureau, released this month, will be used for congressional redistricting.
And the rapid expansion of these exurbs hints at what America might look like down the road — less white, less urban and more culturally diverse.
Where it stands: Formerly sleepy places are being reshaped by rapidly swelling populations, influencing everything from politics and development to the local employment and retail scenes.
Buckeye, Arizona, in Maricopa County, grew the fastest.
New Braunfels, Texas — between San Antonio and Austin — "grew a whopping 56 percent over the last decade" and its expansion "is the story of a changing America," per the New York Times.
"The Anglo population has dipped below 60 percent for the first time in recent decades, with Latinos accounting for about 35 percent of residents."
Irvine — the only place in California to make the cut — grew 45% between 2010 and 2020, to 307,670 people, according to LAist. "Much of the growth was fueled by incoming Asian American and immigrant residents, estimated at more than 40% of the city."
The bottom line: Per the U.S. Census Bureau: "All 10 of the fastest-growing cities grew by at least 44 percent, and the fastest-growing one, Buckeye, Arizona, a western suburb of Phoenix, was up nearly 80 percent this decade to reach over 91,000 in population."
Go deeper: A shake-up in the ranks of powerhouse cities
3. First Drive: The 2022 Lucid Air
The Tesla-fighting Lucid Air is "an absolute mic drop," writes Motor Trend's Jonny Lieberman, who had the distinction of being the first journalist to test-drive Lucid Motors' buzzy debut model, Joann Muller writes.
Why it matters: Everybody's aiming for Tesla, which dominates the global market for electric cars. And in Motor Trend's opinion, at least, the bar has been raised. Lucid is "absolutely a threat to Tesla and other luxury carmakers," the magazine writes.
Details: Motor Trend's review focuses mostly on the Air's surprisingly nimble driving dynamics, and the 500-mile range of its massive 113-kilowatt-hour battery.
Lieberman drove the 933-horsepower Air Dream Edition R from Los Angeles to San Francisco — 409 miles — without recharging, and still had plenty of juice left.
And unlike Tesla, the Lucid has a proper interior, Motor Trend writes.
"Whereas every Tesla since day one has seemingly shipped without a finished interior, Lucid not only crafted a perfectly wonderful luxury-car cabin, but it also smartly avoided the screens über alles aesthetic that plagues cars like the Mercedes EQS.
"This isn't just a great interior for an electric vehicle — it's one of the nicest interiors in the car world."
Yes, but: What would you expect for $169,000?
My thought bubble: Jealous.
4. We're still not back in the office
This tweet from Michael Hendrix, director of state and local policy at the Manhattan Institute, encapsulates the ongoing WFH limbo that so many of us are experiencing.
It references a new survey by the Partnership for New York City that found — among other things — that "58% of companies that disclosed their vaccination policy plan to require that all employees are vaccinated for COVID-19 (with appropriate exemptions)."
44% plan to require that all office guests are vaccinated.
Reader photo
What's Next: Smoky skies as a fact of life in the West
Stefan Jon Silverman writes: "Summer 2020: Stitched-together panorama shot from the San Francisco Brannan St. Wharf of the orange skies caused by wildfires to the north.
"Just waiting for more as our dystopian fire season rolls on this year. ..."