Axios What's Next
November 03, 2022
Jennifer spent yesterday morning at Google's NYC offices, where the company showed her the latest and greatest in its myriad AI efforts.
Today's newsletter is 1,108 words ... 4 minutes.
1 big thing: Google's AI vision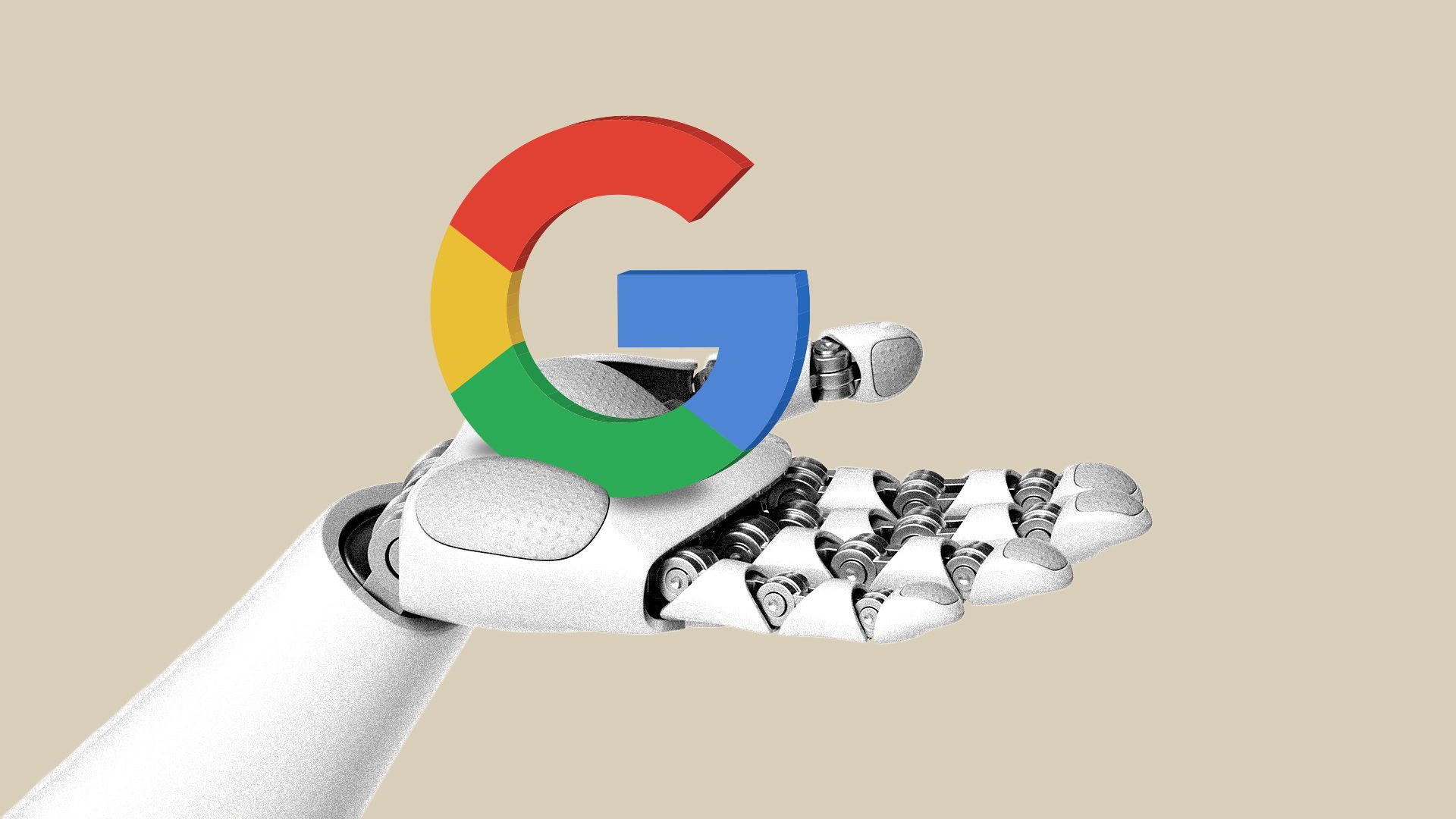 Google's research arm on Wednesday showed off a whiz-bang assortment of artificial intelligence (AI) projects it's incubating, aimed at everything from mitigating climate change to helping novelists craft prose, Jennifer A. Kingson reports.
Why it matters: AI has breathtaking potential to improve and enrich our lives — and comes with hugely worrisome risks of misuse, intrusion and malfeasance, if not developed and deployed responsibly.
Driving the news: The dozen-or-so AI projects that Google Research unfurled at a Manhattan media event are in various stages of development.
On the "social good" side:
Wildfire tracking: Google's machine-learning model for early detection is live in the U.S., Canada, Mexico and parts of Australia.
Flood forecasting: A system that sent 115 million flood alerts to 23 million people in India and Bangladesh last year has since expanded to 18 additional countries.
Maternal health/ultrasound AI: Using an Android app and a portable ultrasound monitor, nurses and midwives in the U.S. and Zambia are testing a system that assesses a fetus' gestational age and position in the womb.
Preventing blindness: Google's Automated Retinal Disease Assessment (ARDA) uses AI to help health care workers detect diabetic retinopathy.
The "1,000 Languages Initiative": Google is building an AI model that will work with the world's 1,000 most-spoken languages.
On the more speculative and experimental side:
Self-coding robots: In a project called "Code as Policies," robots are learning to autonomously generate new code.
Wordcraft: Several professional writers are experimenting with Google's AI fiction-crafting tool.
The big picture: Fears about AI's dark side — from privacy violations and the spread of misinformation to losing control of consumer data — recently prompted the White House to issue a preliminary "AI Bill of Rights," encouraging technologists to build safeguards into their products.
While Google published its principles of AI development in 2018 and other tech companies have done the same, there's little-to-no government regulation.
Although investors have been pulling back on AI startups recently, Google's deep pockets could give it more time to develop projects that aren't immediate moneymakers.
Yes, but: Google executives sounded multiple notes of caution as they showed off their wares.
AI "can have immense social benefits" and "unleash all this creativity," said Marian Croak, head of Google Research's center of expertise on responsible AI.
"But because it has such a broad impact on people, the risk involved can also be very huge. And if we don't get that right ... it can be very destructive."
Still, there's fun stuff: This summer, Google Research introduced Imagen and Parti — two AI models that can generate photorealistic images from text prompts (like "a puppy in a nest emerging from a cracked egg"). Now they're working on text-to-video:
Imagen Video can create a short clip from phrases like "a giraffe underneath a microwave."
Phenaki is "a model for generating videos from text, with prompts that can change over time and videos that can be as long as multiple minutes," per Google Research.
AI Test Kitchen is an app that demonstrates text-to-image capabilities through two games, "City Dreamer" (build cityscapes using keywords) and "Wobble" (create friendly monsters that can dance).
The bottom line: Despite recent financial headwinds, AI is steamrolling forward — with companies such as Google positioned to serve as moral arbiters and standard-setters.
2. Pilots maneuver toward a strike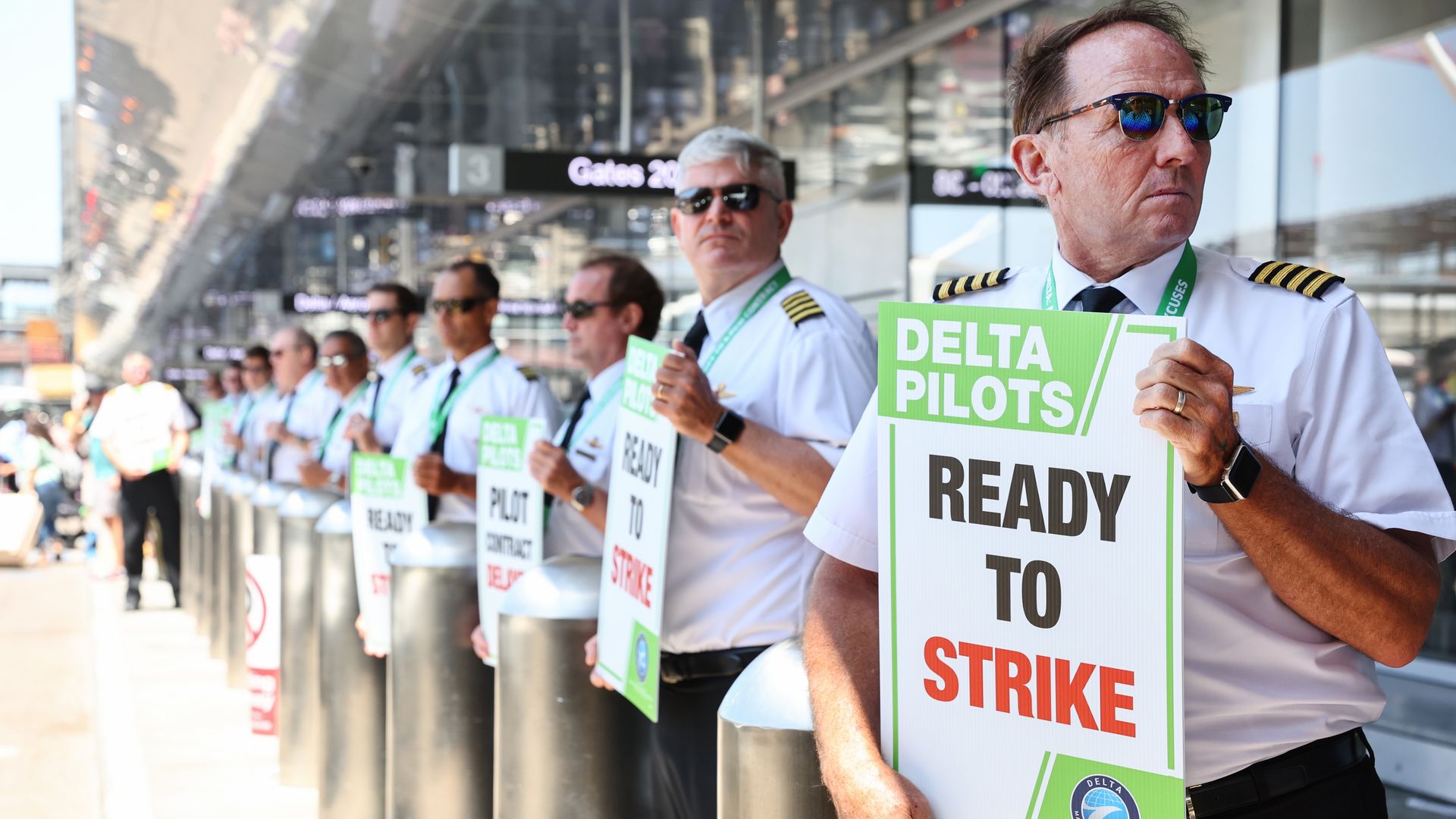 Pilots at some of the biggest U.S. airlines are inching closer toward striking, Axios' Shawna Chen reports.
Driving the news: Delta Air Lines pilots voted Monday to strike if necessary in their fight for higher wages, better benefits and greater flexibility.
A day later, United Airlines pilots rejected an agreement with the company and said they would start an informational picketing campaign.
What they're saying: Pilots argue that their airlines have rebounded from the COVID-19 pandemic, and their pay and benefits packages should reflect that.
"Delta ... is poised to be stronger than ever, posting record revenues for the third quarter," Capt. Jason Ambrosi, chair of the Delta Master Executive Council (which coordinates union matters among pilots), said in a statement.
"Meanwhile, our negotiations have dragged on for too long. Our goal is to reach an agreement, not to strike."
Worth noting: American Airlines pilots are considering a tentative agreement with management.
Reality check: It's hard for pilots to actually strike, and various arbitration and "cooling-off" mechanisms mean that if a pilot strike actually materializes, it probably wouldn't happen until after the holiday season.
3. VR in the car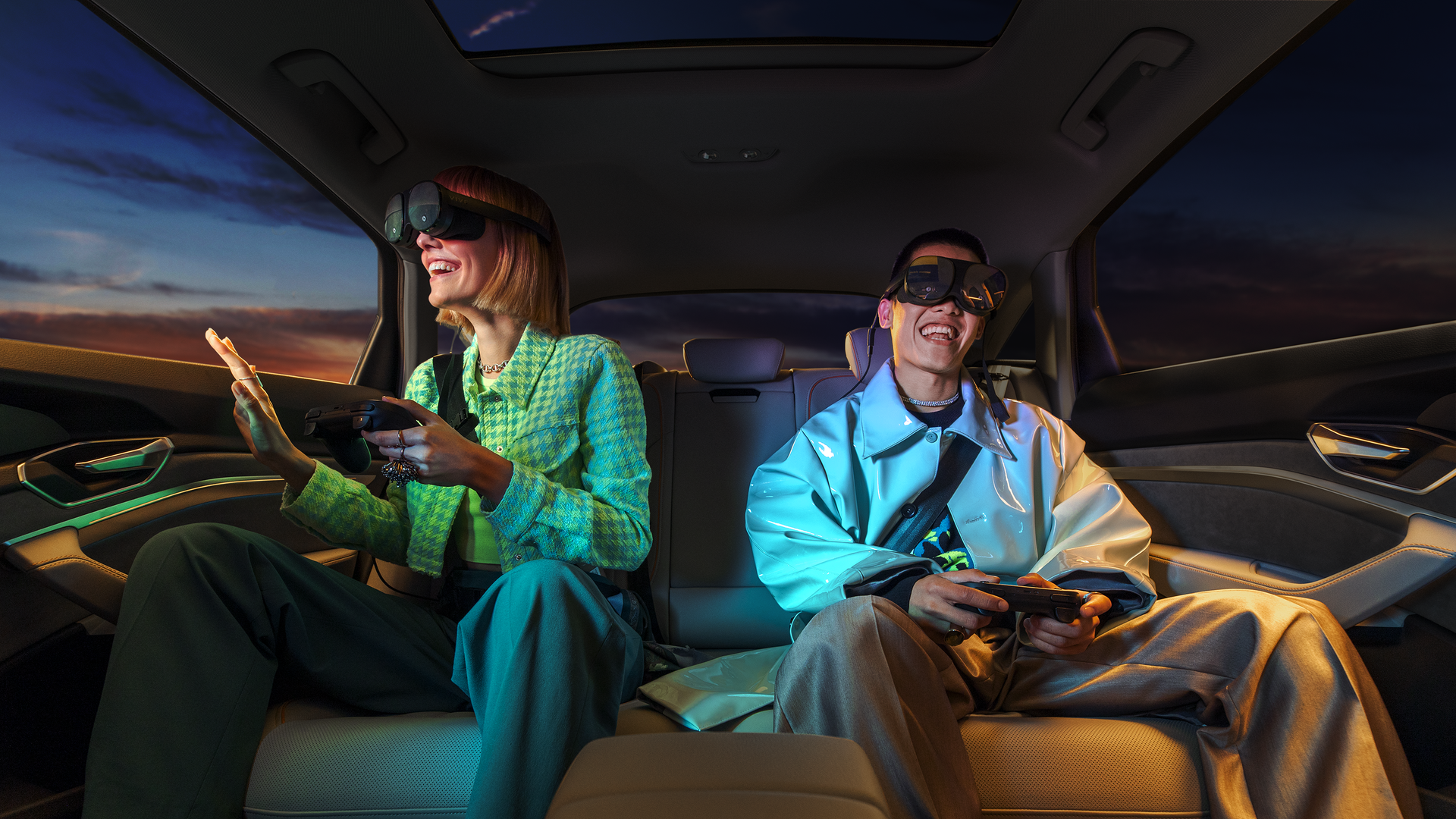 Audi spin-off Holoride is launching a $700 virtual reality (VR) setup for car passengers that syncs games with vehicles' motion, Axios' Ina Fried reports.
Using VR in the car may sound especially nausea-inducing, but Holoride thinks plenty of teenagers being driven around by their parents might be game.
Details: Holoride connects with cars via Bluetooth and uses the turns and twists of the road as action within games.
It will be available in mid-November in Germany; the company expects a U.S. launch early next year.
"It was entertaining to see the gameplay shift as the car made turns around my neighborhood," Ina wrote about her hands-on experience. "Though I'm not sure how long I would be interested in playing Cloudbreakers," the lone first-person shooter game that the company has customized to incorporate the car's motion.
4. 📈 Battery woes
The global turmoil keeping oil prices high is also undercutting the transition to electric-everything, Axios' Alan Neuhauser writes.
Driving the news: A new S&P Global Mobility report finds that geopolitical problems — along with supply chain disruptions and inflation — are sending prices for critical minerals needed in batteries soaring.
Why it matters: Batteries are at the heart of the energy transition — they're needed for electric vehicles, for firming up intermittent renewables such as wind and solar, and for on-site backup power.
"The battery will be the defining technological and supply chain battleground for the industry in the next decade," the report says.
5. Where have all the big birds gone?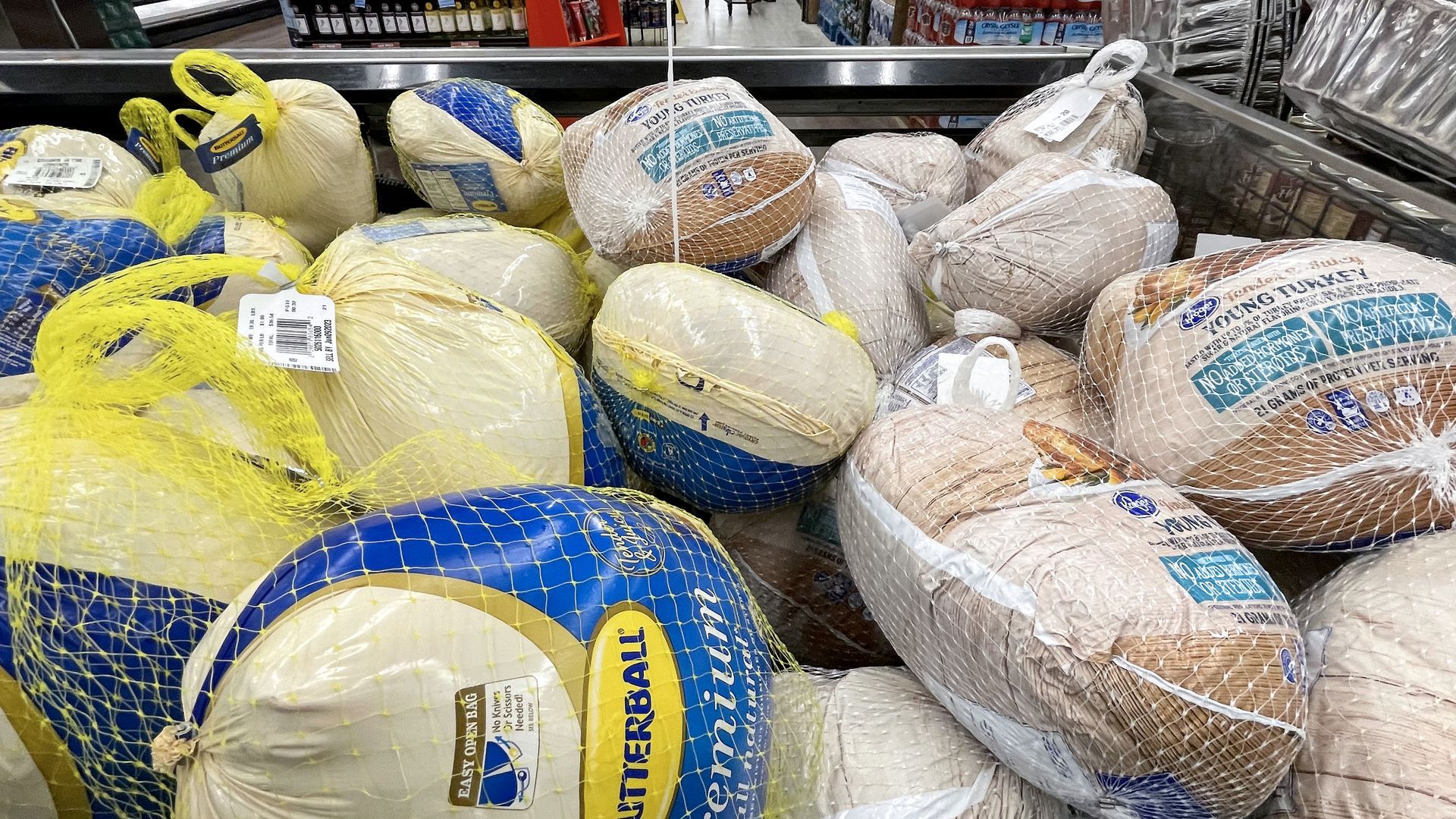 There could be a shortage of big turkeys this Thanksgiving season, Axios' Kelly Tyko and Emily Peck report.
Driving the news: Finding 20-pound turkeys could be difficult this year because of recent avian flu outbreaks, U.S. Secretary of Agriculture Tom Vilsack said in a Tuesday call with reporters.
What they're saying: "Some of the turkeys that are being raised right now for Thanksgiving may not have the full amount of time to get to 20 pounds," Vilsack said on the call.
Yes, but: Finding smaller birds shouldn't be a struggle.
"I don't think you're going to have to worry about whether or not you can carve your turkey on Thanksgiving," Vilsack said. "It's going to be there — maybe smaller, but it'll be there."
Big thanks to What's Next copy editor Amy Stern.
Was this email forwarded to you? Get your daily dose of What's Next by signing up here for our free newsletter.