Axios Vitals
June 02, 2023
😎 Happy Friday, Vitals readers. Today's newsletter is 1,172 words or a 4½-minute read.
1 big thing: New CMS Alzheimer's drug coverage plan raises questions around worth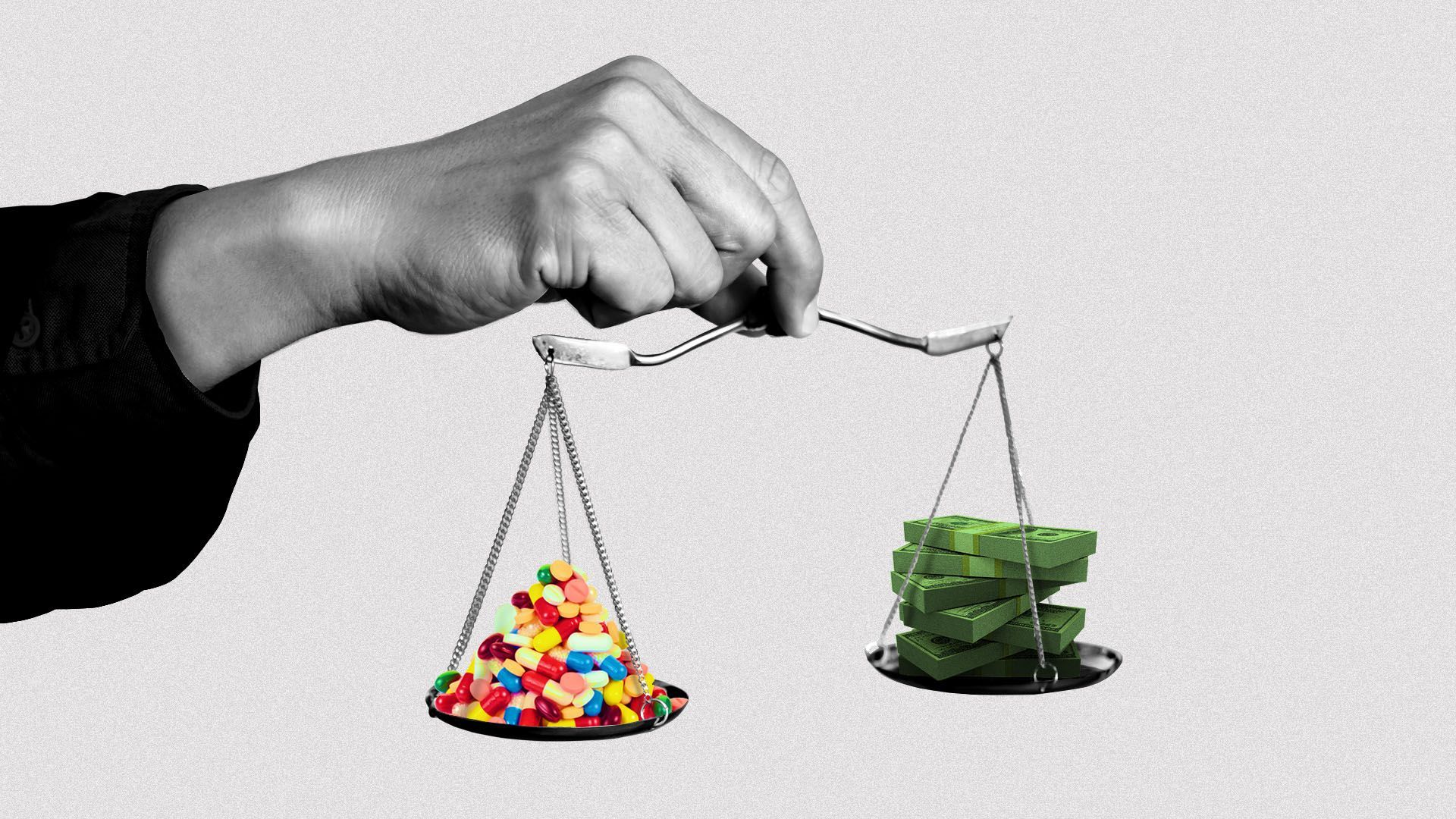 A Medicare plan for covering new Alzheimer's drugs treatments is reviving thorny questions about whether pricey treatments with modest success slowing the disease's progression are worth the cost and safety concerns, Axios' Oriana González writes.
Driving the news: The Centers for Medicare and Medicaid Services on Thursday outlined conditions under which it would expand coverage for a specific class of Alzheimer's drugs, including Eisai and Biogen's experimental Leqembi.
The plan came a week before advisers for the FDA are due to weigh giving the drug full approval — which could pave the way for more Medicare beneficiaries to access the drug.
But health experts have urged the FDA to review safety concerns around Leqembi, which was found to delay cognitive decline by 27% over 18 months but was linked to the deaths of three clinical trial patients.
Providers have questioned if the clinical benefits of the $26,500 per year treatment are clinically meaningful to an Alzheimer's patient for whom clear improvement might not be visible.
What they're saying: Leqembi is "very expensive, it doesn't hit a high rate of success and even the success that it achieves is small," said Arthur Caplan, director of the division of medical ethics at the New York University Grossman School of Medicine.
Caplan added that while Alzheimer's patients may be "desperate to get anything they can to slow the disease," there are still doubts around how beneficial it is to get "a tiny impact on a minority of people for a huge cost."
State of play: CMS now limits coverage of experimental Alzheimer's treatments to patients that are enrolled in clinical trials. Full approval would immediately expand coverage to beneficiaries in Medicare Part B if the prescribing physician agrees to collect, and share with CMS, data about the drug's performance.
Registries are "incredibly common," a CMS official told Axios, adding that doctors and other providers may already know how to work with them: "This is something that is very intentional on our part, we don't want to put a big burden on physicians."
CMS said that continued tracking of the drug's performance could provide more "knowledge of how these drugs can potentially help people."
The other side: PhRMA, the pharmaceutical industry's main lobbying group, said in a statement that it was "disappointed" by CMS' move, because use of a registry "significantly constrains access" to the drug.
2. Ex-N.C. health secretary in line to head CDC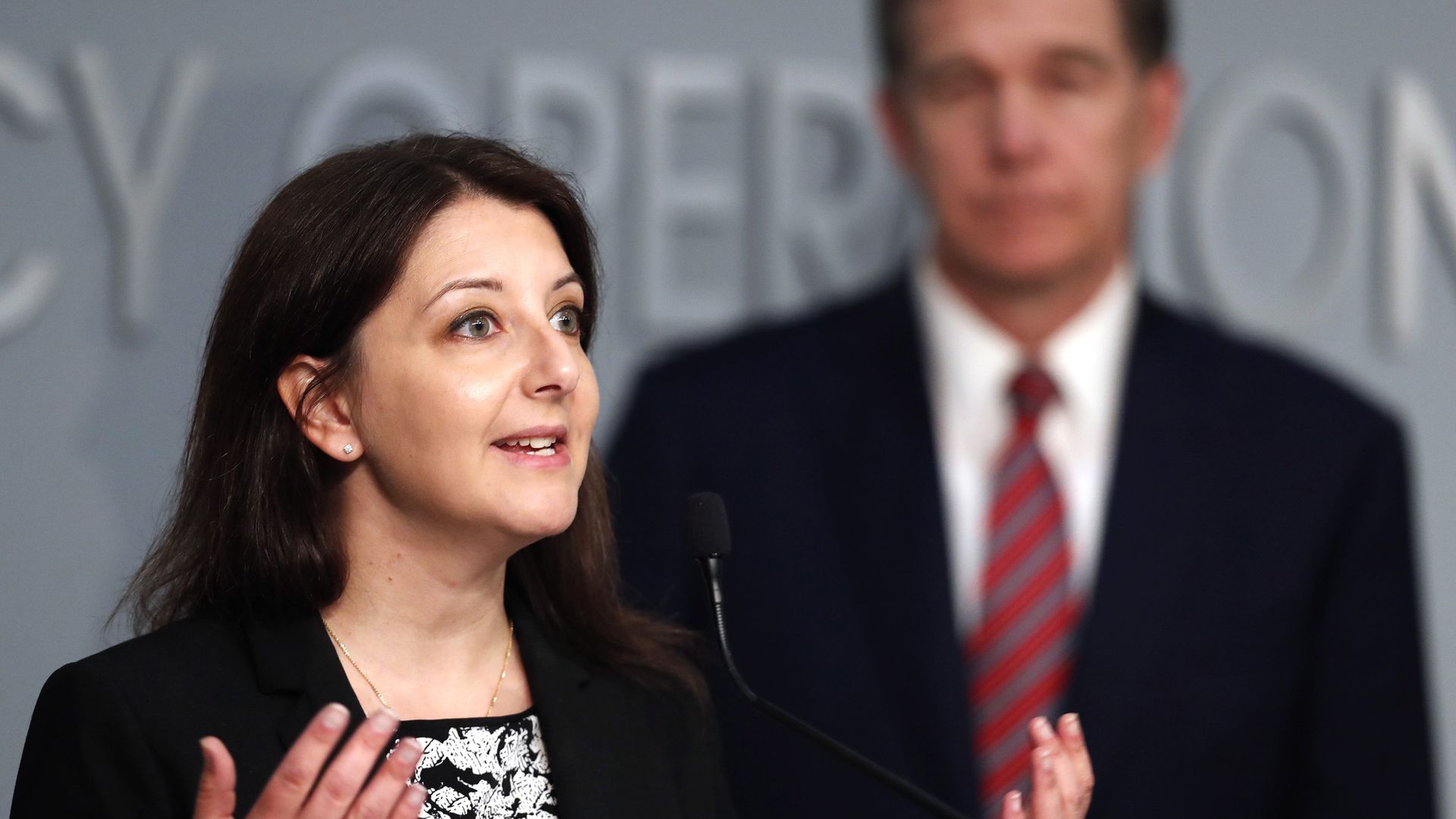 Mandy Cohen, the high-profile former head of the North Carolina Department of Health and Human Services, is in line to be the next director CDC, the Washington Post reports.
Why it matters: Cohen, a three-time Ivy League graduate, was the face of Democratic Gov. Roy Cooper's administration's response to the COVID-19 pandemic, leading more than 100 press conferences to guide the state through weekly updates on the virus.
That response, she said in a speech last month, increased public confidence in the state's health information and services.
"Trust was not built at the national level, but I know trust was built in North Carolina," Cohen said.
The big picture: The next CDC director, the Post writes, will face the enormous task of reforming the department so it can more adequately respond to the next pandemic.
They'll also be responsible for communicating the latest science to Americans at a moment when trust in government is declining.
What's next: Cohen would replace current CDC director Rochelle Walensky, who will step down June 30. CDC director designates don't require Senate confirmation if appointed before Jan. 20, 2025, when a congressionally mandated change takes effect.
3. SCOTUS sides with government in false claims ruling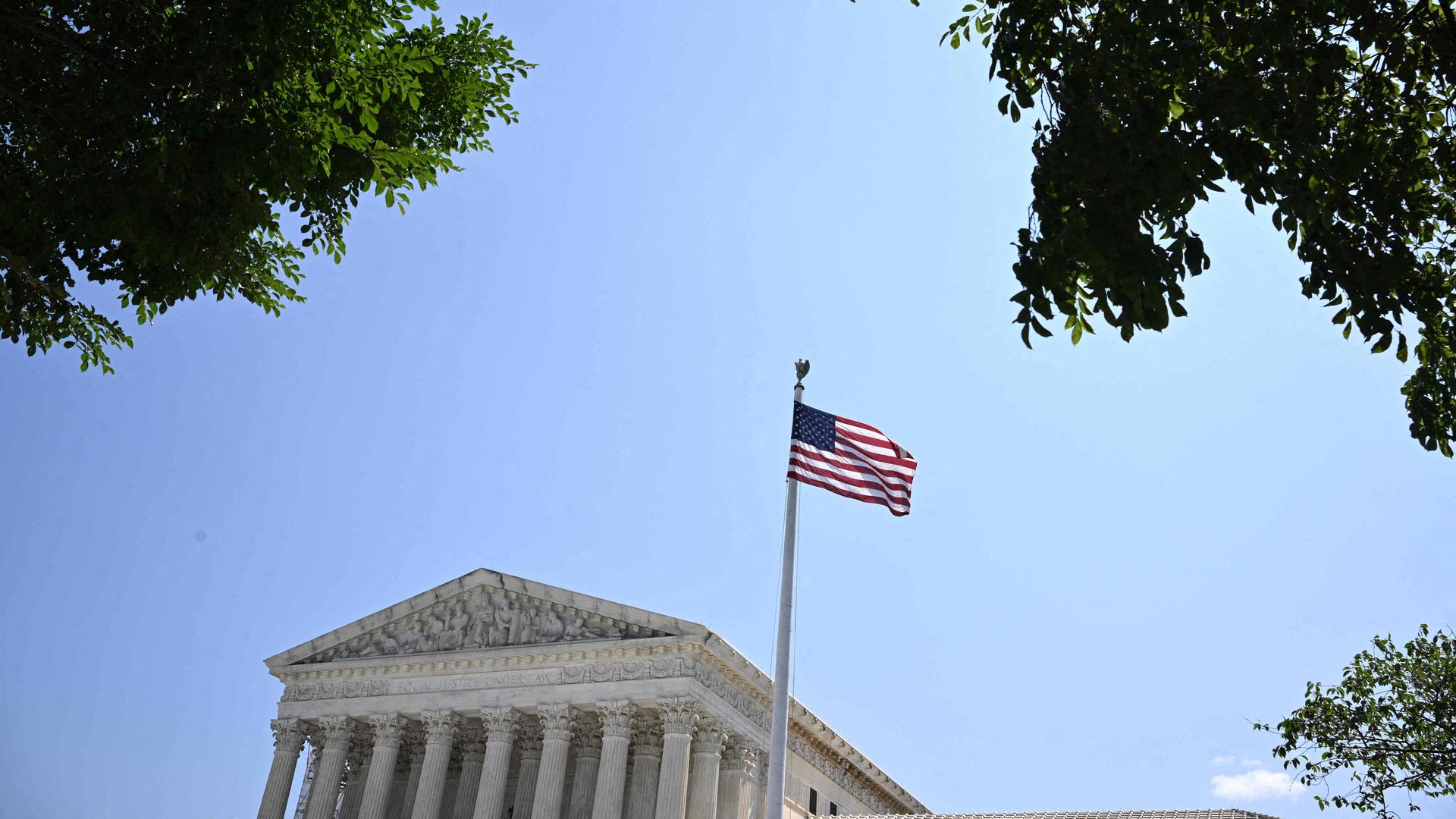 The Supreme Court on Thursday reopened a pair of whistleblower lawsuits charging that Safeway and SuperValu pharmacies overcharged Medicare and Medicaid hundreds of millions of dollars for prescription drugs.
Driving the news: Justices unanimously overturned a 7th Circuit Court of Appeals ruling that the chains didn't "knowingly" violate the False Claims Act when they offered cash-paying customers extended discounts on generic drugs while charging the government full price.
The justices said the lower court applied the wrong standard and that companies could not claim a lack of knowledge they were violating the law as a defense.
Safeway and SuperValu did not immediately respond to a request for comment.
What they're saying: "The Supreme Court put to bed a defense which had been gaining traction in lower courts for much of the last decade: that a defendant's reasonable but post hoc interpretation of an ambiguous legal requirement can provide defendants with a "get out of jail free card," said Alexander Owens​, an attorney from Pietragallo Gordon Alfano Bosick & Raspanti.
What to watch: The whistleblowers will get another chance to challenge Safeway and SuperValu.
This ruling could result in an immediate uptick in anti-trust cases brought against companies doing business with the government, including Medicare or Tricare, Brett Johnson, a partner of the law firm Snell & Wilmer, told Axios.
4. Millions are misusing prescription drugs, CDC says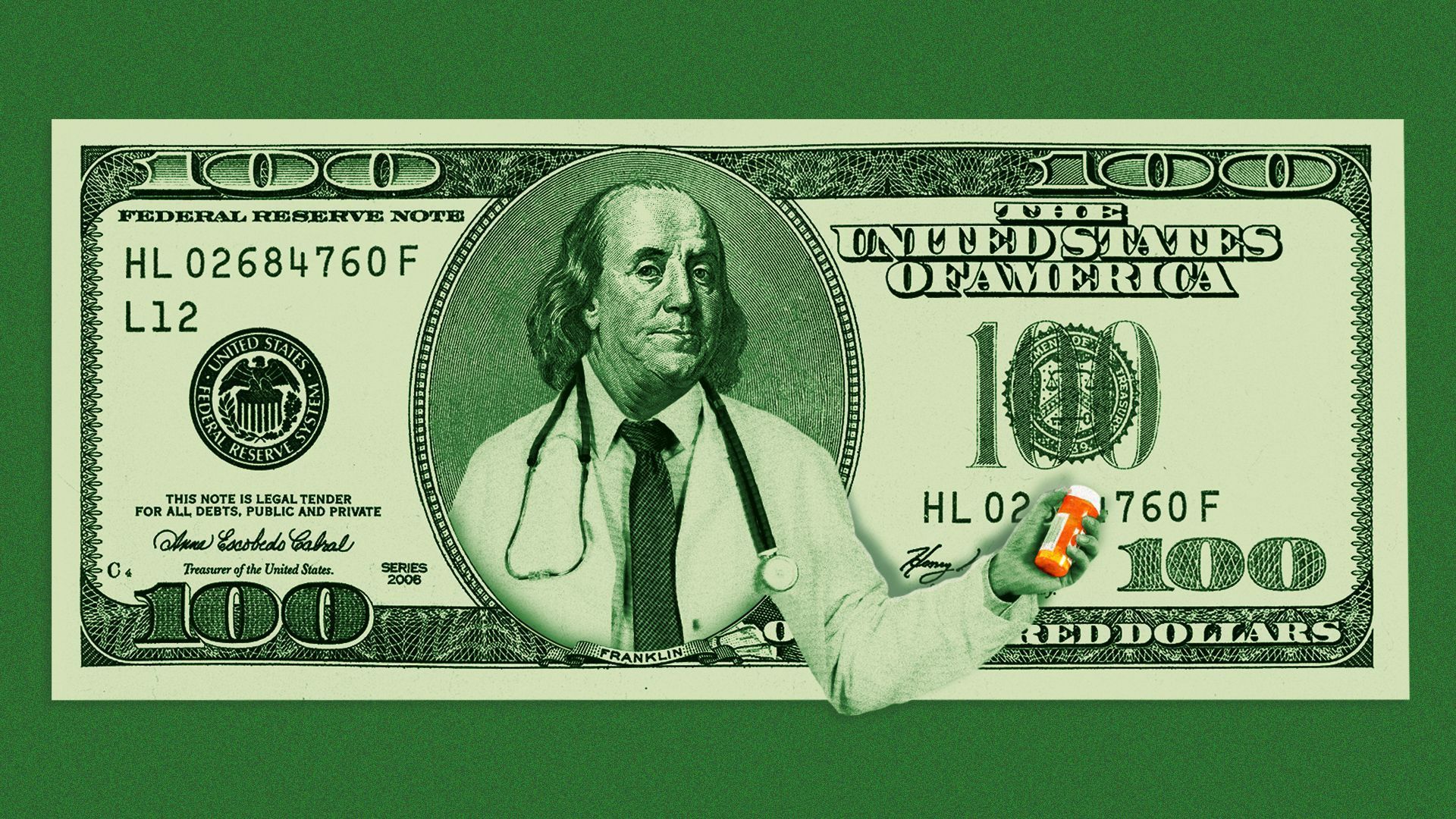 More than 9 million American adults aren't taking their medications as prescribed due to the cost, with those who are uninsured or disabled among the likeliest to cut corners, according to new CDC data released Friday, Axios' Sabrina Moreno writes.
Why it matters: Skipping doses, taking less than the prescribed amount or delaying refills to save money can make health conditions worse and more expensive to manage, wrote researchers.
What they found: Income, insurance and disability status were among the biggest determinants of whether a person misused drugs as a cost-saving strategy in 2021, per the CDC report, which focused on retail prices and medication adherence.
The percentage of adults who stinted on drugs to reduce costs fell as family incomes rose.
Adults with disabilities (20%) were nearly three times more likely than non-disabled adults (7.1%) to misuse their medication to reduce costs.
Uninsured Americans (22.9%) were 3.5 times more likely to do it than those with private health insurance (6.5%).
11.4% with other health coverage did not take their medications as prescribed followed by 8% of Medicaid recipients.
Between the lines: While the average prescription price didn't change between 2020 and 2021, out-of-pocket spending for prescription medications jumped 4.8% to $63 billion in the second year of the pandemic.
5. Catch me up
🏥 Another non-profit hospital was found aggressively pursuing patient debts using a novel tactic: withholding care from patients. The New York Times reports Allina Health System in Minnesota sometimes rejects non-emergency patients from receiving care if they owe money.
➕ The NIH announced Thursday it's launching a major trial to see if combining two cancer drugs to treat patients is better than one. This trial will be unusually rigorous in the evidence demanded showing success in mice trials before allowing clinical trials, Science reports.
6. Dog of the week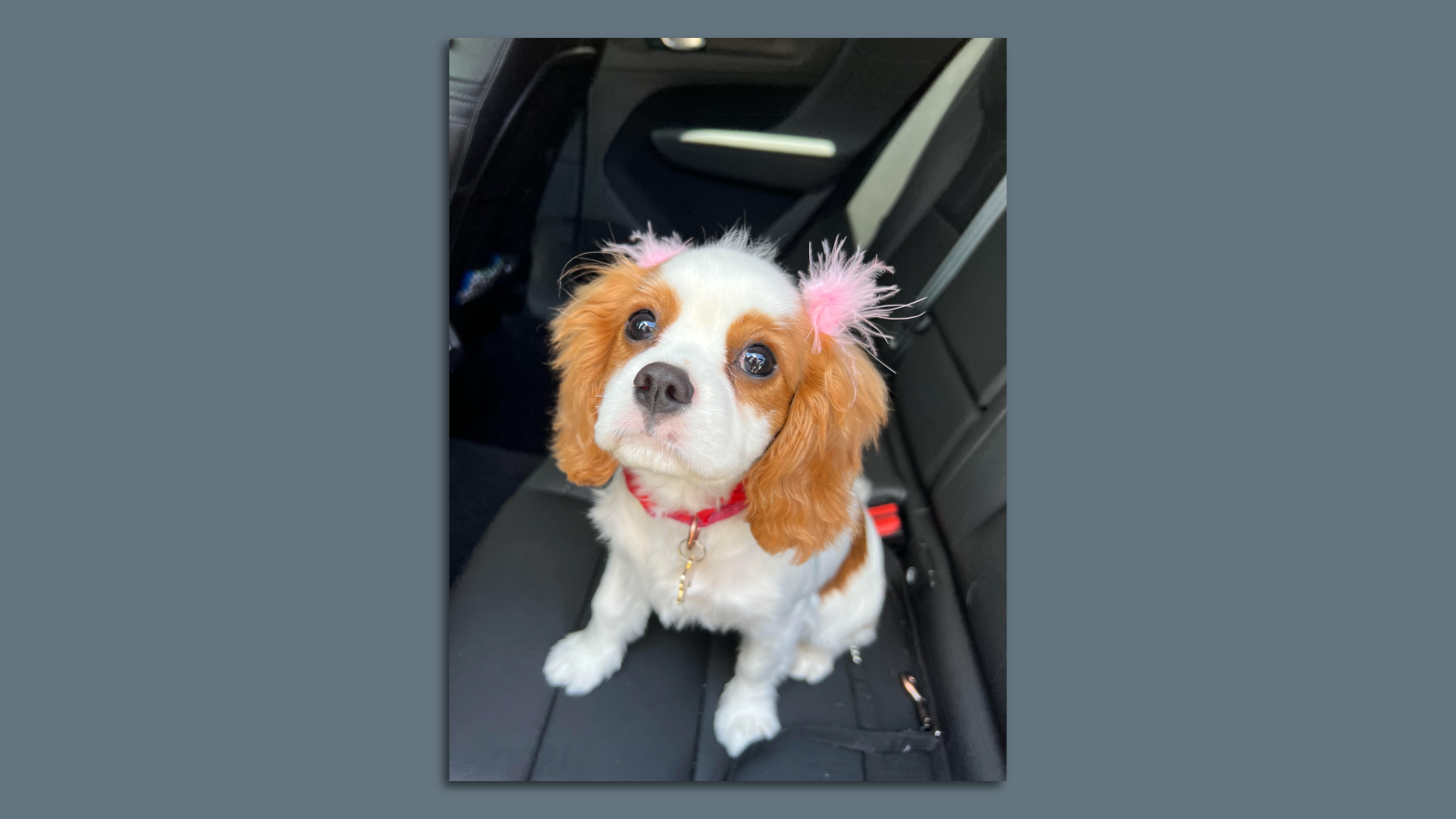 Meet Maizie, an 18-week-old puppy, returning from her first trip to the groomer, submitted by Natalie Shrock.
Maizie, who is Shrock's grandpuppy, was named by her daughter, who is a University of Michigan alum. "As in maize and blue!"
"Maizie is the sweetest, most loving pup you'd ever want to meet who has kisses for everyone," she writes.
Thanks for reading Axios Vitals, and to senior editor Adriel Bettelheim and senior copy editor Bryan McBournie. Please ask your friends and colleagues to sign up.