Axios Vitals
October 17, 2019
Good morning.
Today's word count is a breezy 749, or ~3 minutes.
1 big thing: The dark side of psychiatric hospitals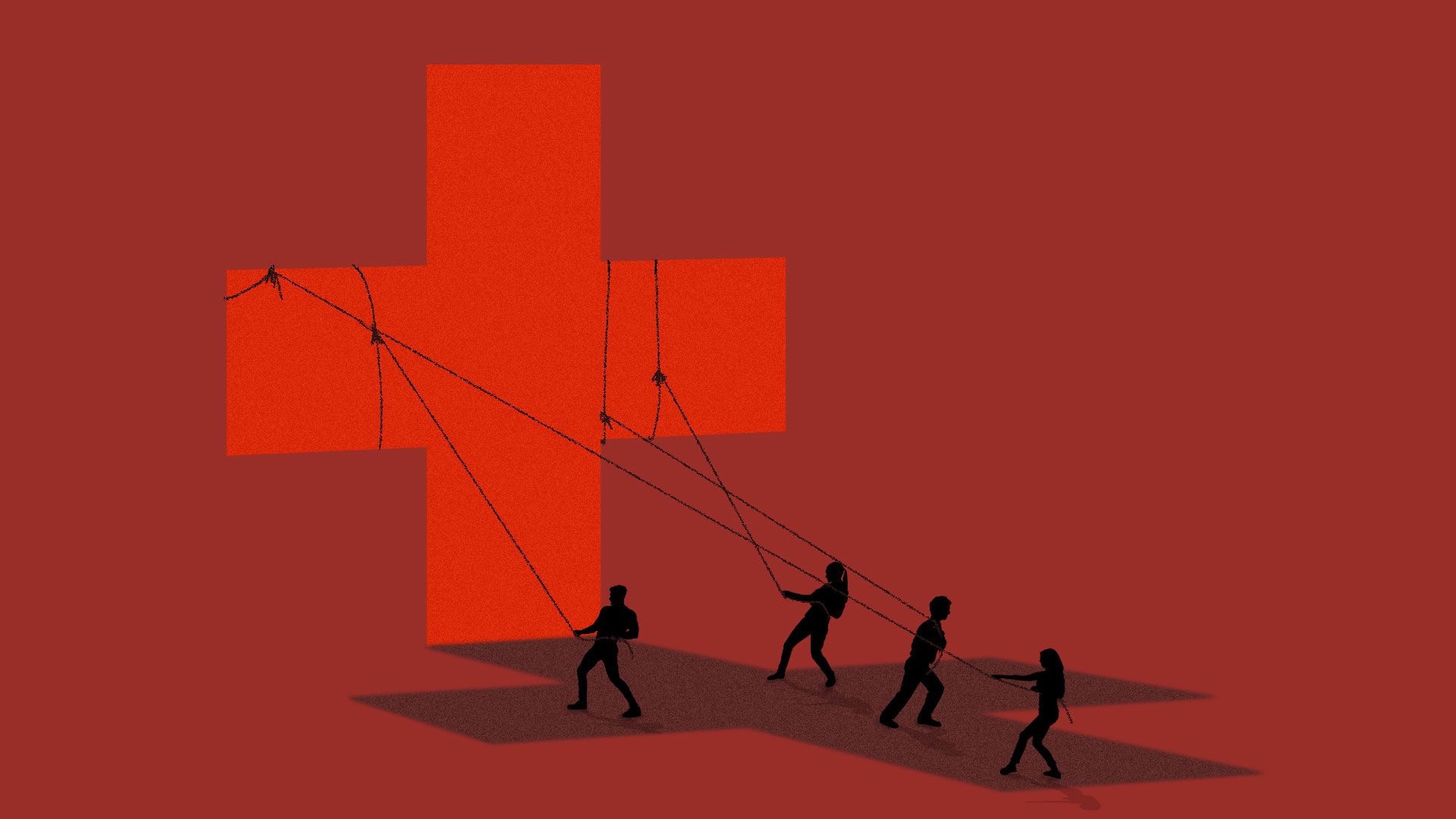 Psychiatric hospitals are often a last resort for people suffering from mental illness, but a series of recent news stories serve as a reminder that too often, these hospitals aren't the safe haven they should be.
The big picture: There are plenty of horror stories about mental health patients caught in abusive or predatory situations, but experts say there really aren't good data on the quality or safety of psychiatric inpatient facilities, making it difficult to hold them accountable.
Driving the news:
In September, the Tampa Bay Times published an investigation of North Tampa Behavioral Health, a psychiatric hospital that "makes huge profits by exploiting patients held under Florida's mental health law."
Earlier this month, the Seattle Times reported on 10 private psychiatric hospitals in Washington state that have been approved or expanded since 2012. The paper found a series of safety issues, bad record-keeping, and instances of hospitals trying to keep voluntary patients from leaving.
A few days later, the Los Angeles Times published an account of one patient allegedly murdering another at Kedren Community Health Center, a psychiatric hospital that the LA Times found guilty of "serious failures of oversight in the care of patients."
Between the lines: Psychiatric hospitals, like nursing homes, by definition care for a vulnerable population who often struggle to advocate for themselves.
Facilities may then exploit patients' vulnerability in order to drive profits higher.
Further complicating the issue is that the U.S. has a shortage of mental health care to begin with; there aren't enough beds for all of the patients who need treatment.
"In effect, psychiatric hospitals might be 'too big to fail' depending on the local context; hospitals might be aware of this and therefore not fear being sanctioned," said Morgan Shields, a Ph.D. candidate researching psychiatric inpatient care at Brandeis University.
2. Opioids settlement proposal update
The 3 drug distributors involved in the massive opioids litigation are still negotiating a settlement with multiple states, and along with 2 drug companies, have agreed on a framework worth almost $50 billion, the New York Times reports.
Flashback: Yesterday, the distributors — AmerisourceBergen, Cardinal Health and McKesson — were discussing a settlement of $18 billion over 18 years.
The latest proposal would include Johnson & Johnson and Teva as well, and would release all 5 companies from the 2,300+ lawsuits that they're facing.
The $50 billion would be in the form of both cash and addiction treatments.
What we're watching: Cities and counties involved in the litigation haven't yet agreed to the settlement framework, and want more details about how the money would be distributed.
Opening statements for the first federal opioid trial are scheduled to begin Monday.
Go deeper: The opioid epidemic will cost the U.S. as much as $214 billion in 2019
3. Sutter Health settles antitrust case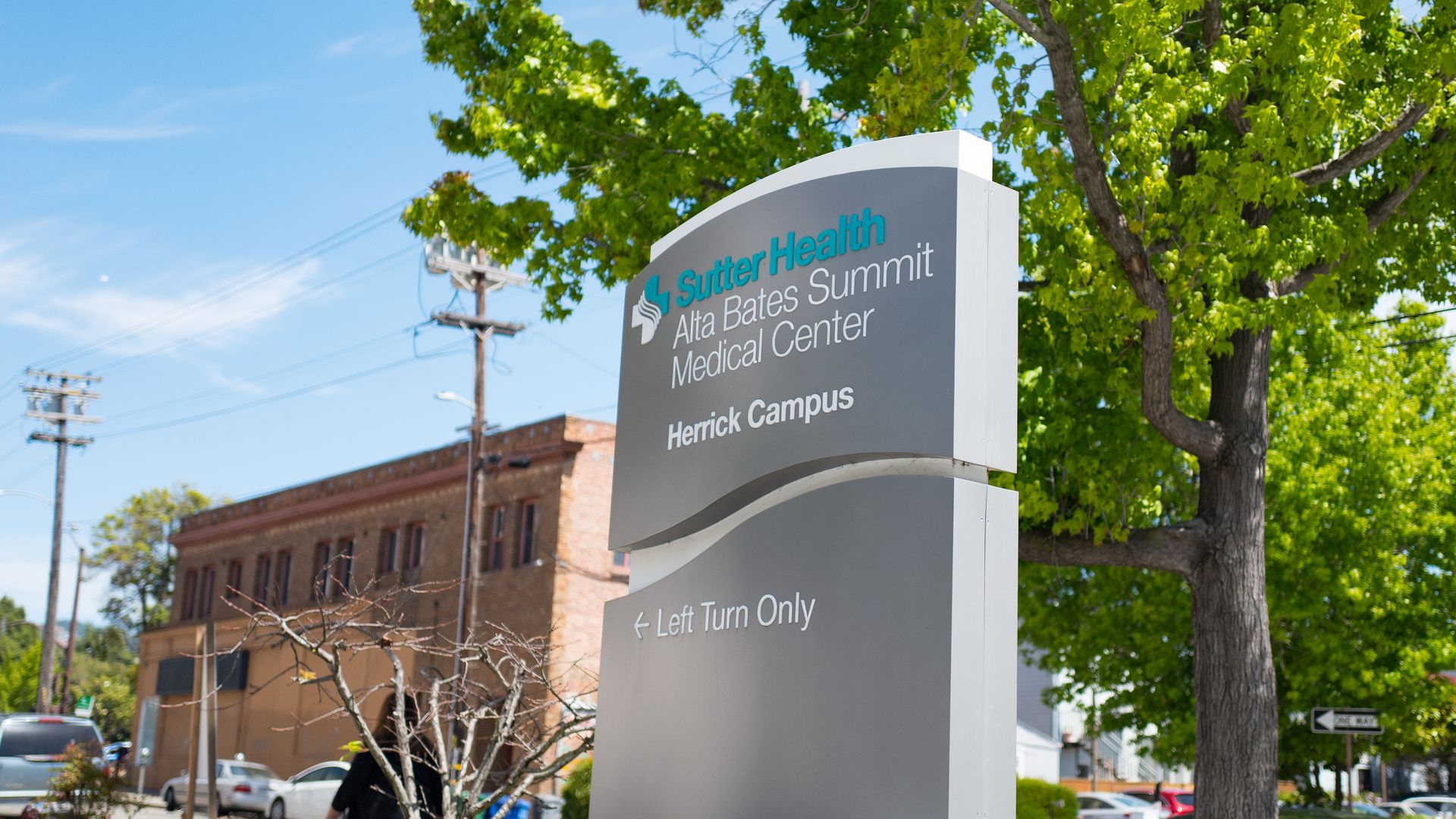 Sutter Health has agreed to settle a lawsuit accusing the hospital system of price-gouging, the San Francisco Chronicle reports.
Spokespeople for California's attorney general and Sutter told Axios' Bob Herman the terms of the settlement are confidential, and they could not comment further until the court approved the deal.
The big picture: Hospital systems have never been more concentrated, and this is now the second major settlement in the past 12 months involving a state going after alleged anticompetitive activity from dominant hospitals. The first involved Atrium Health.
4. Medical bill lawsuits jamming state courts
Millions of debt collection suits are overwhelming state courts, and almost half are from hospitals and doctor's offices for unpaid medical bills, ProPublica reports.
What's happening: People all over the country are discovering a warrant out for their arrest after unknowingly missing a court date. Even if they are able to pay the debt, bail is posted instead, Axios' Marisa Fernandez writes.
Debtors' prisons are illegal in the U.S., but judges and lawyers have found a workaround: If people with unpaid bills are no-shows in court when summoned, they can be jailed for contempt.
Most of the people tried through this process didn't pay their bills because they just don't have the money, ProPublica found.
In many courtrooms, several legal questions still loom in regards to the bail money and how hospitals lobby for what is owed.
"If the judge is upholding the rule of law, he would give the bail money back to you when you appear in court. Instead, he is using his power to take money from you and hand it to the debt collector. It raises constitutional questions," Peter Holland, former director of the Consumer Protection Clinic at the University of Maryland Law School, told ProPublica.
Go deeper: At hospital nonprofits, lawsuits frequently target former patients
5. 1 German thing
Everyone seems to love Germany's health care system, but even universal coverage paired with low out-of-pocket costs hasn't led to equitable health outcomes among rich and poor people, NPR reports with Kaiser Health News.
Why it matters: Medical care is only one component of a person's health. Social determinants of health are hugely important and factor strongly into a population's well-being.
"Universal health care, in and of itself, may be a first step toward increasing a community's health, but it isn't a magical solution," writes KHN's Shefali Luthra.
Go deeper: What the U.S. can learn from Germany on drug prices