Axios Vitals
April 01, 2021
Good morning.
Today's word count is an unusually long 1,377, or a 5-minute read. Bear with me.
1. The J&J situation will probably be OK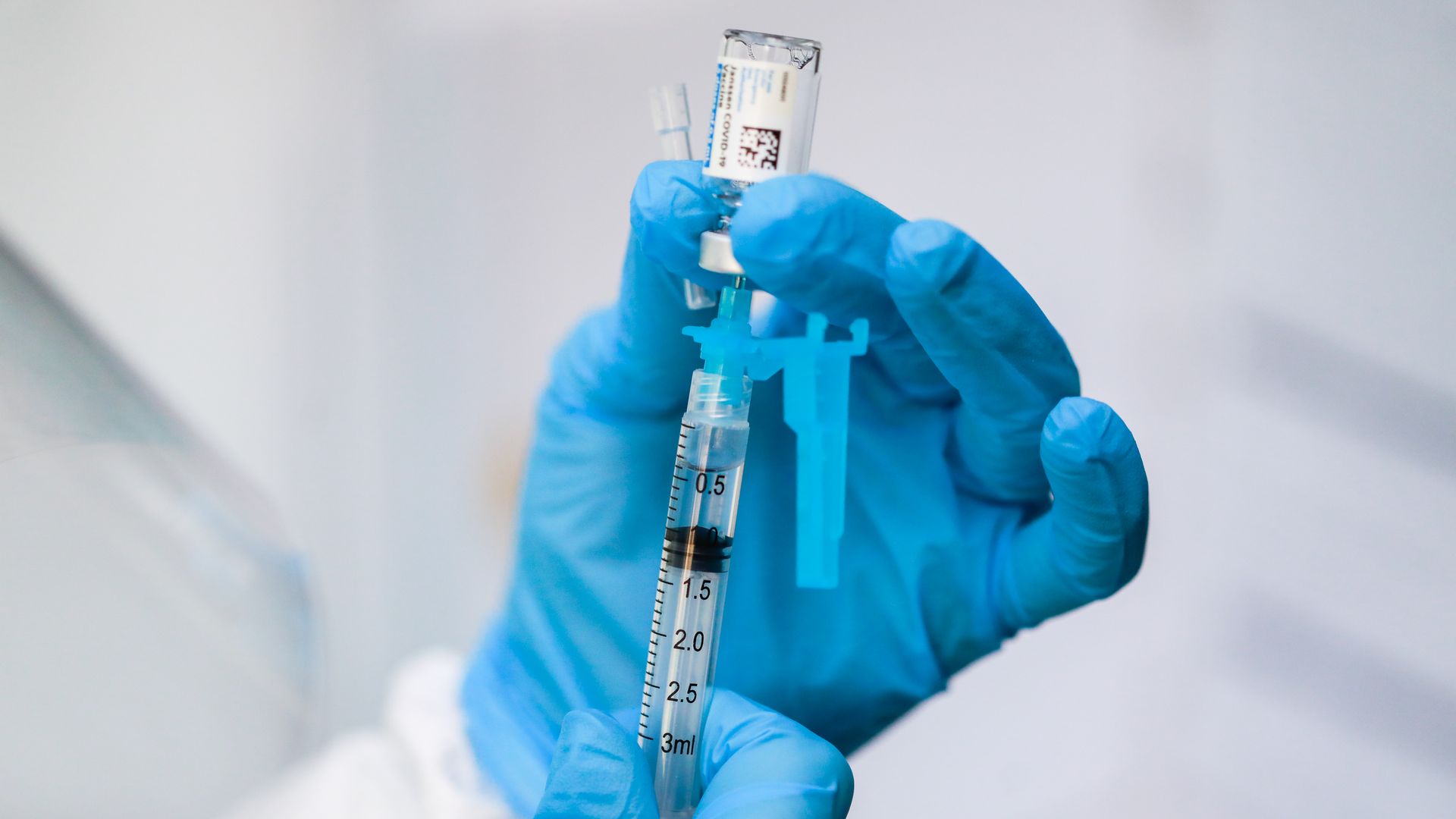 A Baltimore plant ruined a batch of "drug substance" that would have gone into millions of doses of Johnson & Johnson's coronavirus vaccine — but sources familiar with the process say the setback ultimately may not be that bad.
The big picture: Anything that could slow down the vaccine production process is not good news, especially for the one-shot J&J vaccine. But some experts said the company and the overall U.S. vaccination effort will likely be able to recover quickly.
Driving the news: The New York Times first reported that workers at the Baltimore plant, run by Emergent BioSolutions, ruined a batch of "drug substance" — material that makes up a vaccine, but isn't yet bottled — when workers there accidentally contaminated the batch.
NYT reported that the accident ruined about 15 million doses of J&J's vaccine, although sources cautioned that it can be difficult to predict how many doses a batch of drug substance will ultimately yield.
What's next: The contamination doesn't affect vaccine doses that have already been manufactured, and this plant has been building a stockpile of the substance, sources said. Only one batch is known to have been contaminated.
"Ultimately, it's a blip, and I think everyone expected there to be issues somewhere at some point ... it's not nothing, but it's not perhaps as big as it's been made out to be," a former Operation Warp Speed official told me.
Manufacturers often produce more of this particular substance than they need, so this part of the supply chain may be able to catch up while the later stages of the manufacturing process keep moving.
Yes, but: The Baltimore facility hadn't yet gotten authorization from the FDA to manufacture the substance. It was building up its supplies in anticipation of getting that green light.
It will only be able to get back on track if the green light still comes — and this incident could jeopardize that.
The contamination has prompted the FDA to delay the plant's approval, Politico first reported and Axios confirmed.
So far, J&J has produced all of its vaccine doses using drug substance produced overseas. This is the only plant making the substance in the U.S., and was supposed to produce all further domestic shipments of the Johnson & Johnson vaccine in the immediate future, NYT reported.
So if these problems are severe enough to cost the plant its regulatory OK, the supply problems could get more serious.
A source close to the process said J&J has committed enormous resources to fix the process.
The bottom line: A serious setback in J&J's production would absolutely be bad news for the global vaccination effort, which is running short on supply. But sources are optimistic that even under worst case scenarios, the U.S. effort won't be affected much.
A source close to the process said while it's important for J&J to fix its process, Pfizer and Moderna are far enough ahead of schedule to ensure there will be enough vaccine available for every adult who wants one by the end of May, even without any more J&J doses.
2. The fourth wave is here
Coronavirus infections are on the rise yet again, all across the U.S., Axios' Sam Baker and Andrew Witherspoon report.
The big picture: America may be at the beginning of a fourth wave in the pandemic. It will almost certainly be far less deadly than the previous three, but this persistent failure to contain the virus has real consequences, and will only make it harder to put COVID-19 behind us.
By the numbers: On average, roughly 63,000 Americans per day were diagnosed with coronavirus infections over the past week. That's a 17% increase from the week before, and echoes the rising caseloads of the pandemic's second wave last summer.
Average daily caseloads increased over the past week in 25 states. The biggest spikes were in Michigan and New York.
Even as vaccinations continue to climb, new cases only declined in five states, mainly in the Southeast.
What we're watching: Because so many seniors have been vaccinated — 73% have gotten at least one dose — this fourth wave is likely to be a lot less deadly than the previous ones.
Many states have also prioritized vaccinating people with underlying health conditions, which will also help constrain the increase in severe illness and death.
Yes, but: More coronavirus is always a bad outcome, and this fourth wave is a foreseeable, preventable failure that risks dragging out the pandemic and leaving more people at risk in the process.
3. The misinformed are less likely to get vaccine
A new look at the data from our most recent Axios-Ipsos poll shows a strong correlation between the people who are influenced by COVID vaccine misinformation and those who are unlikely to get the vaccine, Axios' David Nather reports.
The big picture: As this graphic shows, Americans who either believed misinformation or were unsure whether it was true or false were less likely to get the vaccine than those who knew that it was false.
The poll asked whether six false statements about the coronavirus vaccines were true or false, including that the vaccine includes a microchip to track the recipient; vaccines that use messenger RNA technology promote cancer; the vaccines sterilize people who get them; and the vaccine is more deadly than the virus.
The groups that outright believed the misinformation were fairly small. The bigger issue was the number of people who said they didn't know whether it was true or false — which doesn't count as a correct answer.
For example, only 3% incorrectly said it was true that the COVID vaccines sterilize the recipients, but 35% said they weren't sure.
By the numbers: The poll also found that people who said they didn't trust the Centers for Disease Control and Prevention or public health officials to give accurate information about COVID were more likely than other groups to say they're not going to get the shot.
The bottom line: The impact of COVID vaccine misinformation is not trivial.
4. CDC: Suicides decreased in 2020
Suicides in the U.S. decreased in 2020, according to preliminary data from the Centers for Disease Control and Prevention.
Why it matters: Critics of lockdowns and other coronavirus-prevention efforts have suggested throughout the pandemic that those measures would drive the suicide rate higher. But that hasn't happened, Axios' Marisa Fernandez reports.
Yes, but: The nation's mental health crisis is far from over, and experts are still concerned about the long-term effects isolation and economic turmoil will have on Americans' mental health.
"The general reaction is 'Great, but let's not do what we did with opioids and see only a small decrease and claim victory,'" Benjamin Miller, chief strategy officer of Well Being Trust, tells Axios.
Deaths of despair, he added, "are made up [of] not just suicide, but drug overdose deaths and alcohol deaths. Both of the latter two we know we are still on the rise."
By the numbers: From 2019 to 2020, deaths by suicide declined by 5.6%, from 47,511 to 44,834, per the CDC. It was the third consecutive year of decline.
The bottom line: Feelings of isolation, depression and anxiety are still very high, especially for young people, and advocates are pushing for stronger crisis and intervention services in the U.S.
The National Suicide Prevention Lifeline (1-800-273-8255) provides 24/7, free and confidential support for anyone in distress, in addition to prevention and crisis resources. Also available for online chat.
5. Americans are worried about variants
Americans are worried about the rapid spread of COVID-19 variants, and are still willing to take safety precautions as a result, according to new Harris Poll data.
Why it matters: Despite the race to vaccinate as many people as possible, the variants are fueling another surge in cases across the U.S., Marisa writes.
By the numbers: 62% say they aren't comfortable traveling within the U.S., due to the variants.
60% say they wouldn't be comfortable in indoor settings like gyms or restaurants without wearing a mask.
58% say they are still uncomfortable with medium- or large-sized gatherings.
6. Catch up quick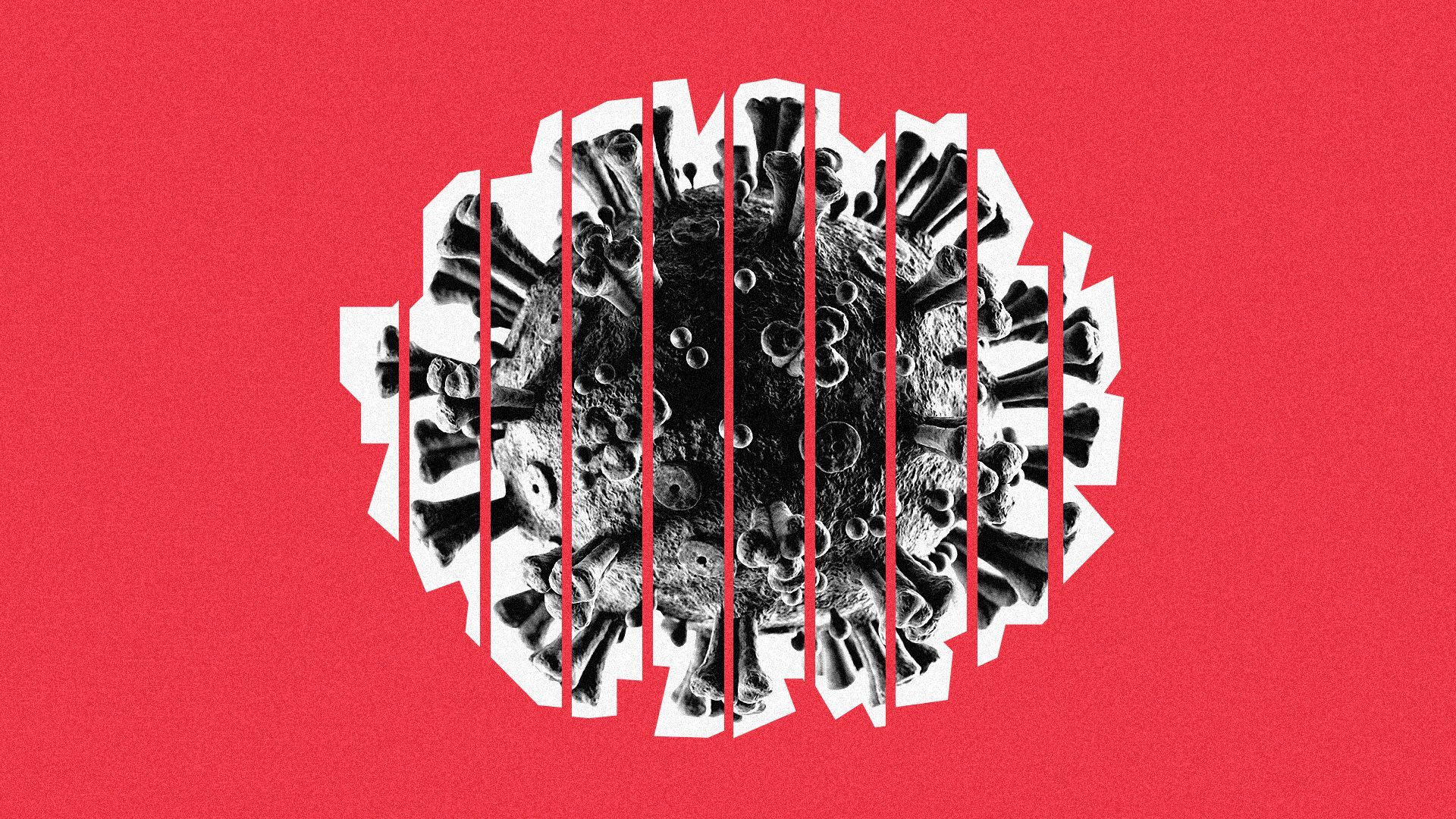 Pfizer and BioNTech announced Wednesday that their coronavirus vaccine was found to be 100% effective at protecting against COVID-19 in a trial of more than 2,200 children between the ages of 12 and 15.
France is requiring schools nationwide to close for three weeks and is imposing a domestic travel ban to help control the "accelerating" coronavirus pandemic, President Emmanuel Macron said Wednesday.
Wisconsin's Supreme Court struck down Gov. Tony Evers' (D) statewide mask mandate on Wednesday by ruling against multiple emergency declarations made during the pandemic, AP reports.
This newsletter is written in Smart Brevity®. Learn how your team can communicate in the same smart, clear style with Axios HQ.