Good morning. Happy Mueller report day. If some of you could still please make health care news, tomorrow's Vitals will certainly appreciate it.
1 big thing: Why nurses are striking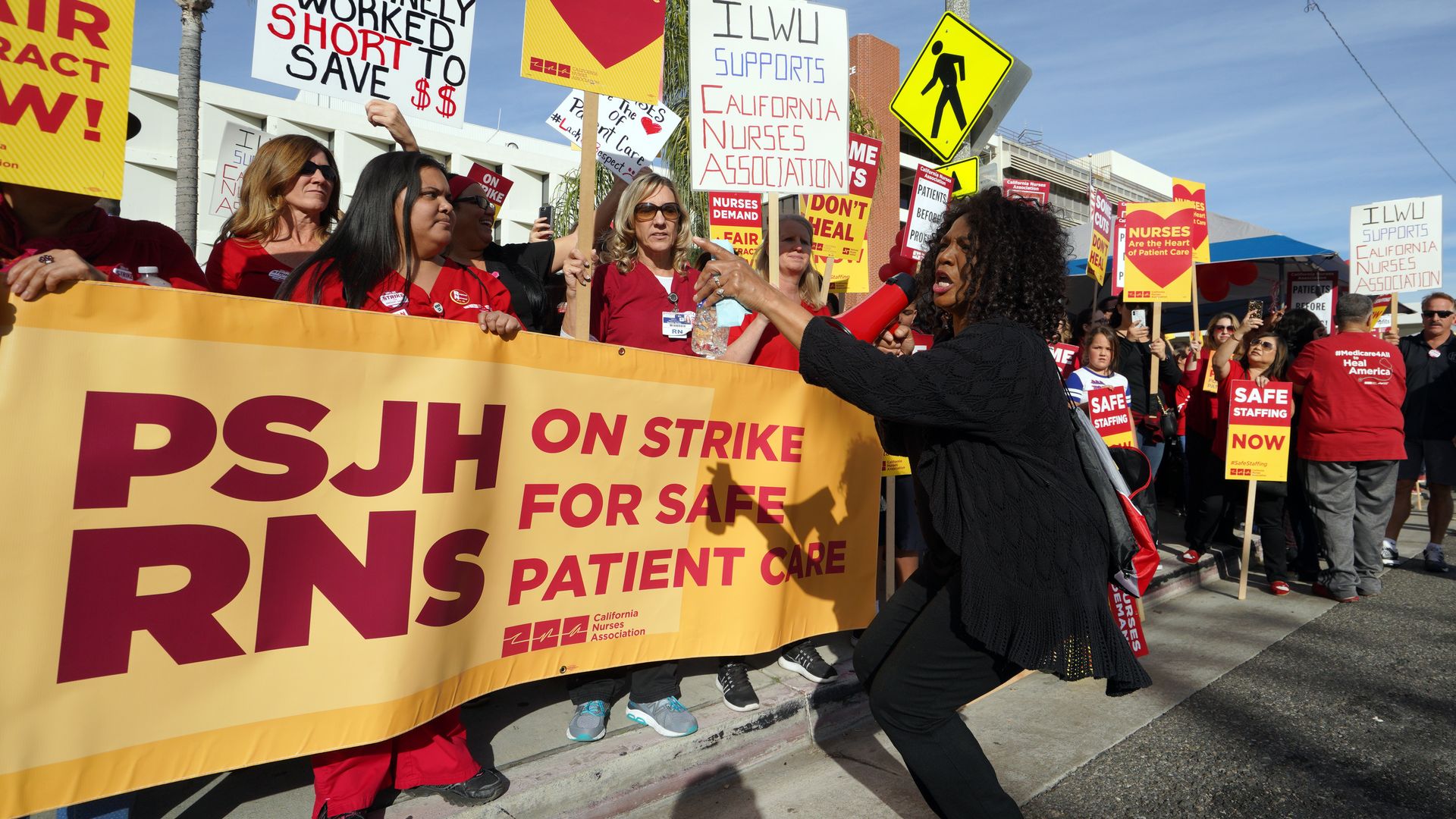 Nurses have not been afraid of going on strike at their hospitals, where they are already in short supply, Axios' Bob Herman reports.
Between the lines: Pay and health benefits are almost always part of why any worker considers striking. But nurses, who make $72,000 per year on average, are also consistently unhappy about understaffed hospitals, saying they're caring for too many patients at once.
The big picture: Nurses are in high demand but low supply, and that has led to a "high-pressure work culture" and "emotional burnout," Jaimy Lee of LinkedIn recently reported. Juggling a lot of patients over long hours has prompted many nurses to walk out.
Nurses have authorized strikes at several hospitals in California. Other nursing strikes occurred or were approved in Pennsylvania, Massachusetts, Michigan and Vermont over the past 2 years.
One of the biggest strikes took place in 2016, when 4,000 nurses at Allina Health in Minnesota walked off the job for more than 6 weeks to protest cuts to their health benefits.
Most recently, 3 New York hospital systems avoided a labor dispute last week that would have led to 10,000 striking nurses.
What they're saying: Staffing levels are often the driving force behind work stoppages.
California is the only state with mandated nurse-to-patient ratios in all hospital departments. Several other states have tried, but failed, to codify staffing ratios through ballot initiatives and legislation.
What's next: Because nurses will continue to be in short supply over the next 3 years, hospitals will spend more money to hire temporary nurses and to attract and retain nurses, according to a report from Moody's Investors Service.
Hospitals strongly oppose staffing ratios, saying the policy would balloon their labor expenses.
2. Major crackdown on prescription opioid crime
The Department of Justice and the Department of Health and Human Services yesterday announced that they have charged 60 people with the illegal prescription and distribution of opioids, alleged crimes involving 32 million pain pills.
These include 31 doctors, 7 pharmacists, 8 nurse practitioners and 7 other medical professionals, all in Appalachia, where the opioid crisis has struck hardest.
Some were also charged for involvement in health care fraud schemes.
Between the lines: Some of the allegations are wild and illuminate the continuing profitable enterprise of prescription opioids.
In Ohio, a doctor and several pharmacists were charged with running a "pill mill" that allegedly dispensed more than 1.75 million pills in only 2 years.
A Kentucky dentist was charged with pulling teeth unnecessarily, and a doctor was charged for prescribing opioids to his Facebook friends, who would then come to his house to pick them up.
And in Tennessee, a medical professional who called himself the "Rock Doc" allegedly exchanged opioid and benzodiazepine prescriptions for sexual favors. Over 3 years, this man allegedly prescribed 500,000 hydrocodone pills, 300,000 oxycodone pills, 1,500 fentanyl patches, and more than 600,000 benzodiazepine pills.
The bottom line: The opioid epidemic may have evolved into being mostly about illicit opioids like heroin and synthetic fentanyl, but these allegations show that prescription drug abuse is far from a thing of the past.
3. Gene therapy fixes "bubble boy" disease
A new gene therapy made with altered HIV fixed "bubble boy" disease in 8 babies, AP reports.
Those with the disease don't have a working immune system. Yet scientists were able to reverse this by altering the HIV virus so that it couldn't cause disease and then using it to deliver a gene that the babies lacked.
The procedure is detailed in a new study released yesterday in the New England Journal of Medicine.
"Bubble boy" disease — named after a famous case in which a boy lived in a bubble to protect him from germs — affects 1 out of 200,000 newborns, almost all male.
Those affected usually die in the first year or two of life.
Doctors first tried gene therapy as a solution 20 years ago, but it had unintended consequences on other genes. This new version has safeguards to lower that risk.
4. DNA testing scams on the rise
Here's a new twist on Medicare fraud: State authorities are warning of an alleged scam involving DNA tests that's targeted to low-income and senior-living communities, Bloomberg reports.
The alleged scammers visit these communities and offer to perform DNA tests.
They then collect information from people in government health programs, like Medicare and Medicaid, that can be used to bill the government for unneeded medical care or to commit identify theft.
For example, in Kentucky, there have been reports of people showing up in a van and offering to pay Medicaid recipients $20 to take a DNA swab and to get their insurance information.
Background: The Centers for Medicare and Medicaid Services announced last year that Medicare would cover genetic testing for cancer.
5. 1 font thing: How to brand a health care company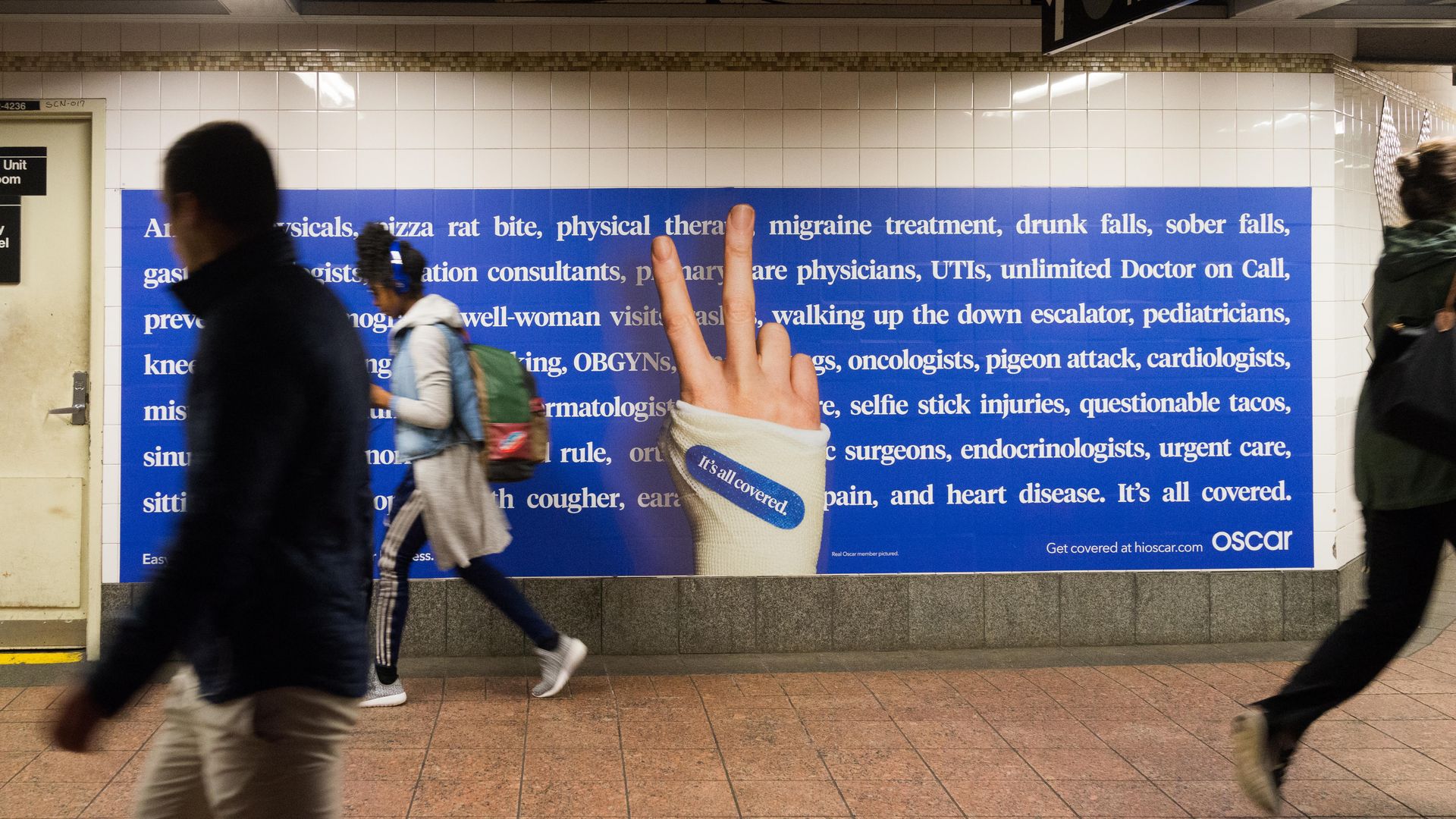 Hey, are you a health care company looking to brand yourself as tech-forward but still approachable? Well, you're going to need a medium-weight serif font.
Flatiron Health, One Medical and Oscar all use strikingly similar typefaces in their marketing materials. Business Insider noticed this trend — possibly because it uses one of the same fonts.
Between the letters: Serif fonts (the ones with the little feet on each letter, like the one you're reading now) are popular for large amounts of text, like newspapers and books.
Designers said they chose these fonts for these health care companies because they conveyed a warmth or human quality that more streamlined sans-serif fonts may lack.
"It was really important to us that we didn't want to look like a traditional healthcare company but we also didn't want to look like a tech brand," Chris Peel, One Medical's creative director, told Business Insider.
Thanks for reading! Free advice: Stay off of Twitter today. Unless you are tweeting about health care, of course.