Axios Vitals
May 14, 2019
D.C. readers: You're invited to Easing America's Pain, tomorrow morning at 8am.  
Join Axios' Mike Allen for a series of conversations on health care's biggest challenges, including the opioid crisis, and how to tackle them. We'll hear from Sens. Bill Cassidy (R-La.), Joe Manchin (D-W.Va) as well as HHS Chief Medical Officer Dr. Vanila Singh and Mayor Steve Williams of Huntington, WV. RSVP here.
1 big thing: Why biosimilars are struggling to catch on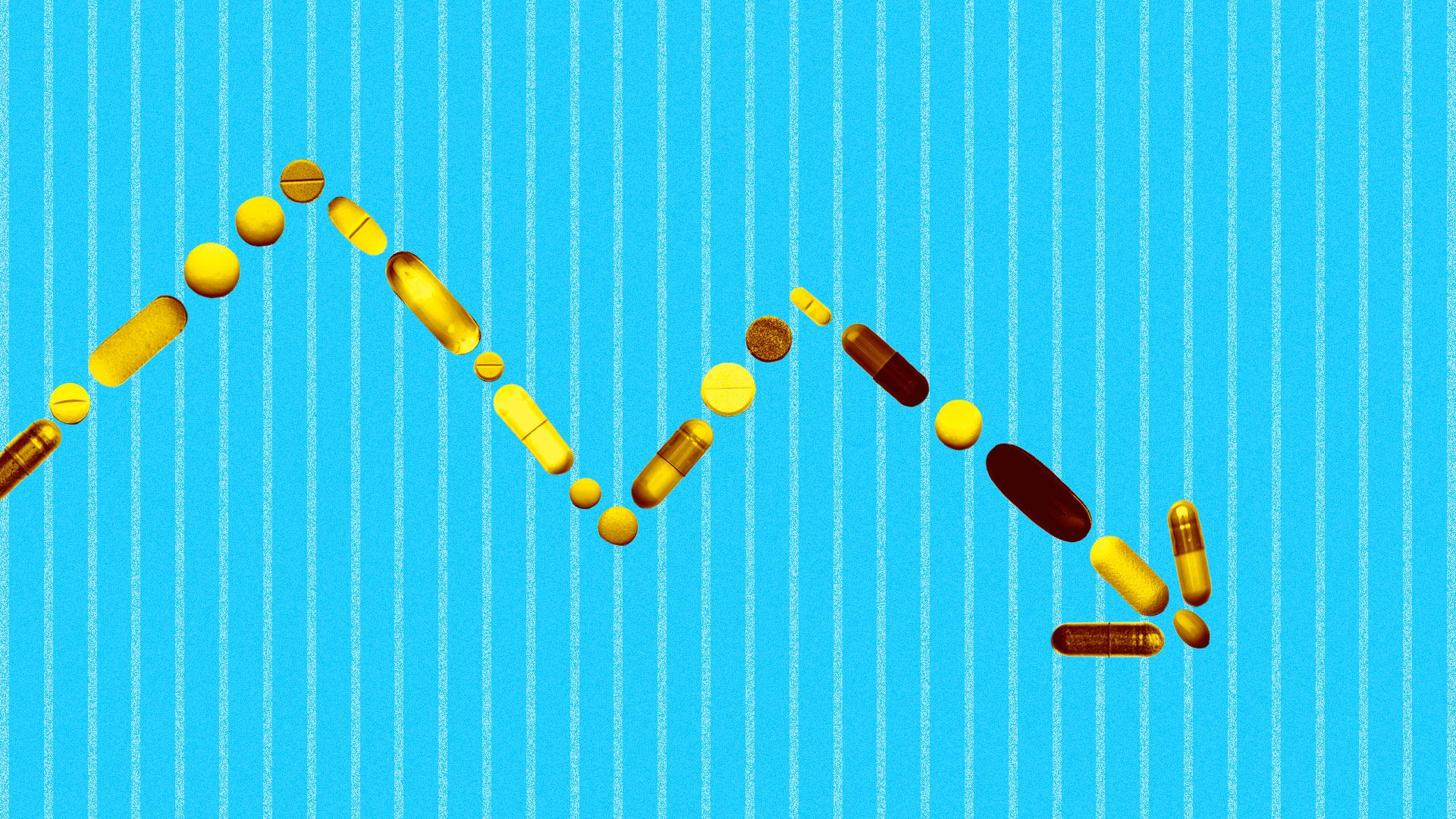 The Affordable Care Act was supposed to open the door to a new class of drugs that would spark competition and lower prices for some of the most expensive therapies in the world.
But that effort has barely gotten off the ground — less than a dozen of these new products are actually available to patients, and few deliver significant savings, my colleague Sam Baker reports.
Why it matters: The future of drug development is hurtling toward complex, expensive biological products. If the market for cheaper versions of those treatments doesn't get a jump-start, the health care system will see its drug spending climb to new heights.
The big picture: Some experts put a lot of the blame for biosimilars' slow start on insurers and pharmacy benefit managers.
Pharmacy benefit managers negotiate discounts in the form of rebates, and keep part of the discount as profit. Critics say they therefore make more money negotiating a big discount off of an expensive drug, rather than giving preference to a cheaper alternative.
Those incentives are especially strong with biologics. Many insurance plans require patients to try the brand-name biologic first, and only move to a biosimilar if the first drug fails.
Doctors are also hesitant about biosimilars, generally.
Developing a biosimilar is difficult, time-consuming and expensive.
Theoretically, because the products are still pretty expensive, a manufacturer should be able to match their competitors' marketing budgets and overcome at least a lot of physicians' trepidation. Some of these problems are, at least theoretically, solvable.
But if a would-be biosimilar is staring down a long and expensive development process, followed by a long and arduous approval process, and years of expensive patent litigation — only to see themselves undercut by insurers and brand-name competitors — that proposition simply isn't worth it.
2. Doctors bring in a lot of money for hospitals
Doctors are generating a lot of revenue for hospitals — much more than those doctors receive in salary, according to a recent survey by physician staffing firm Merritt Hawkins.
Why it matters: It's easy to see why hospitals view acquiring physician practices as a lucrative opportunity — which hospitals are doing at a rapid pace.
"This is [a] good reminder that doctors are the gateway to the rest of the health care system. It's doctors that make the decisions about whether people get admitted to the hospital, or get a lab test, scan, or prescription," the Kaiser Family Foundation's Larry Levitt said.
Go deeper: A recent survey by the American Medical Association found that for the first time ever, the U.S. has more physicians who work as employees than those who run their own practice.
3. New lobbying effort for another opioid alternative
The White House is reviewing a 2020 payment rule for Medicare outpatient services, and companies that make devices for a procedure that serves as a substitute for opioids are trying to persuade Medicare to create a new payment model, Axios' Bob Herman reports.
Driving the news: Earlier this month, lobbyists with Smiths Medical and InfuSystems pushed federal officials for a new, separate medical code for "continuous peripheral nerve block," according to federal lobbying records. 
CPNB is where patients receive pain meds after a surgery through a catheter and infusion pump instead of taking painkiller pills. Smiths Medical and InfuSystems make the relevant products.
This isn't a new lobbying issue for these companies, and they told health officials the procedure "is a well-studied and practiced solution that should receive payment outside of the bundle," according to a copy of their lobbying presentation.
The big picture: Policymakers want to find other ways to treat pain — given the destruction that addictive opioid pills has caused — and many companies sit on the other side of the table selling opioid alternatives, with the hope of getting higher government pay.
What's next? We'll see if the lobbying worked in late July, when the rule usually comes out.
4. Congress demands ACA lawsuit answers
Democratic House committee chairs have written new letters to White House Counsel Pat Cipollone and Attorney General Bill Barr demanding information on the administration's decisions about the latest Affordable Care Act lawsuit.
The Department of Justice last year announced that it would no longer defend the ACA against a lawsuit brought by GOP attorneys general alleging that the 2017 tax law made the health care law unconstitutional.
The administration recently laid out its argument for why the entire ACA should fall, a position it signaled in March.
House Democrats first wrote to the administration officials in April asking for documents related to its decision. Neither the White House or the DOJ complied, and the new letters reiterate the request.
Their goal is to understand how the decision was made, "including whether the President or anyone in the White House instructed the [DOJ] to override its legal conclusions."
The chairmen are also asking that Russ Vought, acting director of the Office of Management and Budget, be made available for an interview. They write that they're concerned that "politically-motivated forces inside the White House and the Office of Management and Budget" drove the decision.
The chairs set a deadline of May 27. "If we do not receive a response by this date, we will have no choice but to consider alternative means of obtaining compliance," they write.
5. Insys inching closer to bankruptcy
The stock price of Insys Therapeutics plunged 74% yesterday, below $1 a share, after the maker of opioid spray Subsys revealed it had less than $88 million in cash and may have to file for bankruptcy soon — a possibility that Insys first acknowledged in March.
The big picture: This may be the end of the road for Insys, which faces gigantic legal bills and whose founder was found guilty of a bribery scheme earlier this month, Bob writes.
6. A bad day for pharma stock
Speaking of stock, Monday was a rough day for pharmaceutical companies on Wall Street. The SPDR S&P Pharmaceuticals ETF (XPH) fell more than 4%, and that was a relief, my colleague Dion Rabouin reports.
Driving the news: Generic drugmakers were hit by a price-fixing lawsuit filed by 44 states alleging 20 corporate defendants conspired to fix prices of more than 100 generic drugs, raising prices by as much as 1,000%.
Teva Pharmaceuticals shares fell more than 15%, with Mylan off 9%, and Endo International opening 10% lower after a downgrade by JPMorgan analysts, and then falling another 10% during the day. (Endo already was reeling from news it reported a wave of over 20,000 fatalities related to its drugs to the FDA.)
Why it matters: Health care stocks overall have had a terrible 2019, and it may just be beginning.