Good morning … A convicted of war criminal killed himself yesterday by drinking poison on live TV, and it barely broke through. That's not because anyone has bad news judgment — it's just a measure of how insane yesterday was.
​What we learned from Azar's first hearing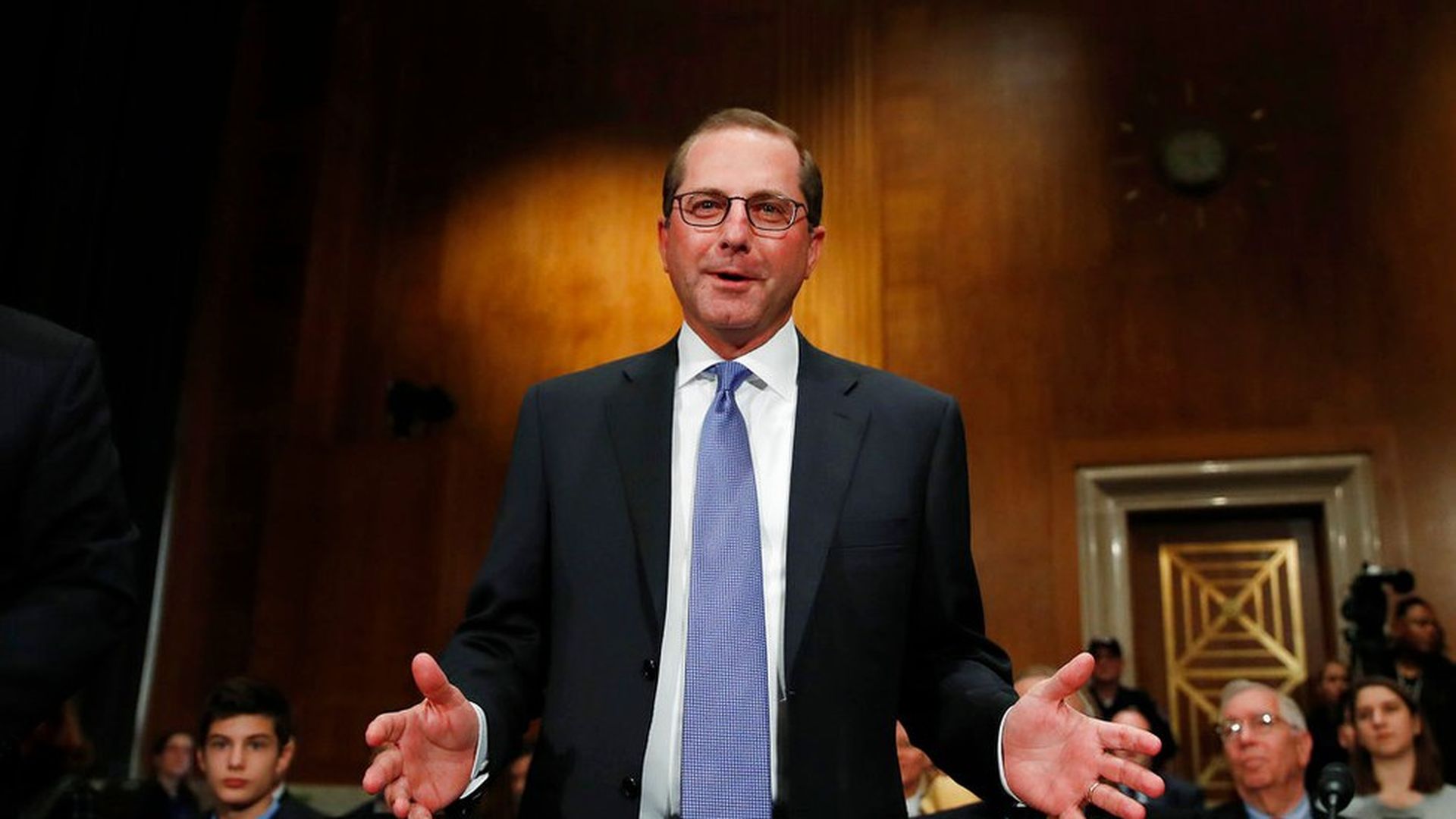 The biggest cloud hanging over Alex Azar during his Senate confirmation hearing Wednesday was his pharmaceutical industry background. Republicans praised the experience as an advantage to tackle high drug costs, while Democrats said it raises conflicts of interest and encourages a revolving door mentality.
Azar's response: He will not "implement pharma's policy agenda. I don't know what their list of agenda items is."
Between the lines: Private industry experience doesn't preclude someone from a public job. But, as my colleague Bob Herman notes, many of Azar's responses matched up with the pharmaceutical lobby's playbook:
discussing the holes in health insurance plans and high deductibles
targeting pharmacy benefit managers and others in the "entire channel"
focusing on lowering what people pay at the pharmacy counter instead of systemic issues like the rising list prices that drugmakers set
Yes, but: Azar did mention wanting to reform the drug patent system, which the drug industry almost certainly would oppose.
Go deeper: Here are more highlights of what Azar told senators yesterday.
​ACA enrollment: still weak
Enrollment through HealthCare.gov continues to lag. Roughly two thirds of the way through the sign-up window, it's now at roughly 2.8 million people — or about 60% less than the same point in last year's enrollment season. There will probably be a surge here at the end. But unless something incredible happens, when this is all said and done, enrollment is going to be way, way down.
Be smart: People keep saying enrollment is going well. It's not. Sure, the number of people signing up each day appears high. That doesn't mean much when the enrollment period is half as long as it was last year.
In about two weeks, open enrollment is going to end, and the overall number is going to be low, and a lot of the public is going to be confused about what happened, after they kept hearing about how enrollment was so much stronger than last year. That hasn't been the case since the first week of the sign-up window, and it certainly is not the case now.
​Mandate repeal gets more complicated
Senate Republicans are still moving ahead with their tax overhaul, but the bill's health care components —namely, repealing the individual mandate — got thornier yesterday.
On the Senate side: GOP leaders told Sen. Susan Collins they would agree to pass two health care measures to offset the damage from repealing the mandate: the ACA stabilization bill from Sens. Lamar Alexander and Patty Murray, and Collins' proposal to establish a new reinsurance program with about $5 billion in federal money.
Alexander-Murray would not have much effect at all, the Congressional Budget Office said yesterday. CBO still expects repealing the mandate to produce about 13 million newly uninsured Americans and premium hikes of about 10%, on average.
As it did in its initial score of the Alexander-Murray legislation, CBO assumed the ACA's cost-sharing payments were still being made, even though they are not. This is weird, and it does produce more conservative estimates of the bill's impacts. But it's not new, and GOP leaders on the Senate Budget Committee have some input into CBO's assumptions on this front.
As for reinsurance, Majority Leader Mitch McConnell has told Collins he's on board.
The other side: The House is not on board. Rep. Mark Meadows, the influential chairman of the House Freedom Caucus, said yesterday that he opposes new reinsurance funding, according to The Hill. It's not entirely clear whether Alexander-Murray could pass the House outside of a larger package, either.
Don't forget about entitlements. Sen. Bob Corker's colleagues are not wild about his idea for a "trigger" that would automatically raise taxes if these tax cuts don't end up paying for themselves. Some are talking instead about a "trigger" that would cut spending — including spending on Medicare and Medicaid.
A similar trigger already exists: As it stands, the tax bill would already prompt some $25 billion in Medicare cuts, thanks to existing rules that call for automatic spending cuts to counteract new laws that add to the deficit — which the tax bill would. An ACA payment program for insurers would also be cut substantially under those automatic reductions.
The New York Times has a good visualization of these automatic spending cuts.
Governors to Congress: Pass CHIP already
The National Governors Association would like Congress to get it together and reauthorize federal funding for the Children's Health Insurance Program — a wish the NGA's health care leaders reiterated last night in a letter to congressional leaders.
Flashback: Federal funding for the program, which covers roughly 9 million children, expired at the end of September, and several states have begun to run out of reserve funds to keep their programs afloat.
"These disruptions have not been without consequences, and we write to convey that further delay into 2018 will only compound the issues facing our states and vulnerable citizens," Massachusetts Gov. Charlie Baker and Oregon Gov. Kate Brown, the chair and vice chair of the NGA's health care subcommittee, write in their letter.
Conway is the White House's point person on opioids
Attorney General Jeff Sessions made some waves yesterday when he said White House adviser Kellyanne Conway is leading the Trump administration's effort to combat the opioid epidemic.
His point was widely mistaken as an announcement that Conway would be the White House's "opioid czar" — a position that doesn't exist, but which some experts would like to see created. But Sessions didn't use those words, and the White House later said Conway's opioid portfolio isn't expanding. She's already been attending events and working on this issue.
Yes, but: The fact that the White House's point person here is a top adviser with a host of other responsibilities — whether it's Conway or anyone else — is part of the reason experts think a dedicated coordinator might do some good.
"I don't think someone can seriously coordinate a complex policy from the White House as a part-time job," says Ron Klain, who served as "Ebola czar" for former President Obama. "I presume that Kellyanne Conway had a full time job at the White House before she took this on. So, I don't understand how you can say that you are making something a high-priority, "emergency" response if someone is leading it in their limited spare time."
What we're watching today: HELP Committee hearing on the opioid crisis. House Energy and Commerce subcommittee hearing on implementation of the 21st Century Cures Act.
Centers for Medicare & Medicaid administrator Seema Verma speaks at the Forbes health care summit in New York.
What's on your mind? I'd love to know. Doesn't even have to be about health care. baker@axios.com