Good morning ... It's already Wednesday and Congress still has to figure out a deal to fund the government beyond this week. So this should be a fun few days. And then we get to do it all again, almost immediately.
Hooray.
Can't wait.
Even ACA allies aren't so sure about Alexander-Murray any more
Just a few weeks ago, the Affordable Care Act stabilization bill from Sens. Lamar Alexander and Patty Murray looked like a common-sense fix with a decent shot at finding its way into Congress' big end-of-the-year package. But that was before Republicans were on the cusp of repealing the individual mandate. Now the bill's constituency is eroding — on every front.
Democrats liked Alexander-Murray on its own, but Sen. Susan Collins is now framing the bill as a trade-off to help her support repealing the law's individual mandate, and Democrats can't go for that deal.
Many Republicans never supported Alexander-Murray. The Wall Street Journal reports that it won't be attached to the two-week spending bill Congress takes up this week, and that House Speaker Paul Ryan was never part of any agreement to pass the bill to help get Collins on board with Republicans' tax overhaul.
Independent experts are also souring on the proposal. "I don't think it's good policy," Duke researcher David Anderson says. He's been beating this drum for a while, and more analysts are starting to agree with him. Here's the argument:
President Trump's decision to cut off the ACA's cost-sharing payments ended up artificially inflating its premium subsidies, to an extent many experts simply hadn't anticipated. For many people who get those subsidies, insurance is more affordable now than ever before.
Undoing Trump's actions through Alexander-Murray would also undo that subsidy bump. And experts increasingly think that's not worth it.
"The current setup is weird, and I think that kind of offends some people's sensibilities. But it's working, so I don't think there's a compelling need for Alexander-Murray right now," the Kaiser Family Foundation's Larry Levitt says.
The bottom line: Everyone agrees that repealing the individual mandate will lead to higher premiums and probably less competition among insurers. No one is quite sure how bad those effects will be, which makes it hard to say for sure how much Alexander-Murray would help or hurt.
But when I asked several of the smartest experts around whether they'd rather enter this new reality with or without Alexander-Murray, they were unanimous — they'd rather take their chances without it, keeping higher premium subsidies instead.
​Still no plan for CHIP
Congress still doesn't have a long-term plan to fund the Children's Health Insurance Program. Lawmakers are expected to pass a stopgap funding bill this week that helps free up some more emergency cash for states whose programs are about to run out of money. But there's no deal yet to actually reauthorize federal CHIP money, months after it expired, my colleague Caitlin Owens reports this morning.
The problem: Money.
GOP lobbyists are already warning that reauthorization could shorten from five years down to just a year or two, due to the political difficulty of finding a way to pay for anything longer.
What's next: A Finance Committee spokeswoman said Chairman Orrin Hatch "remains confident this will be resolved before the year's end." It's very likely to be part of the year-end funding bill. But states are still starting to get nervous.
​The CVS-Aetna termination fee
If federal antitrust officials block CVS Health's pending acquisition of Aetna, CVS would have to pay $2.1 billion, my colleague Bob Herman reports. The merger agreement also presumes the transaction will close within 12 months.
Why it matters: $2.1 billion is a hefty termination fee, so CVS clearly has an incentive to get the merger across the finish line. But Aetna CEO Mark Bertolini has a lot at stake, too — the Wall Street Journal reports Bertolini could walk away with $500 million if the deal closes.
Some context: Aetna had to pay $1 billion to Humana after antitrust officials rejected that deal.
​More opioid patients are dying in the hospital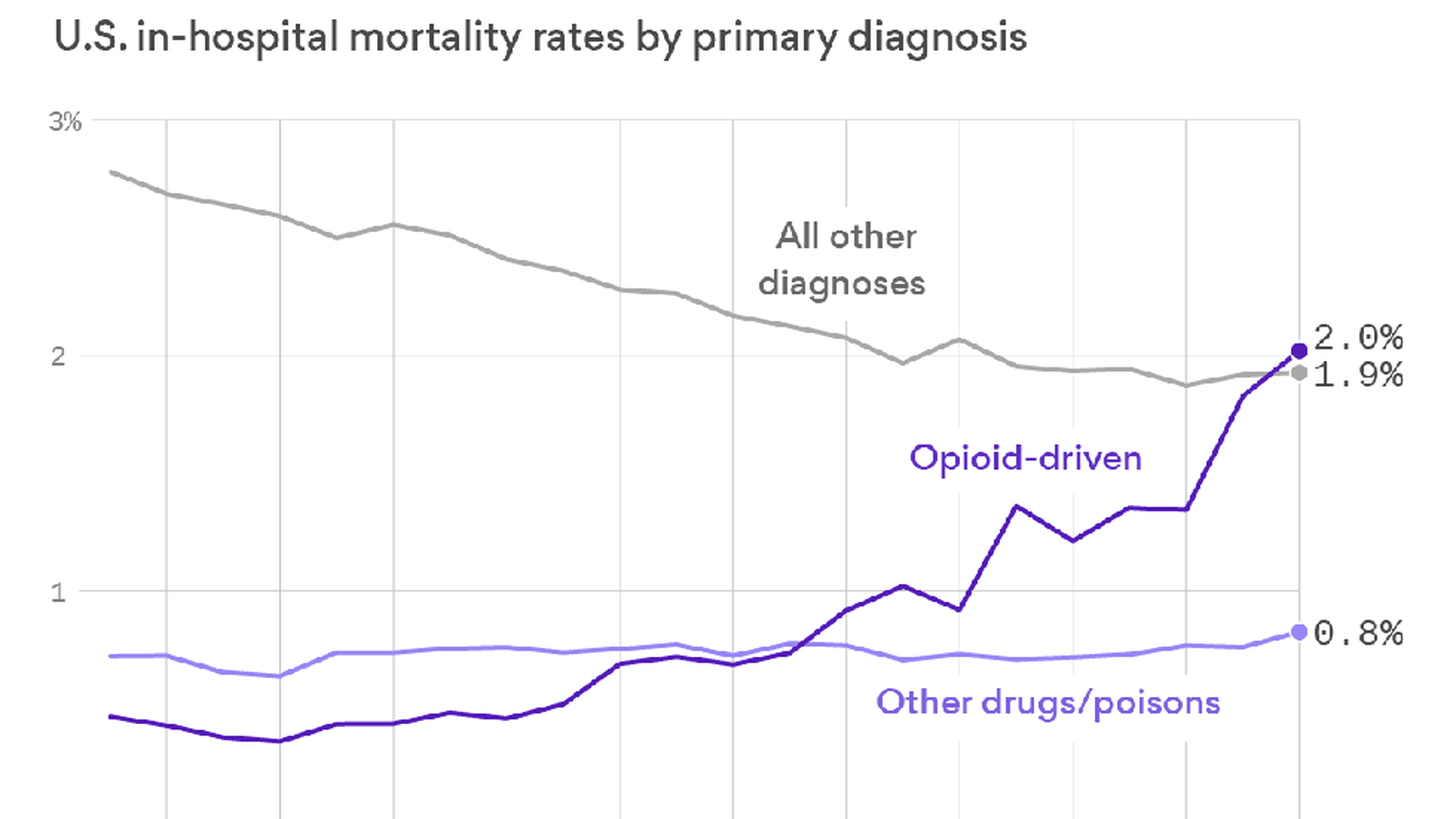 We're getting better at keeping hospital patients alive — unless they're in the hospital because of opioids.
What's happening: A study published in the new issue of Health Affairs finds that mortality rates for opioid patients quadrupled between 2000 and 2014. The hospital mortality rate for other drugs stayed about the same, while survival rates for all other hospitalizations improved over the same period.
​#MeToo hits biotech hedge fund
Former employees have accused a powerful biotech hedge-fund manager of sexual harassment, STAT reports. The former employees told STAT that Sam Isaly, the founder of OrbiMed Advisors, "has for years perpetuated a toxic culture of sexual harassment … routinely subjecting young female assistants to pornography in the workplace, lewd jokes, and pervasive sexist comments."
Response: Isaly denied the allegations in his Monday interview with STAT. After the story was published Tuesday evening, OrbiMed issued a statement saying they hired an outside independent firm to investigate, STAT says.
OrbiMed is the largest biotech-focused hedge fund. It manages more than $14 billion, according to the firm's website.
What we're watching today: Another ACA enrollment update is likely. Usual drama on Capitol Hill.
What we're watching this week: Aforementioned drama. HELP Committee hearing tomorrow on implementation of the 21st Century Cures Act.
Get in touch: I always want to hear from you: baker@axios.com.