Axios Vitals
June 07, 2017
Good morning ... The Senate is getting closer to a health care plan and still aiming for a vote this month. Majority Leader Mitch McConnell is trying to steer his party away from the House's biggest political bombshells, but nothing in health care is free of controversy.
And a big congrats to Dr. Francis Collins on re-upping as director of the National Institutes of Health. Everyone seemed to be happy with President Trump's decision to keep him. He even got a Twitter shoutout from Ivanka Trump.
The Senate's approach to pre-existing conditions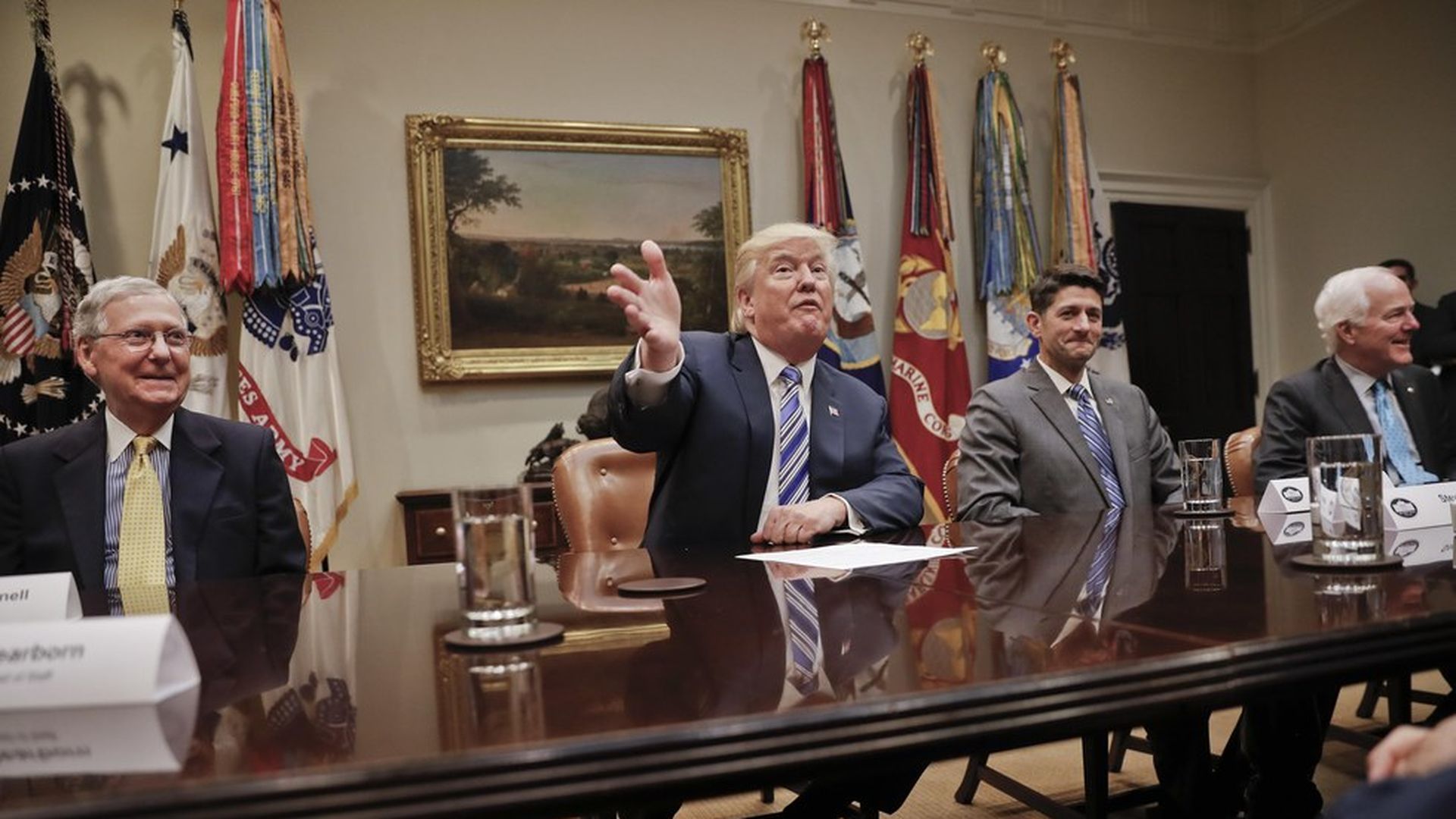 The Senate is definitely moving toward a health care bill that would let states waive some of the Affordable Care Act's regulations — but not the rules explicitly protecting people with pre-existing conditions, Caitlin Owens reported yesterday. While Majority Leader Mitch McConnell is presenting options for other policy areas, this one is being presented as a recommendation. Aides say they don't want to go through the tough politics surrounding pre-existing conditions that the House did.
But there are still problems with the recommendation:
Conservatives don't like it. They want states to be able to waive the ACA's ban on charging sick people more than healthy people.The waivers might not survive Senate rules for reconciliation, the method being used the pass the bill. That's because they may be deemed to have a budget impact that is "insignificant compared to the policy impact," according to a senior GOP aide.The odds: They're looking better now than they did on Monday. Most Republicans were more upbeat about the health care effort after yesterday's meetings, including McConnell, who told reporters that "doing nothing is not an option." But as the Wall Street Journal reminds us, they're still really, really divided over Medicaid.
One more issue with these waivers...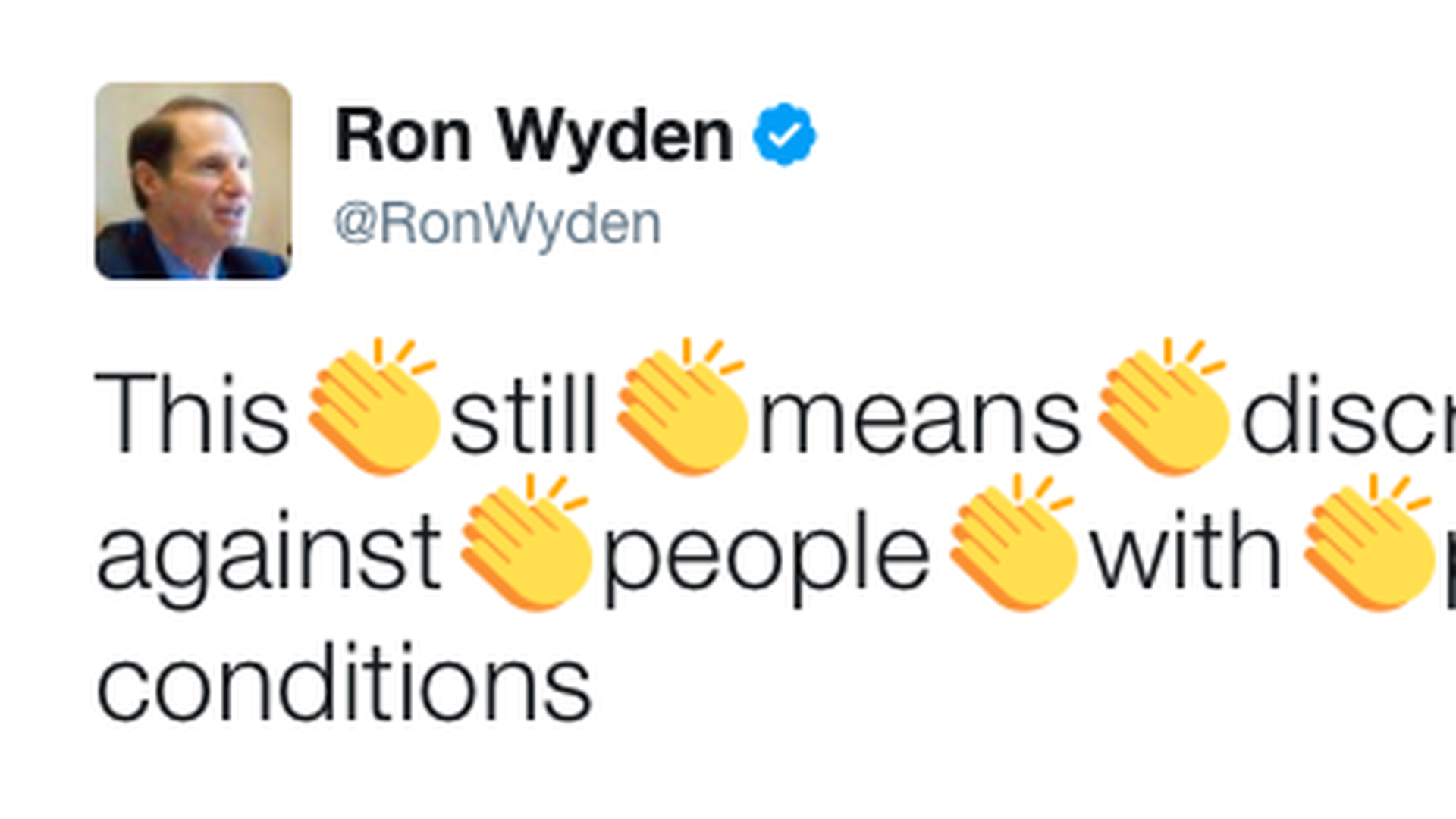 Even though McConnell's plan is an attempt to avoid the politics of pre-existing conditions, sicker consumers could still face higher prices and less access to care if states can waive the ACA's essential benefits. Here's how some experts (from both sides of the aisle) fear this could all shake out:
If insurers don't have to cover certain benefits, they probably won't. Or they'd charge much more for plans that include these benefits. Critics will argue that excluding expensive care isn't a lot better than excluding expensive patients.
There are ripple effects, too: Other provisions of the ACA are tied to essential benefits. (Insurers can't cap their annual spending on those benefits, for example.) In short, several factors could conspire here to make coverage more expensive and less available.
The bottom line: Sarah Lueck, a health policy expert at the liberal Center on Budget and Policy Priorities, says: "The protection for people with pre-existing conditions isn't one thing or two things or three things. It's like 10 things."
Where we go from here: McConnell is facing roughly the same bind Paul Ryan faced — Conservatives want to repeal more of the ACA, but that would open up the party to even more criticisms about rolling back very popular provisions. Nevertheless, McConnell sounded optimistic during a meeting yesterday with Trump. From our colleague Jonathan Swan:
The majority of the meeting focused on health care. Trump started off by saying the base was stronger than ever and now and it was time to come through for them. He asked McConnell when the bill would be ready and McConnell said the bill would released soon and scored by the CBO and voted on before July 4. Everyone agreed June would be spent talking about the failures of the ACA.
Another hurdle for the Senate: abortion
Republicans don't want any money in the GOP health care bill to be used for plans that cover abortions, but the restrictions in the House version may not pass Senate rules. So they might just have to work within the current ACA premium subsidy structure. Caitlin has the details.
Don't like high-deductible plans? Don't blame the ACA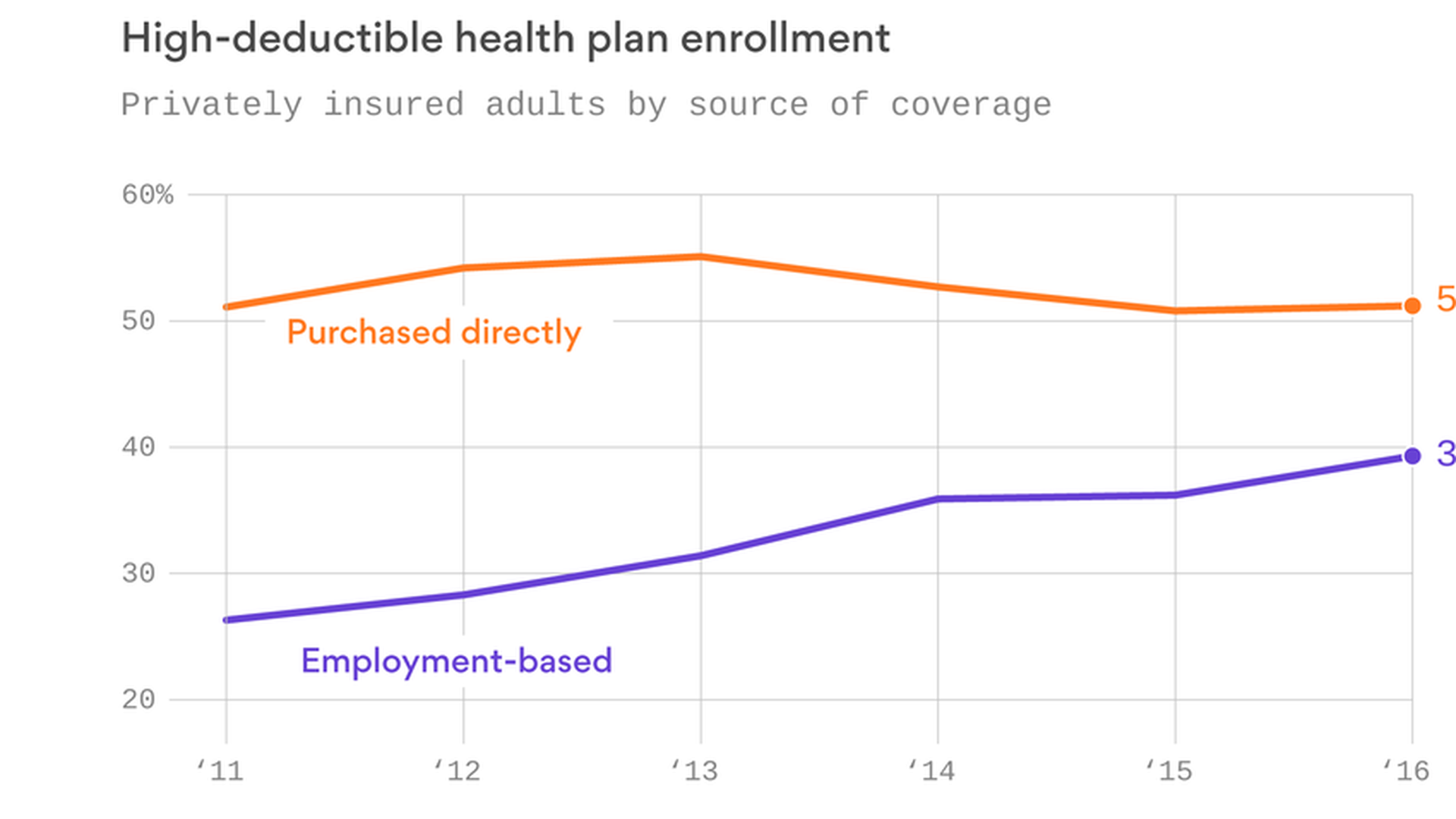 We've all heard about the high deductibles in many ACA plans, but the trend always went way beyond the ACA — and now a report from the Centers for Disease Control and Prevention shows us how much. This chart above is taken from the report and shows how much employers have shifted toward high-deductible health plans since 2011.
Supporters of high-deductible plans say they make consumers more cost-conscious, but the report shows the toll they can take on people's finances and health. (Last year, they were defined as any plan with a deductible of at least $1,300 for individuals or $2,600 for families.)
People who had trouble paying their medical bills:
Traditional health plans: 10.3%
High-deductible health plans: 15.5%
People who put off medical care:
Traditional health plans: 5.2%
High-deductible health plans: 9.2%
Why Lindsey Graham is concerned about Rand Paul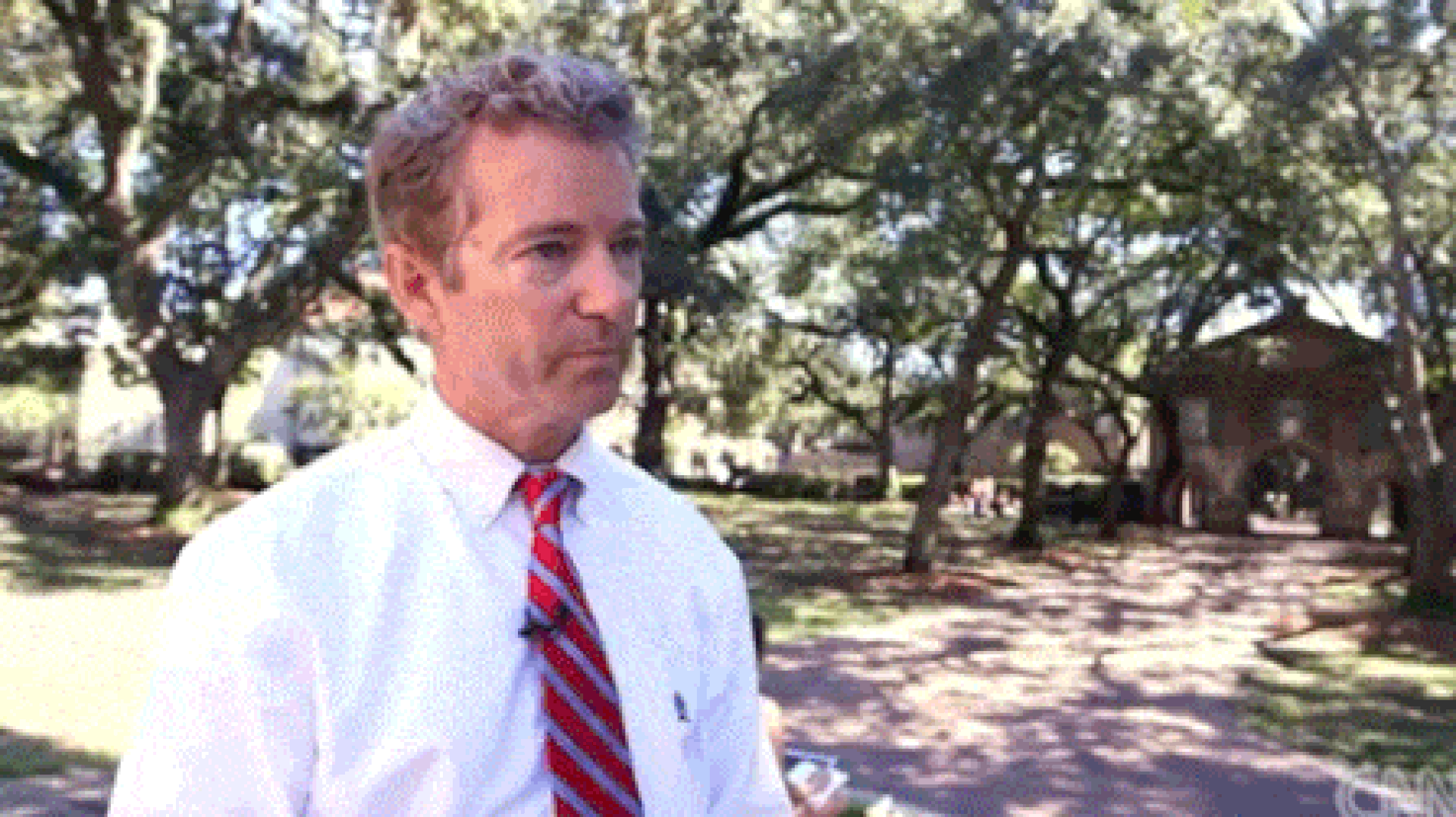 Sen. Lindsey Graham is convinced that Republicans are already down to just 51 votes for any health care bill — because he thinks Rand Paul will vote against any bill that has refundable tax credits to help people buy health insurance. Paul is "irretrievably gone," Graham told reporters yesterday, per The Hill.
Paul's response: "While we do have a press assistant opening in the Communications Department, Senator Graham has not applied and should not make public statements on behalf of Senator Rand Paul," spokesman Sergio Gor told us. "Senator Paul remains optimistic the bill can be improved in the days ahead and is keeping an open mind."
Between the lines: "Can be improved" doesn't mean he's on board. Neither does "keeping an open mind."
Anthem still has its foot in the door in Ohio
Anthem, arguably the most important health insurer participating in the ACA exchanges, made some waves yesterday when it said it was bailing on Ohio's ACA exchange. This has real implications for 10,500 Ohioans in 18 counties who will be left out in the cold during the next open enrollment.
But keep this in mind:
Anthem didn't completely exit. As Bob Herman points out, the insurer will sell a catastrophic HMO plan outside of the exchange in one county. Yes, that's the equivalent of leaving your pinky toe in a pool, but Anthem still technically has an ACA footprint in Ohio.Why it matters: Health insurers are prohibited from re-entering the marketplaces for five years if they discontinue all types of individual plans. Anthem clearly doesn't want to trigger the five-year penalty, and is giving itself an out if it wants to rejoin the exchanges. And it's also possible Anthem is playing public politics to get the Trump administration to fund cost-sharing subsidies.
The catch with targeted cancer drugs
This seems like a pretty big caveat to everything we've heard about the promise of new cancer drugs. MIT Technology Review has a smart story about a company called Loxo Oncology and the challenge it's facing with a new drug that can treat cancers with a specific genetic mutation: Patients have to get genetic testing to know if they have it. And that's really rare right now, especially since insurance doesn't always cover it.
The numbers that matter:
Just 12% of late-state metastatic cancer patients in the United States get genetic screenings.
Cost of genetic tests: $5,000 or more.
What to watch: This could become a bigger challenge for precision medicine's role in treating cancer, since the point is to be able to target treatments to the patients they're most likely to help.
What we're watching today: House Energy and Commerce Committee marks up the reauthorization of the Food and Drug Administration's user fees, 10 a.m. Eastern. Livestream here. (Be patient — they're also doing three other health care bills and 11 energy bills.) Also, Trump meets with "Obamacare victims," 12:45 p.m. Eastern.
What we're watching this week: Health and Human Services secretary Tom Price testifies on the HHS budget proposal on Thursday — at Senate Finance Committee in the morning and House Ways and Means Committee in the afternoon. The investment bank Jefferies holds its global health care conference in New York City through Friday.
What we're watching next week: Senate HELP Committee holds hearing on how the prescription drug delivery system affects drug prices, June 13. Senate Committee on Indian Affairs hearing on legislation to help employee recruitment and retention at the Indian Health Service, June 13.
Tell us what else is on your radar, and what should be on ours: [email protected], [email protected]