Good morning ... Republicans are barrelling toward a vote on a massive health care overhaul without any hearings, any official estimates of how it would affect insurance markets, or any debate about its finer points. That doesn't mean it's a bad bill. But it does mean a lot of Republicans don't really know whether it's a good or bad bill.
Graham-Cassidy's surge isn't about its substance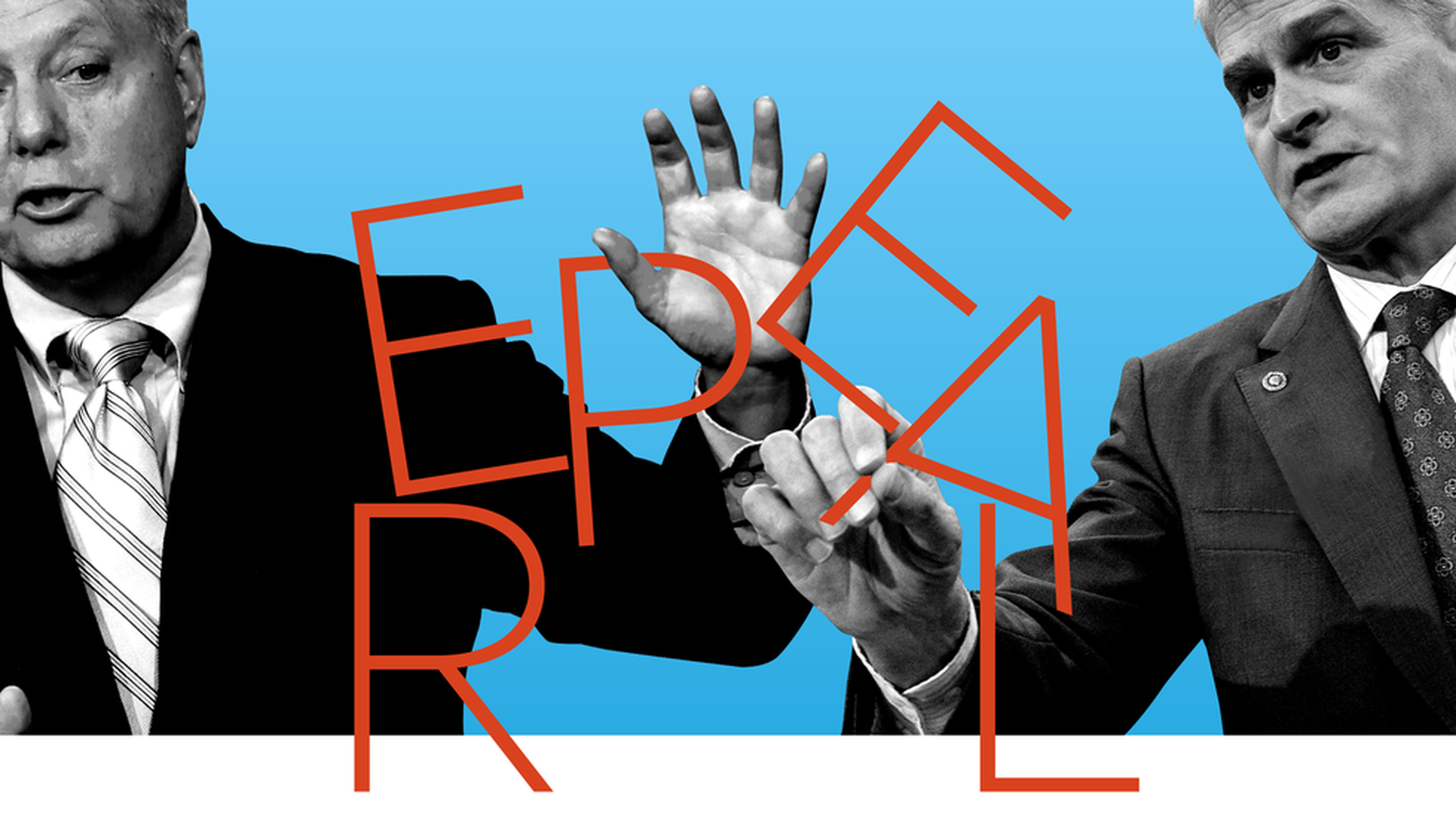 Senate Republicans are on the verge of passing a sweeping health care bill not only without knowing what's in it, but without particularly caring.
Why? It's become pretty clear, as the repeal bill from Sens. Lindsey Graham and Bill Cassidy has gained steam this week, that a lot of Republicans are on board because of the political imperatives behind "Obamacare repeal," and aren't especially engaged with the sweeping, dramatic changes this bill would make to the U.S. health care system.
"If there was an oral exam on the contents of the proposal, graded on a generous curve, only two Republicans could pass it. And one of them isn't Lindsey Graham," a senior GOP aide told Axios' Caitlin Owens.
Reality check: The ACA had all sorts of unanticipated quirks and unintended consequences — and Democrats spent almost a year working on it. A bill written in a couple weeks, whose scope is even bigger than the ACA's, is sure to have some, too. And yet, many rank-and-file Republicans have barely reckoned with the very big things the bill would do intentionally.
"I am just in shock how no one actually cares about the policy any more," one GOP lobbyist told Caitlin.
Why it matters: If this bill passes, the policy will become real soon enough. Any major overhaul of the U.S. health care system is, by definition, disruptive and full of trade-offs. But only a handful of the people who are prepared to vote for that policy seem to have thought seriously about what it would look like.
Graham-Cassidy's biggest question mark
The Graham-Cassidy bill would turn billions of dollars in federal health care funds over to the states to spend as they please. No one has much idea what the states might do with it.
The possibilities:
Some conservatives say they're afraid blue states would try to set up single-payer systems. But it's almost certainly not enough money for that. (The liberal-leaning states most likely to try such an experiment would face the deepest cuts in total funding.)
Rhetorically, some supporters have said blue states could keep the ACA, if they like it so much. They won't have enough money to do that, either.
Conservative policy analyst Douglas Holtz-Eakin expects that states would use the money to set up reinsurance programs, or a similar mechanism to offset the costs of insurers' most expensive customers.
The catch: Graham-Cassidy's block grants would end in 2026. The idea is for Congress to avoid actually going over that cliff. But that's a big leap of faith for governors.
"Will states want to commit to creating new programs with federal block grant dollars that may disappear in 2027?" the Kaiser Family Foundation's Larry Levitt asks.
Holtz-Eakin says he would suggest that the funding continue, benchmarked to medical inflation or a similar growth rate.
Other policy experts say there's a chance that states would divert some of their block grants to shore up existing programs, like substance-abuse or mental health coverage (which could be especially needed due to Graham-Cassidy's additional Medicaid cuts), rather than replace some part of the ACA's coverage. That might be a safer move, too, if states fear the money might disappear.
Bottom line: The whole point of block grants is to let states decide how to spend them, so uncertainty about what they'd do is not a bug, it's a feature. Even so, some of the smartest policy experts are also unclear about the technicalities of how these grants would work, why they're structured the way they are, and what options states would have — all of which would affect how well they work.
Price's use of private jets under scrutiny
Health and Human Services secretary Tom Price has been flying on private jets for official business, costing taxpayers tens of thousands of dollars, Politico reports. Price even flew private up to an event last week in Philadelphia. (This isn't the point, but is that any more convenient than taking Amtrak?)
Why this matters: As Politico notes, Price's luxurious travel came at the same time he's been both championing Republicans' effort to slash federal health care spending and preparing an internal cost-cutting review within HHS. It's pretty easy to guess what Democrats might ask about next time Price testifies on Capitol Hill.
​So anyway, it's time for insurers to file their rates
Could there be a better time for an insurer filing deadline? Hard to imagine what it would be. Today's the deadline for insurers to file their rates for the plans they're selling in the ACA marketplaces next year (h/t to the Commonwealth Fund for remembering this).
The intrigue: If insurers are not confident they'll keep getting their cost-sharing reduction payments, this is their last chance to raise their premiums. (They also could still withdraw from some markets completely — they have until Sept. 27 to lock in their contracts.)
The odds: Why would they be confident?
​A lobbying push by medical equipment suppliers
Top executives at the American Association for Homecare, the lobbying group representing medical equipment companies, met with Medicare officials earlier this month in an attempt to solidify a rule that would raise federal payments for their member companies, Axios' Bob Herman reports.
Quick context: In August, Bob reported that Price and other health care officials were preparing a rule that would reverse a policy that cut rates to "durable medical equipment" companies through a competitive bidding process.
The latest: AAH hired a consulting firm to survey Medicare beneficiaries, caretakers, and medical equipment suppliers. The surveys indicated people were experiencing delays in getting their equipment, like wheelchairs or oxygen tanks, and were paying out of pocket to avoid delays. The surveys blame the competitive bidding program, which AAH and the consultants argued was "not working as intended and can be fixed."
Why it matters: AAH crafted a narrative for Price, who has supported the policy and accepted large donations from the industry, making it almost certain the rule will go into effect.
How opioids are reducing life expectancy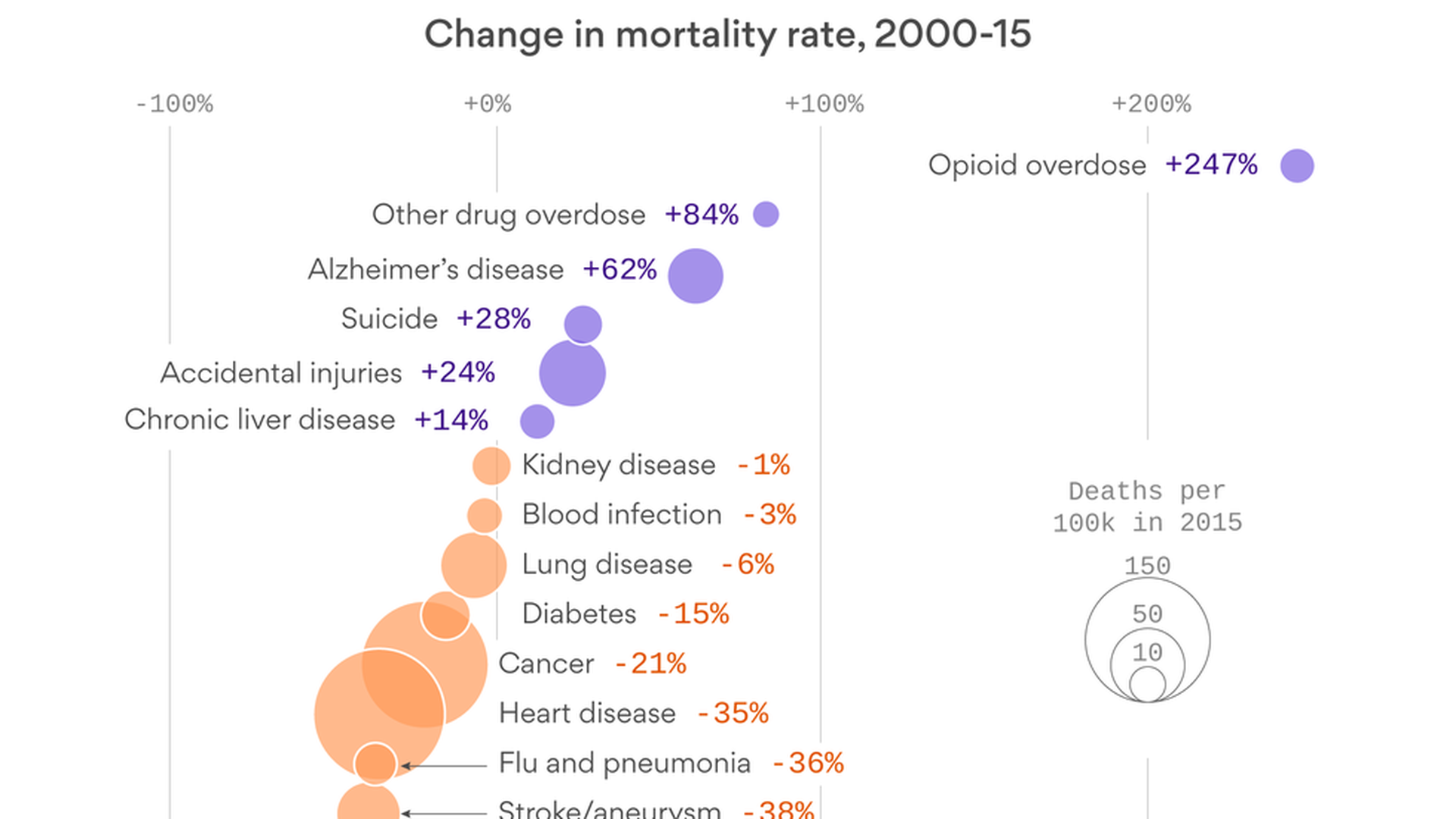 It's not that Americans' life expectancy is going down — it has been on the rise in recent years. But the gains stopped in 2014, largely because of the opioid epidemic, per Axios' Alison Snyder. Here's her post on a Centers for Disease and Control and Prevention study that shows life expectancy rose by about two years between 2000 and 2015 — but opioid-related deaths cut that total by about two and a half months.
The bottom line: All of the progress we've made against death by stroke, cancer, heart disease and other conditions would make a bigger difference if there was more progress against the opioid crisis.
What we're watching today: The insurer filing deadline.
What we're watching this week: More Graham-Cassidy twists and turns.
What we're watching next week: Maybe a Graham-Cassidy vote?
What's your guess? Will Graham-Cassidy pass? Who will be the deciding votes? Let me know your thoughts: baker@axios.com.