Happy Friday … Looks like Senate Majority Leader Mitch McConnell is going to have to finish that health care bill himself. And Health and Human Services secretary Tom Price managed to get through two back-to-back hearings yesterday without ever being knocked off message.
If you're in Los Angeles, hope you'll join us on Wednesday for our Axios event on the human brain. Our science editor Alison Snyder will host one-on-one conversations with leading experts on artificial intelligence, brain-machine interfaces, biopharmaceuticals, and virtual reality. More information and RSVP here.
The Senate leaves us in suspense again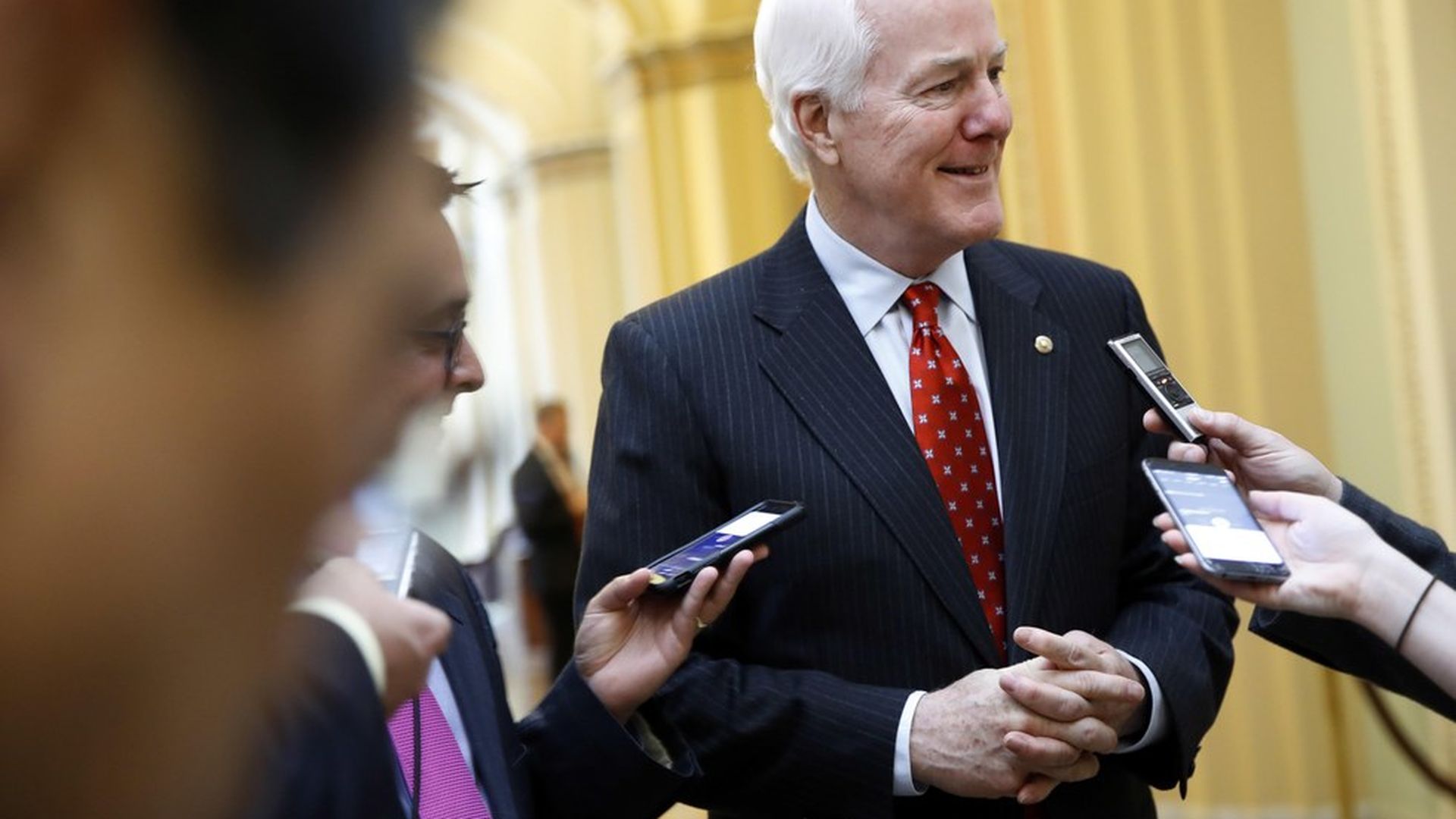 Hey, remember when Senate Republicans were hoping to get a health care bill to the Congressional Budget Office by Friday? Well, it's Friday. And GOP senators left town for the weekend without resolving their biggest intra-party conflicts — like what to do about Medicaid, how many Affordable Care Act regulations to let states waive, and how to structure new premium subsidies.
But committee staff have been tasked with putting a bill together over the next couple of days, in order to get it to the CBO by the beginning of next week.
Talking points: Here are just a few of the divisions Republicans were still wrestling with as senators headed for the airport, per Caitlin Owens:
Moderates like Sens. Dean Heller and Rob Portman want to phase out the ACA's Medicaid expansion over 7 years, rather than the 3-year period McConnell recommended.
There's still a fight over whether to grow a Medicaid per-person funding cap at the same rate as the House or at a slower rate. Moderates have said they can't accept anything lower.
Although most members — except for conservatives like Sen. Rand Paul — seem OK with the general idea of providing tax credits to help people pay their premiums, there's nothing definitive about whether and how to adjust those payments for age or geography.
The state waiver recommendation made by McConnell this week didn't include pre-existing conditions regulations, to the relief of moderates, but this was a loss for conservatives.
What to watch: The talking phase seems mostly over. Now leadership is coming up with text. It will inevitably create winners and losers, and members will have to choose how to respond.
What we learned from the Tom Price hearings
Didn't have time to sit through the two hearings yesterday where Price testified on the HHS budget? Here are the main takeaways (and you can read David's wrap-up here):
Price is relentlessly on message. His answers to most criticisms of the GOP health care bill and President Trump's budget were the same: The ACA is broken, and greater competition and choice are the answer.
He's not giving up on "insurance for everybody." "We want to gain 100 percent coverage for individuals, but the only way you do that is to allow them to select the coverage that they want," he said at the House Ways and Means Committee hearing.
Look at the whole package. Price is sticking to his script on why he doesn't believe the CBO estimates: They're not looking at the entire plan for replacing the ACA. (But Price himself also can't talk about "Phase 2" — the regulatory side — in advance, and "Phase 3" includes bills that may never get 60 votes in the Senate.)
He's not comfortable with deeper Medicaid cuts. Price made that clear at the Senate Finance Committee hearing, when Republican Sen. Dean Heller asked him if he'd support a slower Medicaid spending growth rate than the rate the House bill uses. (Heller doesn't want a slower growth rate either, but some of the conservative GOP senators do.)
He can't answer insurer payment questions. Over and over, Price dodged questions about whether the Trump administration will keep making the ACA cost-sharing reduction payments to insurers. He said he can't comment because of the ongoing lawsuit, but of course Trump may not want to continue them, either.
Senate Republicans are in for a lot more trouble. If Democratic Sen. Claire McCaskill's eruption at Finance Committee chairman Orrin Hatch is any indication, GOP senators are going to get a lot of heat for not writing their health care bill in a more open way.
How much does Trump's budget save on Medicaid? ¯\_(ツ)_/¯
Price tried to kill off another popular storyline: that the Trump budget piles even more Medicaid cuts on top of the ones in the House health care bill. "I don't believe it's correct to add those numbers together," Price said when Democratic Sen. Michael Bennet asked whether the budget's $610 billion in Medicaid savings are on top of the $834 billion in the House health care bill.
Several outside health care analysts have concluded that they are, because they're listed separately. So who's right? The reality is, even the Trump administration doesn't really know how much it wants to save on Medicaid.
Moving target: This is how an Office of Management and Budget official explained it to us yesterday:
The Trump budget has a placeholder for all savings from ACA repeal: $250 billion. But that might not be the actual figure.
The $610 billion in savings is from the Trump administration's Medicaid plan — not necessarily the House Medicaid plan.
And it uses a slower spending growth rate than the House bill.
The administration says it can't give a savings breakdown beyond that, because "the policies are in flux" and the CBO accounting is different from the administration's anyway.
The lucrative business of HSAs
Republicans view health savings accounts — mechanisms for people to set aside untaxed money to pay for medical expenses — as a crucial part of pushing people to have "skin in the game" and pay for their own health care.
A plethora of HSA providers exist, many of which are run through banks or credit unions. Bob Herman took a glance at one of the biggest standalone HSA companies, HealthEquity, and explains how there's a lot of money to be made at running the relatively low-maintenance accounts.
Brady wants to fund insurer payments, but isn't sure how...
House Ways and Means Committee chairman Kevin Brady wants Congress to fund the ACA cost-sharing payments to insurers — but he doesn't have a plan yet for whether that should be separated from the fate of the broader repeal bill. Brady told reporters yesterday:
"We haven't discussed the format for doing that, but ... House Republicans have envisioned extending these temporarily and legally through the transition period, and so we need to act on that."
Reality check: There's still no way this can happen before the June 21 deadline for insurers to decide whether they want to participate in the ACA's marketplaces next year. Even if they're included in the Senate health care bill, its fate won't be decided by then. And it's not like Republicans are drowning us with specifics.
Sincerely, short-term health plan brokers
ICYMI yesterday: 14 Republican senators wrote a letter urging Price to reverse an Obama-era regulation that changed the duration of short-term health plans from 12 months to no more than three months. However, companies that sell those types of plans had a clear influence over the letter, Bob Herman reports.
What we saw: 10 of the footnotes in the senators' letter were links or messages from eHealth or Health Insurance Innovations — two companies that promote short-term health plans and have lobbied hard to have the Obama rule overturned. One of the footnotes was a sales pitchy press release from AgileHealthInsurance.com, a subsidiary of Health Insurance Innovations.
Why it matters: Many healthy people have flocked to short-term health plans because they have cheaper monthly premiums. But they're cheaper because they don't have to cover pre-existing conditions or certain services — which critics say have made the risk pool worse and caused higher premiums in the ACA exchanges.
What we're watching next week: Senate HELP Committee holds hearing on how the prescription drug delivery system affects drug prices, Tuesday, June 13. Senate Committee on Indian Affairs hearing on legislation to help employee recruitment and retention at the Indian Health Service, Tuesday, June 13. House Energy and Commerce health subcommittee hearing on reauthorizing CHIP, Wednesday, June 14. Goldman Sachs Global Healthcare Conference, June 13-15.
Keep the tips and feedback coming: david@axios.com and baker@axios.com.