Good morning ... Moderate Republicans are quietly talking to each other, and even to Democrats, about how to find common ground on health care. (Yes, we've seen all the "John Kasich is no moderate" stories. Come at us.) And health care execs are so cynical that anything will happen on Trumpcare and drug prices that they're gonna be really surprised when ... well, maybe not.
https://www.axios.com/newsletters/axios-vitals-c54e87df-2fbe-407f-b1b1-05d46e489aa0.html?chunk=0#story0
Forget Trumpcare 2.0, moderates want to try bipartisanship
As conservatives pressure moderates to accept Trumpcare changes that would swing the bill to the right, some moderates are moving on to a new plan: bipartisanship. As in, trying to create a coalition with moderate Republicans and conservative Democrats that could actually get something done.
Rep. Charlie Dent, a co-chair of the moderate Tuesday Group, told Caitlin Owens he thinks the best approach is to work from the center out: "If we attempt to muscle this thing through on a partisan basis, I feel we'll have a similar result" to Obamacare, which is that "the reform won't be durable." He's already talking to some Democrats, who "understand there need to be, at the very least, some very significant repairs made."
Outside of Congress, Ohio Gov. John Kasich is trying to do the same thing. A Kasich aide told Caitlin he has spoken both with Dent and Colorado Democratic Gov. John Hickenlooper, whose office confirmed the two governors spoke on the phone about looking for common ground on health care.
About those conservatives and their ads: Dent is dismissive of the pressure to support a repeal bill that would get rid of Obamacare's insurance rules. "You got all these groups out there and they're engaged in face-saving efforts. They all came out against the bill and now they're trying to change the narrative," he said.
Time to move on: Dent said that getting Democrats to the table is unlikely if the current House Obamacare replacement bill is the vehicle Republicans continue to work with. Instead, he said, they'll need to start over.
Areas of agreement: There are members of both parties that dislike Obamacare's Cadillac tax on expensive employer benefits and its medical device tax, Dent said. There's also agreement something needs to be done to fix the individual insurance market. (Of course, figuring out what that something is will be the tough part.)
https://www.axios.com/newsletters/axios-vitals-c54e87df-2fbe-407f-b1b1-05d46e489aa0.html?chunk=1#story1
The deep cynicism about Trumpcare and drug prices
The venture capital firm Venrock is out with an interesting survey today: It made the rounds with 274 executives from health IT startups, employers, insurers, providers, investors and other smart people. The big findings: they're deeply cynical about the prospects for both Obamacare repeal and a crackdown on rising drug prices. Most think Obamacare will be fixed and rebranded, not repealed — and they think there will be action on drug prices, but not "meaningful" action.
What will happen to Obamacare:
Repealed and replaced: 20 percent
Repealed: 8 percent
Repaired: 40 percent
Renamed: 32 percent
Will drug prices be restrained:
Yes, meaningfully: 5 percent
Yes, but marginally: 49 percent
Yes, voluntarily in response to populist concerns: 19 percent
No, nothing will happen: 27 percent
What it means: Bob Kocher, a partner at Venrock and a member of the Axios board of experts, says the survey probably reflects a "West Coast bias" on Obamacare — executives don't think Congress would actually pass a law that would reduce health coverage. And on drug pricing, he says, it's because of extreme skepticism: "I think this is one where people can't imagine Congress acting."
https://www.axios.com/newsletters/axios-vitals-c54e87df-2fbe-407f-b1b1-05d46e489aa0.html?chunk=2#story2
The disappearing Obamacare insurers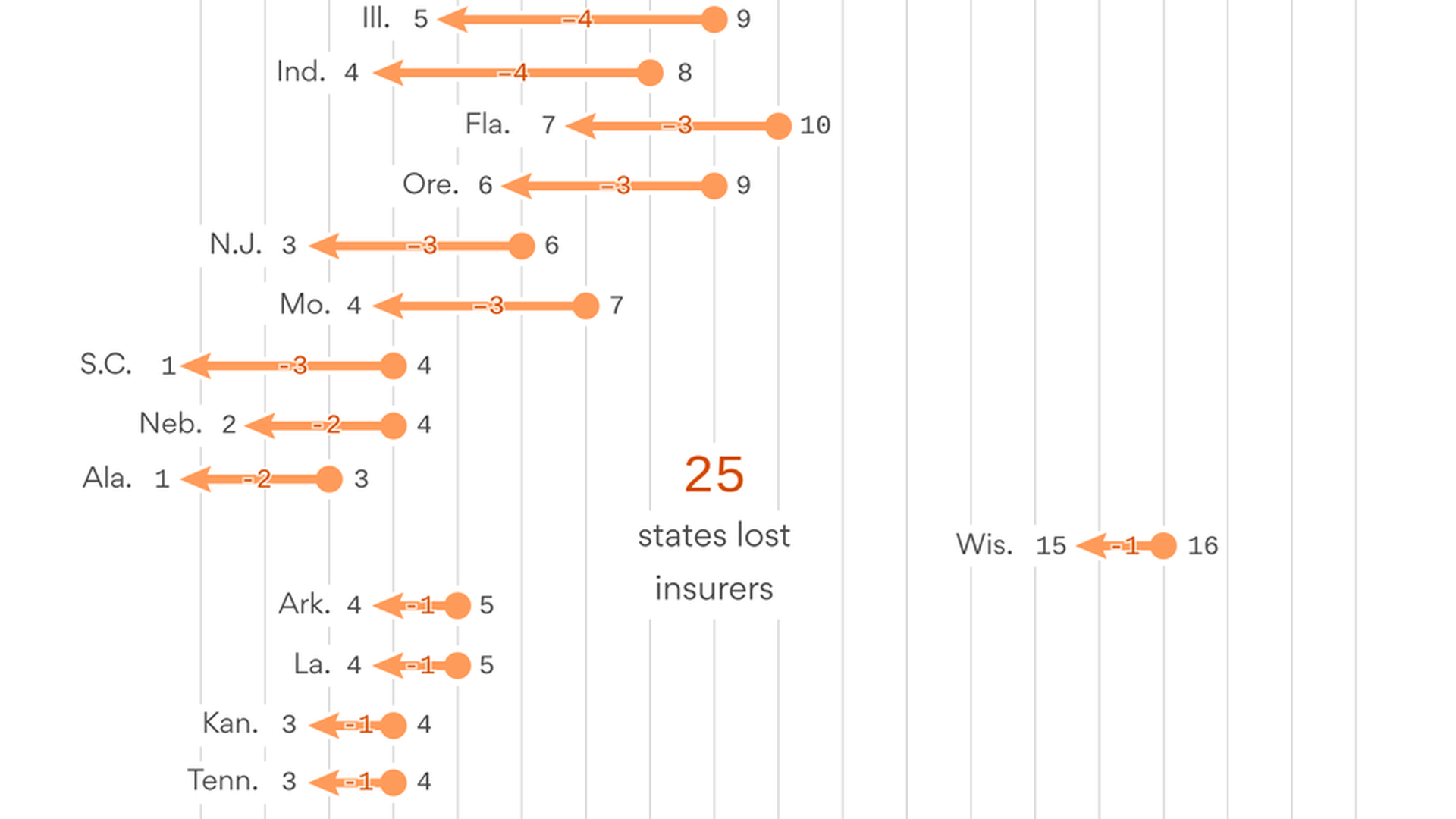 Republicans aren't wrong when they say Obamacare lost a lot of insurers last year. Here's a look at the biggest losers among the 39 states that use the federal marketplace, based on HHS data. It shows you the drop between 2016 and 2017. (Twelve states had no change, so they're not listed.) A few highlights:
Texas was the biggest loser — it lost nine insurers. But it still had 10 left. Hey, Texas — we're number one!
Arizona was next, and the damage was a lot worse: It dropped from eight insurers to two. That's where they had the 116 percent premium hike. (Most insurers probably priced their plans too low early on.)
Several dropped to one insurer.
Iowa actually picked up one insurer. But that didn't last — it's already lost two major insurers for next year.
The big question: Will it get worse next year if insurers get tired of waiting for the Trump administration and Congress to make some clear plans?
https://www.axios.com/newsletters/axios-vitals-c54e87df-2fbe-407f-b1b1-05d46e489aa0.html?chunk=3#story3
This Medicare Advantage startup isn't doing so hot
Clover Health has raised almost $300 million in venture capital funding, but so far, it isn't providing any returns to its outside investors, Bob Herman reports. Losses at the tech-based health insurance company, which only enrolls Medicare Advantage seniors, were seven times higher in 2016 than 2015 due to "higher-than-expected medical expenses," according to Clover's financial documents.
Why this matters: Venture capitalists have poured a lot of money into startups like Clover Health, Oscar and Zoom since Obamacare went into effect with the assumption those companies will "disrupt" the health insurance industry. They haven't yet. And it's unclear if investors and consumers will have the patience to wait and see if new companies can fundamentally change an industry that, at its core, is about collecting premiums from the healthy to pay for the costs of the sick. Read Bob's story here.
https://www.axios.com/newsletters/axios-vitals-c54e87df-2fbe-407f-b1b1-05d46e489aa0.html?chunk=4#story4
What to watch in the market stabilization rule
We're going to get the final version of the HHS market stabilization rule for Obamacare any day now (the proposed version came out in February). So when it comes out, are you going to read through every page, trying to figure out what's important? No, because we're going to help you skip to the parts that matter.
Look for any changes in:
The part that gives insurers more flexibility in figuring the amount of coverage they have to provide. That's the part liberals are most alarmed about — they say it would weaken the value of Obamacare's tax credits.
The length of the next open enrollment season. (The proposed rule cut it to six weeks — it used to be three months.)
The crackdown on special enrollment periods.
The crackdown on customers who haven't paid part of last year's premiums.
The part that lets states determine whether health insurance plans have adequate networks of doctors and hospitals.