Axios Vitals
September 21, 2017
Good morning ... Graham-Cassidy doesn't have 50 votes yet, but a vote is still — for now — planned for next week. So we have a few more days to keep digesting the policy. If you spot anything interesting, let me know: [email protected]
Graham-Cassidy and pre-existing conditions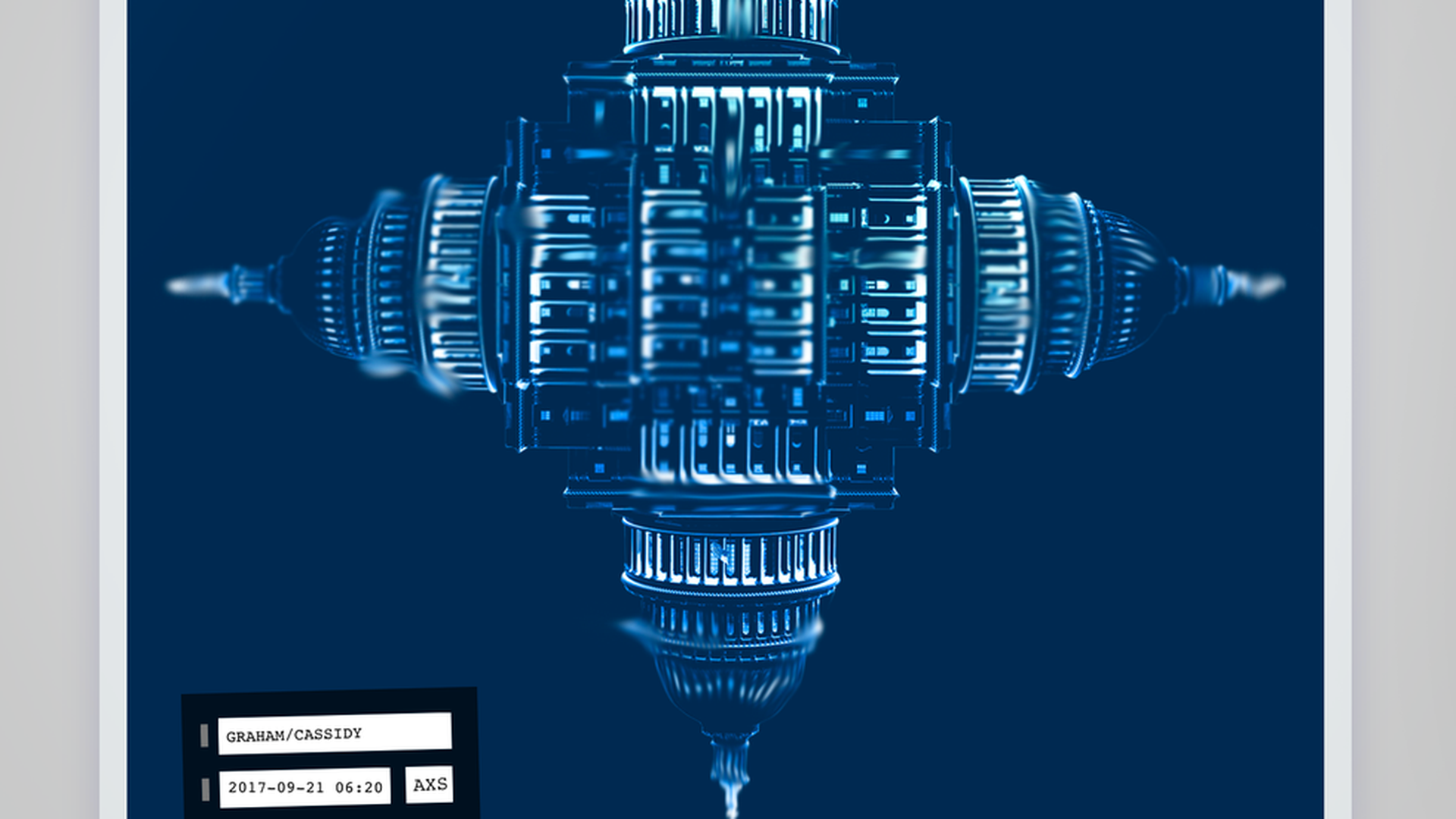 If your list of predictions for 2017 included "multi-round battle between Jimmy Kimmel and Sen. Bill Cassidy over federal protections for people with pre-existing conditions," congratulations. If you also predicted that Kimmel would win that argument, you should go buy some Powerball tickets. Because policy experts tell Axios' Caitlin Owens that Kimmel has the upper hand.
Here's the juice: The bill Cassidy introduced with Sen. Lindsey Graham would not repeal the section of the Affordable Care Act that requires insurance companies to cover people with pre-existing conditions, nor could states seek a waiver from that provision.
But it would let states waive the section that says insurers can't raise your premiums because of a pre-existing condition, which could make coverage unaffordable.
States also could waive the law's essential health benefits — excluding, for example, expensive prescription drugs. And once a service is no longer an essential benefit, it's also not subject to the ACA's ban on lifetime or annual coverage limits.
So, in several ways, the bill could make coverage substantially more expensive, and even unaffordable, for people with pre-existing conditions.
So when President Trump tweeted last night that "I would not sign Graham-Cassidy if it did not include coverage of pre-existing conditions. It does!" — it's a sign that he may not understand the bill.
Go deeper: Because the bill gives states so much control, a more liberal state like California might want to preserve more of the ACA's regulations. But those states would take the biggest hit from Graham-Cassidy's funding cuts — making more aggressive waivers a necessity.
"[I]f you have less money, you either cover fewer people, or you cover the same amount of people with less generous coverage," Avalere's Caroline Pearson told Caitlin. "So if a bill reduces the availability of comprehensive insurance, people with chronic conditions are going to be disproportionately harmed."
Graham-Cassidy lightning round
A quick summary of what you might have missed yesterday:
News: Majority Leader Mitch McConnell confirmed he intends to hold votes on the bill next week. That doesn't mean he has the votes. "Intends" is doing a lot of work. And none of the wavering senators came off the fence publicly.
Analyses:
Avalere Health, a nonpartisan consulting firm, said the bill would cut $215 billion in federal spending by 2026, growing to more than $4 trillion after its block grants cease to exist.
The liberal Center for American Progress estimated that, by 2026, 30 million more Americans would be uninsured under Graham-Cassidy than under the status quo.
AARP, which opposes the bill, released a report saying premiums for older consumers could rise by roughly $16,000 per year.
Industry positioning:
Insurers are against it. America's Health Insurance Plans and the Blue Cross Blue Shield Association both said they do not support the bill.
Hospitals are, too. The Federation of American Hospitals announced its opposition yesterday; the American Hospital Association was already on the record as against it. (Hospitals will never love a bill with such deep Medicaid cuts.)
Why it matters: If you're thinking to yourself, "Well, come on, most of this stuff is from the bill's critics," you are correct. An analysis from the Congressional Budget Office would have been much more authoritative. Also, who are this bill's allies?
Conservatives groups are lukewarm
Outside advocacy groups have kept up the pressure on congressional Republicans for years to repeal the ACA. But none of them seems too excited about Graham-Cassidy.
FreedomWorks said yesterday that "we don't support nor do we oppose Graham-Cassidy."
Earlier in the week, Tea Party Patriots put out a 400-word statement so hedged it required a follow-up clarification. The group's members said they did not support Graham-Cassidy, but also said Tea Party Patriots should endorse it, so the group supports it.
Americans for Prosperity and Heritage Action have been noncommittal. Heritage Action last night said the bill "does include significant improvements over current law," but called for some changes. AFP has also not taken a firm position, but is open to supporting the bill if/as it changes.
Context: These groups are part of the reason ACA repeal is such a high priority for congressional Republicans, and why so many of them are worried about primary challenges if they don't deliver. Together, these organizations hold a good deal of sway with the conservative grassroots, and could still help gin up support for Graham-Cassidy if they want to, as the bill changes.
Yes, but: The conservative grassroots aren't a huge threat to any of the senators who are in the mix here. Sen. John McCain was just reelected in 2016. So was Sen. Lisa Murkowski, and remember, she won a write-in campaign before that. Sen. Susan Collins is safe. Space to the right of Sen. Rand Paul, like the multiverse, exists only in theory.
Another hit: Conservative policy analyst Chris Jacobs raised a new objection in the Federalist yesterday: He says the bill would give the Health and Human Services Department too much authority over the law's funding formula, calling it "a trillion-dollar loophole that leaves HHS bureaucrats with the ultimate say over how much money states will receive."
​States' tight timelines
Caitlin also flagged one of the under-appreciated parts of Graham-Cassidy: The tight timeline for states to decide what kind of new health system they want, and to implement it. States would have to do both by the beginning of 2020, when federal premium subsidies and Medicaid expansion funding would become part of a block grant.
What this means: While there's nothing in the bill that explicitly requires states to pass legislation as part of the transition process, it almost certainly would have to happen.
As Kaiser Family Foundation's Larry Levitt put it: "It's not like Congress has had an easy time figuring out these issues, and now they're essentially passing the buck to these states."
The details: States might need legislation to:
Set up agencies to administer new federal block-grant funding.
Change their insurance laws.
Create new programs or tax credits.
"Graham-Cassidy doesn't require states to pass a law in order to ask for a waiver," Nicholas Bagley, a health law professor at the University of Michigan, told Caitlin. "As a practical matter, a state that wants to create the infrastructure to allow it to parcel out and spend the block grants will probably have to secure legislation allowing it to do so."
​Price and Verma plan to overhaul ACA's Innovation Center
HHS secretary Tom Price and Centers for Medicare and Medicaid Services administrator Seema Verma put out a notice yesterday that they want to overhaul the direction of the Center for Medicare and Medicaid Innovation — an agency created by the ACA to test different ways to pay for and deliver health care. The goal: Roll out conservative, "market-driven" health policy ideas.
Why it matters: The Innovation Center, unknown to most Americans, holds a lot of power in trying new health care experiments that attempt to lower costs and improve quality. But some health policy observers told Axios' Bob Herman they're worried the Trump administration is changing course with minimal transparency and eyeing radical changes to Medicare and Medicaid.
What they're saying: "There's some very industry-friendly ideas in this (request for information)," said Aisling McDonough, a former CMS staff member who worked during the Obama administration.
Bob has the full rundown of what Price and Verma have in mind — and what's not going to change.
What we're watching today: The most important show in health policy, "Jimmy Kimmel Live."
Also, of course any action on Graham-Cassidy, and insurers' last-minute moves before finalizing their contracts for the next open enrollment period.
What's on your mind? [email protected]