Axios Vitals
August 16, 2017
Good morning ... We're going to catch up on a new artificial intelligence initiative that could improve medical care for underserved patients, as long as we ask the right questions about it.
And the Congressional Budget Office gave all of the warnings we expected about cutting off insurer payments, but there were a few surprising twists, too.
A skeptical look at a new AI medical initiative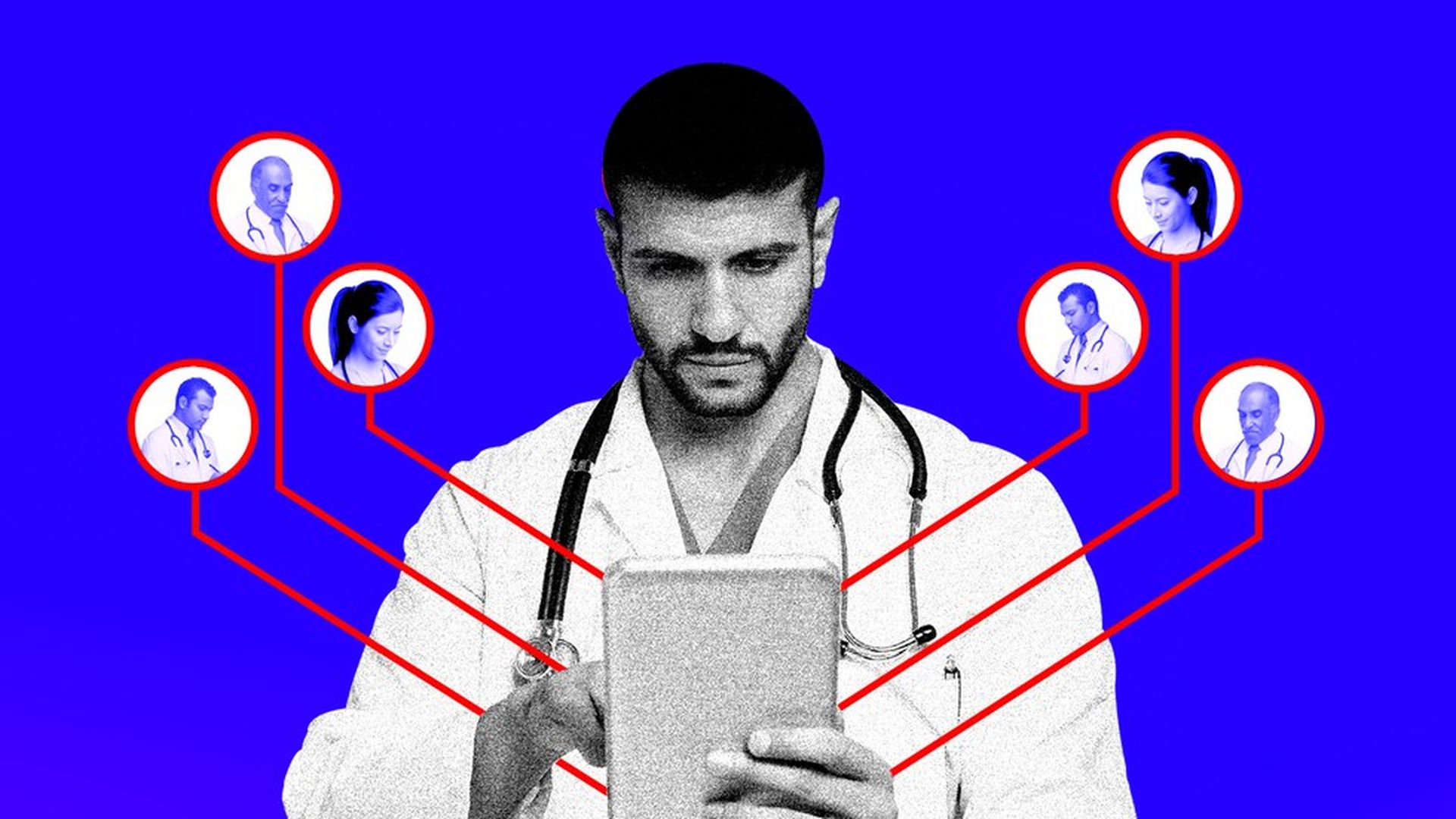 What if a doctor could use an artificial intelligence app to "crowdsource" the advice of specialists from around the country to double-check a patient's diagnosis? A group called the Human Diagnosis Project is getting a lot of attention for its initiative to help doctors do that in underserved areas — an initiative that got the backing of the American Medical Association last week.
You can read more about the project elsewhere (here's a good writeup from Scientific American), but we wanted to check in with doctors to see how useful they thought the new technology would be. Turns out they had a few doubts. They're not sure how we'd know if it's giving good advice or bad advice, or how it could ever duplicate what's unique about the doctor-patient relationship, or whether it should even be considered a science.
We ran all of this by the Human Diagnosis Project and got some answers, so if you want to check it out, read my story here.
What you may have missed in the CBO report
Great news! Did you know that if the Trump administration cuts off the Affordable Care Act cost-sharing reduction payments to insurers, the uninsured rate would go down starting in 2020?
That was the CBO's conclusion in its report on the CSRs yesterday. That left us scratching our heads, but here's CBO's reasoning: The ACA's tax credits would increase to cover the higher premiums, so buying individual health insurance would become "more attractive for some people." And if more people want to buy insurance, the uninsured rate goes down.
Otherwise, the report was mostly terrible news, including a 20% premium increase for 2018 and a $194 billion increase in the federal deficit over the next 10 years (because of the bigger tax credits to cover the higher premiums).
A few other notable points beyond the headlines:
CBO assumed that all of the premium increases would be loaded onto the "silver" ACA plans, the kind that are eligible for the CSRs. If insurers instead spread the premium increases across all kinds of ACA plans, the results would be different.
"Gold" plans — which currently are more expensive than silver plans because they cover more of the medical costs — could actually become cheaper than silver plans for people with incomes between 200% and 400% of the federal poverty line. (That's because CBO assumes the silver plans would have all the premium increases.)
Despite the short-term rate hikes, most people's premiums would end up "similar to or less than what they would pay otherwise." (Thanks, tax credits.)
The Nevada problem is solved
Now that Centene's SilverSummit Healthplan is expanding to cover all 14 of the Nevada counties that might have had no ACA options next year, here's a compare-and-contrast with Anthem, which pulled back in June to offer coverage only in the state's three most heavily populated counties:
Anthem statement, June 28:
"Today, planning and pricing for ACA-compliant health plans has become increasingly difficult due to a shrinking and deteriorating individual market, as well as continual changes and uncertainty in federal operations, rules and guidance, including cost sharing reduction subsidies and the restoration of taxes on fully insured coverage."
SilverSummit statement, Aug. 15:
"We strive to be a responsible partner with the state and are committed to working closely with regulators and policymakers to be able to offer affordable coverage options for Nevada residents."
The bottom line: Centene faces all of the same challenges Anthem faces with the ACA markets, but it has figured out how to make the business work, largely through narrow networks and low premiums. Here's what Bob Herman wrote about the insurer earlier this summer.
More teenagers are dying from drug overdoses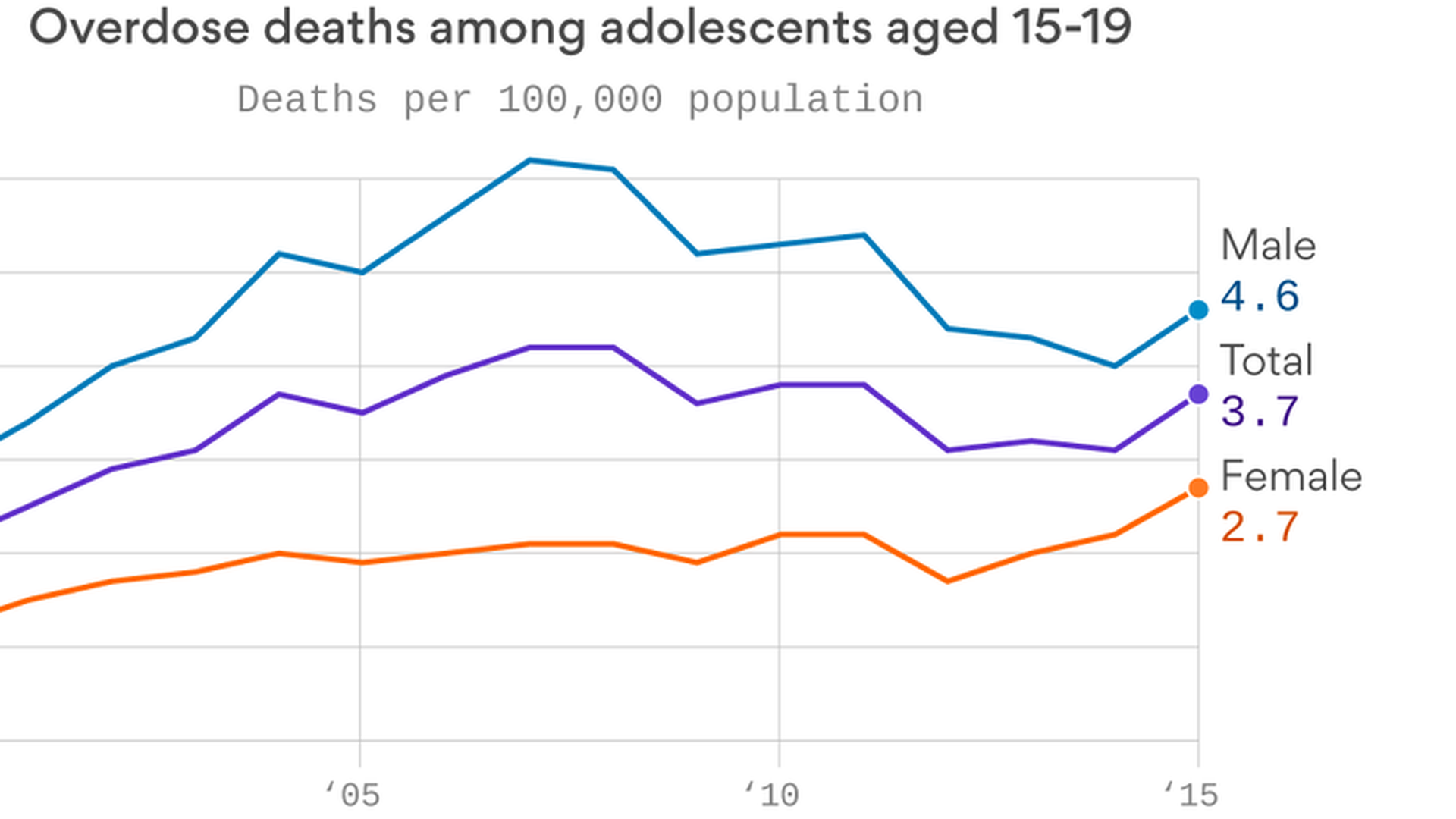 Bob Herman points out these new, sobering statistics from the Centers for Disease Control and Prevention: After seven years of mostly declining drug overdose death rates among people aged 15-19, the rate ticked back up in 2015 to 3.7 deaths per 100,000 people.
Opioids — especially heroin — are by far the leading cause of drug deaths for teenagers. Overdose deaths due to synthetic opioids like fentanyl more than doubled among teenagers from 2014 to 2015.
Why it matters: The opioid epidemic isn't just affecting prime-age working adults. It's also taking the lives of more high schoolers who are too young to vote.
Trump supporters blame Congress for repeal failure
It's pretty clear from USA Today's interviews with its panel of Trump voters that Trump's not getting the blame for the collapse of the repeal effort. It's Senate Republicans all the way:
"Killing Obamacare was a key component of the Republican platform...The inability to move forward is embarrassing and disgusting." — Daniel Kohn, Corpus Christi, Texas
"We could have had a plan for this long before Trump was elected, and you would have just had to go to the bookshelf and pull the binder off." — Barney Carter, St. Marys, Georgia
"They've been talking about this for seven years...When the rubber needed to hit the road, they chickened out." — Rick Dammer, Zephyrhills, Fla.
Yes, but: As Carter also said: "The Hill to me has the most to blame for it, but he's got to figure out a way to solve that problem."
What we're watching in September: Senate HELP Committee hearings on bipartisan ACA stabilization bill, week of Sept. 4; Senate Finance Committee hearing on CHIP reauthorization, same week; Healthcare Security Forum, sponsored by the Healthcare Information and Management Systems Society, Sept. 11-13.
Let me know what else we should be covering: [email protected].