https://www.axios.com/newsletters/axios-vitals-b50d951b-e038-434b-bd90-562de62ba0f8.html?chunk=0#story0
How association health plans will work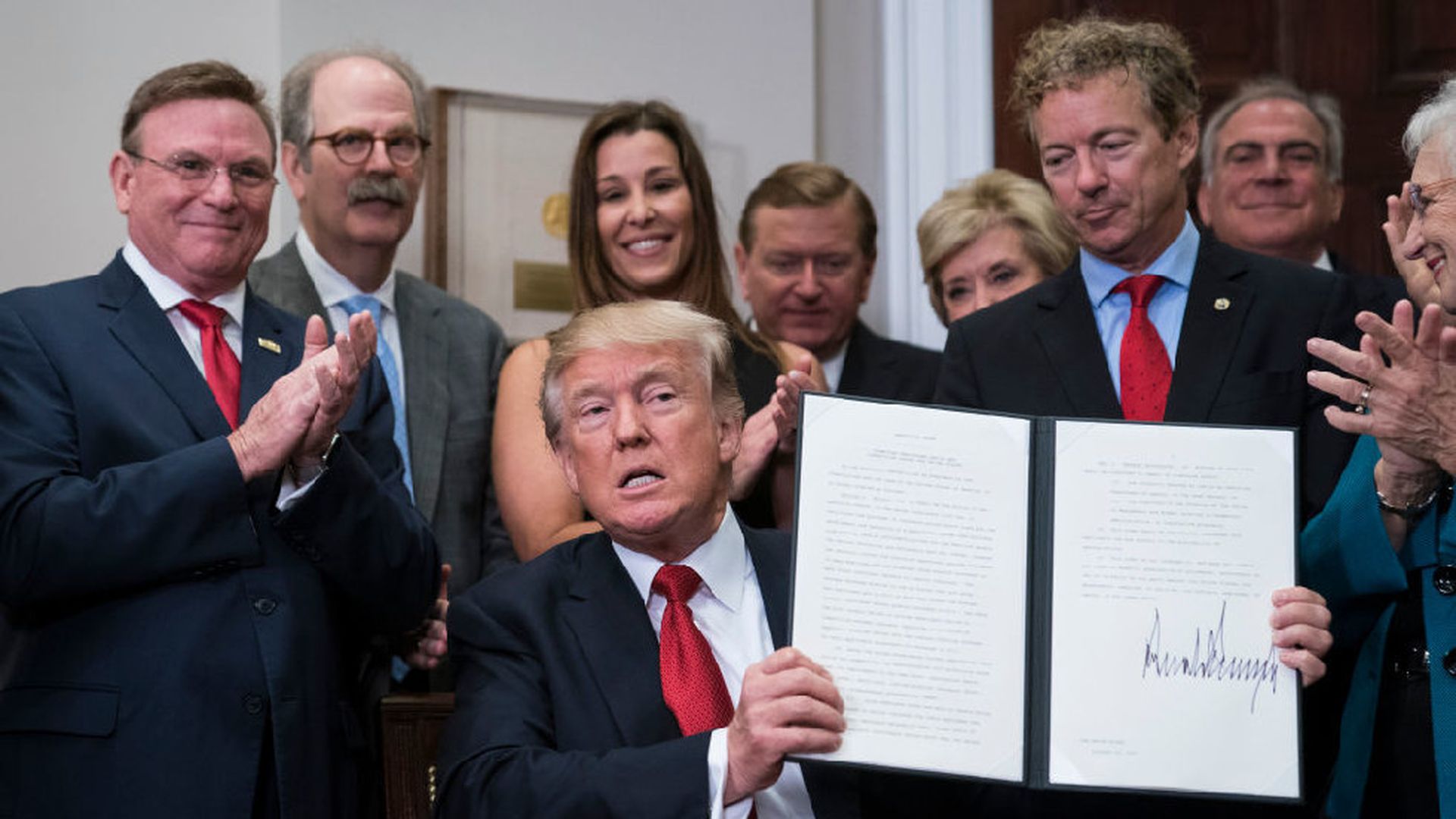 The Trump administration's new rules for association health plans will likely erode some of the Affordable Care Act's enrollment, but may not be as destructive as some critics had initially feared.
The details: The new regulations would allow small businesses and sole proprietors to band together and obtain health insurance as a group — either by contracting with an insurance company, or paying members' claims out of their own pocket.
The new plans won't be allowed to vary their premiums based on health status, carrying over a major protection from the ACA.
But they won't have to cover the ACA's 10 categories of "essential health benefits." So there's a risk the plans could still find a way to peel off only healthier consumers, by declining to cover services that sicker people would need. "I have no doubt they would find clever ways of cherry picking healthier people implicitly," Kaiser Family Foundation's Larry Levitt says in a tweet.
Practical considerations could limit the plans' reach. These policies need to actually exist for people to flock to them, and setting them up is not the easiest task. For example, while some critics have decried a "race to the bottom" that could stem from allowing association membership to cross state lines, it's almost impossible to set up a network of providers outside a fixed geographic region.
Fraud could be a problem.
"Any idiot with a word processor can create an association in 10 minutes and market it to small employers and individuals who certify that they are self-employed," former Labor Department lawyer Marc Machiz tells The New York Times. "The employers and individuals will pay premiums. By the time they discover they've been sold a fraudulent product, the promoter will be on his way to the Caribbean."
The bottom line: The bigger threat to the ACA will probably come from a separate part of President Trump's executive order on health care — allowing individuals to keep relatively bare-bones, short-term health plans for a full year.
https://www.axios.com/newsletters/axios-vitals-b50d951b-e038-434b-bd90-562de62ba0f8.html?chunk=1#story1
​Medicaid may be back in the crosshairs this year
Republicans will meet with Trump this weekend to hammer out an agenda for this year. Some want to take another crack at health care; some want to try for a vaguely defined stab at "entitlement reform." As my colleague Caitlin Owens notes, either one would seem to put Medicaid back on the chopping block.
What we're hearing:
While some Republican senators want to try to repeal and replace the ACA again, most of the caucus isn't keen on this route. It's not clear what could be done differently this time around to get 50 votes.
Some Republican senators do seem open to the idea of teeing up another special budget bill to do something with just 51 votes — but said they didn't know what yet.
The House could, of course, pass ambitious Medicare and Medicaid cuts on its own, and just accept that they're unlikely to go anywhere in the Senate, where Majority Leader Mitch McConnell has already put his foot down.
Go deeper: Read Caitlin's story in the Axios stream.
https://www.axios.com/newsletters/axios-vitals-b50d951b-e038-434b-bd90-562de62ba0f8.html?chunk=2#story2
FDA spikes Allergan's third attempt to delay a generic
The FDA has rejected a third petition from pharmaceutical giant Allergan to delay the entry of a generic version of Allergan's major dry eye drug Restasis, my colleague Bob Herman reports (and h/t to Zach Brennan of the Regulatory Affairs Professionals Society, who first caught this).
Why it matters: It's another setback for Allergan. The company, which is slashing 1,000 jobs, is trying everything to hold onto its lucrative Restasis business. A federal judge ruled last fall that those patents are invalid, right after Allergan controversially transferred those patents to a Native American tribe.
An interesting twist: Before the FDA made its decision this week, Mylan — the EpiPen maker that is developing a Restasis copy — wrote in FDA comments that Allergan has unleashed "a serial citizen petition campaign...to prevent generic competition" and "a redundant, unconvincing attack."
Flashback: Keep in mind, that argument is coming from a company that was raked over the coals for jacking up the price of its signature drug product.
https://www.axios.com/newsletters/axios-vitals-b50d951b-e038-434b-bd90-562de62ba0f8.html?chunk=3#story3
​Public doesn't see opioids as an emergency
The public doesn't see the same urgency to combating the opioid epidemic as the public-health community does, according to survey results compiled in the New England Journal of Medicine. The study examined data from seven national polls conducted in 2016 and 2017.
By the numbers:
53% said it's a "major problem but not an emergency," followed by 28% who said opioids constitute a "national emergency."
Pluralities said Trump's plan to combat opioids, and the amount of money available to implement it, are "about right." (The plan includes no additional funding.)
More people blame the epidemic on doctors inappropriately prescribing opioids (33%) than on pharmaceutical companies (28%).
Yes, but: 49% of people said they know someone who has been addicted to prescription painkillers. That's a lot.