Axios Vitals
March 17, 2017
Happy Friday ... There are more signs of what the conservatives want out of Trumpcare, but the House and Senate may be steering farther away from each other. That's not unusual, but it doesn't make it any easier to get to the finish line. Meantime, President Trump may be ready to slash the budget for medical research, but that doesn't mean Republicans are about to follow him.
The House and Senate aren't getting any closer
Sure, the GOP Obamacare replacement bill passed the House Budget Committee yesterday — sort of, with the bare minimum votes. But all of the signals House and Senate Republicans are sending suggest that they aren't really coming to a meeting of the minds, as the House pushes its bill farther to the right.
In the Budget Committee, we got a pretty good sense of what amendments conservatives want when the bill comes to the House floor. They want work requirements for people on Medicaid, measures to limit new enrollment by "able-bodied adults," and more flexibility for states.
All were approved as non-binding amendments in the Budget Committee — which makes them symbolic, but a good indication of where conservatives are headed.
We already know that they also want Medicaid expansion to end in 2018 rather than 2020, an amendment Rep. Joe Barton is planning to bring to the Rules Committee next week.
The House Freedom Caucus wants to go even farther on the House floor. Its members want to vote on a managers amendment that would be a full repeal bill, like the one Congress passed in 2015. It would also include a measure to bring down health insurance costs, I'm told, but the caucus hasn't gotten specific about what that would be.
There's a longer list of possibilities in a Wall Street Journal op-ed by Sen. Ted Cruz and Freedom Caucus chairman Mark Meadows: get rid of Obamacare's insurance regulations, allow health savings accounts to be used for premium payments, sell health insurance across state lines, and implement Medicaid block grants for states rather than per-capita caps. It's not clear how many of those would actually be offered.
Meantime, moderate Sen. Susan Collins told the Portland Press Herald she can't vote for the bill in its current form.
And Sen. Bill Cassidy, who has his own Obamacare replacement plan, was so determined to steer clear of the House bill on CNN's "New Day" that he argued back every time the anchor asked him to defend it.
On the bright side: One thing that could happen in both the House and the Senate is a push to restructure the tax credits to provide more help for low-income people. That was another non-binding amendment the Budget Committee approved.
Republicans whose voters have a lot to lose on Obamacare replacement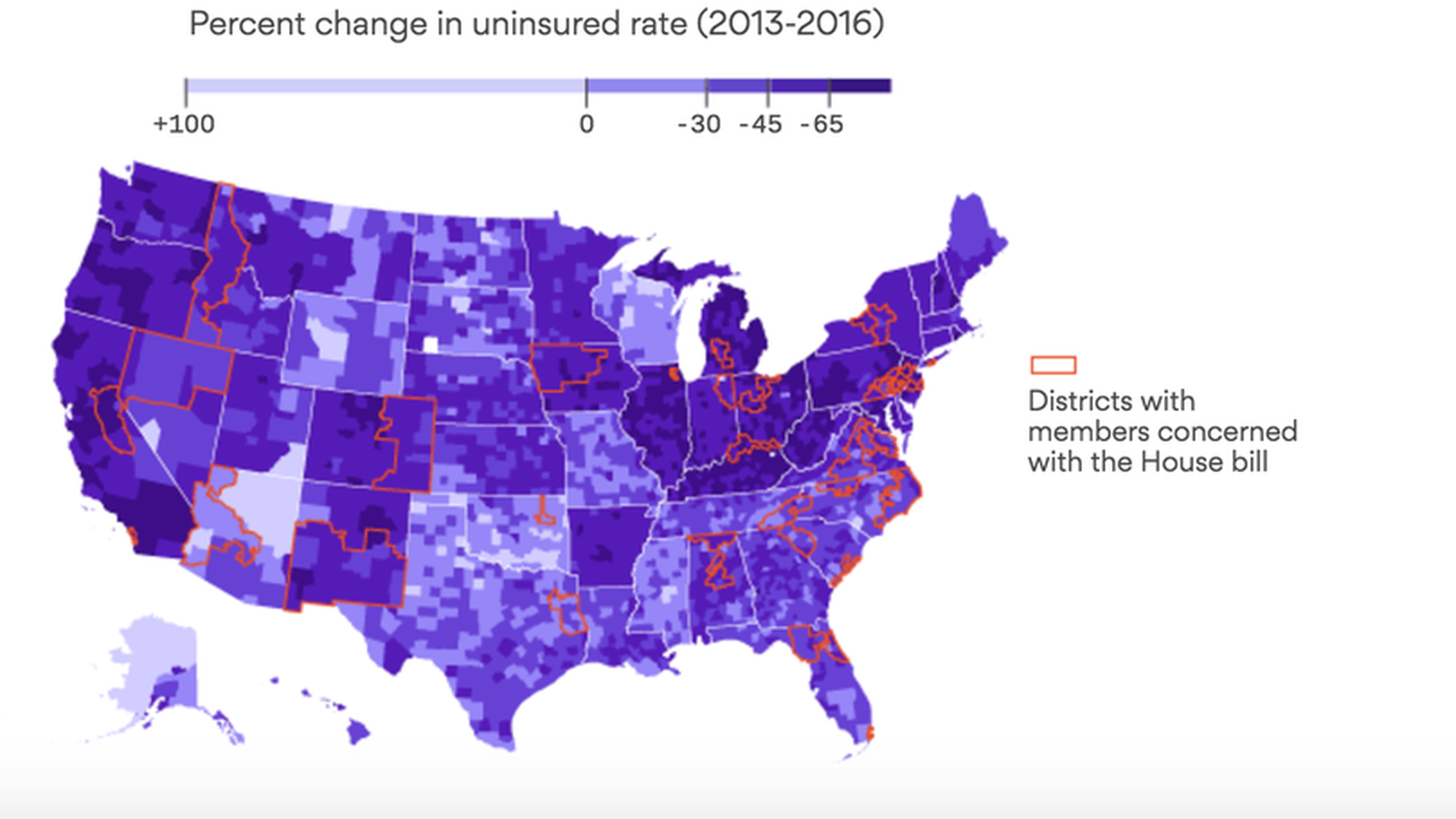 Dozens of Republicans in both the House and the Senate have publicly said they either oppose or are unsure about the House health care bill championed by Speaker Ryan. While some of these members are hardline conservatives who say the bill is just Obamacare-lite, others represent states and districts that have seen the largest decreases in the uninsured rate under Obamacare.
We've mapped out the drop in the uninsured rate on both a state and county level between 2013 and 2016, or from the year before Obamacare was implemented until last year. We then looked at how this decrease in the uninsured rate compares with detractors (we used an excellent list compiled by the Washington Post). While there are some conservative exceptions, most of the wavering Republicans represent voters who could have a lot to lose.
Ryan to Senators: Knock yourselves out
House Speaker Paul Ryan spent a lot of time yesterday sounding like Mr. Flexible on Trumpcare. He and Trump are "working hand-in-glove, listening to the concerns of our members" (conservatives thought Trump was listening more than Ryan). They're making "improvements and refinements," and "the goal here is get to a bill that can pass."
But the most telling moment was when he acknowledged that the bill will change — possibly a lot — when it gets to the Senate. "All I would say is senators are not helpless with respect to the House," Ryan said. "They'll have every opportunity to make a change to this legislation because that's how legislation is written."
Yes, but: If they change it too much, they risk losing the protections of the budget "reconciliation" process that lets them pass it with 51 votes. If they lose those protections, they'll need 60 votes. Which means they'll need Democrats. Which means the current bill is dead.
Fact check: "I am the speaker of the House. I'm not the majority leader of the Senate."
Rating: True.
Next up in Phase 3: Selling insurance across state lines
As I reported last night, House Energy and Commerce Committee chairman Greg Walden is getting ready to start moving on one of the GOP's next health care priorities: letting people buy health insurance across state lines. His health subcommittee is going to hold a hearing on the idea in the next few weeks, probably before the Easter recess. It's a big conservative priority, and it's one of the bills Ryan has said he wants to take up, but it can't be done in the budget "reconciliation" bill that's being used for repeal.
GOP to Trump on NIH cuts: Um, we'll get back to you
Top Republicans aren't too enthused over Trump's budget — especially the ones who will have to deal with his nearly 18 percent cut in discretionary funding for the Department of Health and Human Services, including a 19 percent cut for the National Institutes of Health. Check out the signals of independence from Sen. Roy Blunt and Rep. Tom Cole, who head the subcommittees that fund health care programs and have been trying to increase the NIH budget.
Blunt: "The president's budget is the first step in the appropriations process. There are many concerns with non-defense discretionary cuts."
Cole: "As with any Administration, the budget represents the president's priorities … Ultimately, Congress holds the power of the purse and is responsible for managing the appropriation of funds."
Cole also had this advice for Trump and Congress: Go cut entitlements. That's where the money is.
Senate Appropriations Committee member (and HELP Committee chairman) Lamar Alexander: "My priorities are national defense, national laboratories, the National Institutes of Health and national parks."
What Sean Spicer told Jonathan Swan: "There's this assumption in Washington, Jonathan, that if you get less money it's a cut. And I think that the reality is that in a lot of these there's efficiencies, duplicity, ways to spend money better."
When the medical device tax is less than the CEO's payday
Medical device companies have decried Obamacare's 2.3 percent excise tax on the industry as job-killing overreach. But for one major player, C.R. Bard, the amount of the tax it pays in one year is less than what its top executive makes, Bob Herman reports.
Timothy Ring, the longtime CEO of C.R. Bard and one of the highest earners in health care, took home $43.5 million in 2016 based on the actual realized value of his stock, according to a new federal filing. C.R. Bard didn't pay the device tax last year because Congress suspended it for 2016 and 2017, thanks to lobbying from C.R. Bard and the device industry. But the last year C.R. Bard had to pay the excise tax, it amounted to $26.9 million, roughly two-thirds of Ring's pay and less than 1% of the company's total revenue.
One step further: Since Obamacare's medical device tax went into effect in 2013, Ring has made $140.8 million. C.R. Bard, which makes heart devices and catheters, paid an estimated $82 million toward the tax. The tax would be repealed permanently under the Republican Obamacare replacement.
Former FDA commissioners: Don't fall for drug reimportation
Now we know what the Food and Drug Administration crowd is really worried about. Four former FDA commissioners — Robert Califf, Margaret Hamburg, Mark McClellan, and Andrew Von Eschenbach — are circulating a letter to members of Congress warning about the dangers of importing cheaper drugs from other countries. They're worried about unsafe drugs coming into the country, don't think the FDA has the resources to do the necessary oversight, and don't think it would really bring drug prices down.
Why it matters: Most of the arguments aren't new, but they could carry more weight coming from four ex-FDA commissioners. The timing is critical, since there's a new drug reimportation bill that's being sponsored by one former Democratic presidential candidate, Bernie Sanders, and a likely future one, Cory Booker.
One more thing: There's no danger that FDA commissioner nominee Scott Gottlieb would support the idea. He thinks it would add so much cost to regulate them that they wouldn't be any cheaper, per Morning Consult.
What we're watching today: Tom Price press conference with House Republicans, 8:45 am Eastern. Paul Ryan at National Review Institute ideas summit, 11:10 a.m. Eastern. Livestream here.
What we're watching next week: House Rules Committee takes up the Obamacare replacement package ... and maybe the House will vote, maybe not. House also votes on bills to eliminate the antitrust protection for insurance providers and create association health plans. Also, Senate HELP Committee hearing on reauthorizing the Food and Drug Administration's user fee agreements, March 21. Oh, and Obamacare turns seven years old, March 23.
All done — have a great weekend: [email protected]