Axios Vitals
May 29, 2019
Good morning. Today's Vitals is extra short: 682 words, <3 minutes to read.
1 big thing: Seniors' spending on cancer drugs has soared
Seniors pay more out of pocket for cancer drugs today than they did in 2010, according to a new JAMA study.
The big picture: The Affordable Care Act reduced seniors' share of their drug bills, but price increases — on new and old drugs alike — have canceled out those savings.
Between the lines: There are 13 cancer pills in Part D that were also covered in 2010. What seniors pay for the vast majority of them is expected to increase this year.
For example, out-of-pocket spending on Revlimid increased, on average, by more than $4,000 between 2010 and 2018.
Yes, but: Many cancer drugs aren't covered by Medicare Part D. They are instead in Part B, because they're administered by a doctor rather than picked up at a pharmacy.
2. High doctor salaries raise legal questions
Hospitals are being accused of violating federal laws designed to keep financial considerations from influencing doctors' decisions, Kaiser Health News reports with the Daily Beast.
Various lawsuits allege that hospitals are overpaying doctors or offering incentives like free office space in exchange for the downstream revenue that doctors create through referrals.
It's illegal for doctors to refer patients for services that the doctor has a financial interest in, and for hospitals to pay doctors for referrals.
These measures are supposed to help keep costs down by discouraging doctors from using excessive, unnecessary health care.
The lawsuits are raising the question of whether financial arrangements like high doctor salaries count as illegal kickbacks.
The other side: One hospital facing a lawsuit said that the generous salaries that it gave doctors were the only way it could provide specialized care to local residents.
The bottom line: Lawsuits aside, there's no disputing that hospitals are gobbling up physician practices, the market is becoming more consolidated and doctors generate significant revenue for hospitals.
3. Shareholders' drug pricing proposals flop
Small groups of pharmaceutical industry shareholders have pushed for companies to disclose whether higher drug prices fuel lavish bonuses for top executives. But those proposals were handily defeated, my colleague Bob Herman reports.
The bottom line: The industry and its largest stockholders are not about to start self-regulating when it comes to drug prices and incentive pay packages.
Driving the news: The shareholder proposals failed by large margins at AbbVie, Johnson & Johnson, Pfizer and Vertex. Each company vigorously opposed them.
Top executives receive cash bonuses based on meeting certain targets, like revenue and earnings per share. Hitting those numbers usually requires companies to sell more drugs, raise prices or both.
The proposals would have urged companies to create reports detailing "the extent to which risks related to public concern over drug pricing strategies" are part of executives' bonuses, if at all.
Between the lines: The drug pricing reports would not have been required, and companies would not have been forced to make any changes to bonuses — and the proposals still failed.
Go deeper: Pharma CEOs are among the highest-paid in health care
4. Seniors' low rates of dental insurance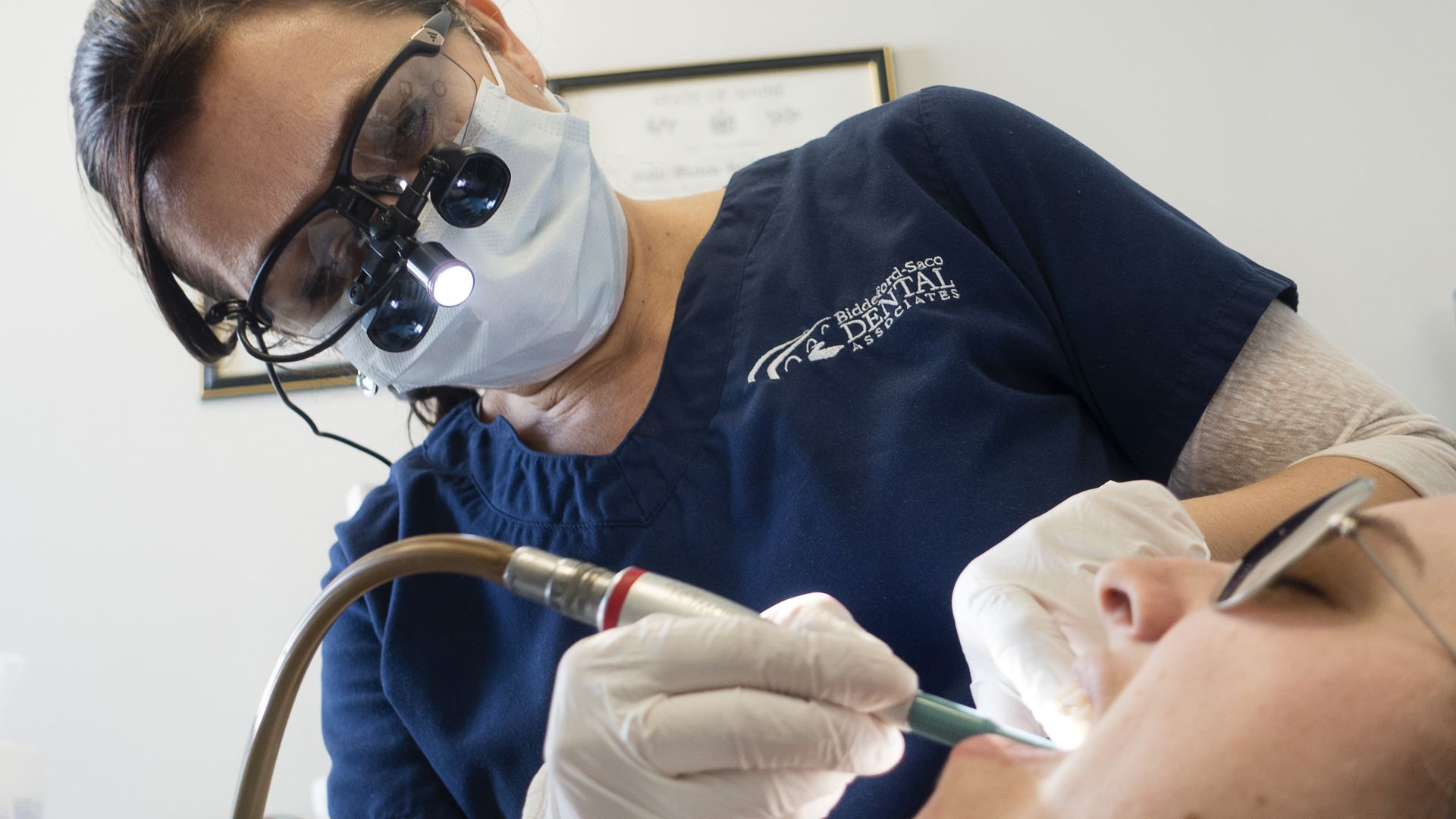 Less than a third of seniors had dental insurance in 2017, according to new data from the Centers for Disease Control and Prevention.
Hispanics were less likely to have coverage than other races, and poor people were less likely to be insured (8.1%) than people who weren't poor (36.1%).
About two-thirds of adults over 65 had visited the dentist within the last year, with poor adults less likely to have done so.
7.7% of adults in this age group did not receive needed dental care because of its cost over the previous 12 months.
Black and Hispanic adults were more likely to have not received needed care because of cost than white and Asian adults.
5. Women underrepresented in HIV research
Just over half of HIV patients are women, but most research subjects are men, the NYT reports.
Men and women respond differently to HIV, but an AMFAR analysis found that women make up a median of only 11% of the participants in clinical trials for potential cures.
The epidemic was concentrated among gay men early on, and these men enrolled in clinical trials to gain access to new drugs. They also created support networks, whereas women with the disease may be more isolated.
Women may also face extra scrutiny from the FDA, which has rules around the inclusion of women of childbearing age in clinical trials.
Why it matters: "If we're going to find a cure, it's important that we find a cure that actually works for everybody," Rowena Johnston, AMFAR's director of research, told the NYT.