Axios Vitals
August 05, 2019
Good morning. My deepest condolences to everyone impacted by this weekend's horrific shootings, and thank you to all of the first responders and medical personnel who prevented further loss of life.
Today's newsletter is 793 words, or a 3-minute read. It was also delayed by technical troubles — sorry about that.
1 big thing: Health care is gobbling up your wages
American incomes have barely changed over the past 20 years on an inflation-adjusted basis, and that's due in large part to the exploding costs of health coverage, my colleague Bob Herman reports.
The big picture: More people are plunging deeper into debt as the costs of housing, college and consumer goods greatly outgrow their paychecks. And those paychecks have been stagnant because employers are shoveling more money toward workers' health insurance.
Between the lines: Employers consider a block of compensation for every employee. Health insurance, which is exempt from taxes, has eaten up a lot more of that block over time.
In 1999, the average health insurance coverage for a family consumed 14% of the average household income, according to inflation-adjusted figures from the Census Bureau and the Kaiser Family Foundation.
By 2017, family coverage absorbed more than double that amount, to about 31% of take-home pay.
Health insurance has hovered consistently around 31% of household income since 2012, as companies shifted their employees to plans that had steady premiums but higher deductibles and out-of-pocket costs — a strategy that has largely backfired.
The bottom line: Controlling the costs of employer coverage means pushing back against the health care system, and more employers are doing this as they reach breaking points.
Go deeper:
2. Racism impacts kids' health
There are a lot of terrible things about racism, as we were reminded this weekend. And one of them is that it can have long-term negative impacts on children's health, the American Academy of Pediatrics said in a policy statement.
"Although we have progressed toward greater racial equity, racism continues to undermine the health of children, adolescents and families," the group wrote.
"The stress generated by experiences of racism may start through maternal exposures while in utero and continue after birth with the potential to create toxic stress," it continued.
This can impact both mental and physical health and lead to issues like preterm births, low newborn birthweight and the development of heart disease, diabetes and depression later on in life.
Between the lines: Racism is constantly in news headlines, as the Washington Post points out, and white nationalism is on the rise.
"If you look at what's in the news today, in social media, on Twitter, there's so much kids are exposed to," Jackie Douge, a pediatrician who co-wrote the statement, told the Post. "As much as you want to keep it in the background, it's not in the background. It's having direct health effects on kids."
3. Trump may announce health plan in September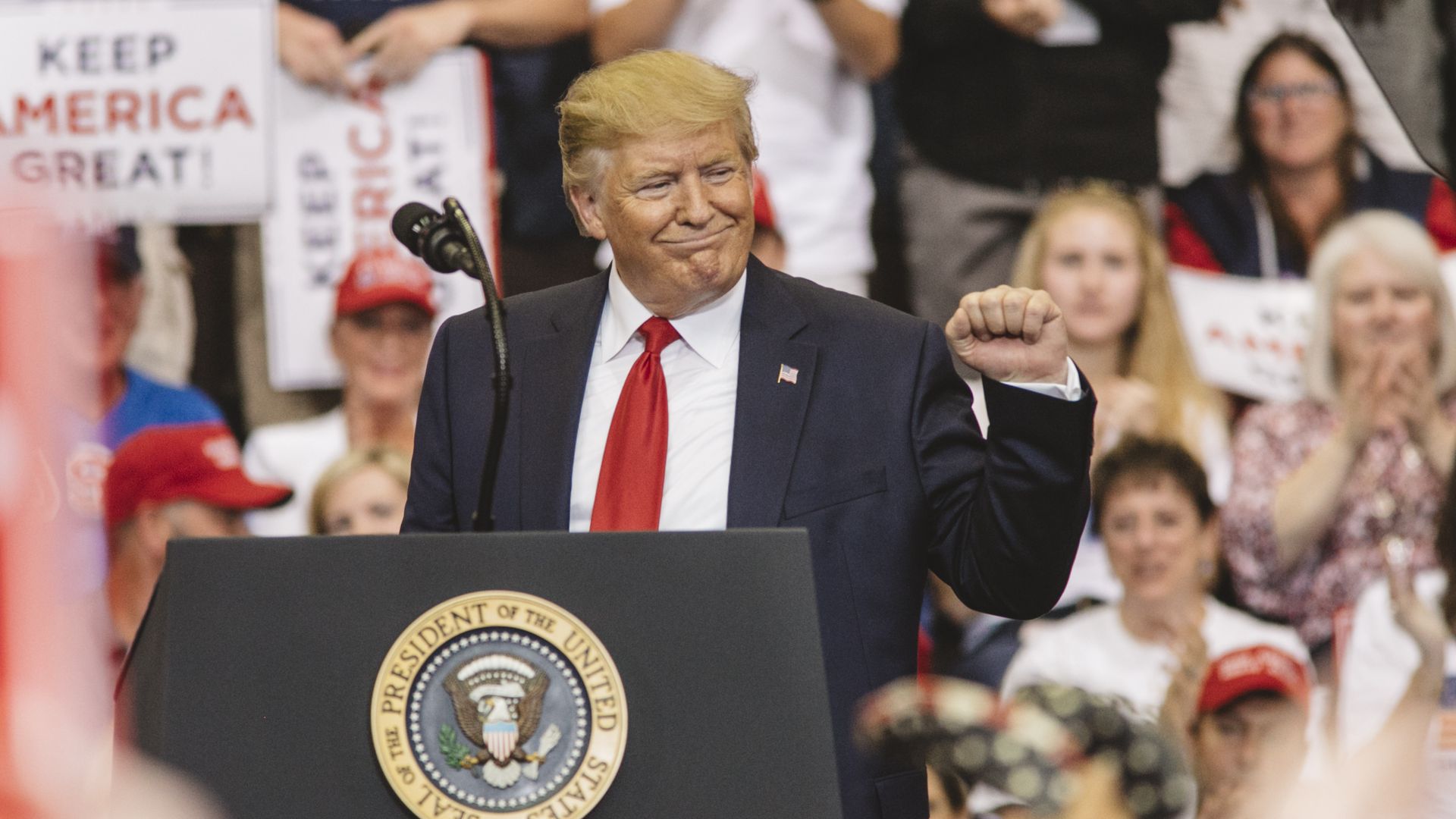 The Trump administration is eyeing a September rollout of its health care plan, although the plan hasn't been finalized and some administration officials worry it could open up the president to attacks from Democrats, the WSJ reports.
The White House is considering a September speech that would seek to provide an alternative to Medicare for All and show that the administration has a plan in case the ACA is killed in court, which it supports.
It's still unclear how specific the administration's plan would be.
The big picture: So far, health care has been a robust debate among Democrats, with the GOP response being primarily to hit them with accusations of socialism.
Polling shows that the administration is rightly concerned about Democrats owning the issue, and that will not change if Trump's new health care plan turns out to be as unpopular as the GOP's repeal and replace efforts in 2017.
Details: The elements of the plan reported by the WSJ include recycled GOP health policy ideas, like instituting high risk pools and encouraging the sale of insurance across state lines, and goals like covering people with pre-existing conditions.
My thought bubble: My brain is already numb at the thought of doing 2017 all over again.
4. Tech companies are working on diabetes
Alphabet, Amazon and Apple are looking into services and tools to help people with diabetes manage their disease, CNBC reports.
Verily, an Alphabet company, is working on new continuous monitoring hardware.
Amazon wants to sell blood sugar monitoring devices and make it easier for people to access their readings via Alexa.
Apple is working with medical device makers to integrate their devices with Apple's products.
The big picture: These services could be useful to diabetes patients, who currently monitor their blood sugar using a fair amount of guesswork. But it's also likely a huge business opportunity for the tech companies, as the number of Americans with diabetes is high and growing.
5. While you were weekending...
As the number of drug-resistant infections rises, including those obtained through food, the farming industry has blocked scientists and investigators from getting information they need to address the problem, the NYT reports.
The president of the nation's largest public employees union said that his members support single-payer health care, as the union hosted 19 of the presidential candidates in Las Vegas this weekend, AP reports.
Purdue Pharma downplayed its roles in the opioid epidemic and the painkiller industry in its attempt to get a Massachusetts lawsuit dismissed, Stat reports.